Hello! I finally have a couple of blog posts planned for the next couple of weeks (I will be catching up on some belated wrap ups and book hauls) but I thought it made the most sense to start with some June new releases so the post doesn't feel out of date a week or two down the line.  There's no shortage of good books to look forward to and I'm especially excited for The House Across the Lake and The Dead Romantics!
6/6 – My Killer Vacation by Tessa Bailey – I feel like I can always count on Tessa Bailey for a good romance and this spicy murder mystery has me extra intrigued.  This one follows a crime podcast aficionado who's on vacation in Cape Cod when a corpse turns up in her rental and next thing she knows, a bounty hunter comes to find the killer.
6/7 – Stuck with You by Ali Hazelwood (The STEMinist Novellas #2) – I've been starved for more Ali Hazelwood since I read and loved The Love Hypothesis last year.  I'm really hoping her novellas following female STEM scientists will be collected in physical form (and that Illumicrate will make an edition to match TLH).
6/7 – For the Throne by Hannah Whitten (Wilderwood #2) – It always feels a little weird putting a book on my anticipated list when I haven't actually read the first book yet, but I swear I'm planning on getting to this series soon! It's an adult fantasy with YA crossover appeal following two sisters each with very different fates- one is meant for the wolf and the other is meant for the throne.
6/7 – Wicked Beauty by Katee Robert (Dark Olympus #3) – So this is another one where I haven't read the first (or second) book in the series but since it's a romance companion series, I feel more okay about including it.  I actually spring for the beautiful Bookish Box editions of these (though I need to find a copy of the second one at some point) and I love Greek mythology so I'm excited to check out these loose modern adaptations.
6/7 – Counterfeit by Kirsten Chen – This story following two Asian American women who band together to grow a counterfeit handbag scheme into a global enterprise sounds like it could be the next story to satisfy our society's recent obsession with scammers. I'm especially interested since there's a fashion twist!
6/14 – The Hotel Nantucket by Elin Hilderbrand – I have yet to read an Elin Hilderbrand novel but they always receive such glowing reviews and she's garnered quite the following.  All of her books tend to be beach reads taking place on the island of Nantucket (a vacation destination I've been dying to try out).  Her newest follows Lizbet who gets named the head of The Nantucket Hotel, a Gilded Age gem turned eyesore that got a bad reputation in 1922 after a tragic fire killed a 19-year old chambermaid.  Now it seems she might be haunting the hallways.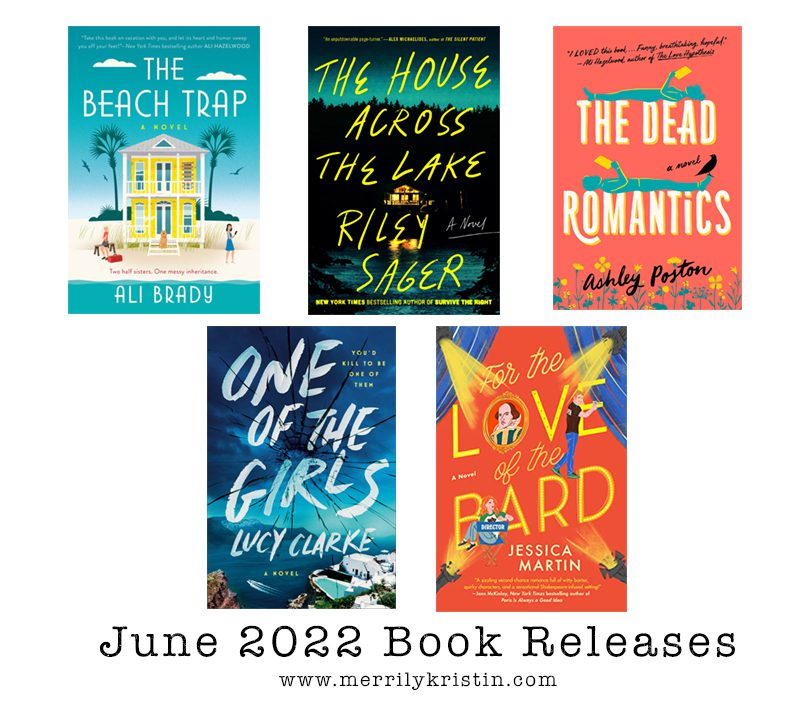 6/14 – The Beach Trap by Ali Brady – I can't actually remember how I stumbled upon this book, but it reminds me of The Parent Trap! It follows two girls who meet at camp and become best friends, only to discover they're half sisters and cut off communication with each other.  When their father dies 15 years later, they discover that their joint inheritance comes in the form of a beach house and they begin to fix it up together with the understanding that Kat will buy Blake out at the end of the summer.
6/21 – The House Across the Lake by Riley Sager – Riley Sager has always been an autobuy author for me but I'm sincerely hoping this year's release will be more satisfying than Survive the Night.  It takes place at a lakehouse and has definite Rear Window vibes.
6/28 – The Dead Romantics by Ashley Poston – This is by far my most anticipated book on this list.  I love all of the Ashely Poston books I've read and I'm so excited for her debut adult romance with a supernatural twist.  This one follows a ghostwriter for a popular romance novelist who undergoes a bad breakup and stops believing in love.  She heads home to handle a family situation and embarks in a romantic relationship with her new editor who just so happens to be a ghost.
6/28 – One of the Girls by Lucy Clarke – Lucy Clarke's newest thriller novel takes place during a bachelorette party on a stunning Greek Island, but it ends in murder.  Say no more, I am in!
6/28 – For the Love of the Bard by Jessica Martin – As a huge Shakespeare fan, I feel obligated to give this new romance novel a chance. It follows two former high school flames in their Shakespeare obsessed town for a summer of theater and unexpected romance.