I cannot even remember what I purchased or when but I know I placed a ton of orders before we moved / gave up having a doorman to accept our packages.  In an effort to make this post shorter, I'm only going to be sharing my favorite purchases of April and I'll be doing the same for May and June.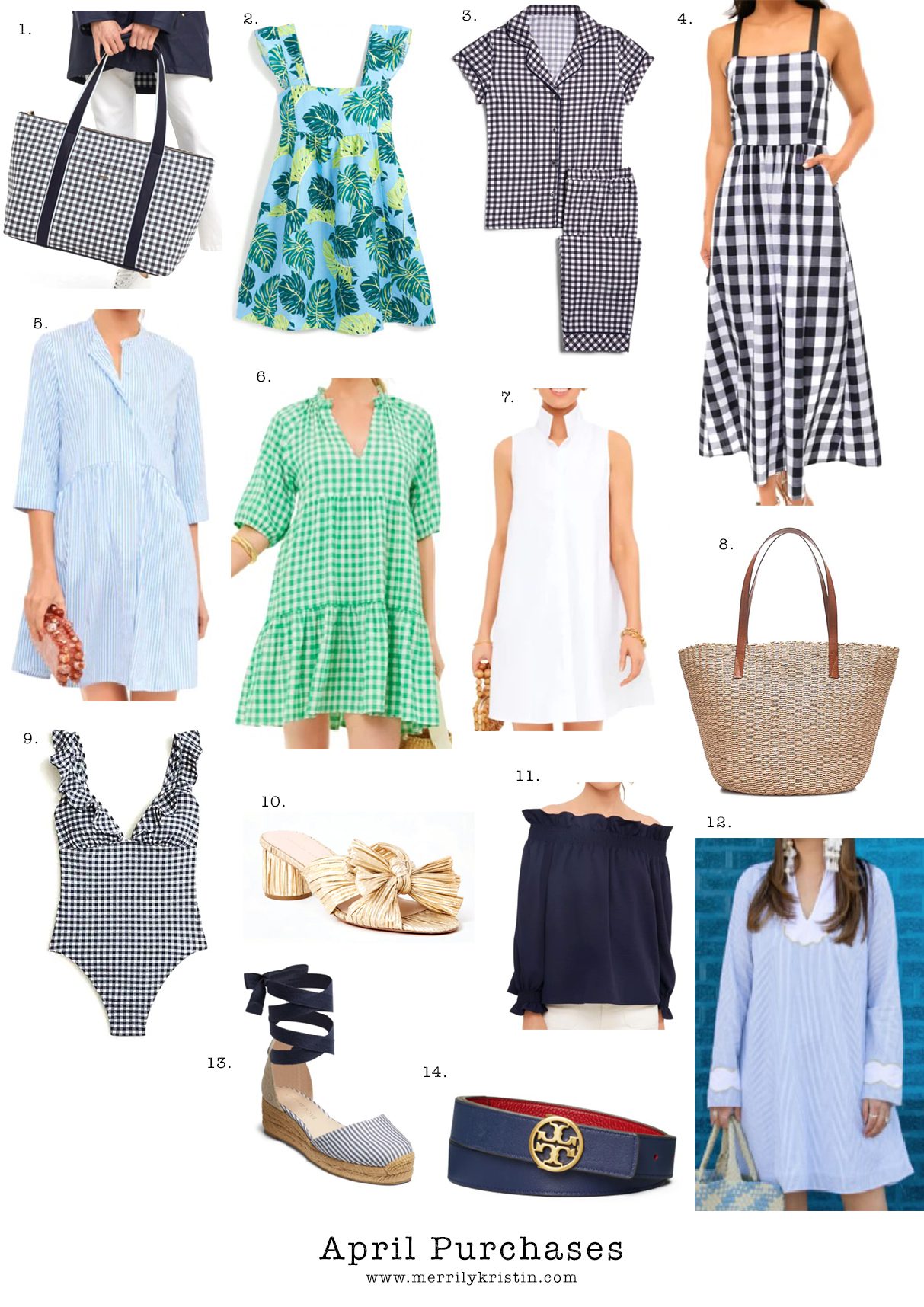 1. Draper James Savannah Weekender – I love this bag! The gingham is such a classic pattern and now that we're transitioning back to life in the suburbs, I'm so excited to be able to pack and use this without having to lug it through the city and on multiple trains.  It's such a game changer to have access to a car!
2. Draper James Monstera Babydoll Dress – This dress is so popular that it sold out in record time.  I'm so glad I was able to grab one before missing out.  I love the vibrant beachy print and I got so many compliments when I wore it to a beach bonfire in Bermuda!
3. Draper James Linda Gingham Pajamas – I've wanted these for so long but they're kind of expensive for pajamas so I'd just been eyeing them for as long as I can remember.  I bought a short set of DJ pajamas last summer and they're so comfortable so I finally decided to pick these up as well.
4. Tuckernuck Leila Dress in Black Gingham – This is such a great maxi dress for summer (again, another gingham number) and I love the way the model has it styled with a denim jacket.  I wore it the same way while we were in Rhode Island and I knew immediately that it would become a summer staple. It's actually on sale at the moment too!
5. Tuckernuck Royal Shirt Dress in Blue/White Stripe – This is actually the fourth pattern I've purchased the royal dress in and it's a classic color combo so I'll be wearing it all the time.
6. Tuckernuck BB Dakota Picnic Ready Dress in Basil – I love the styles BB Dakota releases and they're offered at a lower price point than most Tuckernuck dresses, but beware, they're definitely thinner material as well.  But I love this shade of green.  So cute!
7. Tuckernuck Sleeveless Charlie Dress in White – This dress in black was probably my most worn dress overall last summer so I picked up the white one for this year! Can't wait to pair it with blue accessories.
8. JCrew Woven Tote Bag
– I love this straw bag so much! I ordered it early in the month and I've been using it for work every day while I wait for the weather to catch up to my summery accessories.
9. JCrew Ruffle Gingham Bathing Suit – So, the house that we ended up buying has a built in swimming pool and after having zero bathing suits for the past 8 years, I'm really going to have to stock up.  I don't think this ruffle sleeve one will be great for tanlines, but I really love the design!
10. Loeffler Randall Emilia Gold Bow Pleated Sandals – I've wanted these shoes for years now but they're so expensive so I never pulled the trigger on them.  Then, ShopBop included them in their annual sale and at such a big discount, I felt way less worse about finally buying them. They can really dress up any outfit!
11. Tuckernuck Off the Shoulder Marguerite Blouse – This classic navy off the shoulder blouse is such a cute staple for those cooler summer nights.  It looks fab paired with a pair of white jeans.
12. Sail to Sable Gail Tunic Dress – I always love Sail to Sable's collections and I especially love when they collab with Jenn from Style Charade! I knew I wanted to add at least one new piece to my wardrobe and I landed on this beautiful Gail tunic! I'm still tempted to get the pink gingham Charlotte style as well.
13. Jack Rogers Palmer Espadrilles – These are my new favorite summer shoes! They're SO comfortable and there was no break in period at all.  They're low wedges but they feel like wearing flats and they really dress up any summer outfit!
14. Tory Burch Reversible Leather Belt – I have this belt in the black/tan version (sadly it's slightly too big but thankfully Andrew's parents keep drilling extra holes in it for me lol) so I wanted to get it in another color combination.  I love that it's reversible.  It makes the cost more worth it since you can wear it with any number of outfits.  I always use them to cinch the waist when I'm wearing a flowy dress.