You'll notice a LOT of tartan on this list! My family hates how early I get into the holiday spirit, but if you don't start shopping in October, everything Christmas themed is already sold out by the second week of November.  I don't love the current timing system in stores either, but I'd rather grab my items early than miss out completely.  I'm actually tempted to try to wear tartan every day in December since I've stocked up!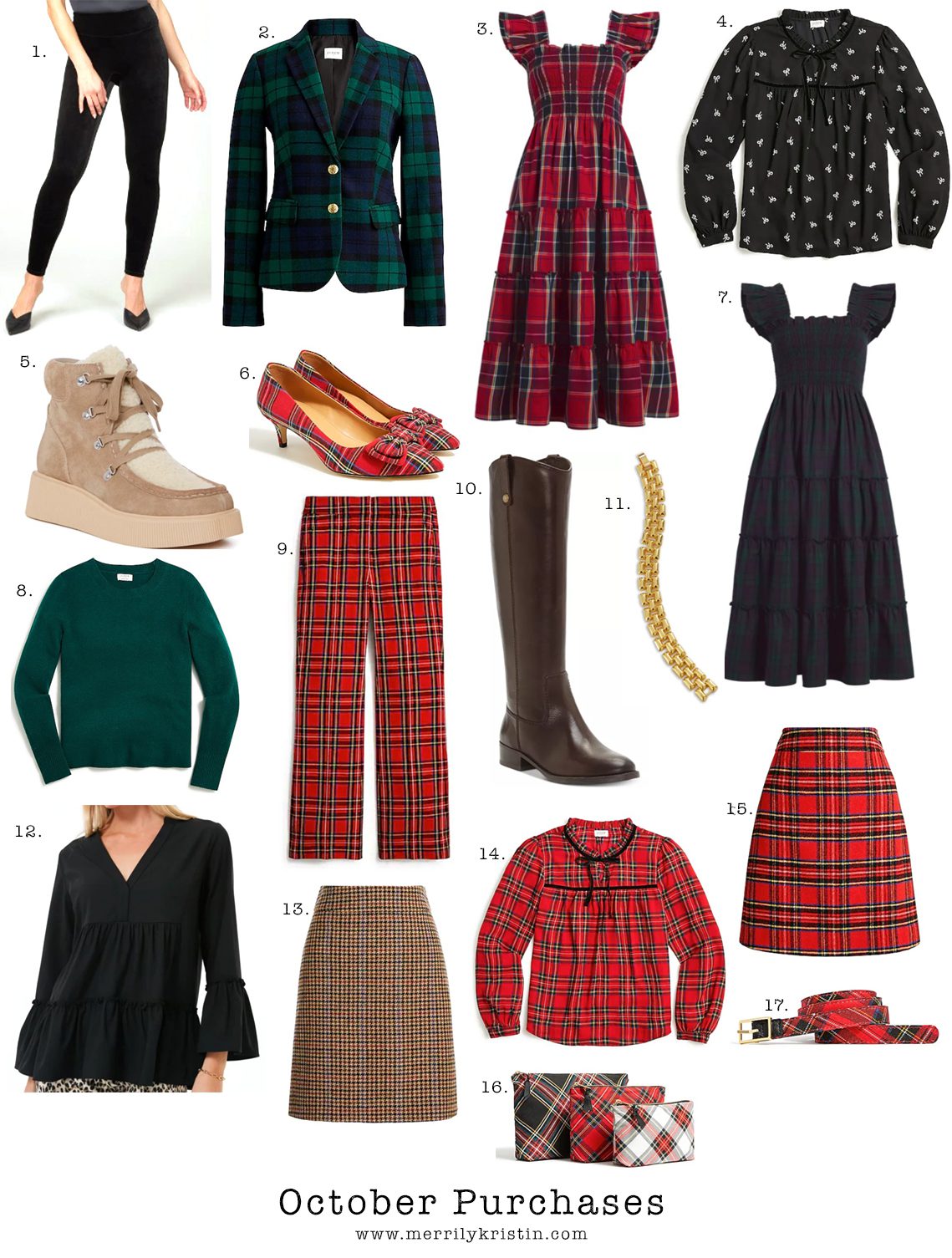 1) Spanx Velvet Leggings – These leggings were on my 2022 wish list for the year and I'm really excited to have finally gotten a pair this year! They always sell out before I remember to look for them, so this year I started early.
2) JCrew Factory Blackwatch Plaid Schoolboy Blazer – This blazer is so cozy! It's warm and fitted and I've been wearing in place of a jacket on some workdays. Love a good blackwatch plaid!
3 & 7) Hill House Home Ellie Nap Dress in Red Tartan & Blackwatch Plaid – I was planning on choosing between these two nap dresses… but I just couldn't. Nap dresses really work for me so I decided to lean into it.  Plus I think the colder weather styling of them is super cute!
4) JCrew Factory Black Bow Tie-Neck Top – I adore bows and I don't have a ton of dressy tops so I grabbed this black blouse.  I also love the detailing of the velvet bow tie neck.
5) Tuckernuck Dolce Vita Truffle Jasmin Boots – These snow boots are the cutest! I absolutely love this style and I can't wait to wear them on casual weekends.  They're a nice alternative to the Uggs I've been wearing for years.
6) JCrew Factory Tartan Esme Kitten Heels – These kitten heels are too cute! I bought these and a pair of blackwatch plaid bow flats (from Talbots), but they came damaged so I had to return them. I'm quite pleased with these though!
8) JCrew Factory Crewneck Sweater in Academic Green – Just a basic green sweater in supersoft yarn which is a less expensive alternative to JCrew's cashmere crewnecks.
9) JCrew Factory Tartan Kelsey Flare Pant – This is another item that was on my 2022 wish list! I've always wanted a pair of tartan pants for the holiday season and I'm excited to start wearing these to work.
10) Macy's INC Chocolate Riding Boots – I need wide calf boots and these Macy's INC brand boots fit me perfectly! They also have a merlot color and I definitely have my eye on them,
11) Tuckernuck Gold Flat Chain Bracelet – I love this simple gold bracelet.  It looks like a watch bracelet minus the watch face.  It's very flexible and curves to your wrist so it's comfortable to wear, even while working on a computer.
12) Tuckernuck Pomander Place Black Crepe Kenzo Top – This is just another basic black blouse to wear with jeans.
13) JCrew Factory Wool Blend Mini Skirt in Houndstooth – I've been loving JCrew Factory's miniskirts so I have to pick up this gorgeous fall houndstooth pattern that has major dark academia vibes.
14) JCrew Factory Tartan Velvet Tie-Neck Top – Yet more tartan. I know, I know. I can't help myself! Again, love the velvet bow tie neck detailing.
15) JCrew Factory Wool Blend Mini Skirt in Bright Red Tartan – And of course, I needed the red tartan too. I actually had this skirt but I outgrew it so now I have one that fits!
16) JCrew Factory Tartan Pouches – And lastly, now that I'm commuting again, I really needed some pouches so I can organize my purse better (and hopefully avoid breaking my headphones again >.<).
17) JCrew Factory Tartan Belt – This is the perfect small touch of tartan to add to an all black or white outfit. Looking forward to styling it in the future!