Never in a million years could I have imagined just how lucky I would be to find someone like my now fiancé Andrew<3  He is an extremely talented graphic designer (which sure helped during this elaborate proposal) and he is the most creative, kind and loving person and I can't get over how lucky I am to be spending the rest of my life with him.  Please note that we had him sorted on Pottermore a few weeks ago because he insisted that he's a Hufflepuff but I've been saying he's Gryffindor since day one.  Albeit, Pottermore sorted him into Gryffindor and he went out and bought a House tie for this glorious occasion.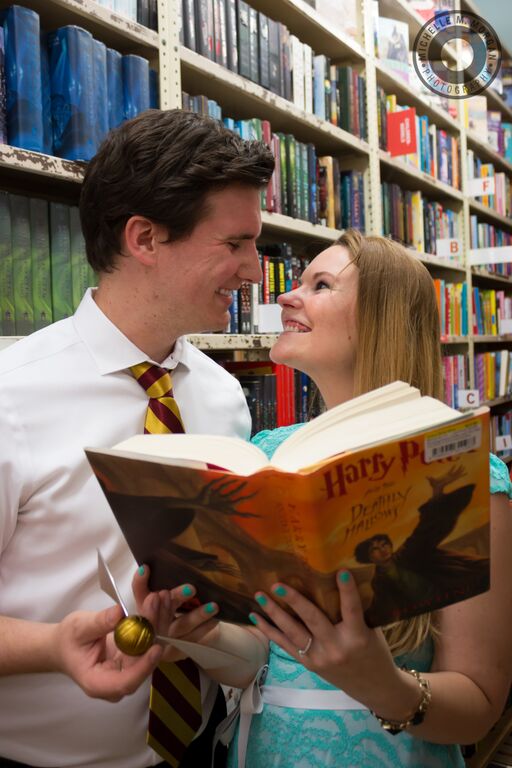 We recently got engaged at my favorite place in the world, The Strand Bookstore in NYC and the entire process leading up to it was absolutely magical.  If you've been following me on Instagram and Twitter you'll know that I've been receiving a series of letters from Harry Potter characters for the past week.  I've scanned high resolution versions of each so you can read them clearly and I'm going to be writing out exactly how the actual proposal happened because I've had so many of you comment about how you enjoyed following along so it's only fair that you find out the ending (or rather, beginning) of our story!
I also have to point out that there were seven letters in all which as all Potterheads know is the most significant number for reasons. (ie. there are seven Harry Potter books and seven Horcruxes)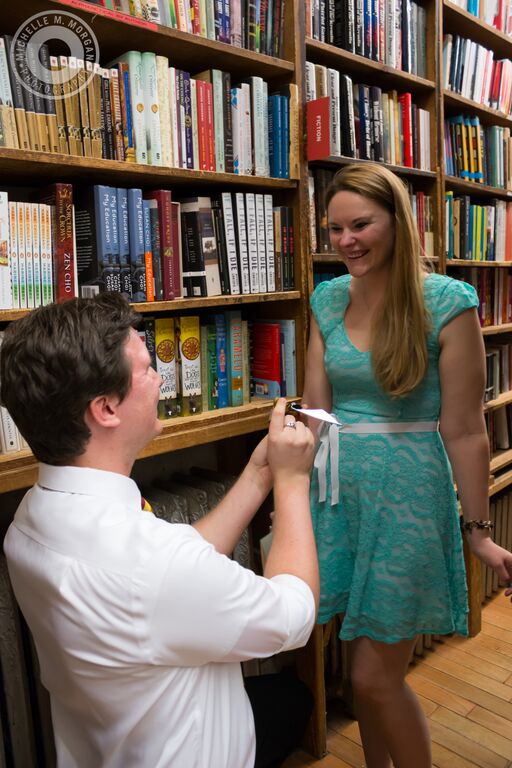 A letter from Minerva McGonagall stating that I'd been accepted into Hogwarts School of Witchcraft and Wizardry!  Imagine coming home from a seemingly normal day of work only to find an envelope with an official Hogwarts wax seal (Andrew ordered a Hogwarts stamp online, and red wax which he melted and sealed each envelope with), an owl post stamp and two lines of claw marks from the owl who carried it on his journey.  My initial reaction "WHAT IS THIS!?!?!?!" My parents just stared at me and mother insisted an owl dropped it off earlier that day.  When I opened it I found an acceptance letter on official Hogwarts letterhead inviting me to attend the upcoming school year.  This is literally my dream come true! I've been waiting for this letter since I read Harry Potter and the Sorcerer's Stone and suddenly at 28 it appeared.  I'm assuming the poltergeist McGonagall is referring to is none other than Peeves and what I took away from this is that 1) I would be getting more letters(!) and 2) I had no idea how to send my reply (an obvious yes) since I do not own an owl.  Andrew said it sounded like I would be getting more instructions so I should probably just wait.  Sidenote: I am incredibly impatient.  I actually considered not going to work the next day because I wanted my next letter so badly.  And so my magical week began! (Key clue words include "Commitment" and "long and happy future")

A letter from Fred and George Weasley! It's difficult to tell in the scan but Fred's writing is in a deep navy blue and George's is in black and their handwriting is in slightly different fonts (which is easier to see).  I love how humorous and in character their correspondence is!  The post script had me laughing out loud!  In addition to the letter, Fred and George also sent me a parcel packaged in brown paper and tied with a string.  I opened it quickly and discovered that they had entrusted me with the Marauders Map (from the Noble Collection- a thing I have mentioned to Andrew that I've always wanted)!  My next thoughts revolved around how easily it will be for me to sneak out of the castle and grab Butterbeers in Hogsmeade when Potions class seems unbearable!

Another letter from Professor McGonagall!  I love how she stresses the importance of the three things that Hogwarts students carry with them at all times.  I immediately texted Cassie and Melissa in our ongoing group chat with a photo of the letter and we set up a date for our "We're going to be Wizards!" manicures.  I can only assume that Andrew is in fact the one that stopped at Gringotts to cover the cost which is beyond sweet.  I appreciate that he scheduled in some female bonding time with my best friends before the big day so we could talk about everything in person and grab some cupcakes together.  (Key clue: manicures –> hands –> fingers –> ring)

A letter and parcel from Hagrid!  This is one of my favorite letters I've received, particularly because 1) it came with Chocolate Frogs which I had JUST been talking about wanting not even a week earlier and 2) the letter is burned around the edges and it looks beautiful in person!  It's so like Hagrid to have a dangerous little creature wreaking havoc on his letters.  And he wasn't kidding about the owl being confused, the envelope is postmarked in 6 different countries before it finally reached me!  I've been savoring my Chocolate Frogs so I still have a few left but I'm hesitant about diving into the Bertie Bott's Every Flavor Beans as I'm sure you can imagine.

Another follow-up letter from McGonagall stating the time and date of my appointment at The Strand to get my books for the upcoming school year.  Anyone who knows me is fully aware that books are my the most important material possession to me and I am always the happiest when I'm in a bookstore so the thought of waiting until Wednesday for this appointment was absolutely excruciating.  Daydreams of new books, and magical books at that, were definitely keeping me up at night when I should've been asleep.  (Key clues: The Strand aka my favorite place in the world – Suggesting I dress well)

A letter from Professor Trelawney warning me of the doom I shall face should I accept my place at Hogwarts!  This is another one of my favorite letters because I couldn't stop laughing while I was reading it.  My parents did not get it at all which was even funnier to me.  This letter also included a package of African Mint Green Tea from David's Tea and Andrew put his graphic design skills to work again and created a Wizards Brew label for the package. (Key clue: RINGING. RINGing.)

The last will and testament of Albus Dumbledore!  So, here's the full story:
When I arrived at The Strand I went straight to the back corner of the fiction department and when I didn't see anyone waiting there I asked Andrew if he thought that the person's name was actually an author and not an employee.  He shrugged noncommittally and I started searching the stacks.  Andrew grabbed a ladder for me because Emma Chapman was located on the top shelf.  In one of her books entitled How to be a Good Wife (Andrew assured me this book was chosen because wife was in the title and it was in no way a reflection on me) the final letter was hidden.  I read through Dumbledore's will and laugh-cried through the whole thing because of all of the reasons I wouldn't need what was being left to Ron, Hermione and Harry were heartwarming and / or humorous.  When I finally finished reading through the Will, Andrew pulled a golden Snitch out of his bag.  He said some very beautiful things to me including that his world would end without me.  He then said "I only open at the close," got down on one knee, opened the Snitch (which he ordered online, cut in half and turned into a ring box) and asked me to marry him right there surrounded by stacks upon stacks of books!  Tears of joy ensue!