Today I'm so excited to be kicking off a best of 2022 week with my favorite post, the best books of the year! In 2022 I read a total of 123 books in 2022. Definitely not my best reading year, but a very impressive feat considering how much I had going on personally in 2022 and there were multiple months where I was only able to read 4 books.  Thank goodness for months like January and February which helped balance those lower reading months out.  And now for the list parameters: 1) these are not all 2022 releases, they're from the list of books I personally read in 2022 and 2) I'm not counting any re-reads amongst my favorites (or you would see Lord of the Rings on here multiple times).  I feel really good about this list of 20 favorites and I'm glad to see that it spans many genres.  Unsurprisingly, a lot of nonfiction made my list, but it accounts for a higher percentage than in years prior- it's actually tied with fantasy this year!  There seems to be an incremental increase in my nonfiction favorites each year.  Another thing to note is that while only two thrillers made my favorites list, it was definitely my favorite genre to read.  It's tough for a thriller to become a favorite, but I get so much enjoyment devouring them, love or hate.  One of my 2023 goals is to see an increase in the number of my general fiction favorites.  But I'll be saving reading stats for a separate post so without further adieu, here's my list broken down by genre.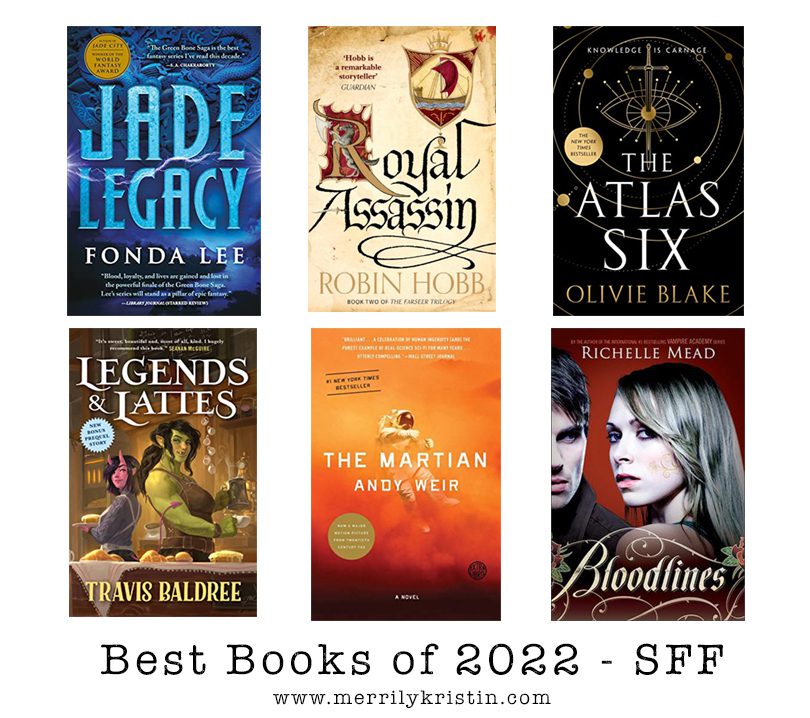 SFF – 30% of favorites
Jade Legacy by Fonda Lee – What an epic conclusion to one of the best fantasy series I've ever read.  I cannot even describe the amount of emotional turmoil I felt throughout my reading experience of this final book. I cried so much, but it was the perfect ending to the Kaul family's story.  I still get chills just thinking about how brilliant this book is!
Royal Assassin / Assassin's Quest by Robin Hobb – I waited an entire year to read the second book in the Farseer trilogy (literally to the date- I know because I read the first book during my brother and sister-in-law's bachelor/bachelorette party last Summer!) and after not having strong feelings about it, I'm so glad that I decided to continue on.  Fitz really grew on me in the second and third books, but there's no question that I was in this series for the Fool.  Robin Hobb's writing is otherworldly and I can completely see why so many people rank her amongst their favorite fantasy authors.  I'm a convert for sure! I'm so excited to tackle her Liveship Traders series in 2023.
The Atlas Six by Olivie Blake – I never expected a TikTok book to end up on my favorites list- for whatever reason, the books that tend to get popular there are usually not my jam or only okay to me.  The Atlas Six is a totally different beast.  Olivie Blake is such a talented writer and there's a specific passage in this book about starving that spoke to me more than any other piece of writing I encountered during the year (and possibly in years past).
Legends and Lattes by Travis Baldree – Like many other readers this year, I was completely charmed by Travis Baldree's cozy fantasy novel about an Orc Barbarian retiring from adventuring and opening up the first coffee shop in the city of Thune.  I sincerely hope this sparks a new genre movement in 2023.  Reading about the mundane tasks of opening a coffee shop in a fantasy setting was exactly what I never knew I needed in my life.  It reminds me of a slice of life anime in the best way possible.
The Martian by Andy Weir – One of my last books of the year, I'm so glad I finally read The Martian by Andy Weir after having shelved it on goodreads back in June of 2017.  I'm admittedly not the biggest sci-fi reader, but there of course are those exceptions to the rule and The Martian is one of them.  I listened to the audiobook and Wil Wheaton's narration of Mark Watney's experience being stuck on Mars was truly a delight.  I laughed out loud so many times while reading and after binge watching 30 seasons and 10 movies of Star Trek in the past two years, I especially appreciated those references.
Bloodlines series by Richelle Mead – I'm kind of devastated that I don't have a third Richelle Mead series set in the world of Vampire Academy to binge read in a month during 2023 so I'm going to have to find a substitute.  I loved the continuation of the Vampire Academy story focusing on our new protagonist Sydney and her involvement with the alchemists.  This series was a blast to read from start to finish and I couldn't get enough of them!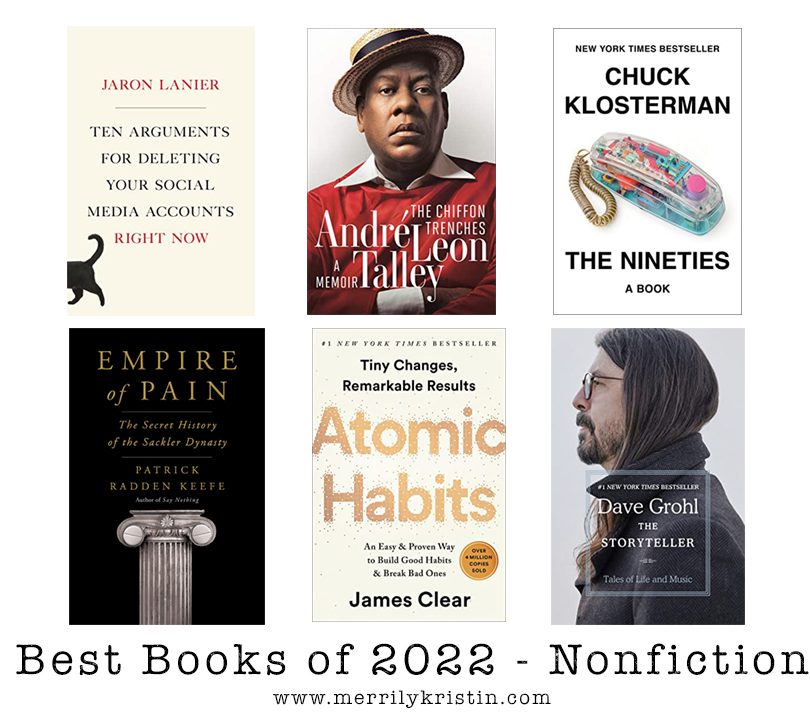 NONFICTION – 30% of favorites
Ten Arguments for Deleting Your Social Media Accounts Right Now by Jaron Lanier – One of my first and most memorable reads of the year, I really enjoyed Jaron's arguments for deleting your social media accounts.  As someone who's become totally disenchanted with social media, I found myself nodding along vigorously and craving a return to simpler times when so much of our attention wasn't focused on what other people are posting online.
The Chiffon Trenches by Andre Leon Talley – I've loved Andre Leon Talley since my fashion school days and I was so excited to read his memoir earlier this year.  Little did I know that he would pass away in 2022 shortly after I finished reading it, which made it all the more heartbreaking.  It was so entertaining and enlightening to hear Andre's experiences in fashion told through his own voice (I listened on audio), and I loved how candid he was about the things he went through. A must read for anyone who loves fashion!
The Nineties by Chuck Klosterman – This deep dive examination of every element of the nineties made me so nostalgic for my childhood.  It also made me realize how much I hadn't realized was going on at the time since I was experiencing everything as a child.  There were so many topics I loved in this book from Nirvana to the first presidential election that I remember learning about in school.  Chuck has a talent for analyzing events and arranging them into a big picture that helps us make sense of the past.
Empire of Pain by Patrick Radden Keefe – This book was incredible.  It follows three generations of the Sackler family, who are very much to blame for the opioid crisis in America.  It follows their dynasty both personally and professionally and shines light on all the poor decisions, shady business practices and the extensive cover ups.  I hadn't realized that in addition to oxycontin, they're also the makers of other drugs like valium. Brilliantly written, this long book read more like fiction than nonfiction.
Atomic Habits by James Clear – This is probably the most impactful book I read this year and if I could only re-read one book on this list, Atomic Habits would be the one.  James Clear reframes habit forming in an accessible and helpful way.  He offers such valuable tips for becoming the kind of person you want to be, and talks about the detriment of goal setting versus habit forming. It really resonated with me and I even made Andrew read it!
The Storyteller by Dave Grohl – Another one of my last reads of 2022, I picked up The Storyteller during the annual B&N hardcover sale and I decided to listen to the audiobook so I could hear Dave himself narrate his story.  I was captivated! Dave is a gifted writer in addition to being a brilliant musician.  It was especially entertaining to hear how humbly he recounts his epic tales and asserts what a normal person he is.  When I was young, I was obsessed with Nirvana and it's been awesome to see Dave's career trajectory over the years. I could not recommend this book more!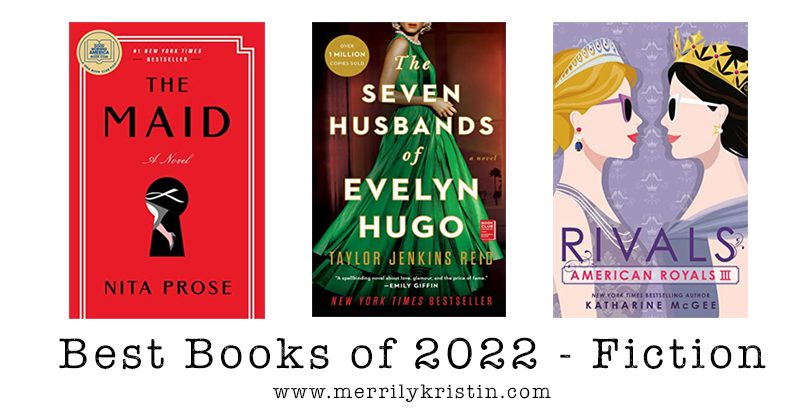 FICTION – 15% of favorites
The Maid by Nita Prose – Technically The Maid is more of a cozy mystery than general fiction but to me, it just didn't fit in my thriller category so here it resides.  It's impossible to read The Maid and not be enchanted by the Regency Grand Hotel, which basically reads as its own character, and to adore Molly Gray, hotel maid who is never labeled but clearly on the spectrum.  One day while working, Molly discovers a body and quickly becomes the number one murder suspect and it's up to her to prove her innocence.  I devoured this book and I was so pleased with how everything played out!
The Seven Husbands of Evelyn Hugo by Taylor Jenkins Reid – I just recently reviewed this book on my blog, having been one of the last people ever to read it.  Knowing that Daisy Jones is one of my favorite books of all time, I have no idea why it took me so long to finally pick up Evelyn Hugo.  Taylor Jenkins Reid has a knack for writing complex, unlikeable female protagonists that I just can't get enough of.  I was captivated by Evelyn's story, recounted through the lens of her time with each of her seven husbands.  I love the old Hollywood glamour and celebrity gossip tidbits, but most of all I love how Evelyn acknowledges how selfish she was forced to be to get what she wants and how she doesn't regret a single decision.
Rivals by Katharine McGee – I was over the moon when Katharine McGee announced a surprise third book in the American Royals series (and we're getting a fourth book in 2023!).  This series poses an alternate American in which we won the American Revolution but formed our own monarchy as our form of government. The series takes place in the present day and we're following the descendants of George Washington as they navigate life in the palace and balance their duty to America with their own personal desires.  I've been hooked since book one, but Rivals is easily the best book in the series yet.  The title hasn't been announced just yet, but my bet is on it being called Reign.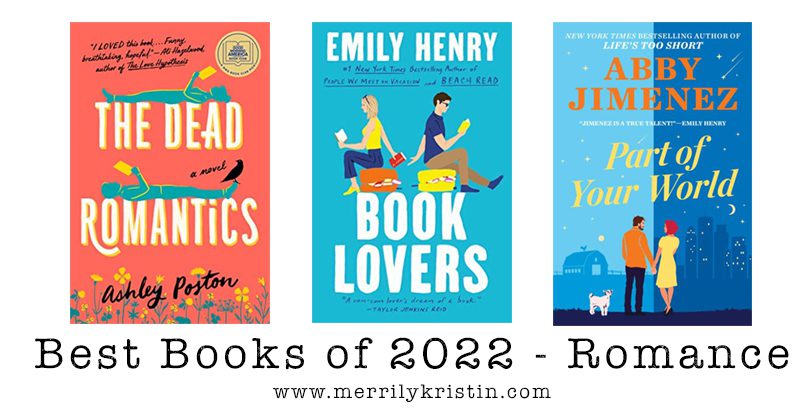 ROMANCE – 15% of favorites
The Dead Romantics by Ashley Poston – This clever and unique romance novel follows Florence, a ghostwriter for a bestselling author, who's family runs a funeral parlor, and has the ability to see and hear ghosts.  Florence is struggling with writing her next romance novel because of a tough breakup, and travels home after her father unexpectedly passes away.  While she's there she ends up meeting the ghost of her current editor and the pair fall in love.  I realize this sounds absurd, but trust me when I tell you it's one of my favorite romance novels ever written.
Book Lovers by Emily Henry – Another book industry centric romance novel, but in this one we're following sisters who travel to a small town together on vacation and our heroine Nora runs into a colleague she considers to be her nemesis.  The pair obviously fall in love and it's my favorite of Emily's books thus far.
Part of Your World by Abby Jimenez – And finally, Part of Your World follows a successful doctor from a legacy family who is constantly put under pressure by her overbearing parents.  She's recently gone through a breakup as a result of an emotionally abusive relationship when she meets young, innocent, and uncomplicated Daniel.  Alexis loves their time together but she doesn't see how he could possibly fit into her life.  This story was wonderful!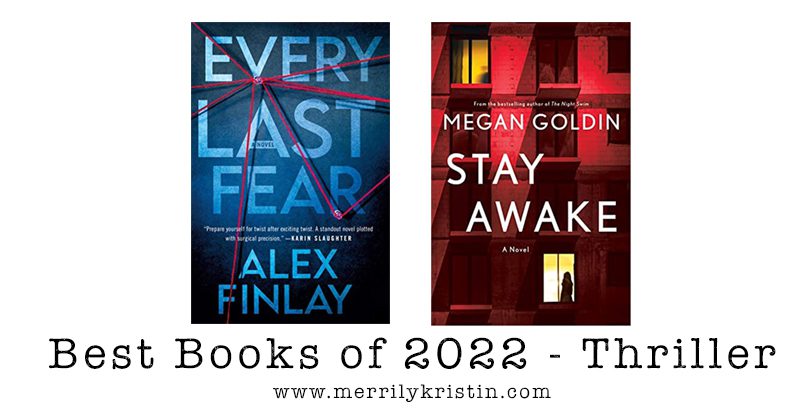 THRILLER – 10% of favorites
Every Last Fear by Alex Finlay – Alex Finlay has become one of my favorite thriller authors.  He has a major talent for crafting characters full of heart and setting an engagingly quick pace for his stories.  In Every Last Fear, we're following an FBI agent and a college student who's entire family was killed in an accident in Mexico. Agent Sarah Keller believes there's more to the story than a freak accident like they've been told by the Mexican authorities and it's wild to see this story unfold. I actually cried in this one!
Stay Awake by Megan Goldin – Megan Goldin is another amazing thriller author and Stay Awake was such a unique story. It's similar to Memento in that our heroine loses all of her short term memory if she falls asleep.  She wakes up in NYC but can't remember why nothing in her life is the same as it was on what she believes was the day before. Even worse, it seems like someone is following her, but she has no idea why or who she can trust.  I cannot even describe how quickly I flew through this book. Total page-turner!