Hi friends! It's been quite a while since I last blogged but I really wanted to share all of the Christmas trees I've seen in NYC this year with you.  You know how I feel about Christmas<3 I feel like I've been living my best life ever since Andrew and I made the move to NYC and I wanted to venture out and explore the holiday decorations every chance I had no matter how tiny a timeframe! I was lucky enough to spend two full Saturdays out and about (one with Alexa and Rachel and the other with Andrew) and quite a few of the places you'll see on this list were viewed on those two Saturdays! I also ventured out early in the AM before work a few days (gotta get those photos when there are minimal tourists!), and a couple of nights after work as well!  My top three trees are 1) The Lotte Palace, 2) Tavern on the Green and 3) the New York Public Library.  Please note that Rockefeller Center, also known as "the tree" is nowhere near the top of my list- I honestly think it's one of the least impressive trees in the city each year and I'll never understand why it draws the largest crowd!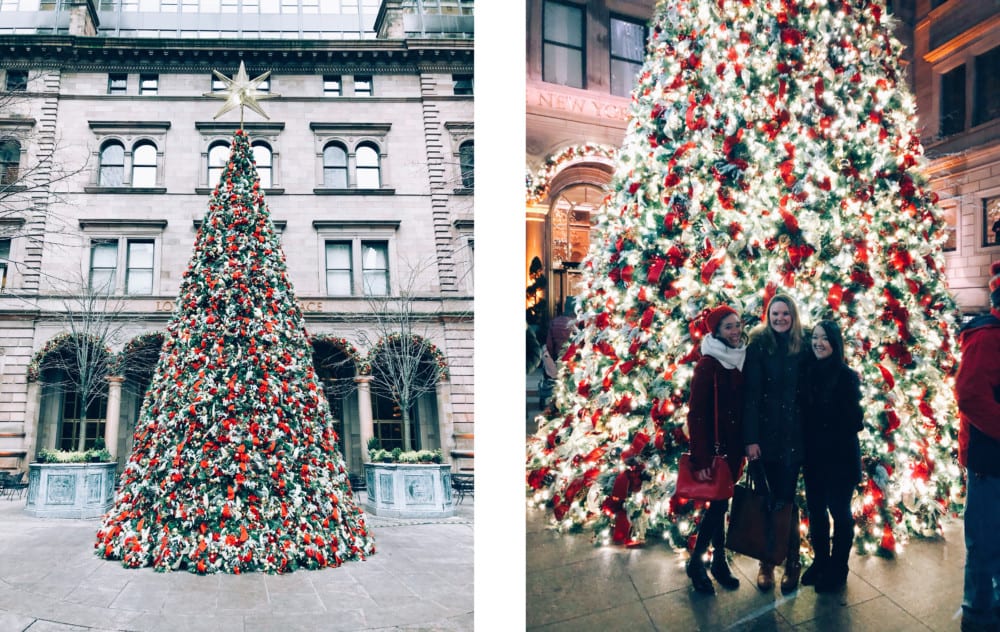 1) The Lotte Palace – This is by far my favorite tree. I think the red ribbons and pinecones are a thing of beauty and I look forward to seeing this one each year! Plus it's at the Palace Hotel which is where Serena lived in the first season of Gossip Girl! The star is quite stunning and it's right near St. Patrick's Cathedral.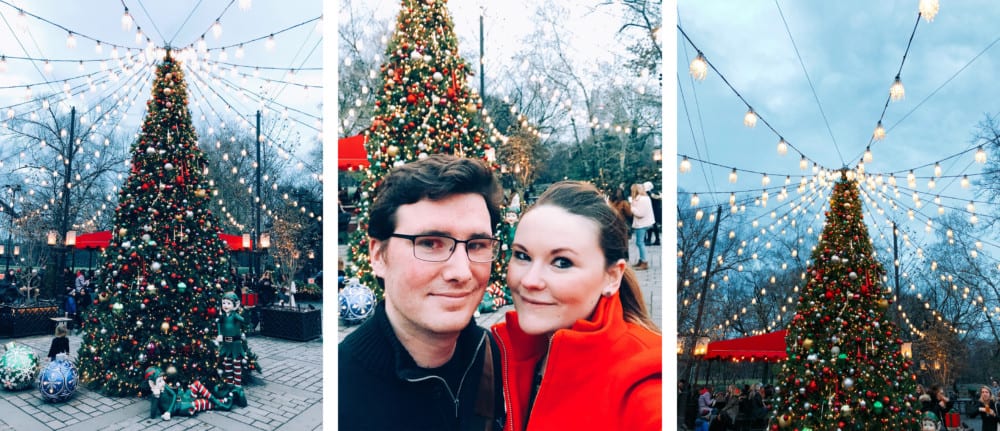 2) Tavern on the Green – This is the first year I visited this tree and I was shocked that I'd never seen it before. I am completely in love with the string lights that connect to the top of the tree.  I also thought the little elf statues and loose ornaments added to the fun! Andrew and I managed to catch this one right at twilight so it's also one of my favorite photos of the season. I'll definitely be visiting this one each year going forward!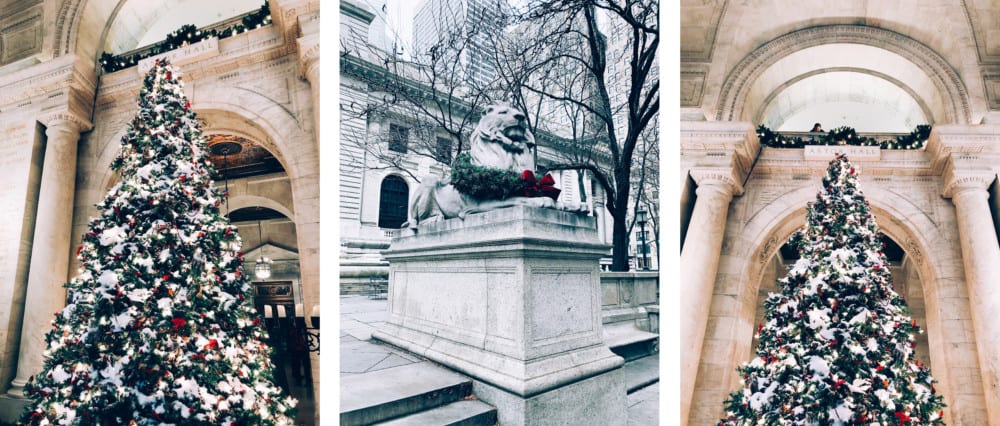 3) The New York Public Library – Part of why I love this tree so much (besides the cute snowy branches and the red cardinals) is the backdrop of the Astor Hall arch that sits right behind it.  It's so stunning!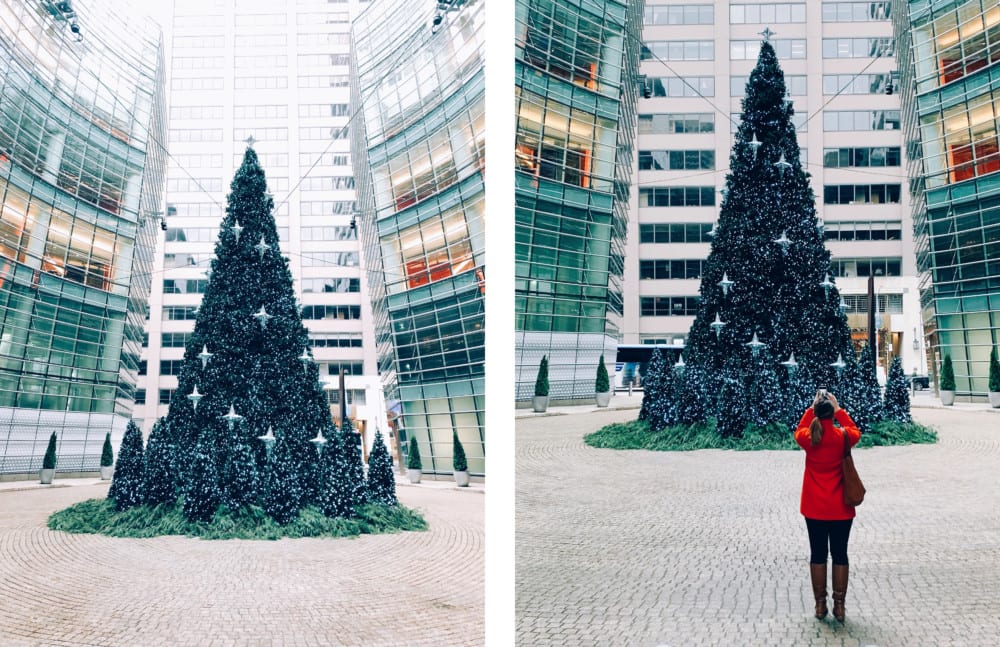 4) Bloomberg Tree – This tree is a bit hidden between avenues in a little alcove but I just love it! I hadn't seen it in about ten years and I've never seen it on any "trees to see" lists so I asked Andrew to go with me in the hopes that it would still be around 10 years later. Thankfully it was there and we both got some gorgeous photos!

5) Wall Street – This tree reminds me of the Rock Center tree but I think the NYSE being right next to it really adds to how special it is.  This is the first year I've seen this tree but I definitely plan to go back next year. I would love to see it at night as well because the pillars are lit up red and green once night falls.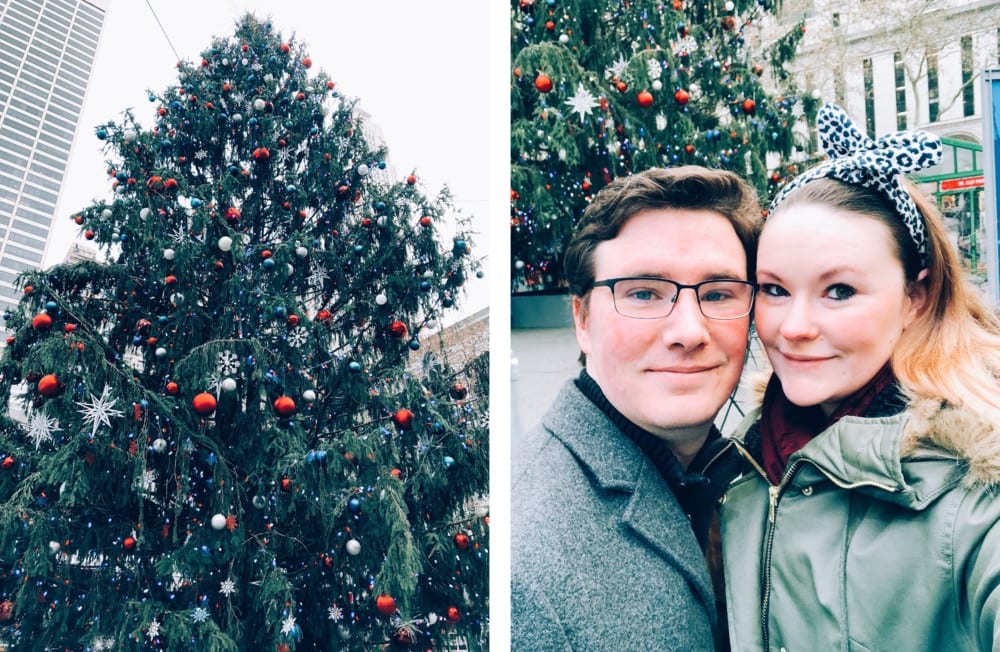 6) Bryant Park – I have to say that I felt like the Bryant Park tree was a little on the sparse side this year. I still enjoy looking at it and the Bryant Park holiday shops are by far my favorites of any of the markets. I'm glad I got to try The Stackery this year!

7) Rockefeller Center Tree – This is the tree everyone refers to as the ultimate tree and I just don't get it. I know there's a large celebration around the lighting with musical performances which might be why people get to hyped about it, but I really don't think it's anything special. Dress it up with some ornaments or something!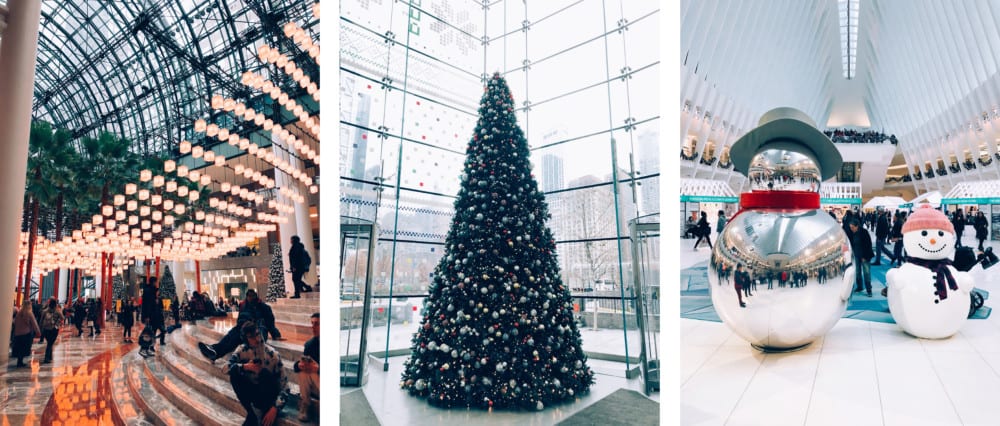 8) Brookfield Place – The Winter Garden at Brookfield Place is such a pretty sight to behold! I love the lanterns which constantly change color and it's funny to see so many palm trees near all of the Christmas trees! It makes you feel like you're on vacation. (also, stores for days!). Side note: The snowmen statues are actually located in the Occulus, but you can walk through an underground passage to get from Brookfield to the Occulus.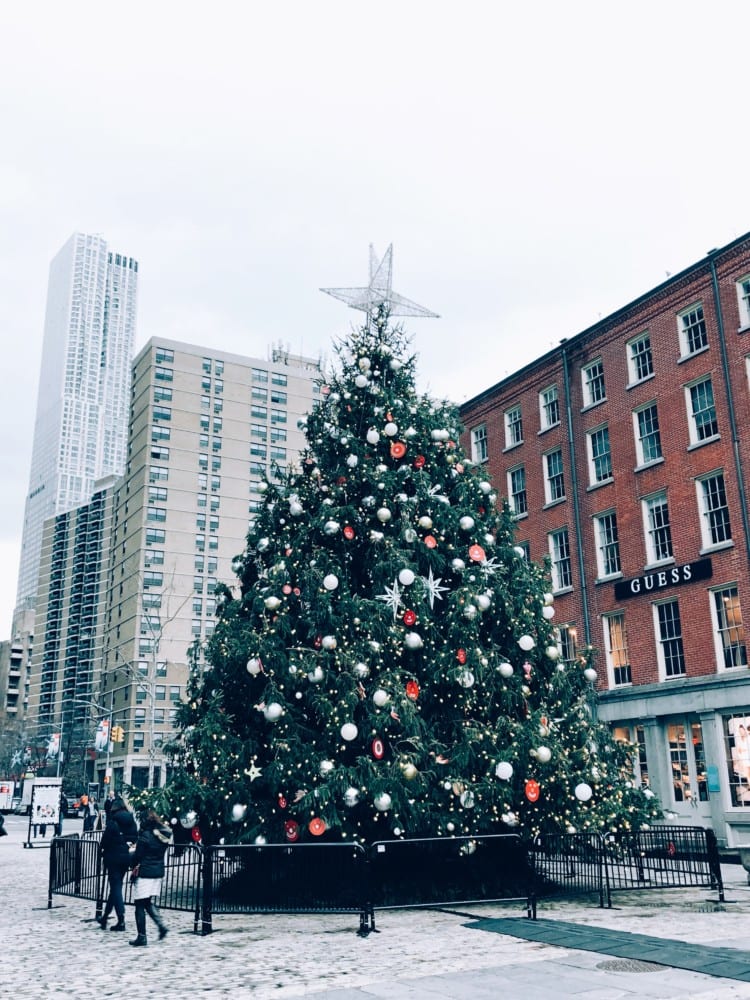 9) South Street Seaport – This is another new to me tree that I ventured to this year! I really love walking around the Seaport no matter the season. The streets are cobblestone and have such an old feel to them. Again, I love the ornaments on this tree! And I was able to convince Andrew to stop into a couple of stores with me before leaving the area.

10) Financial District – This is tree that we happened upon while walking to Zucotti Park and Wall Street.  It's up on an area with bleachers for people to sit and I love all of the red decorations.  We took a photos of another couple in front of the tree and then they reciprocated for us!

11) The Peninsula – These decorations are simply stunning! I love the whole scene and it photographs so perfectly! It feels like you're in The Nutcracker and I just want to walk down those stairs in a giant ballgown.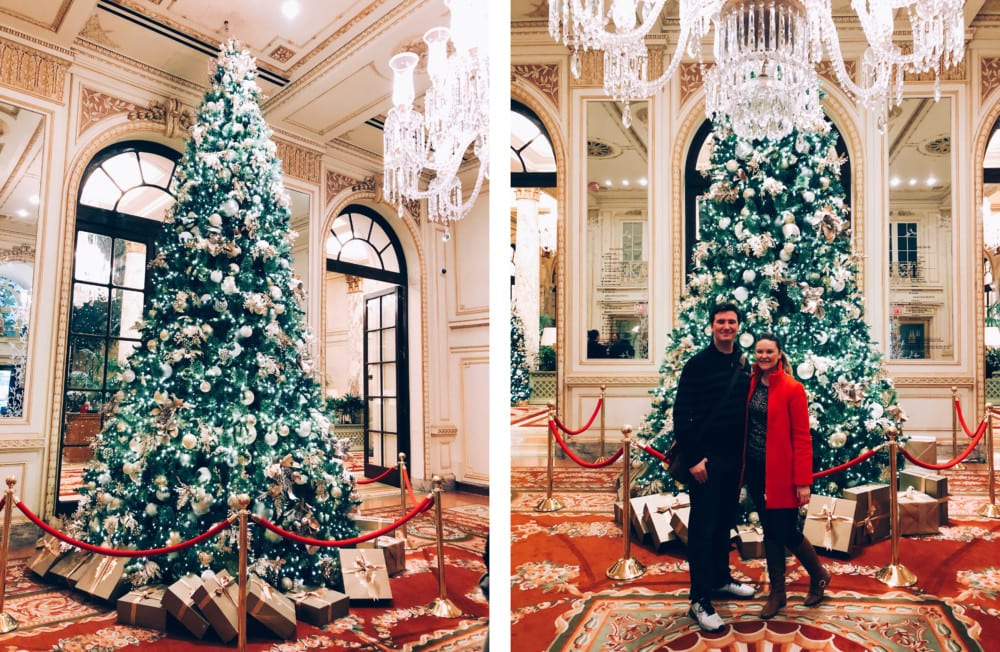 12) The Plaza – The Plaza has forever been my favorite hotel in NYC (not that I've ever stayed at it!). I just love the architecture of the building and it's close proximity to Central Park. It looks so majestic and I can't pass by without thinking of the Carrie / Big scene in Sex and the City.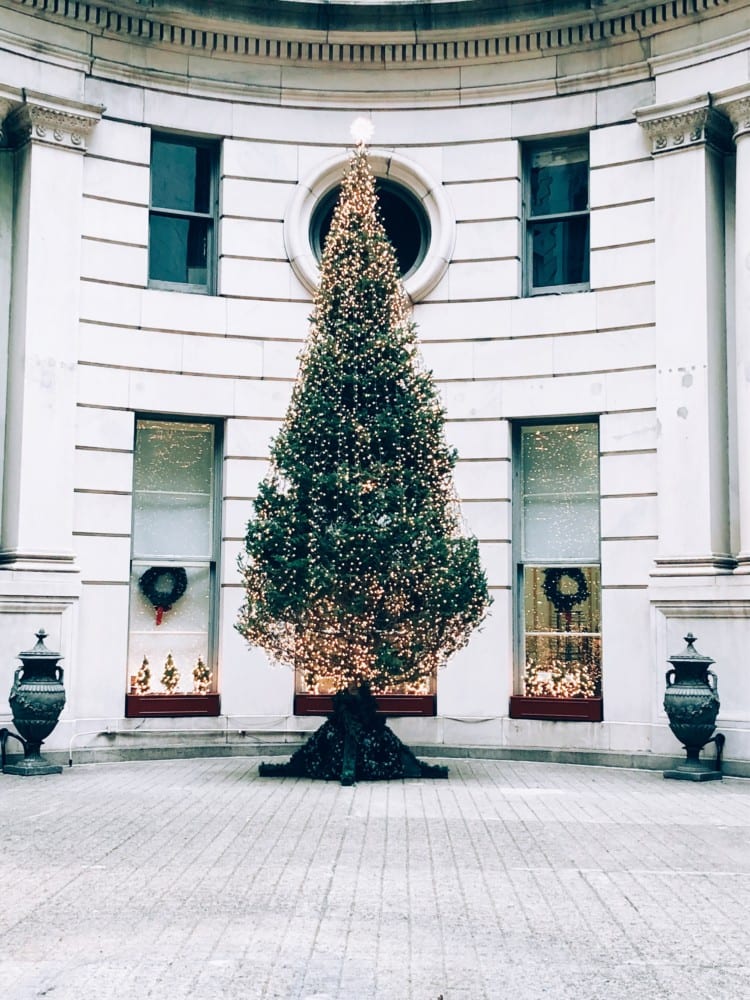 13) Tree near Barney's – I love this tree! It's so simple and quaint. It's also in a private fenced off courtyard so it's easy to snap a good photo without other people getting in your shot. It's right off of 5th Avenue on 60th Street and we stopped there on our way to Barneys.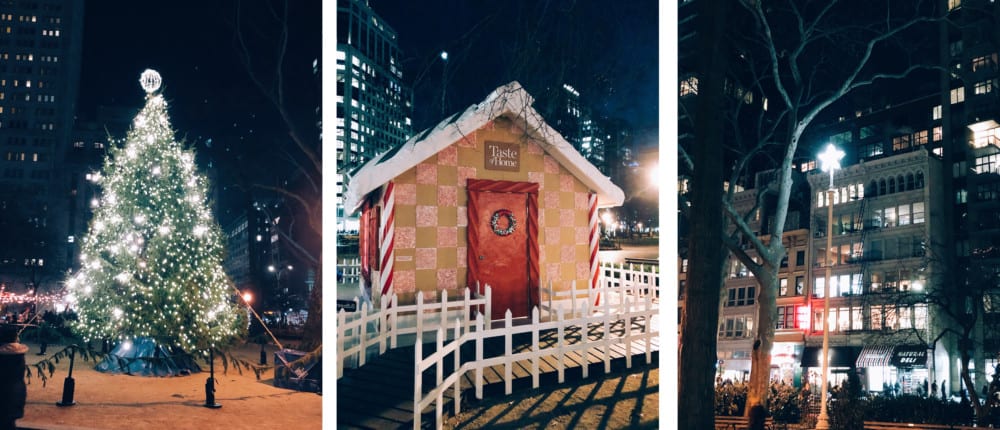 14) Madison Square Park Tree – The Madison Square Park tree is cute! It has basic white lights but I like the little sphere at the top. I think I'm also partial to this tree just because it's so close to the Flatiron building and I love the park it's in. I really liked the gingerbread house they had on display there this year as well.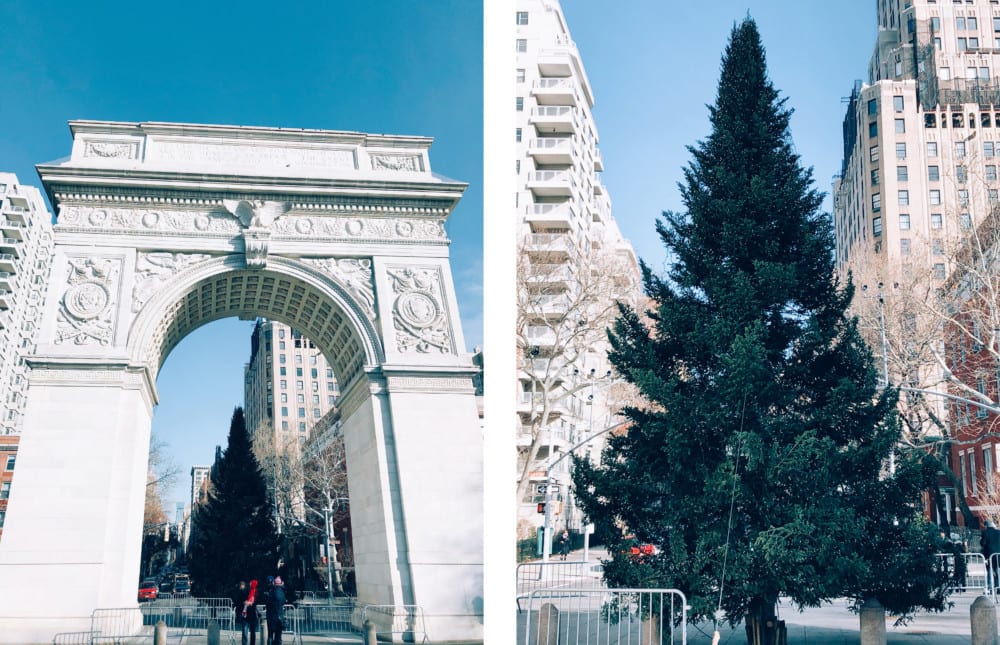 15) Washington Square Park Tree – I love the arch in Washington Square Park and I love that they place the tree right beneath it. It looks gorgeous when you take a photo of it from further away so you can admire the architecture as well. The decorations don't do much for me, but it's a fun stop if you're in the area.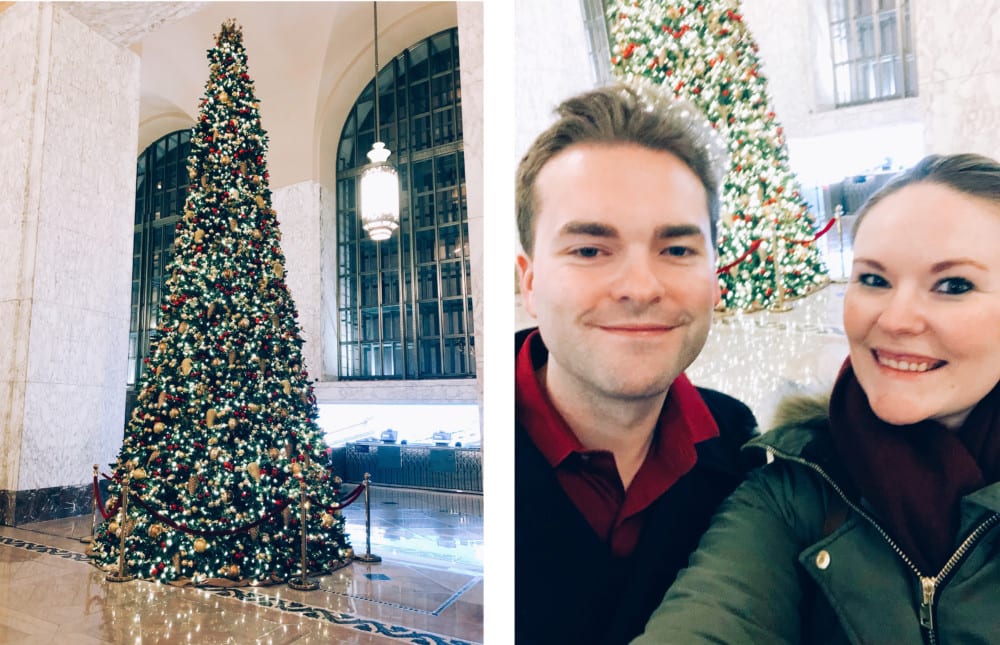 16) Sony Square Tree – This was an unexpected tree that I was lucky enough to see when my brother took me as his plus one to Spider-Man: Into the Spider-Verse at Sony Square. It's so tall and beautiful and I wish I could transplant it into my apartment.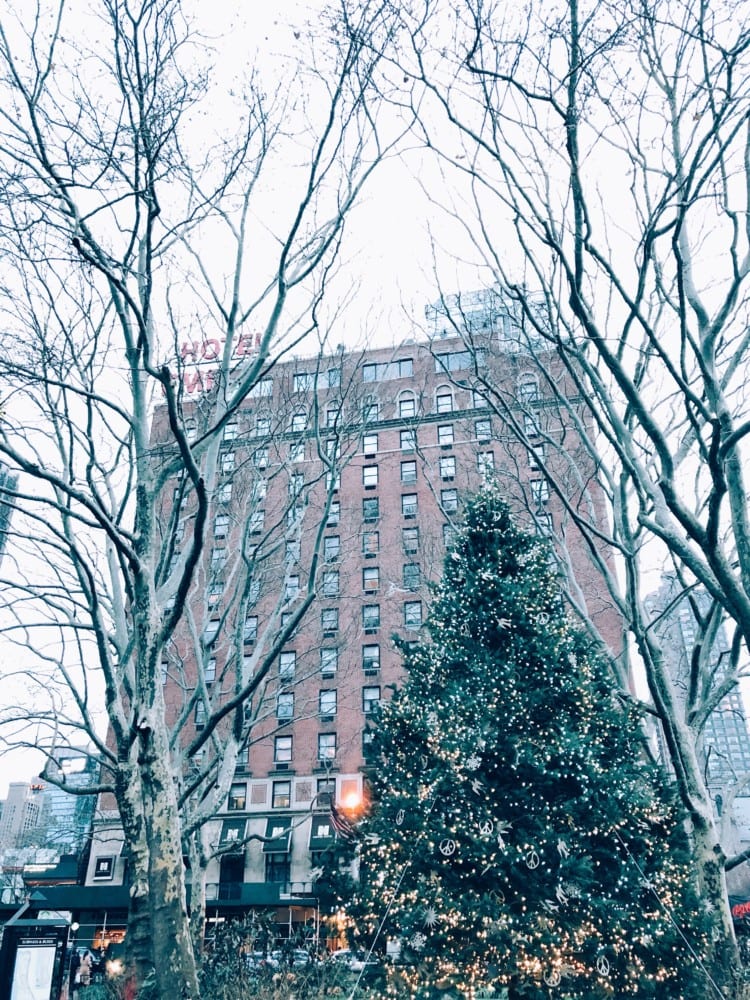 17) Lincoln Center – This is another one that really isn't anything special, but I love the backdrop of The Empire Hotel (another Gossip Girl location) and Lincoln Center.  Andrew also took a photo of an interesting clock we saw nearby.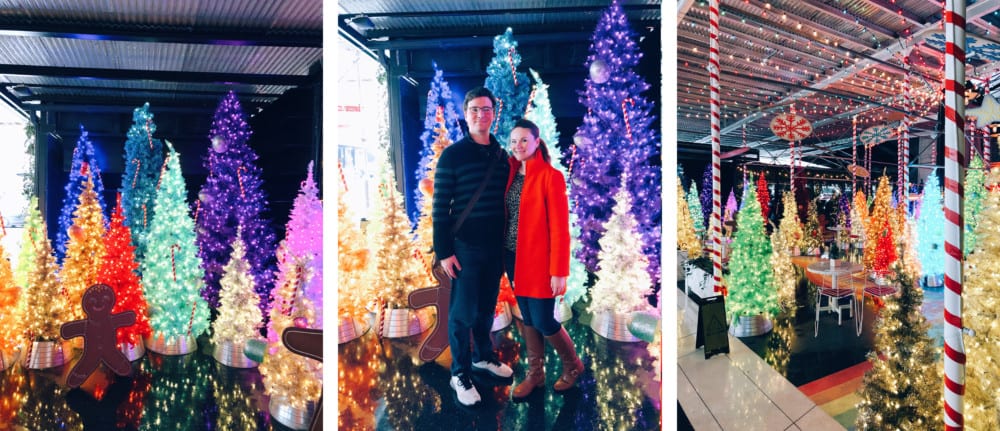 18) Standard Highline Trees – The Standard is honestly a Winter Wonderland and I want to live there. It felt like being in a Christmas themed Candyland and I swear I could walk through the aisles of trees all day long!

19) Strand Bookstore Tree – I'm so glad we got to see this tree! Alexa, Rachel, DJ and I went to The Strand on a Saturday specifically to see the tree but it was nowhere in sight.  We asked several employees who all pointed to the corner and then looked up and said "hey! it's not there anymore!"  I ended up DM'ing them on instagram later in the week and they told me it was back up so we took a trip out after ice cream. You can't go wrong with rainbow books!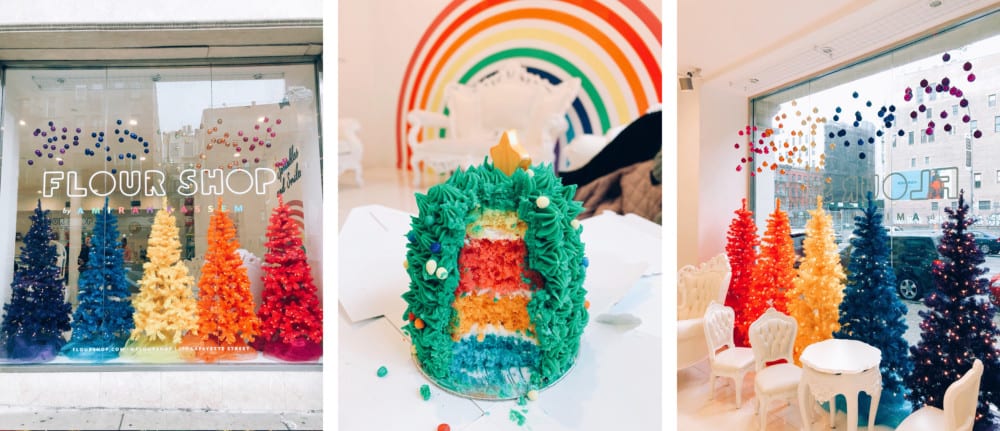 20) Flour Shop – Flour Shop is always decorated so colorfully all year round so when I saw they had rainbow Christmas trees, I knew I needed to make a stop there.  Cassie and I had been planning on purchasing some truffles to take home since 1) we had just eaten brunch and 2) we already planned to get ice cream cakes later in the day… but that changed when we saw their cute Christmas tree cake!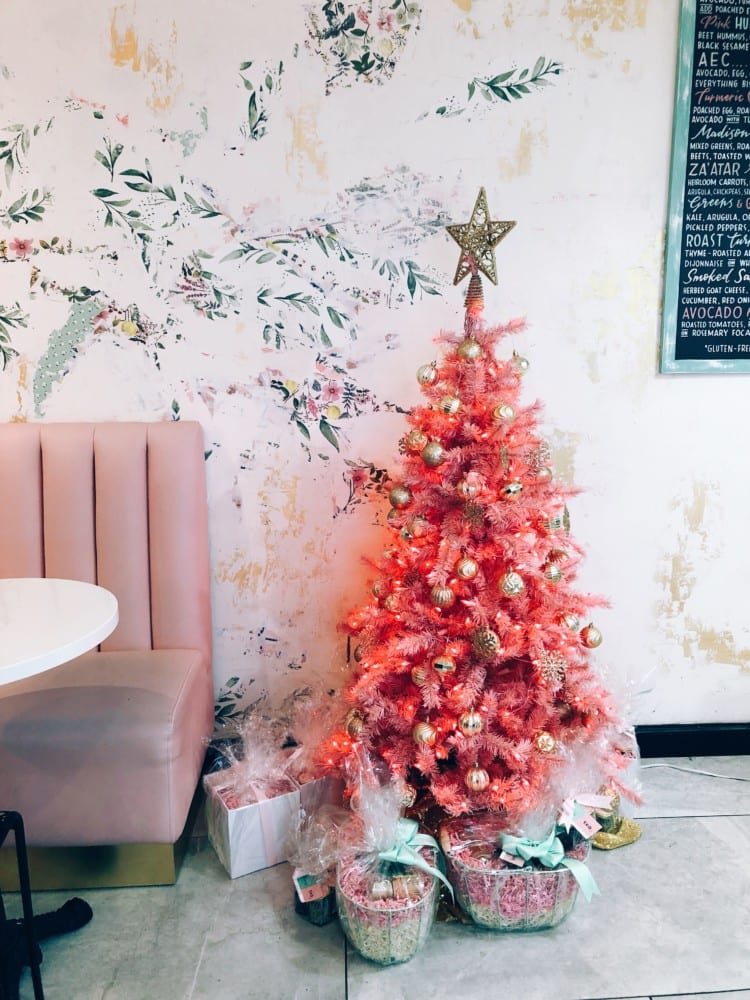 21) Blank Slate Tea – How could I not include this adorable little pink tree?! I'm obsessed with the aesthetic of Blank Slate Tea and and the food and tea are amazing! I've been there twice now and I still want to go back for more. I highly recommend the Earl Grey waffle and the AEC (avocado, egg & cheese).