In January 2020, I set a goal for myself to not buy more than 10 books per month… I had a lot of ups and downs with that goal.  I actually did pretty well in January (only bought 9 books!) but in July (my birthday month), I ended up buying 38 books. Oops! I'm trying to go back to 10 books or less per month- ideally, I want to read more books than I'm buying so I can minimize my physical TBR in 2021. Here's everything I picked up in November!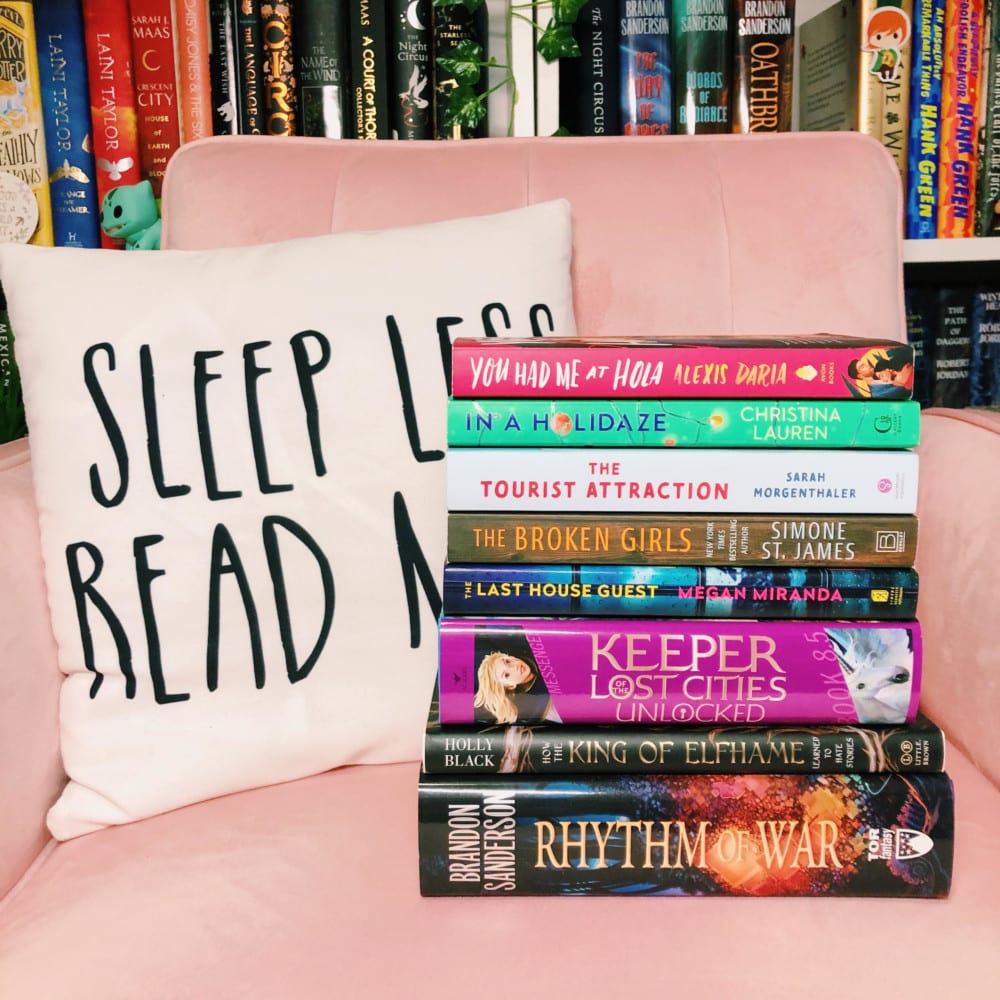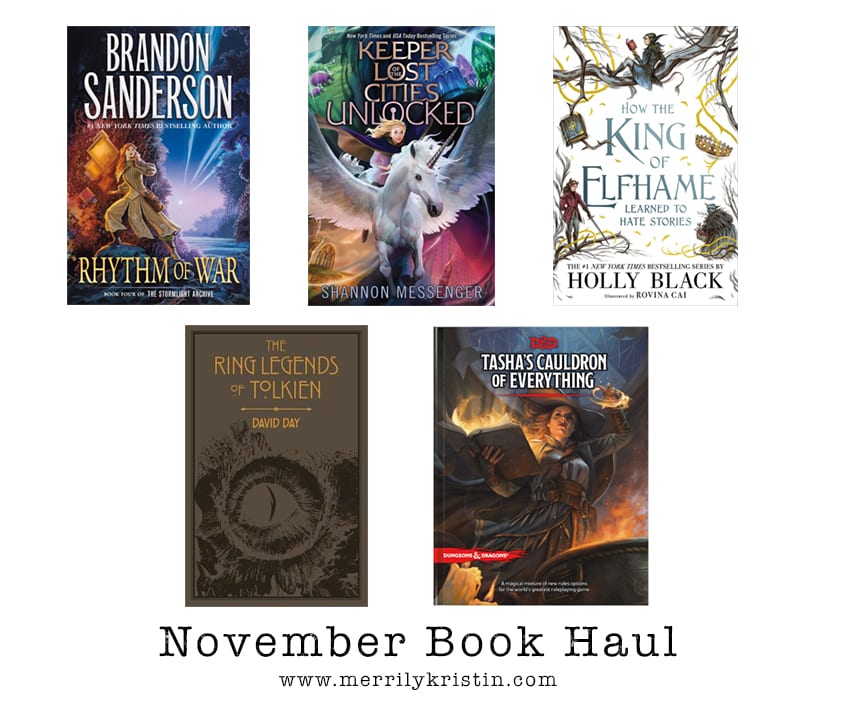 New Releases
1) The Ring Legends of Tolkien by David Day – I'm a sucker for all of David Day's illustrated Lord of the Rings guides so I had this one on preorder since it was announced. My goal next year is to re-read Lord of the Rings and then dive into the illustrated guides!
2) Rhythm of War by Brandon Sanderson (Stormlight Archive #4) – This was another preorder and a total no-brainer.  The Stormlight Archive series is my favorite ongoing fantasy series and I've been so excited to get my hands on the next installment. I really love the cover of this one! I still have to read Oathbringer, but I like to savor these books so I didn't want to rush reading it when there's going to be a long wait for the 5th book anyway.
3) Unlocked by Shannon Messenger (Keeper of the Lost Cities #8.) – Another preorder and another ongoing fantasy series I'm obsessed with!  Keeper of the Lost Cities is a middle grade series about elves and I've been smitten since book one.  The characters are so well developed and I really enjoy all of the hijinx in each book.  I'm so sad this one is coming to an end soon.
4) How the King of Elfhame Learned to Hate Stories by Holly Black – I guess it's safe to assume that most of the new releases I purchase are preorders.  I will always be here for all things Cardan.  I'm so thrilled Holly Black decided to give us more in the world of The Folk of the Air!
5) Tasha's Cauldron of Everything (D&D Rules Expansion) – This is a book I preordered for Andrew.  He loves D&D (and DM's a game for some of our friends!) so I always try to get him new books as they're released, especially when they're rule expansions.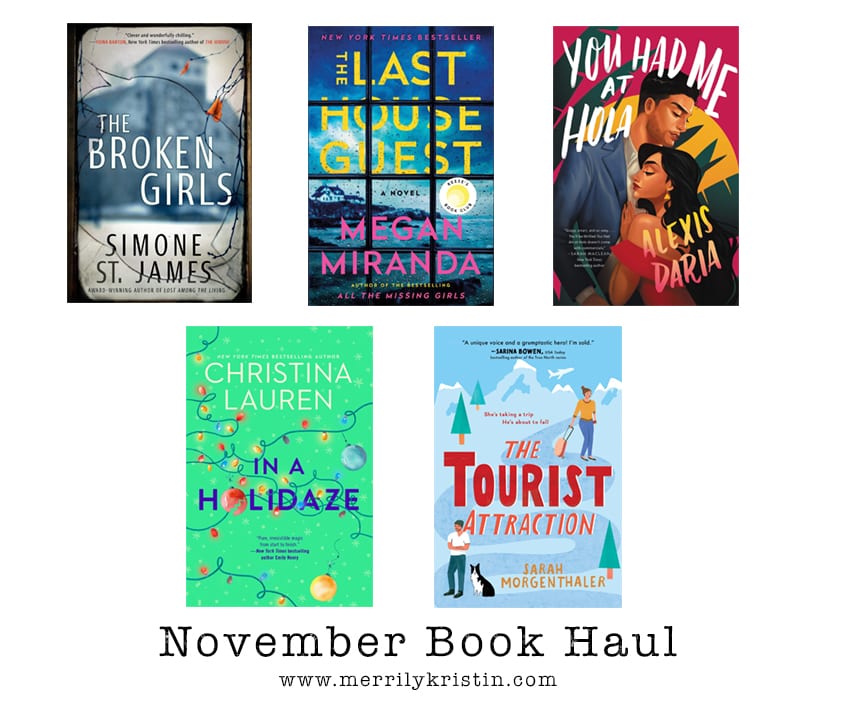 Backlist Books
6) The Broken Girls by Simone St. James – I read The Sun Down Motel last month and immediately put more of Simone St. James's books on my wish list.  The Broken Girls had the most similar cover so it's likely why I chose this one next!
7) The Last House Guest by Megan Miranda – I've been loving thrillers lately- I end up reading them so quickly because once the story gets intense, I need to have closure before I go to sleep! Megan Miranda has quite the backlist so I'm hoping to love this book and order some of her others.  Bonus, this book is textured and it looks like there are actual raindrops on the cover! I'm a sucker for such detail, and especially impressed since I purchased a paperback.
8) You Had Me at Hola by Alexis Daria – I've been alternating those aforementioned thrillers with fluffy romances and I've been so excited about You Had Me at Hola since I first heard about it! It's a rom-com set in the world of telenovellas which my heart has been craving ever since Jane the Virgin ended!
9) In a Holidaze by Christina Lauren – I'm getting ready for December with some holiday reads! I tend to enjoy Christina Lauren books so I couldn't resist a Christmas story!
10) The Tourist Attraction by Sarah Morgenthaler – I have family who live in Alaska so I'm always interested in reading books set there.  We visited a few years back for their wedding and it's such a different way of life!