In an ongoing effort to budget better, I decided to start keeping a running list throughout the month of all of the clothing, accessories, shoes and books I've been purchasing. I start with a monthly budget number which goes on the top of my Trello board to do list each day and I subtract the amount spent and fill in the purchases below it as I shop.  I've always been a visual person so by keeping track of what I'm buying, I'm able to use it as a reference throughout the month. It really helps me to give the list a once over before placing an order. I can more easily visualize all of the amazing things I've already acquired and it allows me to have a clearer mind when deciding if whatever I might be looking at in the moment is something I really need. Anyway, here are some of my favorite purchases of November!
You'll notice that this list is VERY JCrew heavy this month- they started their Black Friday sales in the beginning of November and that's been my weakness all month!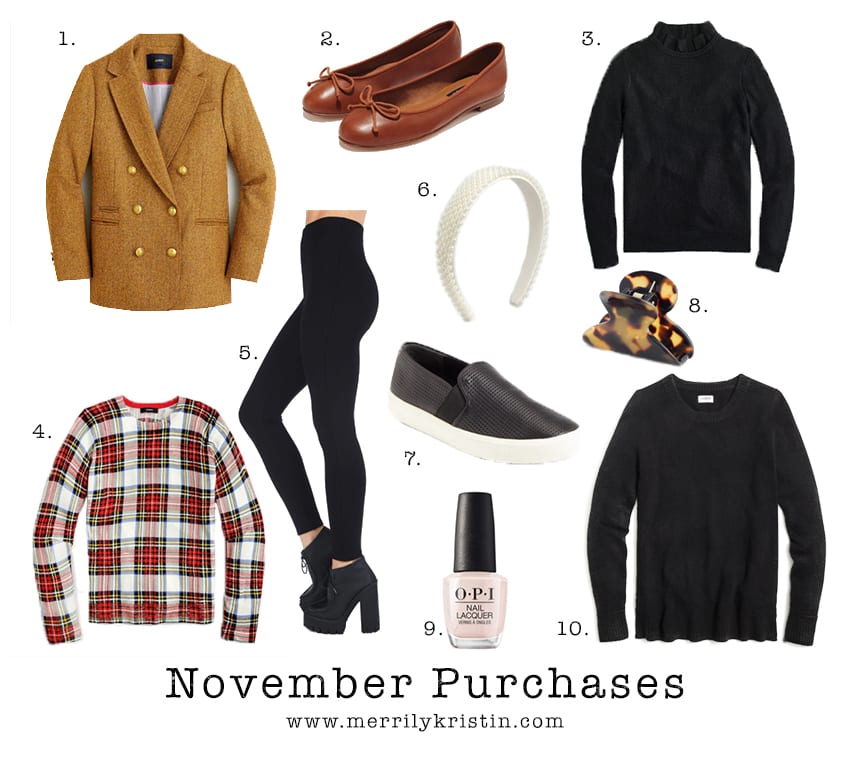 1) JCrew double breasted wool blazer in gold herringbone – It seems counterintuitive with quarantine and all, but I've been really drawn to blazers lately.  Maybe it's aspirational dressing? Who knows! Either way, I'm loving the versatility and the polished style, particularly when dressing up leggings or jeans.
2) Margaux 'The Demi' ballet flat in saddle – I've always wanted a pair of Margaux ballet flats but recently I've been looking at them Every. Single. Day. I had been planning on splurging on a pair in December as a Christmas present to myself, but Carly shared a discount code this week and I couldn't resist getting 15% off. The Demi style is so classic and I've heard wonderful things about how comfortable Margaux shoes are. If I end up loving them, I already have a wish list of other colors to add to my shoe wardrobe!
3)  JCrew ruffleneck sweater in black – This is a style I've seen on several bloggers lately and I think the ruffle neck is such a cute detail for an otherwise classic sweater. I bought myself the black version but I also have the ivory and the charcoal versions in my shopping cart.
4)  JCrew Margot crewneck sweater in snowy Stewart tartan – Once November 1st hits each year, I'm in full blown Christmas mode and that means all the tartan! I really like that this sweater isn't bulky and I'm planning on pairing it with a black skirt.
5)  BlackMilk push it high waisted leggings in black – I love BlackMilk leggings- I've been buying them for 8 years now in a variety of styles. While most of the trendy ones of my younger years have been donated, I still go for basic black.  When I saw they released a ponte version that's work friendly, I immediately ordered a pair! This girl is all about comfort.  The only downside is the shipping time is ridiculously long.  I usually get BlackMilk pieces within a week of ordering but these seem like they're going to take over a month. Thankfully it's no big deal since I'm still currently working from home!
6)  JCrew wide pearl headband in ivory – I swear I'm having a Gossip Girl moment between the blazer and the headband. I really love headbands and I have so many of the knotted top ones that I wanted to grab a few more styles to add into the rotation.
7) Vince Blair 5 slip on sneaker in perforated black leather – I'm so glad I finally got a pair of these! They're so comfortable and I'm really looking forward to ordering another color soon.  I've been wearing them every time I go grocery shopping (that's really my only big outing each week).  They slip on so easily and it only took one wear to break them in.
8)  JCrew mini hair clip in Italian tortoise – I've been really loving my short hair lately and this is such a cute clip to wear with a half up / half down style.  My hair was almost down to my waist when quarantine started and as it continued to get longer, I continued to go crazier.  I ordered some hair scissors and chopped almost all of it off myself! It actually came out surprisingly good- Andrew helped even out the back and he was more nervous about it than I was! Later in the summer, I got to visit my family and my aunt who's actually qualified to style hair gave me highlights and layers. It's honestly been such a pleasure and I can't imagine ever going back to long hair.
9) OPI nail polish in tiramisu for two – My nails are usually dark navy from August through October (I use Essie's After School Boy Blazer) and once November hits, I switch back to more neutral colors. I love this nude shade from OPI.
10) JCrew Factory crewneck sweater in extra-soft yarn in black – JCrew Factory can be hit or miss for me, but I ended up loving this basic crewneck sweater! It's longer than I had expected which makes it the perfect length to wear with leggings.  I do think the original JCrew supersoft yarn sweaters are more comfortable, but this is still comfy and at $26 I can't complain.  I'll likely get the heather acorn color next month.