Huzzah! This is my last catch up post of the year and then I can move forward with current happenings.  Similarly to April, I'm only going to round up my favorite purchases of the month, versus everything I purchased.  I think I'm going to keep this format going forward!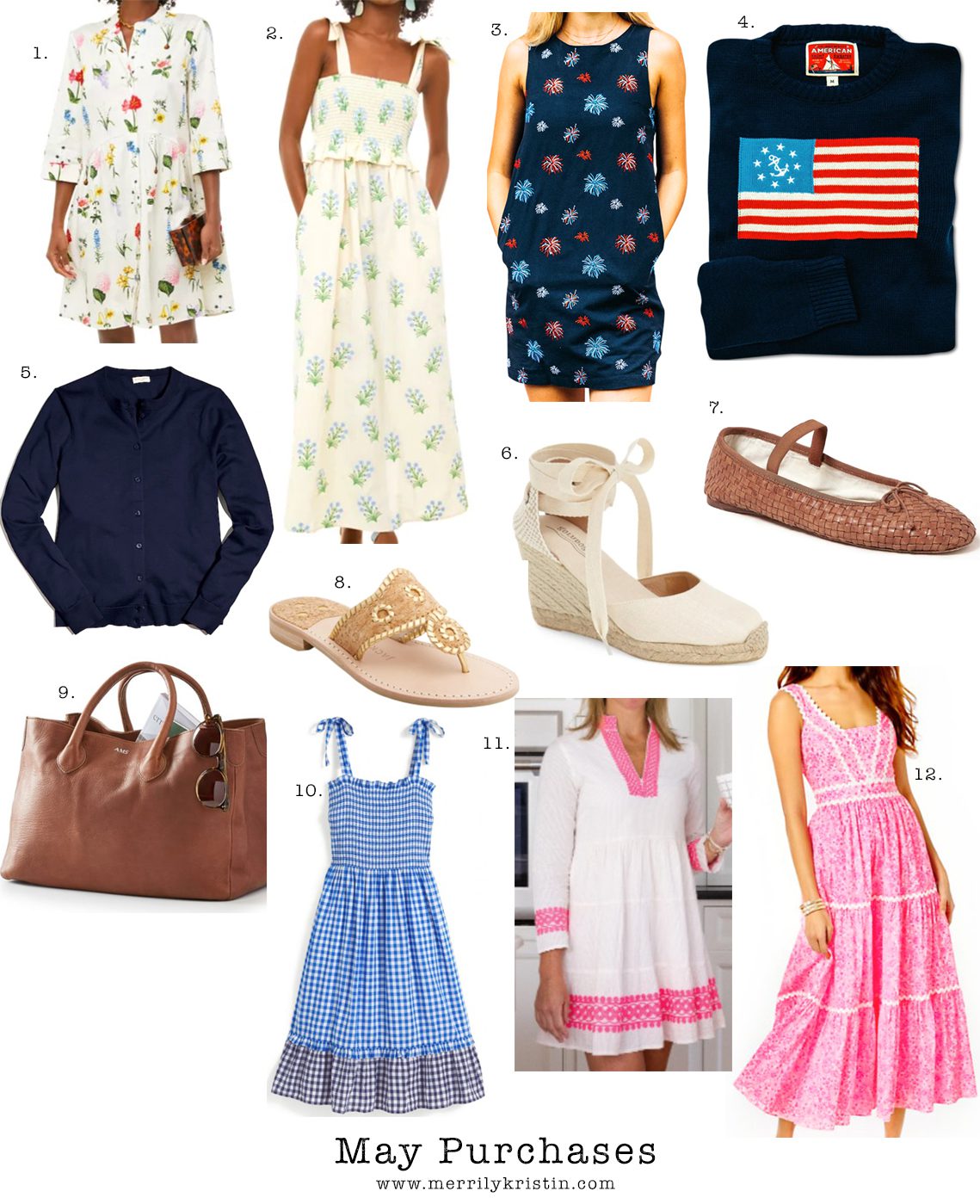 1. Tuckernuck Royal Shirt Dress in Fresh Buds – This is probably my favorite dress silhouette from Tuckernuck and I have it in four colors now! I'll definitely be getting any striking new patterns they may release it in as well.
2. Tuckernuck Wildflower Embroidered Dress – I was so excited to grab this dress on sale and while I haven't worn it just yet, I already have big plans for it! I love the color scheme of the beautifully embroidered flowers.
3. KJP American Celebration Shift Dress – I really wanted this dress last year and I thought it was going to go on sale at the end of the season but instead, KJP just took it off of the website.  When they re-released it this year, I ordered one immediately! I've already worn it to a Memorial Day weekend BBQ and I can't wait to wear it again for the Fourth of July!
4. KJP American Yacht Sweater – Same actually goes for this sweater.  I love the yacht club flag and it's the perfect layer for nights on a boat.
5. JCrew Factory Navy Cotton Cardigan – I picked up the black version of this sweater last month and I love it! It's been so nice to stock up on some more basic pieces lately.  I got this sweater in the white as well.
6. Soludos Espadrilles – I picked these up in the blush color and I'm pretty sure I'll be ordering a navy pair in the near future (if not this summer, then definitely next summer!).  These are comfortable, classic and you can't go wrong with an espadrille wedge.
7. Loeffler Randall Leonie Timber Brown Ballet Flats – I wanted these so badly when they were released but I'm so glad I waited because I was able to pick them up on sale.  They're such a great basic and the woven pattern makes them a bit more elevated than your typical flats.
8. Jack Rogers Jacks Flat Sandals – I have a pair of white Jack Rogers that I pretty much wear exclusively for the entirety of summer and I wanted to add another color into my rotation. For my second pair, I opted for the cork color since it's still neutral enough to match most outfits but I do see a navy pair in my future.
9. Mark & Graham Elisabetta Slouch Monogram Handbag – I bought my first one (yes, I already want at least 2 more!) in hazelnut sauvage leather.
10. Draper James Smocked Gingham Dress – In case you can't tell I'm having a Draper James moment over here. I just really fell in love with all of their new arrivals okay?  The new collection consists largely of gingham prints and those are my favorite!  I love the fit of this dress so much that I'm tempted to get the pink/red version as well.
11. Sail to Sable Seersucker Flare Tunic Dress – Am I loving pink dresses again? I feel like it's happening.  Seersucker is the best summer material since it's so lightweight and I really love this dress!
12. Lilly Pulitzer Pollie Midi Dress – I purchased this stunning beauty in store while Andrew and I were away.  I mostly tried it on to get it out of my system but it ended up fitting me so perfectly that I couldn't possibly leave it behind.  I haven't purchased a pink dress in so long, especially neon pink, but I instantly fell in love with this one!