As I mentioned in an earlier post, I'm not too much of a movie person (though Andrew and I have been watching more films this year so far!) but there are always a handful that I look forward to.  Historically, it's always been Marvel movies that have caught my attention, but as of late, I haven't been enjoying as many of the recent entries in the MCU, so while there are some Marvel films on here, it's barely Marvel films!  In going through my list, most of these are films based on properties I already enjoy and/or have a long running history with- only one is a new original story.  One of my goals for 2023 is to see a movie in the theater.  I think the last one we went to see was Spider-Man: No Way Home on New Year's Day 2022? So that was a quite a while ago!  Both Andrew and I prefer watching movies at home where we know there won't be annoying people in the crowd ha!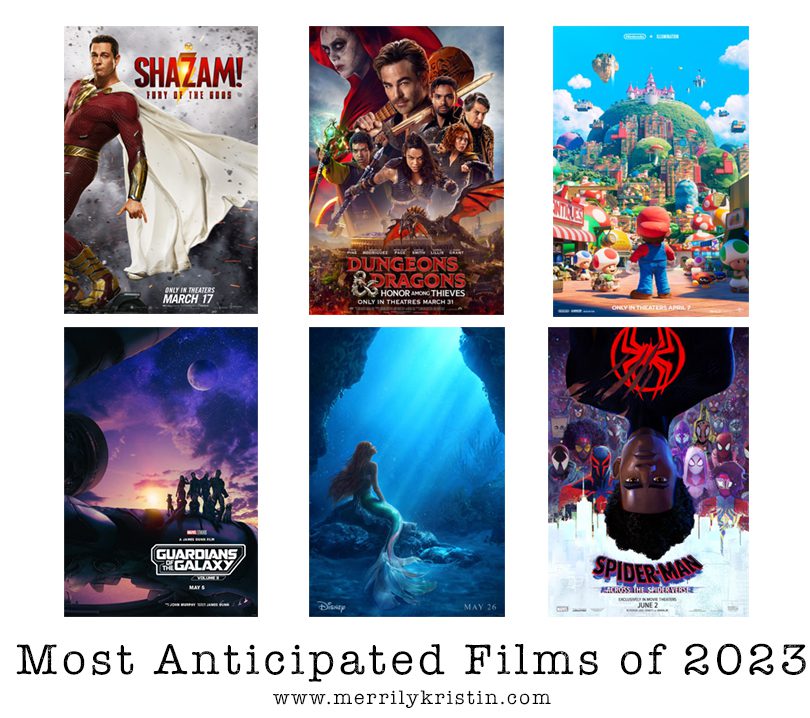 Shazam! Fury of the Gods (March 17th) – Andrew and I both loved the first Shazam film and we can't wait to see the next installment.  We both watched Chuck and are huge Zachary Levi fans!
Dungeons & Dragons: Honor Among Thieves (March 31st) – I had really low expectations for this film, however, the movie trailer totally sold me! Both Andrew and I are hoping there is a single actor playing every NPC.
The Super Mario Bros. Movie (April 7th) – This movie just looks like a blast! Like the rest of the internet, I'm definitely not sold on Chris Pratt's Italian accent, but everything else looks enjoyable and there's still some time (*fingers crossed*) to fix some of his lines.
Guardians of the Galaxy Vol. 3 (May 5th) – Guardians has always been one of my favorite Marvel properties, both on screen and in comics, (aside from the only okay holiday special on Disney+).  I'm looking forward to the next installment in the franchise and I'm really glad they brought James Gunn back for it.
The Little Mermaid (May 26th) – Little Mermaid has always been my favorite Disney animated film- I have such fond memories of watching and singing along to this one with my grandmother.  When I was a kid, I wanted to be Ariel so badly, so I'm always up for any iteration of this story!
Spider-Man: Across the Spider-Verse (June 2) – This has got to be my most anticipated film on this list.  Spider-Man: Into the Spider-Verse is my favorite Spider-Man movie ever made.  I've watched it so many times and I can't wait to revisit Miles's universe.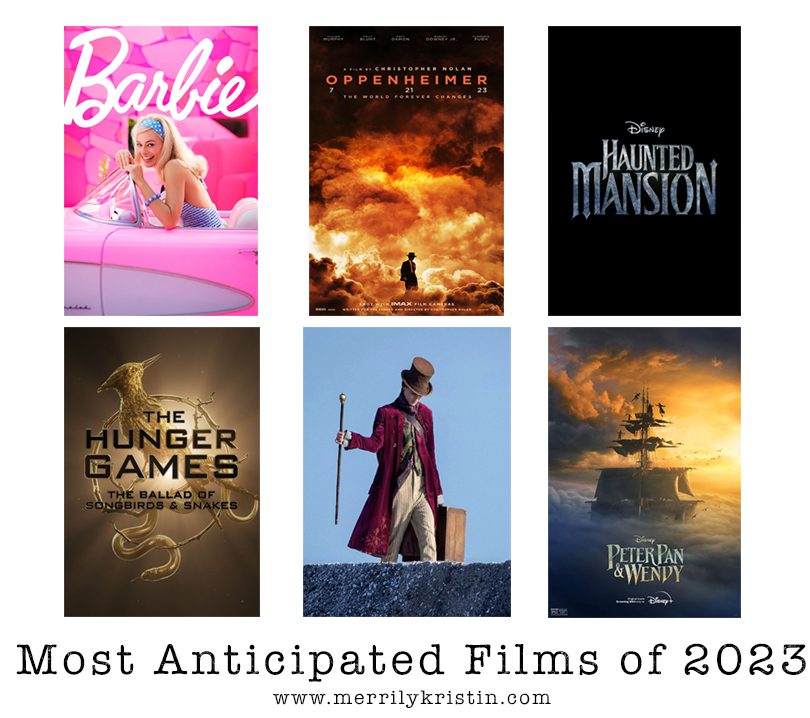 Barbie (July 21st) – Definitely a different vibe, but certainly my second most anticipated movie on the list.  This one just looks like so much fun! I've loved the early photos we've seen- Margot Robbie and Ryan Gosling both look amazing but the fact that it's directed by Greta Gertwig is the biggest draw for me!
Oppenheimer (July 21st) – Christopher Nolan rarely disappoints and I think his take on Oppenheimer will be extremely moving and visually stunning.
Haunted Mansion (August 11th) – I couldn't be more excited for this one! Haunted Mansion is one of my favorite rides at Disney! Andrew and I both enjoyed the Muppets Haunted Mansion released on Disney+ and I'm so looking forward to the live action adaptation!
The Ballad of Songbirds and Snakes (November 17th) – While I really did not love the book, The Ballad of Songbirds and Snakes, I will most definitely be going to see the film.  The Hunger Games movies are so well done and I'm curious to see if I'll enjoy the adaptation more than the source material.
Wonka (December 15th) – I love the original Willy Wonka film with Gene Hackman (despite the one very scary river boat scene).  I've actually never read the book, but maybe I'll do so in anticipation of the new adaptation starring Timothee Chalamet.  I did not love the Johnny Depp version so I'm hoping this one delivers!
Peter Pan & Wendy (TBA) – Peter Pan is my favorite classic children's book and it's a Disney film that played on repeat in our house when my brother and I were kids! I've read so many Peter Pan reimaginings and seen two Peter Pan Broadway shows.  I'm so here for all the Peter Pan and I really hope we get a release date for this one soon!