The highlight of my month was definitely the Hill House Home summer drop! Not only is this the best collection drop they've ever done, I also had a blast texting constantly about it with Alexa and Rachel while we chose our pieces.  On drop day, I actually ventured to the store in NYC and it was so much fun to shop with so many other ladies who were enthused about all of the new styles.  I got to try everything on and send Alexa and Rachel photos and fit advice on everything.  It's a really cute store and I'm hoping to go back in June for at least two more dresses (plus they have the cutest shopping bags)! Another reason I love putting these graphics together at the end of the month is so I can see if there are any patterns or trends within my purchases.  This month I seem to be embracing that preppy Kelly green!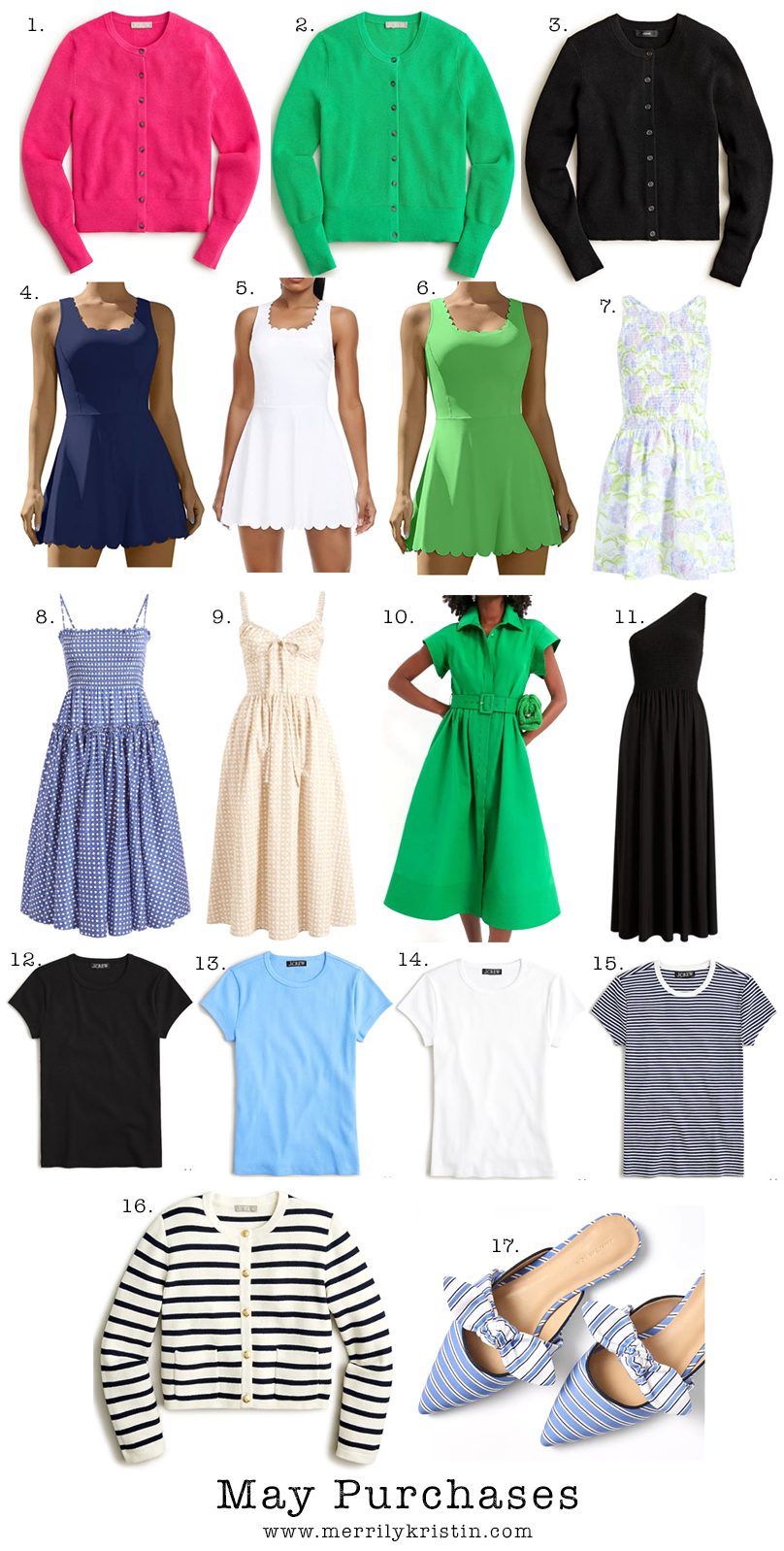 1.-3. JCrew New Ribbed Jackie Cardigan Sweater – I really needed to get new cardigans and the Jackie style is always a classic. I like the new ribbed material that JCrew introduced on these so I stocked up! Hopefully these will keep me warm in my freezing office at work.
4.-6. – Amazon Athletic Dress – I basically bought these so I can look cute while Andrew and I play pickleball! I love the scalloped hems!
7. – Hill House Home Lilou Nap Dress in Hydrangea Crepe – I immediately fell in love with this print! Hydrangeas are my favorite flower and I always live for June when they start blooming everywhere. I knew I wanted something in this print and I really like this new shorter style.
8. – Hill House Home Seraphina Nap Dress in Blue Basketweave – And basketweave! I love this print so much that I wanted dresses in both colorways! I was a little skeptical of the Seraphina style but when I tried it on in the store, it ended up being my favorite of anything this season!
9. – Hill House Home Juliana Dress in Sand Basketweave – And here's the other basketweave and what I thought would be my favorite dress.  It's a very close second! I love that the entire neckline is adjustable and I can definitely see myself getting more Juliana's in the future. I had to go one size up from my normal size in this one!
10. Tuckernuck Chloe Dress – I'm obsessed with this beautiful shade of green and the structured silhouette of the dress style. If Tuckernuck ever decides to release this one in black or navy, I'll be the first to buy it!
11. Hill House Home Thea Nap Dress in Black Jersey – I love the feel of the black jersey and I can't wait to get more dresses in this fabric! It's not a true black jersey- it feels more like leggings material to me. It's very flattering!
12.-14. – JCrew Vintage Rib Solid T-Shirt – The material on this t-shirt is so incredibly soft! I actually got the striped one first and I loved it so much that I ordered a bunch more colors!
15. – JCrew Vintage Rib Stripe T-Shirt – See above :-)
16. – JCrew Emilie Patch Pocket Sweater Lady Jacket – This has been on my wish list for so long and I'm glad I finally sprung for it before it goes out of stock! I've already worn it a couple of times and I love it! It has a nice weight to it and it really dresses up a pair of jeans and a white t-shirt.
17. – Ann Taylor Striped Bow Mules – I love that pointed toe shoes give the illusion of a heel while wearing a dress but offers the comfort of a ballet flat. Can't wait to wear these all summer!