It almost seems silly to create a Christmas wish list when I already know what I'll be getting (an iPhone 12 Pro YAY!), but I just can't help myself. I love lists. Here are some things I've been coveting lately. Since I've been largely into basics and classic pieces, my list isn't too extensive which should mean good things for my bank account in 2021!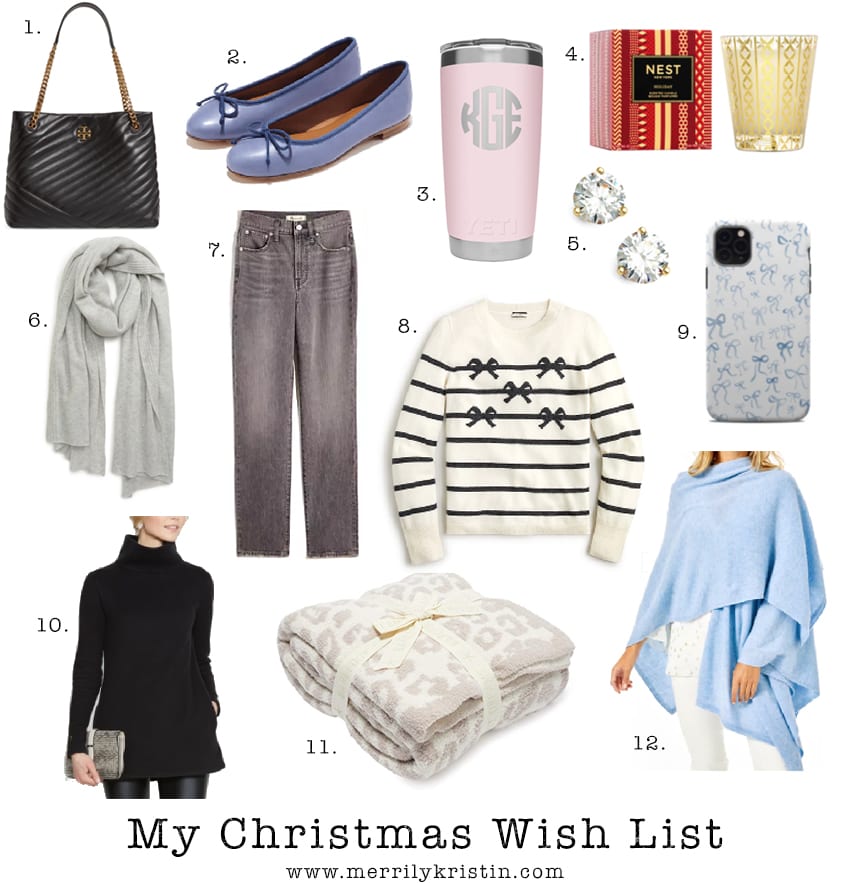 1) Tory Burch Kira Chevron Quilted Leather Tote – I have this purse in white and I absolutely love it! I got in March right as the pandemic hit thinking that I would be able to use it all Summer LOL that didn't happen. I have used it the few times that I've needed to go into my office and I really love it. It's spacious, classy and the straps are comfortable so I would love to get the black version! I also love the gold hardware. Black and gold has been a favorite color combination of mine since my high school days. And Tory Burch is by far my favorite handbag designer.
2) Margaux 'The Demi' Flat – This is another item that I already own in another two colors… are you sensing a pattern here? I recently got my first pair of Margaux flats and I love them! There was no break in period and it feels like walking on a cloud. I'm expecting many more colors to end up on future wish lists.
3) Yeti 22oz Monogrammed Tumbler – I couldn't tell you why but I'm all of a sudden obsessed with monogramming everything. I think it's such a cute and personal touch to add to any item and I was so excited when I saw it was an option for Yeti tumblers!
4) NEST New York Holiday Candle – Quite frankly, this candle just sounds like it would smell amazing! I've been trying to be more adventurous in my candle purchases and spring for some better quality and longer lasting picks. I'm so used to Bath & Body Works candles but I've been wanting to branch out.
5) Nordstrom 2ct Cubic Zirconia Studs – I need a pair of simple everyday stud earrings. I have a couple of pairs of cubic zirconia earrings from college in my 'the bigger the better days' but in truth, I have small ears! I think the 2ct size will sit better on my ears so I want to give them a try.
6) Halogen Cashmere Scarf – This grey cashmere scarf is calling my name. It looks so cozy and would compliment the forest green JCrew coat I bought earlier this year. I'll also likely add the black or tan color to a future wish list if I end up liking this scarf.
7) Madewell the Perfect Vintage Ankle Jean in Dennison Wash – I sadly outgrew my last pair of grey jeans so I'm in the market for a new pair. Madewell denim always fits me really well and I like the cropped style on this pair. My only concern is that there's only 1% elastane in the fabric, but hopefully they'll be as comfortable as my other Madewell jeans.
8) JCrew Cashmere Crewneck Sweater with Bow Stripes – Did you really think we might get through a fashion list without a JCrew item? Yeah, me either! I've been loving all things bows lately and this cashmere sweater is gorgeous! I actually love both colorways but I think the white / charcoal version is more versatile. I could see it being dressed up with a skirt and a cute headband!
9) Bows and Blue iPhone 12 case – Speaking of bows, I'm kind of obsessed with this phone case from Bows & Blue. My friend Rachel was kind enough to send me this phone case (which is my top choice for a new phone case!) but I do love having options and switching between cases.
10) Dudley Stephens Cobble Hill Turtleneck – I just ordered my first Dudley Stephens turtleneck in December (but it was a preorder collab with Tuckernuck so I haven't received it just yet), and I'm hoping to love it! They seem so cozy and I love that the Cobble Hill style is long enough to wear with leggings.
11) Barefoot Dreams Leopard Throw Blanket – I've been coveting the cream version of this luxurious blanket for over a year now. One of these days I'll finally splurge on it!
12) Lily Pulitzer Terri Cashmere Wrap – I am completely head over heels for the heathered oxford blue color and I need it in my life! This would be such a cute wrap to add a pop of color to my winter wardrobe. And it would get a ton of use since I'm always cold!