There's a direct correlation between my tv and movie watching and the number of books I read in a year.  I ended up reading half of what I read in 2019, which means I watched a lot of television.  I normally don't have enough to choose from to make a list- I'm lucky if I watch over 10 movies in a year- but this year I have 56 films to choose from! I'm going to split the post up into new to me films, old favorites and seasonal favorites, but I did rewatch much more than what's listed here.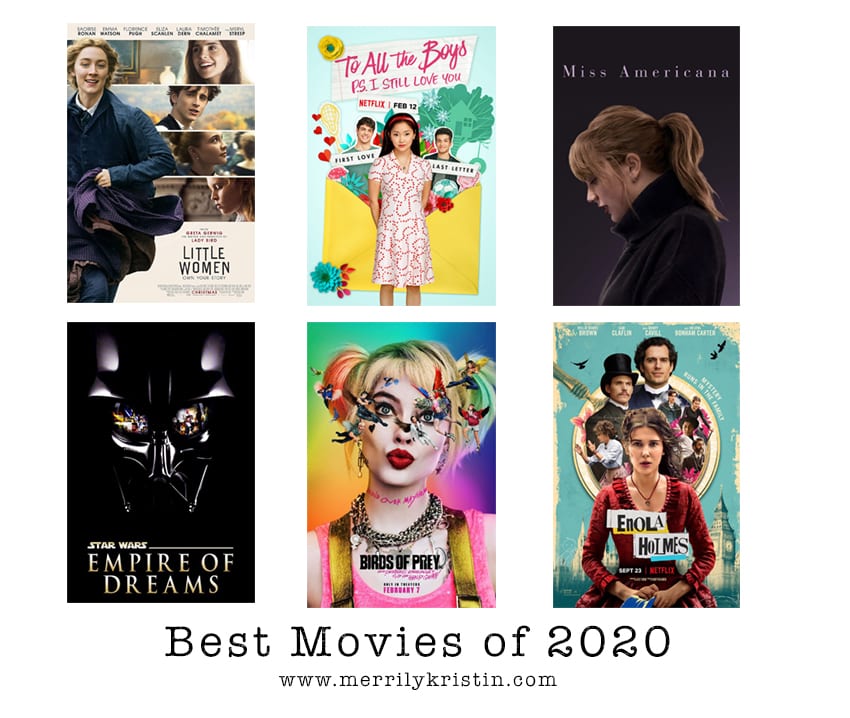 New to Me Films
1) Little Women – Looking back, it's hard to believe that I got to see this in a movie theater! Who knew that would be such a novelty of 2020? I really loved Greta Gurtwig's adaptation of Little Women. I think each of the sisters were perfectly cast, the story is such a classic and the aesthetic is to die for!
2) P.S. I Still Love You – Not only did I have the pleasure of seeing an early screening of P.S. I Still Love You, the entire cast showed up along with Jenny Han to host a Q&A before the film started.  Even better, one of my 2020 goals was to see a film at the Paris Theater in NYC- I had no idea how that would happen since Netflix bought the theater but low and behold, that's where the screening was held!
3) Miss Americana – I consider myself to be an extremely casual Taylor Swift fan. I've enjoyed her songs since she started but I'm by no means one of those people that stays up late for album releases or analyzes every song.  If I'm being honest, I can probably only name 10 or so of her songs.  However, I really enjoyed the Netflix documentary about Taylor's life. I definitely left with a new appreciation of all she's been through and the positive influences she's had on the music industry.
4) Empire of Dreams – I can't believe I hadn't seen Empire of Dreams until this year. Andrew and I caught it on Disney+. It's a documentary that looks into the making of the original Star Wars trilogy with interviews and clips from the original cast and crew.  I learned a lot about LucasFilm and the history of the making of A New Hope and there were so many tears. It was especially awesome to see Carrie Fisher's interview clips.
5) Birds of Prey – I am definitely one of those people that paid to stream Birds of Prey when it became available.  I was so looking forward to a superhero film with an all female cast and Birds of Prey delivered.  This is probably my favorite of the new DC films and I cannot wait to get more from these ladies. It was so fun to see some of my favorite characters make the jump from page to screen.
6) Enola Holmes – This quirky Netflix original film was the perfect cozy mystery to dive into this September.  I hadn't known about the Enola Holmes book series until this package arrived in the mail, but I am so glad this film was made.  The aesthetic is the real standout for me- I kept finding inspiration for our future home!
Old Favorites
These are all films that Andrew and I rewatched in 2020 which stood the test of time.  Some of the rewatches we've endeavored upon this year include 1) the MCU (we're up to Doctor Strange and will continue in 2021), 2) Lord of the Rings- we're notorious for committing to a Lord of the Rings rewatch and only making through the first two films.  We swear we'll get to that third one soon!, and 3) Harry Potter which I rewatched with my mom who had just read the book series for the first time this year.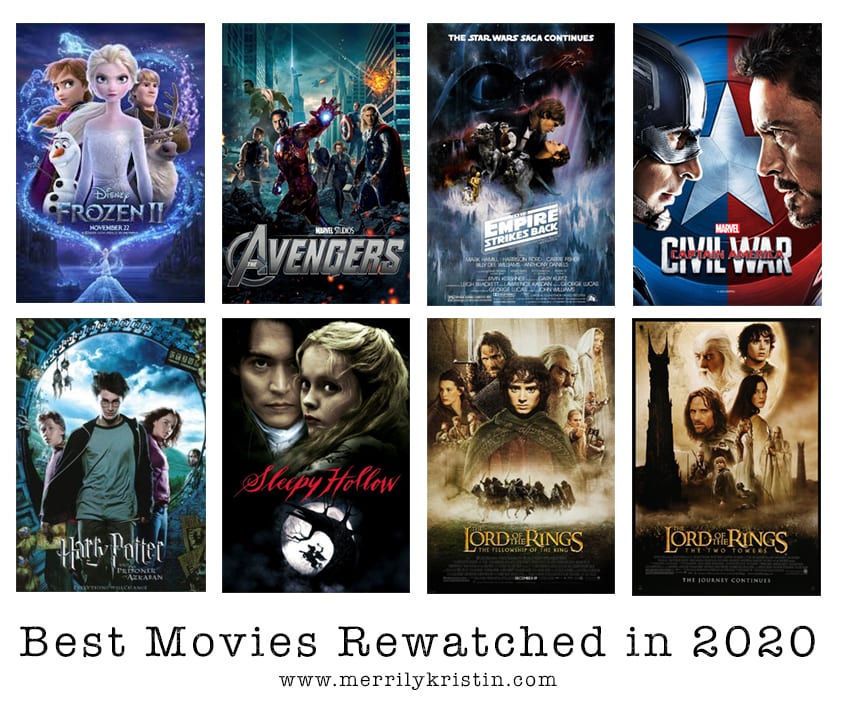 Seasonal Favorites
This category includes films that Andrew I watch every single year.  It's definitely tradition to break out Hocus Pocus and The Nightmare Before Christmas during our annual Halloween movie day each year and I personally can never let a Christmas season pass by without watching Elf.  This year we watched with my parents who hadn't seen it since it was in theaters and it was great to see that they still enjoyed it as well!