My favorite end of year list to compile each year is my best books of the year list.  These are books that I read during the year and loved, though they weren't necessarily released in 2020.  I'm going to be posting a more in depth look at my reading year in January, but I can tell you right now that 2020 was not my best reading year.  Pretty fitting honestly.  Early in the year, I, like many others, got completely addicted to Animal Crossing.  I'm about to hit 1,000 hours played (I know! I can't believe it either), so that clearly resulted in my reading time taking a bit hit.  In 2019, I was able to read over 200 books and in 2020, I'm closing out the year at 101.  Aside from Animal Crossing, and you know, the whole pandemic and election, I lost my grandmother right after my birthday, and my mom's health has been getting progressively worse.  It's been an incredibly difficult year on so many levels.  Andrew and I have spent many weeks of the latter half of the year on Long Island helping my parents while we also juggle working from home.  My brain just didn't have the bandwidth for focusing this year.  But amid all of the chaos, I did manage to find some new favorites. It's a smaller list this year, but I'm pleased to say that all of these were standouts for me.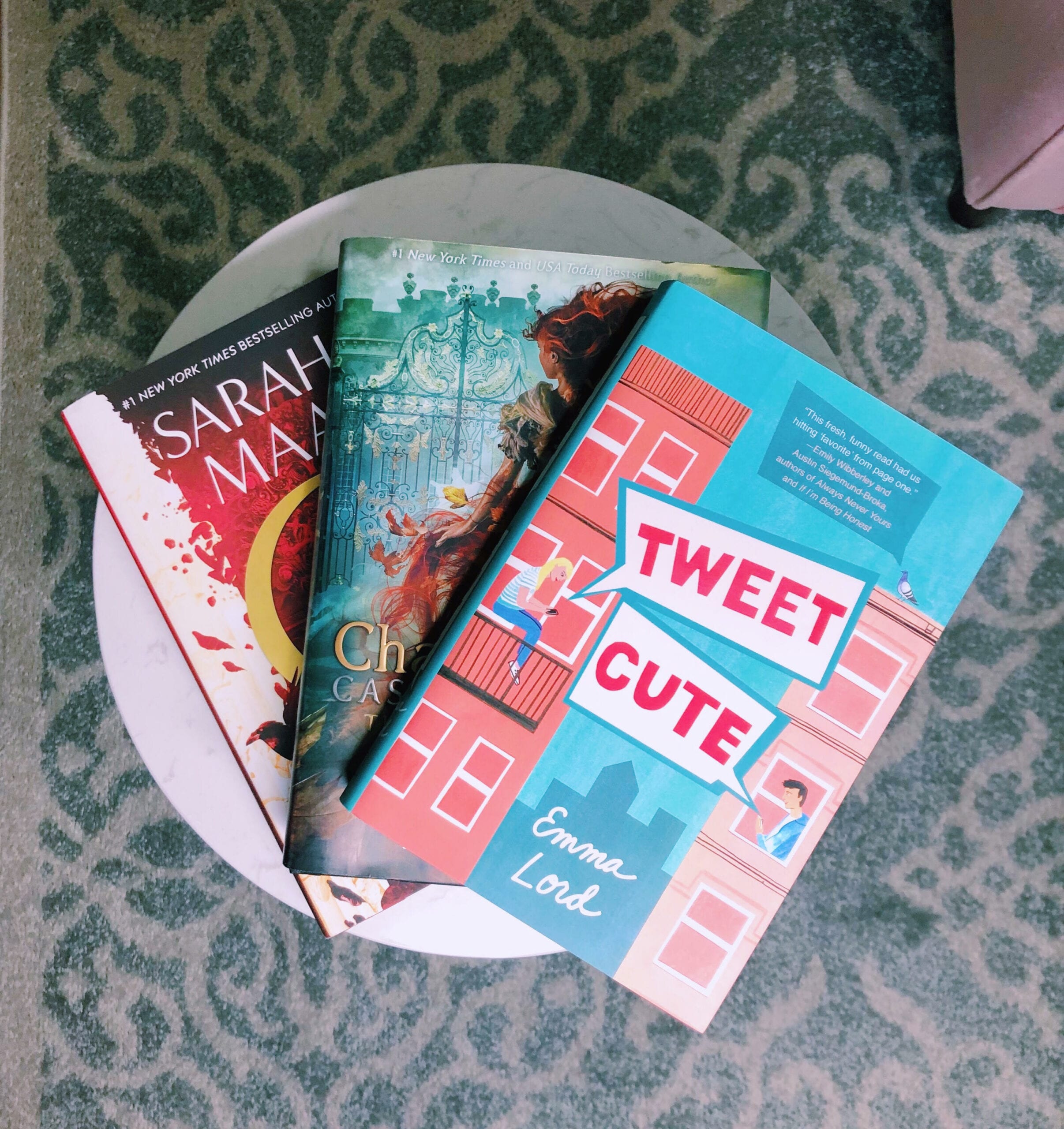 1) Tweet Cute by Emma Lord – Tweet Cute is one of the first books I read this year and I absolutely adored it.  Emma Lord captured NYC perfectly and I associate an early 2020 memory of going out for grilled cheese and milkshakes with Alexa, Rachel & DJ to celebrate such an amazing debut.  Little did we know it would be one of our only outings of the year.  Sadly, the launch party was on Andrew's birthday so I wasn't able to make it, but hopefully once the world is a safer place, Emma will have another event in NYC.  Tweet Cute is full of witty dialogue, the protagonist is relatable and real, the romance is swoony and all of the food mentions kept me hungry for more!  You can bet that I preordered Emma's next book and I'm counting down the days until it arrives.
2) The Duke & I / The Viscount Who Loved Me (The Bridgertons #1) by Julia Quinn – Until late 2019, I had never read an historical romance novel.  The Bridgertons is the second series I decided to try and the big lovable family has quickly earned a big place in my heart.  I'm going to do a more in depth post about The Bridgertons once I finish the series, but at the moment, I'm up to book four.
3) American Royals (American Royals #1) by Katharine McGee – American Royals is such a fun ride! It reimagines American history as if George Washington had become King, and it's set in present day following his descendants.  It's like a political Gossip Girl and I love all the drama.  I almost read this whole book in one sitting.
4) Chain of Gold (The Last Hours #1) by Cassandra Clare – Chain of Gold is easily my favorite of Cassandra Clare's novels thus far, and that's saying something! I had so much fun getting to know Herondales, Lightwoods, Fairchilds, and Carstairs of years past. Cordelia is one of my favorite heroines in the Shadowhunter world and Grace is one of my least favorite.  I can't wait to find out what's going to happen next!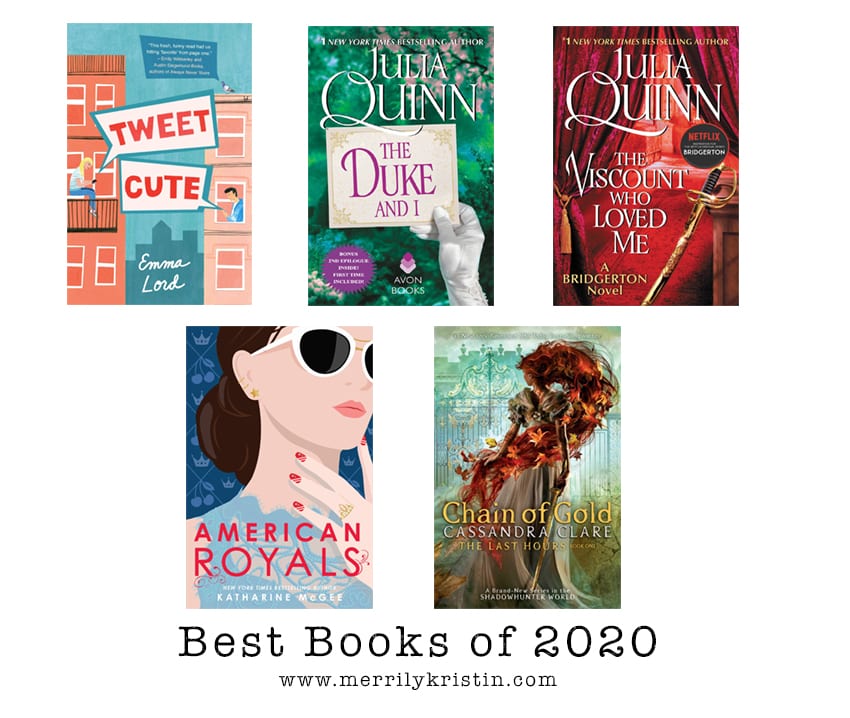 5) House of Earth and Blood (Crescent City #1) by Sarah J. Maas – I can't remember the last year that I had a best of list without a Sarah J. Maas book on it.  I always love everything she writes, and while her newest had a slow start for me, I'm looking forward to rereading it and I truly cannot imagine where she's going to go from here. The stakes were so incredibly high in House of Earth and Blood and it was only book one!
6) Night of the Dragon (Shadow of the Fox #3) by Julie Kagawa – I'm so very pleased that Julie Kagawa's Shadow of the Fox series wrapped up so well! It was definitely a different ending than I was expecting, but it was handled so perfectly. Shadow of the Fox is basically an anime in novel form and I've been loving this series since the beginning.
7) Words of Radiance (Stormlight Archive #2) by Brandon Sanderson – There's no doubt in my mind that Stormlight Archive is going to be one of the most talked about fantasy series for years to come.  I loved getting familiar with the world of Roshar in The Way of Kings, but Words of Radiance completely took my breath away.  It feels like Way of Kings is a prequel and Words of Radiance is where the action really starts happening. I've been trying to pace myself with these books since they're over 1,000 pages each and I know I'm not going to enjoy waiting between books once I catch up!
8) A Beautifully Foolish Endeavor (An Absolutely Remarkable Thing #2) by Hank Green – It may come as a surprise to a lot of people but outside of Star Wars novels, I am not a big sci-fi reader. I love watching sci-fi, but it's rare for me to come across books I love in the genre.  However, Hank Green's debut, An Absolutely Remarkable Thing made my list last year, and A Beautifully Foolish Endeavor is on it this year! The series reads more like a contemporary, though the big overarching plotline involves aliens. I love the protagonist April May.  She's deeply flawed and acknowledges her poor decision making in the moment.  Her group of friends are a fascinating bunch and I think Hank wrapped things up nicely in this concluding novel.
9) Lore Olympus (Season One) by Rachel Smythe – With much insisting from my friend Gillian, I decided to check out Lore Olympus which is an online webcomic that follows Greek Gods in the modern era.  I wasn't expecting this series to completely consume my life, but alas, here we are.  I binged all of season one in about two days.  I really love the characters and the artwork is beautiful!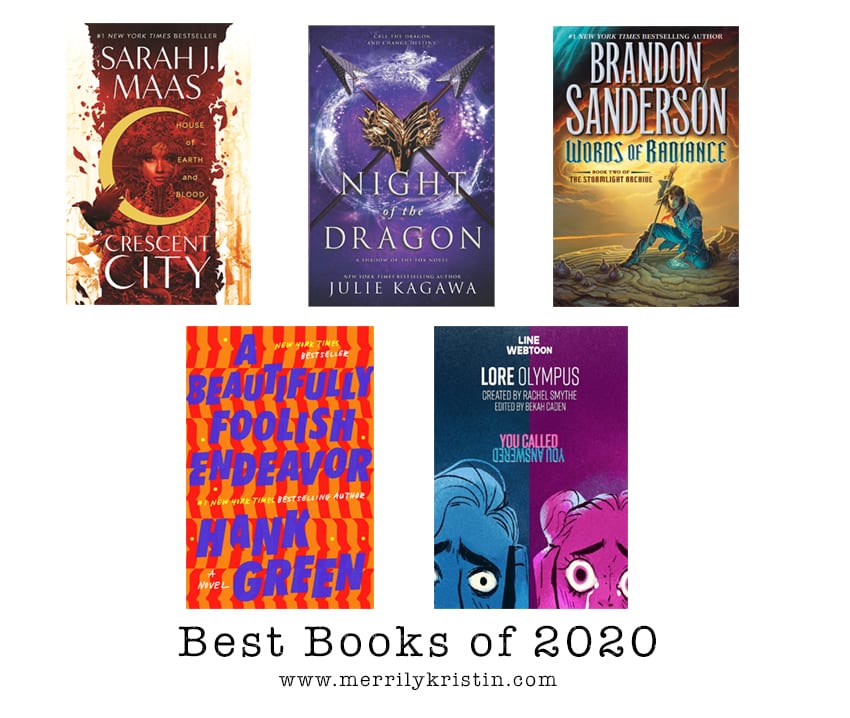 10) The Invisible Life of Addie LaRue by VE Schwab – I've been waiting anxiously for Addie LaRue ever since Victoria Schwab first mentioned it and I'm so glad that it did not disappoint! Addie is so different than Victoria's previous novels.  It's a very slow burn story and I love the alternating timelines between present day New York City and 18th century France.  Addie is so beautifully written that I can feel my heart warming just talking about it!
11) Save Me the Plums by Ruth Reichl – Save Me the Plums is probably my most unexpected favorite of 2020.  I've been enjoying much more nonfiction and this book tackled the rise and fall of the magazine industry and the comfort food provides us, with an ever changing New York City as its backdrop.  I loved the inside look into publishing, the spirit of New York in the time of 9/11 and Ruth's narration of her story as the editor in chief of Gourmet magazine was just plain delightful.
12) Open Book by Jessica Simpson – Another nonfiction favorite of the year is Jessica Simpson's memoir. I loved Jessica Simpson when I was younger (I got to see both her and her sister Ashley perform!) and I was addicted to Newlyweds.  I haven't kept up with her career over the years, but when I heard about her memoir, I knew I wanted to check it out.  I listened to the audiobook and I loved Jessica's narration.  It was so juicy! It felt like hanging out and gossiping with a close friend.  I can't believe all of what she's gone through and I really hope she finds happiness.
13) Legacy (Keeper of the Lost Cities #8) by Shannon Messenger – In 2019, I got addicted to the Keeper of the Lost Cities series and I was determined to catch up before Unlocked, book 8.5 came out this Fall. Keeper is a middle grade fantasy series following elves in a world hidden from humans (but the books definitely age up as you get further into the series).  There's a ton of political unrest and it's up to Sophie and her friends to sort things out.  Legacy is by far the best installment in the series and I cannot wait for the finale which should be out next year!
14) Well Played (Well Met #2) by Jenn DeLuca – I'm one of the odd ones out when it comes to Well Played.  Many people seem to prefer Jenn DeLuca's first book, Well Met, and while I agree, I seemed to like book two much more than everyone else.  I found Stacy to be a relatable protagonist- she went to fashion school, she's worried about her sick mom and struggles with leaving family to do her own thing.  The book also has a You've Got Mail thing going on when Stacy starts falling in love with the person she's been texting with.  One reason I loved this book so much is that we spent a lot of time with the couple from the first book, and we got to attend the Renn Faire twice!