I went a little overboard on purchasing in May.  I think I'm just feeling very hopeful now that I'm fully vaccinated and things are opening up in NYC again.  I've been able to go out a lot and wear most of the new items I've purchased so that does make me feel a bit better!  After a year of almost exclusively wearing pajamas, I'm really excited at the prospect of getting dressed again.  Plus my office has announced our official reopening date in July and I'm treating it as the first 'back to school' experience that I've had in years!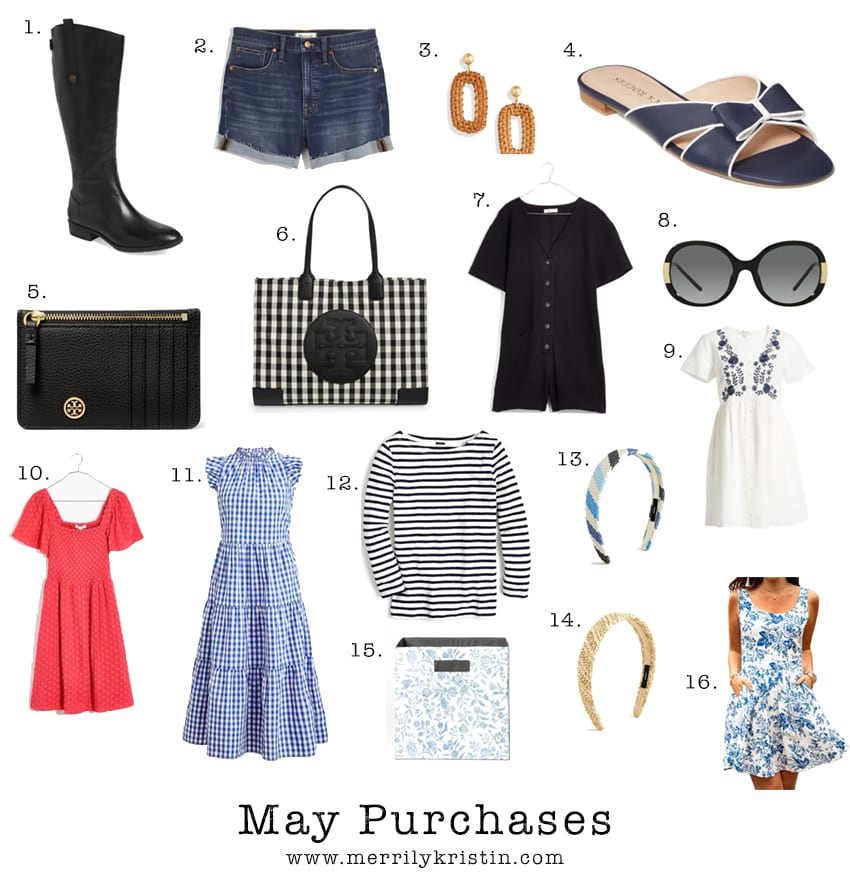 1) Sam Edelman Penny Boots – I had a pair of these in the past and I absolutely wore them into the ground.  I've since had these in my shopping cart for about 2 years now, hoping for a sale.  And that day has finally come! These finally went on sale for Memorial Day Weekend and if they would've had the whiskey color in my size, I would've purchased those too.
2) Madewell Denim Shorts – I needed to get a comfy pair of denim shorts to wear this Summer. I have a couple of other pairs but none have ever been as comfortable as I would like.  When Madewell released a pair using their Tencel fabric, it was a no-brainer for me.  I love their full length Tencel denim and I'm happy to report that the shorts are perfect!
3) Madewell Rattan Statement Earrings – I've been wearing these nonstop since I got them! I tend to cycle through earrings and these have definitely become my it pair of the summer season.
4) Jack Rogers Gigi Bow Slide – These are my first pair of Jack Rogers shoes and I love them! They're dressy enough that I'll be able to wear them to work when my office reopens next month and on weekends they can elevate a casual summer dress.
5) Tory Burch Walker Leather Top Zip Card Case – Speaking of Tory Burch, I have a lot of smaller Tory bags and I find that my wallet takes up so much space that I can barely fit anything else besides my phone and keys.  I decided to get this slim wallet so I could carry around just the essentials and have a bit more space in my purse.
6) Tory Burch Ella Gingham Plaid Tote – I'm obsessed with this tote! I treated myself to it as a 'going back to work' bag since I haven't been in school in ages.  I think it's such a classic style and I love gingham. I've been using it on weekend trips too since it's so spacious and lightweight.  Tory Burch continues to be my favorite designer.
7) Madewell Knit Button Front Romper – This is just a basic black romper and I love it! It's so easy to throw on and looks chic with some black sunglasses and statement earrings.  This was such a good basic piece to add to my closet.
8) Tory Burch Serif-T 57mm Oval Sunglasses – Since college, I've loved classic big round sunglasses in black with gold accents and these totally fit the bill.  I have another similar pair from House of Harlow from years ago but they're heavy and always slide down my face.  This Tory Burch pair fits much better.
9) Madewell Embroidered Linen Minidress – I'm always hesitant to buy white dresses because I just worry that they'll get dirty somehow.  I'm not someone that spills things often so I don't know where this irrational fear came from and I've been trying to invest in more white pieces for Spring and Summer.
10) Madewell Eyelet Lucie Smocked Minidress – I wore this dress to the Yayoi Kusama exhibit at the New York Botanical Garden over Andrew and my anniversary weekend and it was so comfortable! I'll definitely be wearing this a lot over the summer.
11) JCrew Tiered Ruffle-Sleeve Dress – This is a super cute summer dress, again with the gingham, and I purchased it as soon as it went on sale! Did I need it? No.  Am I happy I bought it? Definitely!
12) JCrew Striped Boatneck Tshirt – I didn't own a classic striped boatneck t-shirt which seemed like a major wardrobe oversight so I corrected that as soon as I could!
13) JCrew Woven Blue Stripe Headband – I love headbands.  I wear them almost every day and I couldn't resist the cute blue striped pattern.
14) JCrew Woven Straw Headband – I've also been loving anything rattan or straw for the upcoming season and I thought this headband was a cute way to add it to any outfit.
15) Target Blue Floral Storage Bin – I decided to give our living room a little refresh and swap out all of the white baskets we have in our living room for these blue floral cubes.  I absolutely love it! It really adds a nice pop of color to the room- I just wish Target would package things better. I was only able to order 10 of these at a time (I needed 24 total) and one packer sent 10 in one box while another sent 10 individual boxes with one cube each.  My doorman was not pleased when these were delivered.
16) KJP Seaside Bloom Dress – I've been a KJP fan for a couple of years now and this is the first dress of theirs that I've added to my closet. I love the white and blue print and the cut of the dress is really flattering. I can't wait to wear it to work and on our next visit to the Jersey Shore.