June was an interesting month of purchases because in the beginning of the month, I really focused on getting new clothes for Andrew and on some home decor!  Flash forward to the second half of the month and my impending office reopening I picked up a lot of new clothes to give my work wardrobe a bit of a refresh.  June was also apparently the month of sandals. I haven't embraced sandals in recent years because sandals in NYC are not ideal, but we've been away so much that I've been getting to wear sandals so much!  This month I turned my desk area into an entryway area and moved my gaming chair (which was in everyone's way >.< to our office). I'm in love with the set up and I'll be sharing it in another post!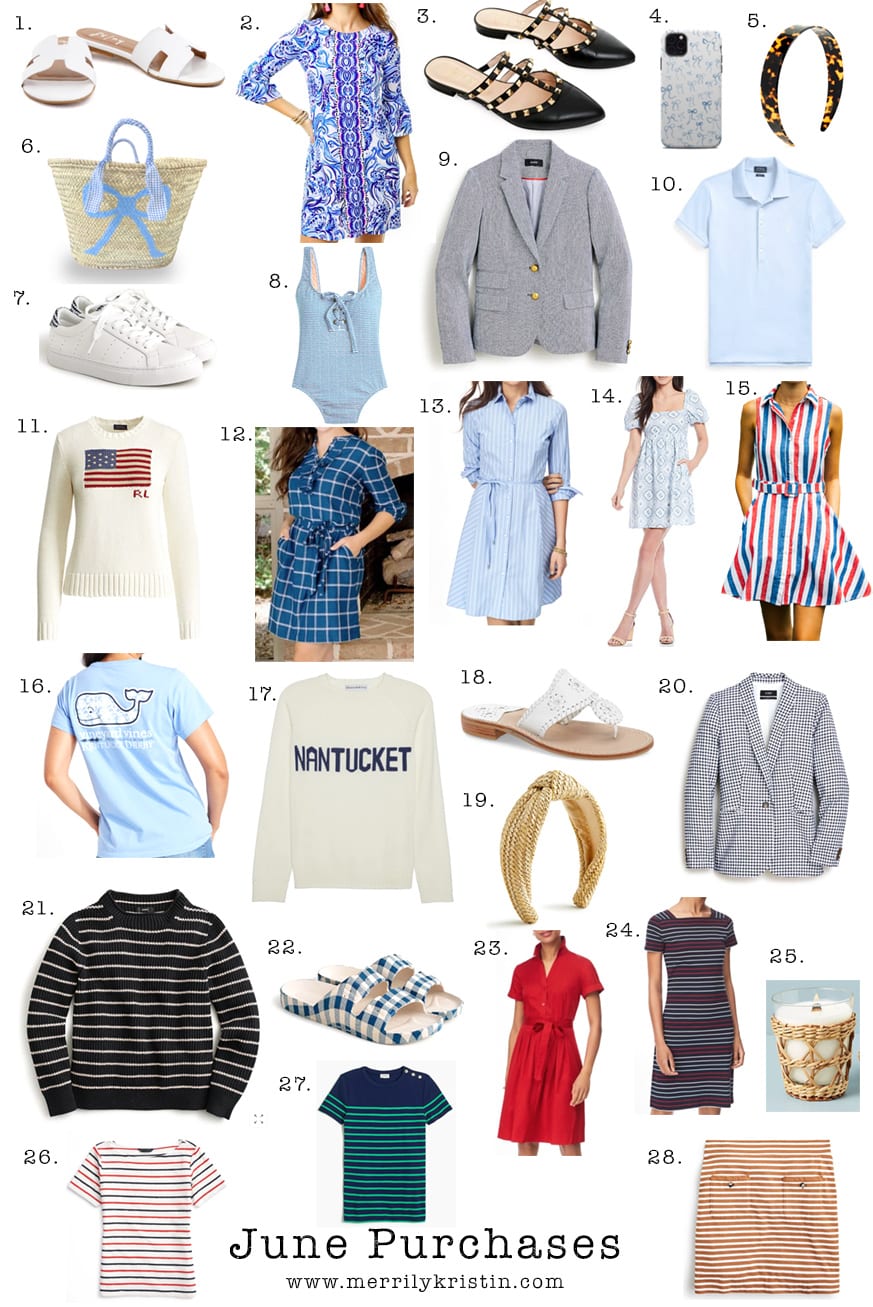 1) French Sole Alibi Sandals – I stumbled across these sandals while I was perusing the Tuckernuck website and they were exactly what I was looking for! I love the look of the Hermes Oran sandals but I didn't want to spend that much on sandals, so these seemed like a great alternative.  I love the cognac color too and since they just came back in stock, I ordered myself a pair!  Everyone I've seen post about these tell you to go up half a size, but I can now say that my usual size worked best for me.
 2) Lily Pulitzer Ophelia Swing Dress – I recently received a physical catalog in the mail from Lily Pulitzer which feels so old school! It reminds me of the days when I would love getting Delias, JCrew and Victoria's Secret catalogs and circling everything I wanted.  I paged through Lily's and I ended up finding a dress I really loved so I immediately preordered it.  I've always loved the Ophelia dress style and I really like the blue and white pattern with the subtle pop of pink.
3) French Sole Davina Sandals – These look very similar to the Valentino heels everyone has and I've always loved the style.  As I mentioned last month, black and gold has been a favorite accessory color combination for me since my college days.  I'll never forget my favorite outfits which were accessorized with my black and gold Marc Jacobs stam bag and my black and gold Tory Burch flats.  I love that these are in the style I love but they're flats instead of heels since I'm all about comfort.
4) Bows & Blue All Over Bows Phone Case – I finally got a new phone a few weeks ago from work and I bought this bows phone case because it matches my blog! I think Bows & Blue is going to be a new all time favorite small business of mine.
5) JCrew Tortoise Headband – This is just your basic everyday headband but it's so classic. I am 100% a headband person now.  I've always dabbled in them in the past, but they're for sure an go to style for me these days.
 6) Bows & Blue Bow Basket – I've been wanting a basket bag for years now but I kept putting off buying one until I moved closer to the beach… until I found this basket bag with a beautiful blue bow on it! I fell in love.  Again, I love that the bow matches my blog header!
7) JCrew White Gingham Detail Sneakers – I love these! White sneakers have become a staple for me in the past couple of months but my Tretorn's are a canvas fabric and I always panic about wearing them in NYC in case it starts raining.  These are leather so they're a great alternative and should be easier to keep clean!
8) JCrew Lace Up Bathing Suit – When my uncle invited us to go swimming a couple of weekends ago, I realized that I don't actually own a bathing suit anymore! It's been so many years since I've gone swimming so I decided to pick up a good one in case any pool opportunities arise again- I will never turn down a pool invite.
9) JCrew Dalton Navy Herringbone Blazer – I've had this blazer in the 'saved for later' section of my cart for so long and when it finally went on super sale, I ordered it so quickly! I'm considering picking up the tan color too.
10) Polo Ralph Lauren Julia Polo – I've been wanting to get a few polo shirts so I have something as comfortable as a t-shirt but a bit dressier for casual wear. I got this Polo Ralph Lauren polo in the slim fit Julia style and I loved it so much that I ordered a second color immediately after trying it on.  I think I'm going to slowly be stocking up on more and more of these- I have my eye on the hunter green one next.
11) Polo Ralph Lauren American Flag Sweater – This is such a classic closet staple and I wanted to grab one before Fourth of July weekend which we're spending on the Jersey Shore. I cannot even tell you how comfortable it is! I definitely foresee myself grabbing the navy color in the future.
12) Draper James Windowpane Ruffle Shirtdress – I always love Reese Witherspoon's Draper James designs but I very rarely purchase anything.  Since I love windowpane design (I really want JCrew to come out with another windowpane coat this year- I still scour eBay daily for my size) and this dress was on sale, I decided to take a chance! I love how it fits and I've since found a few other items that have gone on to my wish list for a future month.
13) Brooks Brothers Pinstriped Shirtdress – If you can't tell, I'm having a blue moment and I've been really drawn to classic styles lately.  I didn't have a shirtdress in my wardrobe and I love that I'll be able to wear this to work and on the weekend.  It's very versatile!  I've tried shirtdresses from Abercrombie in the past and they've never worked for me but this flowy A-line skirt is the perfect silhouette for my body.
14) Antonio Melani x Born on Fifth Camille Tile Print Dress – I mentioned above how much I love Bows & Blue… well the designer did a clothing collection with Antonio Melani and the whole collection is currently on sale at Dillards. I had to get this dress! I wore it to a bridal shower this month and felt so cute.
15) KJP American Beauty Dress – As I mentioned, we're taking a long weekend out on the Jersey Shore for the holiday and I wanted to get something festive for the occasion! This KJP dress ended up being the epitome of an impulse purchase but I love how much it fits that I've been searching Poshmark for older KJP dresses.
16) Vineyard Vines Kentucky Derby Shirt – The 2021 Kentucky Derby has already passed but I love the floral gingham pattern on this classic Vineyard Vines shirt. It's such a good blue for summer and looks great with white pants. Plus it was on sale!
17) Ellsworth & Ivey Nantucket Sweater – I've read a ton of books about Nantucket and I've always wanted to visit! I'm trying to manifest a trip in 2022 for my birthday but in the meantime, I got this cute Nantucket sweater from Ellsworth & Ivey.  I actually got the navy sweater with white font, but they didn't have a flat image of it on their website so the white is pictured here
18) Jack Rogers Sandals – I love this style and I've always wanted a pair. They're perfect for all of the suburban beach outings this year!  I didn't realize how snug they would be on the sides of my feet but I kind of love it because I never feel like they'll fall off.
19) JCrew Raffia Knot Headband – Headband… need I say more? Love the raffia for summer.
20) JCrew Parke Gingham Blazer –  I love all things gingham and I thought this would be a cute summer blazer to wear in the office or with white jeans on the off chance we have a cool day (which seems unlikely as I type in the 97 degree weather today).
21) JCrew Rollneck Sweater – This is another cute summer sweater that'll pair well with white pants, especially if we end up on a boat or at the beach at night.
22) Freedom Moses x JCrew Gingham Sandals – I've been seeing so many people talk about these sandals and I loved the gingham but I don't think the style is very cute otherwise.  I ordered a pair when they went on sale and while they're not my favorite style, they are SO comfortable and great to throw on to run quick errands.
23) Brooks Brothers Sateen Shirt Dress – This dress reminds me of something you would see on I Love Lucy or WandaVision. I love the style and the bright red hue, and once again I couldn't resist a good sale!
24) Brooks Brothers Striped Cotton Dress – I wore this dress to work the other day and it was so comfortable! I love that it's a comfortable material, but it's one of those styles that's very easy to dress up because it looks like it has more structure to the design than it actually does.
25) Anthropologie Tropical Rattan Candle – I've made it a rule that I'm not allowed to buy Bath & Body Works candles anymore- not because I don't like them, but because I end up buying too many! I've been getting a random candle here or there instead and as a result I've found much cuter styles.  I love this rattan candle and it smells so good!
26) Brooks Brothers Scalloped Striped Bateau Neck Tee – I know Bateau is the French word for boat but every time I hear it, I think of the brand Petit Bateau which I loved back in middle school.  I love striped boatneck tees for Summer and I really love the spin on this one with the scalloped stripes.
27) JCrew Factory Button Knit Tee – I'm also suddenly loving a good navy / kelly green color combination.  I've had this shirt in white / red for a while now and it's a go to for me so I'm glad I got my hands on this colorway before it went out of stock.
28) JCrew Knit Stripe Skirt – I knew this had the potential to be very cute or very not cute once I tried it on but thankfully I like it! It's not my usual style (it's a bit more fitted than I prefer), but I think it's a cute casual style that'll work well for Summer errands.