I made myself a fashion wish list for 2022 to put in my bullet journal but my friend Rachel convinced me to share it on the blog as well!  In writing out why I want the items on this list, there were a couple of themes consistent throughout. 1) I've been drawn to more classic items and neutral colors which I never thought I would say, 2) when I find a style I like, I want it in multiple colors, and 3) my middle school self had good taste in fashion since I seem to coveting items I've liked or owned since then.  I'm actually going into 2022 with a couple of these items checked off of my list since I received them for Christmas… so I guess I have a head start on the New Year!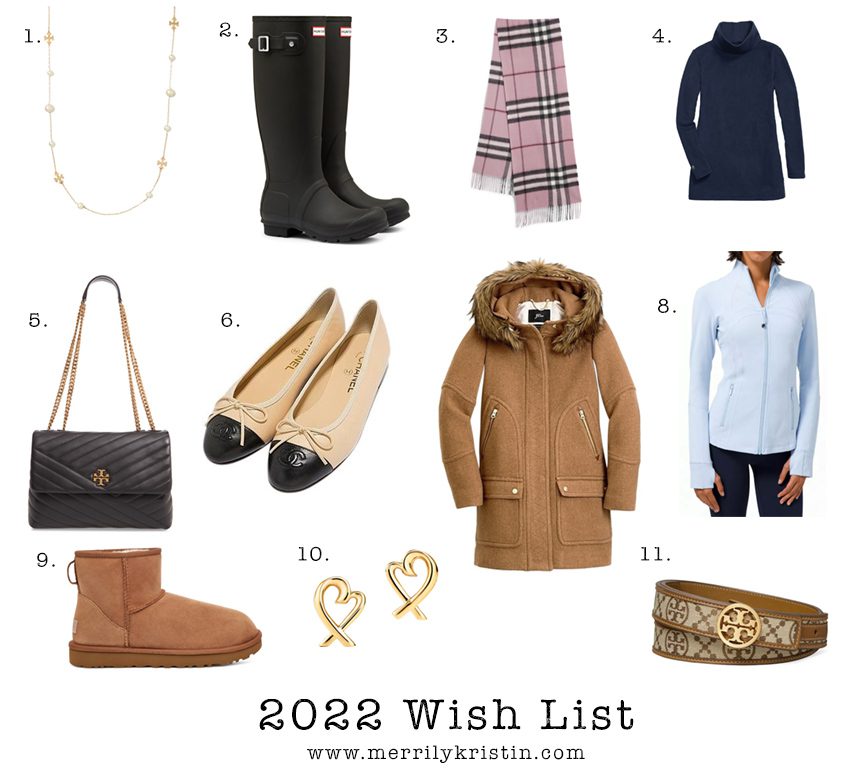 1) Tory Burch Kira Pearl Long Necklace – This is one of the items I already have! I bought it in store with Alexa and Rachel on our annual Christmas day out and gave it to Andrew to give to me for Christmas.  Rachel has since gotten one too! I love how versatile the necklace is and how well it layers with my mom's necklace that I wear every day.
2) Hunter Rain Boots in Black – I have Hunter rain boots in glossy red and a shorter pair in pink, but I want to get a basic color to wear with neutrals in case I'm not in the mood for including a pop of color in my outfit.  I'll likely pair them with an all black outfit for a monochromatic look.
3) Burberry Classic Cashmere Scarf in pink – Burberry doesn't appear to have the exact color that I'm looking for on their website anymore, but I want a dusty rose version of their classic cashmere scarf.  I love plaids and I think the pink would compliment my light gray JCrew chateau parka nicely.
4) Dudley Stephens Cobble Hill Turtleneck in Navy – Over the past year I've become a complete Dudley Stephens convert.  I love these cozy turtlenecks to pieces and I wear them to my freezing office ALL the time.  It's so easy to dress them up with faux leather leggings and loafers.  My personal DS preferences are the Cobble Hill cut (I'm tall and I like to wear them with leggings so this is more of a tunic length) and as for fabric, I love the vello fleece (but the terry is great for summer).
5) Tory Burch Kira Chevron Convertible Shoulder Bag in Black – Black and gold is my absolute favorite color combination for handbags and shoes and I don't know how I haven't added this classic style to my handbag wardrobe just yet.  I have a ton of shoes this purse would match and I can't wait for it to come back in stock online.
6) Chanel Cap Toe Ballet Flats – I've always loved these classic Chanel ballet flats and I think this is going to be the year that I finally get them.  Since they're such an investment, I want to stop by the Chanel store so I can try them on and make sure I'm getting the correct size.
7) JCrew Chateau Parka in Heather Acorn – JCrew releases this coat in a ton of colors every year (though they only released a handful of colors in 2021) and I've made it a tradition to get a new JCrew coat each year.  Of the ones that I have, the Chateau Parka is my favorite style.  I love the look, it's comfortable, it's warm and it has a hood.  I have it in heather dusk and a beautiful forest green.  I was really hoping they would bring back the dark brown walnut color this year, but alas, that didn't happen.  So the heather acorn is the next color I have my eye on.
8) Lululemon Define Jacket in Blue Linen – I really love Lululemon leggings and I've recently gotten into the jackets. They're the perfect layer for walks in Central Park.  I love this powder blue color and I hope they bring it back in my size.
9) Ugg Classic Mini II in Chestnut – I've been wearing Uggs since high school and I'm so glad they're back in style (I don't feel like they ever really went out of style, but some people were pretty judgy of them for a while there).  This short pair of boots is another item I received for Christmas!
10) Tiffany & Co. Loving Heart earrings in Gold – I've been looking for an everyday pair of gold stud earrings and I've always loved the loving heart design from Tiffany. I'm also now realizing just how many things on this list my middle school self also wanted… but I would have gone for silver instead back in the day!
11) Tory Burch Monogram Jacquard Leather Belt in Hazel – I've always wanted to get a Tory Burch belt, and I really love this style. It also matches another item on my list that I already received.  You'll see that if you keep reading!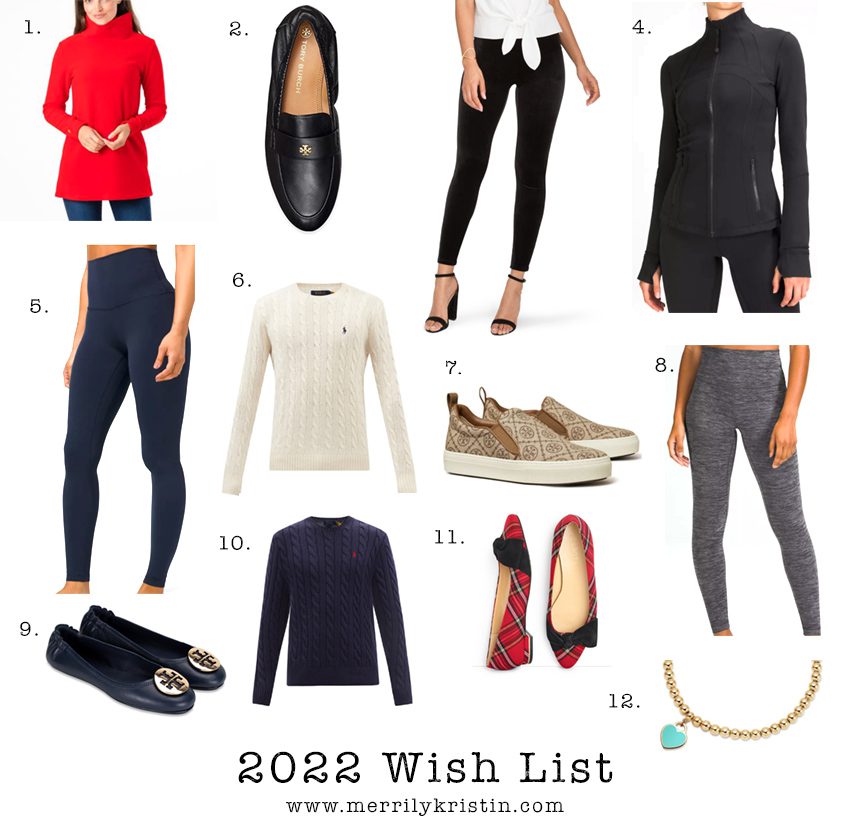 1) Dudley Stephens Cobble Hill Turtleneck in Red – See everything I said about Dudley Stephens above! I love the red to wear during the holiday season.
2) Tory Burch Ballet Loafer in Black – These come very highly recommended by my friend Rachel and she has the best taste! I have a lot of Sam Edelman loafers which I love, but I'm excited to try a new style and upgrade my black leather pair.  If they're anywhere near as comfy as my Tory ballet flats, I'll definitely be wearing these often.
3) Spanx Velvet Leggings in Black – Every holiday season I wish I owned this pair of black velvet leggings from Spanx.  I've tried to buy them three years in a row now but they're always out of my size once November hits.  This year, I'm setting up an alert and I will buy them in July if I must!
4) Lululemon Define Jacket in Black – As stated above, I really like the fit and feel of the Lululemon define jacket and while the colors I already own are neutrals, I definitely need to add black to my closet.
5) Lululemon Align High Rise Pant 28″ in Navy – I have like 5 pairs of Lululemon align leggings in black because I wear them almost every single day.  I really want to add a navy pair to my closet to pair with gray, white and cream colors.
6) Ralph Lauren Cable Wool Crewneck Sweater – I don't have nearly enough cable knit sweaters but the one I do have, I wear all the time.  I want to add some more basic colors to my rotation so not only do I want this cream color (which I don't see on the website anymore but I'm sure they'll bring back), but I also want navy which is item 10 on this list.
7) Tory Burch Monogram Slip-On Sneaker in Hazel – These are the shoes I was talking about above that match the monogram belt.  They're so cute and convenient to slip on to run errands!
8) Lululemon Align High Rise Pant 28″ in Heathered Black – See #5.
9) Tory Burch Minnie Ballet Flats in Navy/Gold – As I mentioned, Tory Burch flats are my favorite.  I can wear them walking around NYC for miles and miles and miles and they don't bother my feet at all.  I'm also excited to see what new colors they release in 2022 but for now, I would like to get a navy pair.
10) Ralph Lauren Cable Wool Crewneck Sweater – See #6.
11) Talbots Tartan Flats – Talbots releases and sells out of these tartan flats every year and I'm hoping to get my hands on a pair in 2022! Right now, there are only a few sizes left in the blackwatch plaid style but I love the red for the holiday season.
12) Tiffany & Co. Mini Heart Tag Bead Bracelet – If there's one item on this list that I don't think I'll actually get (but a girl can dream) it's this gold bracelet from Tiffany & Co., simply because it's quite expensive.  While I can SHOP, I definitely struggle with spending so much on a single item.