Hi! It's been a while since my last blog post but I decided to channel some of my energy into the things I'm loving lately.  Today I'm sharing my recent Star Wars wish list (which is partially a Star-Wars-recent-purchases-but-they-haven't-arrived-yet list)! I've been catching up on all of the Star Wars comics that are currently considered canon (I'm actually thinking I could be caught up completely by the end of the month!) which has resulted in lots of time spent perusing Star Wars wares on my favorite websites.  Not to mention the Obi-Wan sizzle reel excitement paired with that Book of Boba Fett teaser!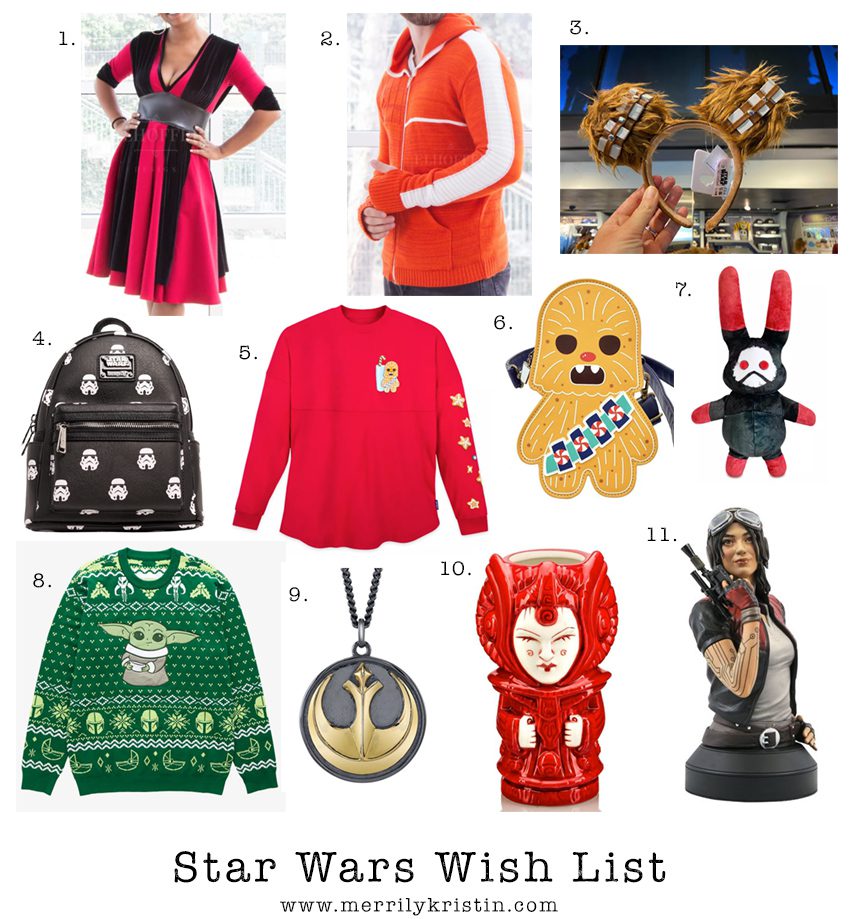 1) Elhoffer Galactic Decoy Dress – I am truly truly in love with this dress. It's so expensive so I haven't taken the plunge yet, but I sure I have it open in a tab on my computer all day every day.  Fingers crossed for a good blue Friday deal!
2) Elhoffer Galactic Rebel Hoodie – I love this Elhoffer pieces too! Definitely a bit more casual than the aforementioned dress, but I love the style and it would be perfect to wear to Batuu when Andrew and I finally make our way to Galaxy's Edge.
3) Disneyland Chewbacca Minnie Ears – These are new to Disneyland and I adore them! My friend Gillian is being the best and looking for a pair for me on her next Disney trip.  Thanks Gillian!
4) Loungefly Stormtrooper Mini Backpack – This is such a cute and classic backpack which seems funny when speaking about a Loungefly piece, but I love the black and white color scheme and repeating stormtrooper helmet print.  It reminds me of leggings I had and loved years ago!
5) Disney Holiday Spirit Jersey – This is a jersey that I actually already placed an order for- in fact it should be arriving today! There's nothing I love more than Christmas and very little I love more than Star Wars so I couldn't resist this festive combo.
6) Disney Loungefly Chewbacca Gingerbread Crossbody – While we're on the subject of Christmas and Star Wars, I also already ordered this amazing Chewbacca gingerbread cookie crossbody.  I mean, I had no other option here.
7) Star Wars Tooka Plush – This plush was released as a preorder on the Disney website on Disney+ day and while everyone was going mad for the Loki alligator, I was preordering this cutie from The Bad Batch.
8) BoxLunch The Child Holiday Sweater – This is the last festive item on my list! I already ordered a different Star Wars Christmas sweater from BoxLunch last week, but they didn't have the child version in adult sizing at the time… and now they do.
9) RockLove LucasFilm 50th Anniversary Rebel Medallion – You better believe I had an alarm set so I could snag one of these exclusive necklaces on release day.  They're limited to 300 pieces each and there's an Imperial version as well. I love that the back of the pendant celebrates Lucasfilm's 50th anniversary.  It just feels like such a special piece!
10) Queen Amidala Tiki Mug – I have a small collection of Star Wars tiki mugs (which I admit, I've never used) but as soon as I saw this Queen Amidala, I knew she would be the perfect addition.  I love the detailing on her design and I need to order this one soon!
11) Gentle Giant Doctor Aphra Bust – My plan was to keep this list to 10 items, but since I've never been able to follow my own rules, the number 11 spot on my list goes to this amazing Doctor Aphra bust.  I've just about finished reading Doctor Aphra's comics this month and I just can't resist this wonderful addition to the Star Wars universe.  I'm really hoping we'll get to see Doctor Aphra in live action or in an animated series soon.