I can't believe we're already going into the third month of 2022!  I, for one, am really looking forward to the warmer weather. We've had some unseasonably nice days in February already but the inconsistency is frustrating and makes it difficult to know how to dress in the morning- it's like we experience 3/4 seasons throughout a single day.  I can't wait to be able to walk outside comfortably in only a dress.  Anyway, these are all of the purchases I made in February!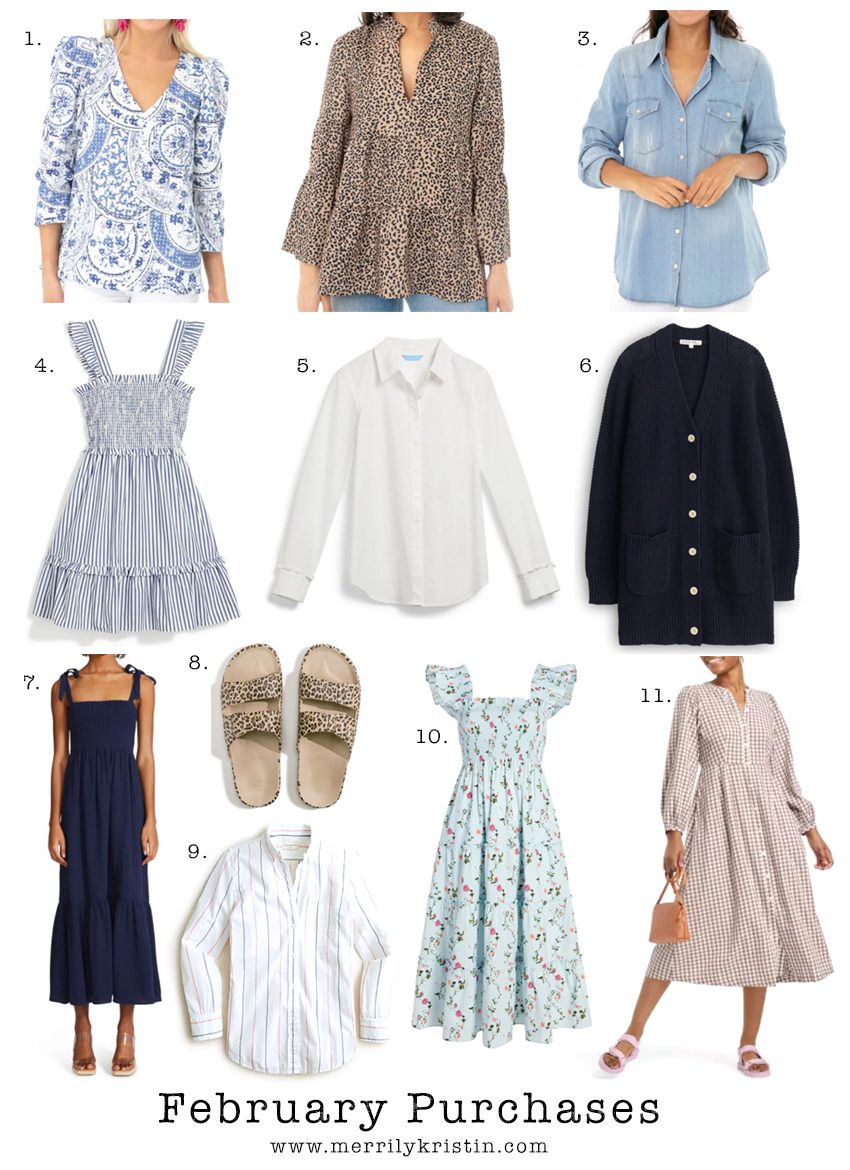 1) Tuckernuck Porcelain Tetley Top – Blue and white is my absolute favorite color combination so when I saw this blouse, I immediately had to scoop it up.  It was part of the Tuckernuck sample sale and I'm so glad I managed to snag one before it sold out.
2) Tuckernuck Leopard Edith Blouse – This is another piece I picked up from the Tuckernuck sample sale! I love the silhouette and leopard print is such a classic.  I've already worn this one to work and it's really comfortable.
3) Tuckernuck Chambray Steele Shirt – This is the last shirt I bought during the Tuckernuck sample sale and it's the only one that I'm a little disappointed with (but everything was final sale).  I've been looking for a cute chambray shirt but in the photo I couldn't tell that this one was slightly distressed.  I would've preferred if they didn't have that particular design element. It also fits a little on the boxy side so my search will continue.
4) Draper James Shania Smocked Dress – This is such a cute dress! It's almost like a mini nap dress and again, love the blue and white color combo (this time in a classic pinstripe).  Draper James has had such cute new arrivals- I also really love this style in the pink and red stripe.
5) Draper James Button Down Shirt – I was in need of a plain white button down and I really like the ruffle detail on the cuffs of this shirt.  I might get another basic one sans detail from JCrew or Talbots in an upcoming month, but for now, I'm excited to start wearing this one!
6) Alex Mill Romy Long Cardigan – I'm officially an Alex Mill convert. I bought this sweater kind of on a whim after seeing another influencer rave about it and I'm completely in love. It's such a well made basic staple and I've already added a bunch of other Alex Mill styles to my wish list! It's cotton so it's perfect for Spring/Summer and can be layered over warmer clothes for Fall/Winter.
7) BB Dakota Madison Sleeveless Maxi Dress – At only $39 I simply could not pass up this classic navy dress! I'm so excited for Spring/Summer and I think I'm going to get a ton of wear out of this classic style.
8) Freedom Moses Leopard Sandals – And this is the last item I bought overall from the sale.  I have another pair of Freedom Moses sandals and they're so incredibly comfortable.  I mostly wear them around my apartment building or if I'm running a quick errand, but I might make them my beach shoe as well.
9) JCrew Classic Fit Washed Cotton Poplin Shirt – I feel like JCrew has had an abundance of very cute button downs this month and there are definitely more colors currently sitting in my shopping cart, but I had to buy this 'sleepaway stripe' one when it was on sale. I love it even more in person!
10) Ellie Nap Dress in Pond Floral – I have so many Nap Dresses at this point but I end up wearing them so frequently in the Spring and Summer that I can always justify a new one.  Plus I love the pink roses and little mallard ducks on this one- fun fact, this print was inspired by Beatrix Potter!
11) Target Balloon Long Sleeve Button Front Dress – I love the colorway of this gingham print! I thought it would look really cute styled with my Tory Burch belt and neutral flats.  Plus the long sleeves make it a good transition dress as we head into Spring.