I had a very weird reading month in February- I was craving comfort reads and I mostly ended up binge reading Star Wars graphic novels and regular novels.  At the end of the month I re-read Throne of Glass as part of my 2022 re-read with Alexa and Rachel and it really put me back in a fantasy reading mode.  My March TBR is short in number but ambitious in page count and I can't wait to dive into all of these different fantasy worlds!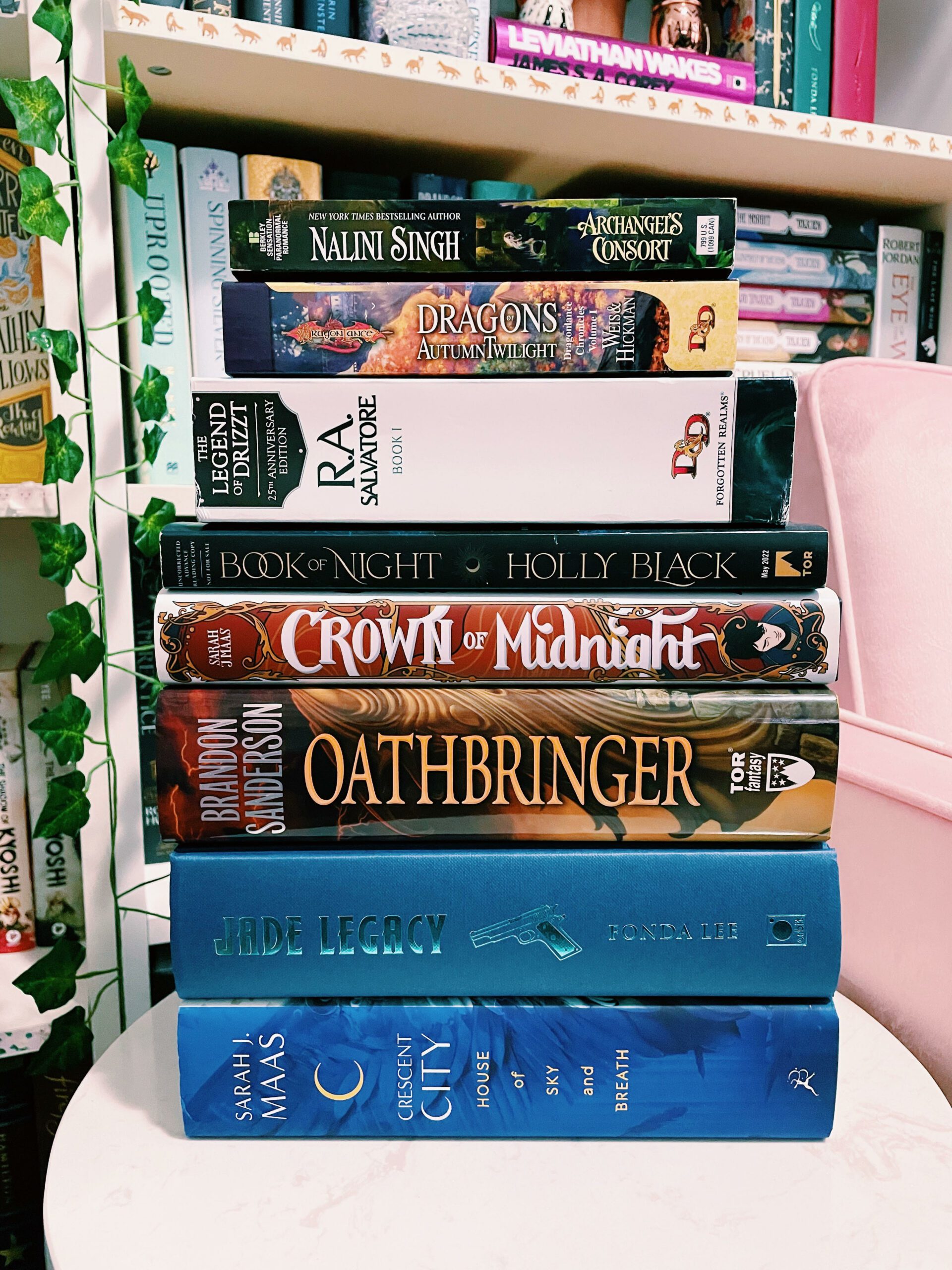 1) Book of Night by Holly Black – Probably the single most exciting piece of book mail I've received in 2022.  I am so intensely excited for Holly Black's debut adult fantasy novel and I can't believe I'm lucky enough to have an early copy in my hands! This is my first planned read for the month.
2) Gallant by V.E. Schwab – Were getting a new V.E. Schwab book this month! I'm so excited to have something new to read from Victoria and the premise of Gallant sounds enchanting.  It takes place in a magical mansion and it's comp titles are The Secret Garden meets Crimson Peak.
3) Crown of Midnight by Sarah J. Maas – Continuing on my Throne of Glass re-read with Alexa and Rachel with the second book in the series and the third book in our re-read (we're going in chronological order).  I'm loving revisiting these and I have such fond memories of Crown of Midnight from my first readthrough!
4) Dragons of the Autumn Twilight by Margaret Weis & Tracy Hickman – This is a D&D book that's on my "must read by June or I will be unhauling it" list! I've really wanted to read it for a while now and I thought by putting it on my list, it would give me the motivation to finally start it.  Really hoping to love this one and continue with the series!
5) Jade Legacy by Fonda Lee – I meant to read this book in January but since I only have the very pretty Illumicrate special edition, I've been waiting until to buy or borrow the ebook version.  I have the rest of the series in paperback and I didn't want to buy the regular hardcover and have mismatched copies on my shelf.  Jade Legacy is the conclusion to one of my all time favorite series.  I'm so excited to see what becomes of the Kaul family.
6) Oathbringer by Brandon Sanderson – This is definitely the largest and most ambitious book on my TBR and again, it's one I meant to read last year.  I've been dying to find out what happens next and I want to take a break between books three and four so I don't end up having to wait a long time for book five which is supposed to wrap up the first story arc in the series.
7) Exile by R.A. Salvatore – I want to try to read as many of the Drizzt books as I can this year.  I had so much fun reading the first one and I think it'll be a really great palate cleanser between some of the bigger fantasy books I'm planning on reading.
8) Archangel's Consort by Nalini Singh – I'm really looking forward to continuing this series as well! I listened to the first two books on audio but now that I'm back to working in the office, I have way less time for audiobooks so I'm going to pick up the physical book as one of my morning reads.  It's such a fun urban fantasy series and I'm looking forward to learning more about the world and the characters!
9) House of Earth and Blood by Sarah J. Maas – Another Sarah J Maas book and another re-read for me! I've been meaning to pick up the first book in the Crescent City series again before diving into the next one.  I can't believe how big book two is!
*this post contains affiliate links