Usually May is a huge month for book releases as we're heading into the summer but things in publishing are still out of whack from the pandemic.  It was pretty easy to put together my list for this month and it includes a well rounded mix of thrillers, romance and fantasy.  I'm beginning to get the itch to pick up a thriller since I've had such trouble concentrating lately, and some of my contenders on this list!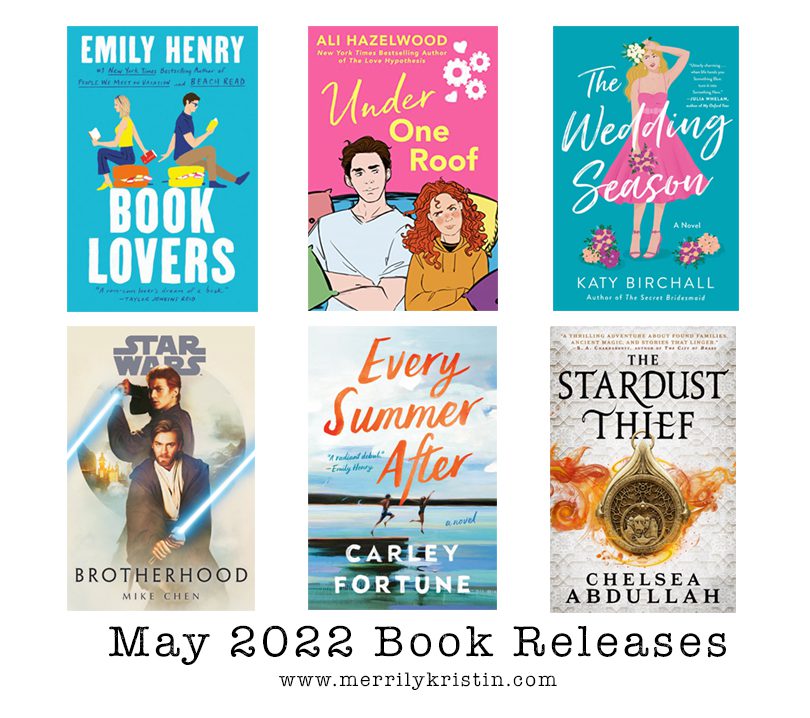 5/3 – Book Lovers by Emily Henry – How fun that Emily Henry's newest novel is being released in hardcover! Her romances have garnered quite the following since Beach Read debuted and I definitely count myself among her fanbase.  This time around our main character works in publishing and heads to a quaint small town to become the heroine in her own story, only to meet a brooding editor who also comes from the city.
5/3 – Under One Roof by Ali Hazelwood – So this new romance novella from Ali Hazelwood was technically already released as an audiobook but since I don't listen to romance novels on audio, I've been counting down until the eBook release.  This is another hate to love romance between scientists set in the world of STEM and I don't need to know anything else.
5/3 – The Wedding Season by Katy Birchall – I absolutely love weddings (I cry at every wedding when the bride and groom are exchanging vows, even if I don't really know them at all lol) so I cannot resist this new book about a recently jilted bride who has to attend seven weddings over the course of the year right after her groom calls off their own wedding hours before they were supposed to walk down the aisle.  Her friends create a series of outrageous challenges for her to complete at each event to take her mind off of her ex.
5/10 – Brotherhood by Mike Chen – There are so many exciting Star Wars novels coming out this year but this one focusing on Obi-Wan and Anakin during the Clone Wars is one I have been super looking forward to.  It takes place right after Attack of the Clones and I'm sure I'll be reading it right away.
5/10 – Every Summer After by Carley Fortune – This book really hadn't been on my radar until I saw it floating around on instagram and it really piqued my interest.  This book is told over the course of six summers and one weekend revolving around Percy and Sam who spent their childhood summers together at Barry's Bay.  Percy hasn't been back in a while but returns for Sam's mother's funeral and their connection is undeniable.  Sounds like a fun summer romance!
5/17 – The Stardust Thief by Chelsea Abdullah – This is toward the very top of my most anticipated fantasy books for this year and I'm so excited that the release date is finally nearing.  It's the first book in a trilogy that's technically an adult novel, but has YA crossover appeal and it's inspired by stories from One Thousand and One Nights.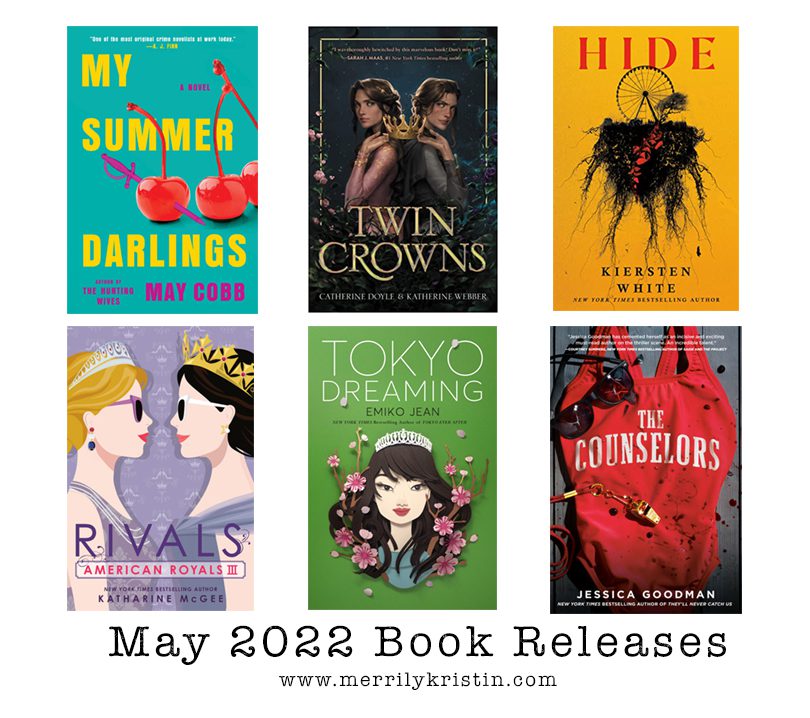 5/17 – My Summer Darlings by May Cobb – This upcoming thriller novel follows three women who have been best friends since childhood.  Then a mysterious stranger named Will moves into one of the grandest houses in town and disrupts their lives as their fascination with him turns into obsession and threatens their friendship.
5/17 – Twin Crowns by Catherine Doyle & Katherine Webber – Twin Crowns is a fantasy rom-com about twin princesses separated at birth.  One was raised as the crown princess and the other was taken as an infant and raised to kidnap her twin sister, steal the crown and avenge the parents' murders. It's the first in a duology and I will likely check it out.
5/24 – Hide by Kiersten White – I have never read a Kiersten White novel and I believe this is her first foray into adult supernatural thrillers so it will certainly be my first read of hers.  The premise is a competition to spend a week hiding inside of an abandoned amusement park without getting caught and Mack thinks she's up to the task until one by one the fourteen competitors begin disappearing.
5/31 – Rivals by Katharine McGee – I'm so excited that we're getting a third book in the American Royals series! I devoured the first two and I was a little disappointed when we were led to believe book two was the last.  I'm so excited the author decided to revisit these characters and hopefully tie up some loose ends.  There's also a prequel novella releasing in the beginning of May and I will definitely be checking that out as well!
5/31 – Tokyo Dreaming by Emiko Jean – I haven't read Tokyo Ever After yet so apologies for being super vague on the details of it's sequel.  It's a Cinderella story of sorts where a Japanese American girl discovers that her father is the crown prince of Japan.  If you couldn't already tell, I am here for all of the dramatic royals and I have no doubt this series is going to satisfy me.
5/31 – The Counselors by Jessica Goodman – First of all, I am obsessed with this cover.  Talk about summer vibes.  This YA thriller takes place at an elite lakeside camp and shortly after arriving, a body is discovered in the lake.  Goldie knows this cannot be an accident and suspects her best friend who was at the lake the night prior might be to blame.