It feels like I just posted my June new releases post… and since I was a little late getting that post up, I suppose the feeling makes sense! But alas, July, the best month of the year and my birthday month, is finally upon us! I'm looking forward to the Fourth of July, my birthday and reading some of these new releases, especially Below Zero and These Twisted Bonds!  (There's also a good chance I'll be binge reading the rest of the Bloodlines series by Richelle Mead.)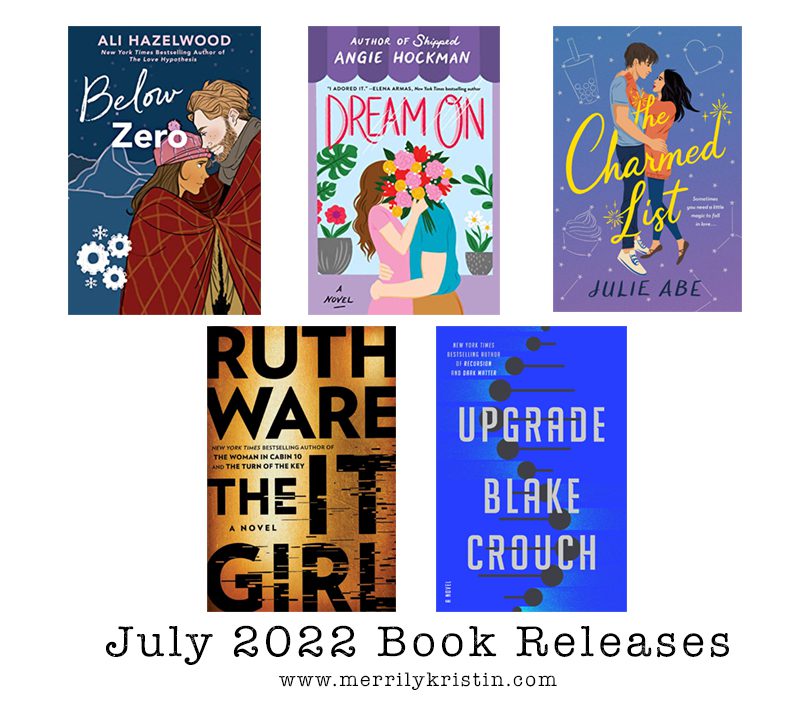 7/5 – Below Zero by Ali Hazelwood (The STEMinist Novellas #3) – I finally read both of the previously released STEMinist novellas in June and I loved them both! I cannot wait to read Hannah's story and again, I really hope these will be sold as a bind up soon (and that Illumicrate will give them a special edition).  They're released as audio first, but I've been reading once they release as eBooks.
7/5 – Dream On by Angie Hockman – There's no doubt that you'll have to suspend a ton of disbelief for this upcoming romance, but I'm willing to take the chance! It follows a girl who wakes up after surviving a car accident with memories of her boyfriend Devin… only Devin doesn't exist.  And this is where it goes off the rails- a year later, she runs into Devin in a flower shop and he believes her story.
7/5 – The Charmed List by Julie Abe – Julie Abe's debut YA contemporary romance novel made my list of anticipated releases for 2022! This one is a road trip novel following Ellie who's created an Anti-Wallflower List of risks to take for an exciting summer.
7/12 – The It Girl by Ruth Ware – So confession, I've actually never read a Ruth Ware book! I've had good luck with dark academia stories set around a college murder and despite being set a decade later, I'm sure this one will have plenty of flashbacks as we wait for the real story to unfold.
7/12 – Upgrade by Blake Crouch – I loved Dark Matter by Blake Crouch and I've been so excited for his new release! This sci-fi thriller follows a protagonist who's genome has been hacked to include an upgrade.  This upgrade is planned for all of humanity and Logan, the first recipient, is the only one who can stop it from happening.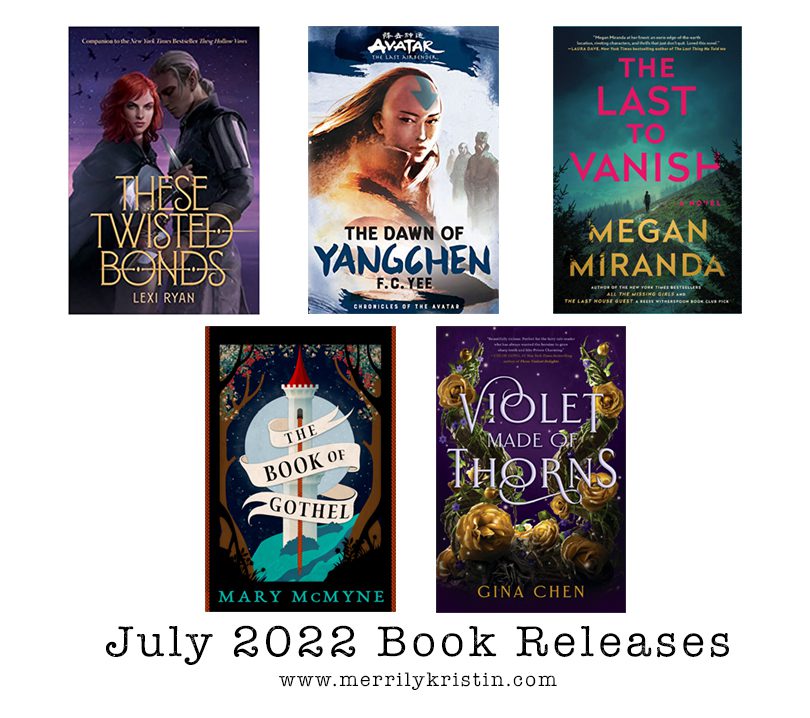 7/19 – These Twisted Bonds by Lexi Ryan (These Hollow Vows #2) – This is by far my most anticipated book on this list.  The first installment which Lexi Ryan released last year quickly became one of my favorite romantic fantasy books. It's full of Fae and magic!
7/19 – ATLA: The Dawn of Yangchen by F.C. Yee – I just very, very recently found out that we're getting another Avatar: The Last Airbender book written by F.C. Yee and I immediately kicked another book off of this list so I could include it here! I absolutely adored the Kyoshi duology and I'm so excited to be getting another Avatar's story!
7/26 – The Last to Vanish by Megan Miranda – This new one from prolific thriller author Megan Miranda takes place in Cutter's Pass, a resort town in North Carolina, famous for a string of unsolved disappearances. After a journalist comes to investigate the trail and goes missing himself, the town is thrust back into the spotlight.  Can't wait to read this one!
7/26 – The Book of Gothel by Mary McMyne – I was really hoping FairyLoot or Illumicrate would choose this one for their July or August book of the month but sadly it doesn't look like it.  This is a fantasy novel following Mother Gothel, the witch from Rapunzel, and I am so looking forward to it.
7/26 – Violet Made of Thorns by Gina Chen – This book sounds amazing! It's a dark fantasy about a morally grey witch, a cursed prince and a prophecy that ignites their fate-twisted destinies.