Since I worked on creating a wish list graphic for my bullet journal, I thought it made sense to post it on my blog as well! I'm planning on making a second wish list come Summer, but these are the cold weather items I've been eyeing.  I'm going to make a strong effort to avoid spending a lot on clothes in the New Year for several reasons- the first being that now that we're settled in our house, I can actually see everything I own and I've realized there are not nearly as many gaps in my wardrobe as I had thought, the second being that opening packages and then having to get rid of said packaging so frequently does not bring me joy, and lastly, I would rather have fewer excellent quality items that I wear over and over again.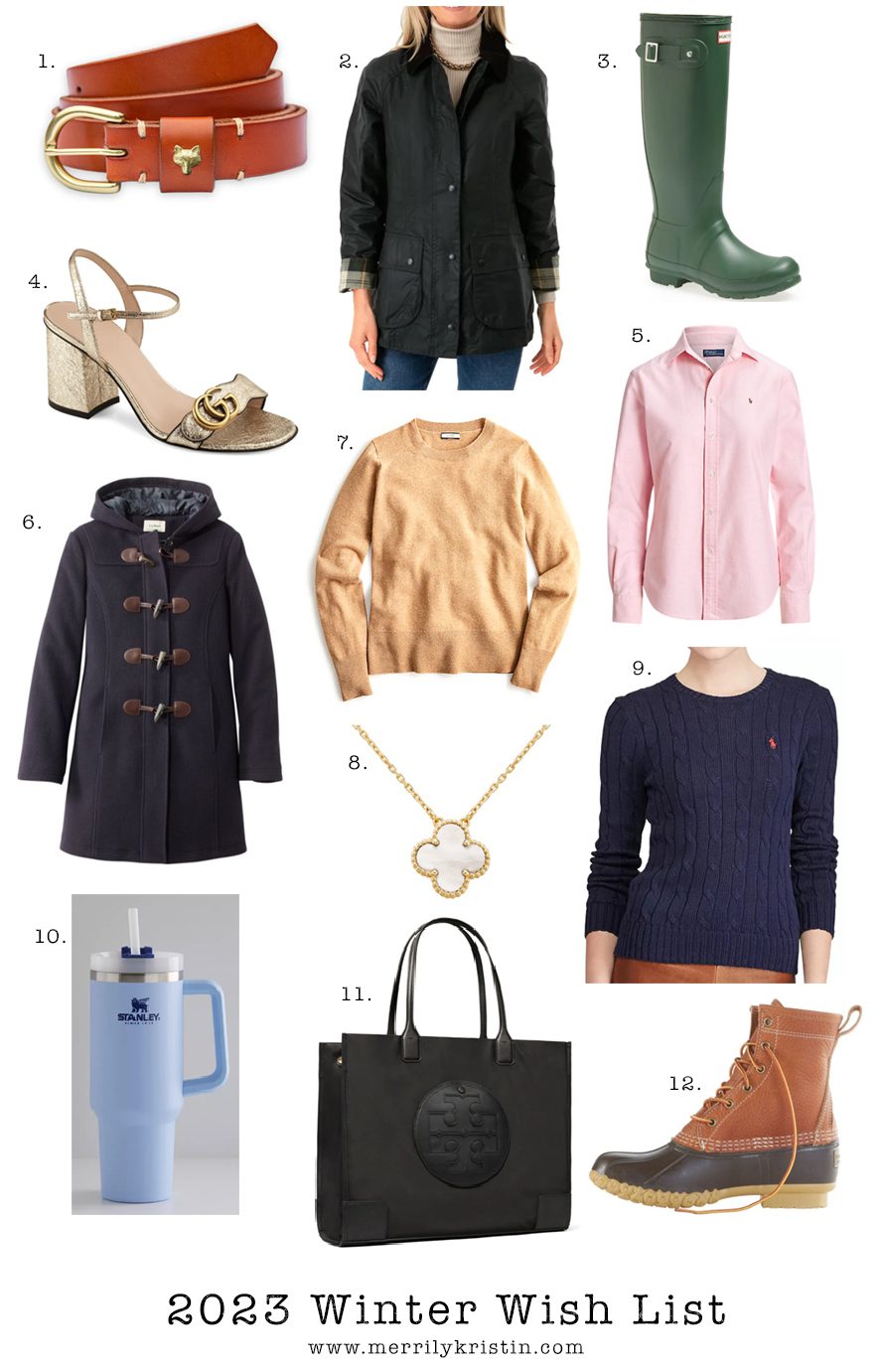 1) KJP Fox Head Belt – Foxes are my absolute favorite animal and I love this belt so much! The brown leather is so classic but the fox head lends a touch of New England whimsy.
2) Barbour Sage Beadnell Wax Jacket – I think this jacket was on my 2022 list as well but I never sprung for it! I always envision this being more of an autumn jacket to pair with a chunky sweater, but it'll work nicely for spring hikes before we transition to the warmer weather as well.
3) Hunter Original Tall Rain Boots – I have a pair of red glossy Hunter boots and I wear them every time it rains! I've been wanting to get a fun matte color and I think the green will work nicely with navy's, grey's, and brown's.
4) Gucci Metallic Sandals – These are more of a splurge wish list item, but I really need to add a more neutral dressy heel to my shoe closet. This pair will work well for summer weddings and other fancier family gatherings.
5) Polo Ralph Lauren Pink Cotton Oxford Shirt – I have the Ralph Lauren blue Oxford shirt and it's one of my favorite items in my closet.  I've been slowly adding some more pink to my rotation and this particular shade is a nice way to add some pastel color to my wardrobe while still keeping that classic feel about it.
6) LL Bean Lambswool Duffel Coat – In truth, I really don't need any more coats, however I love this one.  Not only does it remind me of Paddington, but I don't have a navy coat and this style just speaks to me.
7) JCrew Camel Cashmere Crewneck – I have a bunch of JCrew cashmere crewnecks- these sweaters are some of my go-to's for all seasons.  They're comfortable and lightweight, yet manage to keep me warm.  I do have a cable-knit cashmere but I'd also like a plain version.
8) Van Cleef & Arpels Vintage Alhambra Pendant – This is by far the most expensive item on my list and it's one I've been wanting since college.  As good as I am at spending a little bit of money a lot of the time, I'm terrible about spending a lump sum like this- it actually gives me a bit of anxiety.  But thankfully my dad and Andrew are splitting it for me for Christmas and I couldn't be more excited!
9) Polo Ralph Lauren Cable Wool Cashmere Crewneck – These sweaters are my absolute favorite! I seem to manage to get snag one a year- they sell out so fast!  These stay in perfect condition year after year and I'd love nothing more than to add a nice navy version to my closet.
10) LL Bean Bean Boots – It's pretty surprising that I don't already own these (I do own a light pink version of Sperry's duck boots), but I really want something more neutral for hiking and walking through trails.
11) Tory Burch Ella Tote Bag in Black – This is the fifth item on this list that I already own in another color (when I find something I love, I stick with it!).  I have a navy gingham version that I wear to work every day- it's the perfect commuting bag because it's incredibly lightweight, I'm able to fit my laptop, kindle and other commuting essentials in it, and it's no secret that Tory Burch is a favorite designer of mine.  I really want the black version because it'll be nice to have something more neutral to use each day.
12) Stanley Quencher 40oz Travel Tumbler in Cornflower Blue – I finally caved in and bought one of these! I've been wanting one for so long but I very specifically wanted a blue version.  Every single time I checked their website, they never had the color that appealed to me most so when another influencer posted a link to one on the Urban Outfitters website, I was shocked to see that the cornflower blue I'd been wanting all along was just sitting there in stock, waiting for me to buy it.