It was so hard to narrow down my list to only 12 books but I feel really good about the ones I have listed below! Part of the reason that I decided to draw a hard line for myself at 12 books is because I want to do a post next year checking in about whether or not I read my most anticipated.  I've been trying to do that for 2022, but since I only posted monthly book releases posts, I have quite a few books to include in my wrap up. Thank goodness I skipped some months!
This is my first list of 2023 which covers January through June releases and I'll draft a second post at the end of June to cover July through December releases.  I already know some of my most anticipated books of the year aren't coming out until the fall, but we always tend to find out about more books as the year progresses so I didn't want to make my 24 book list now and miss out on some titles that haven't been announced or don't have covers yet!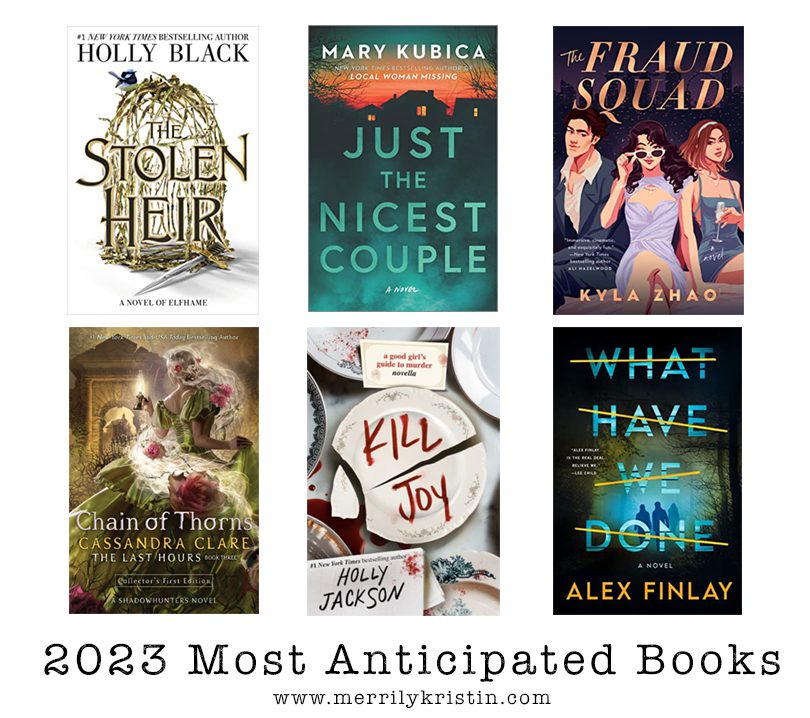 January
1/3 – The Stolen Heir by Holly Black – Holly Black is so hit or miss for me but since she's returning to the world of the Folk of the Air to tell a new story, I'm going in with really high hopes.  No one writes Fae like Holly and I'm hoping this duology will be just as addicting as the previous one.
1/10 – Just the Nicest Couple by Mary Kubica – After loving Mary Kubica's Local Woman Missing (review coming shortly!), I added her to my auto-check out list! Unlike her last book, this one centers around a missing husband who's disappearance links two couples.
1/17 – The Fraud Squad by Kyla Zhao – In addition to this being one of my favorite book covers ever, I can't wait to read this story about a girl who has always dreamed of infiltrating Singapore's high society and finally gets the chance but the deeper she gets, the more she fears being exposed by a mysterious gossip columnist.
1/31 – Chain of Thorns by Cassandra Clare – I can't believe we're finally getting the conclusion to the Last Hours trilogy at long last! After being heartbroken about the book's delay, Chain of Thorns is thankfully coming out at the beginning of the year because I don't think I could've waited much longer.  I haven't been reading as much fantasy lately, but you can bet I'll be diving into this one on release day!
February
2/18 – Kill Joy by Holly Jackson – This is the only novella on the list and because it's a prequel to the best YA thriller trilogy ever written (A Good Girl's Guide to Murder), I immediately preordered it upon its announcement.  This story follows Pip at a murder mystery party!
March
3/7 – What Have We Done by Alex Finlay – Alex Finlay has become my new favorite thriller author after reading his last two books a few weeks apart in the latter half of 2022. I'm so excited for his next book which follows three adults who were best friends 25 years ago at Savior House, a group home for parentless teens.  Savior House shut down after the disappearance of several children, and now the trio is reunited because someone is trying to kill them.
3/14 – Paris: The Memoir by Paris Hilton – I'm not ashamed to admit that I loved Paris Hilton in high school, especially after watching The Simple Life and I read so many tabloid magazines about her and her whole girl group during my college years.  I watched the documentary she released about her awful experience at the boarding school she was sent to and I'm really looking forward to getting even more insight into her life as opposed to the character she plays in public.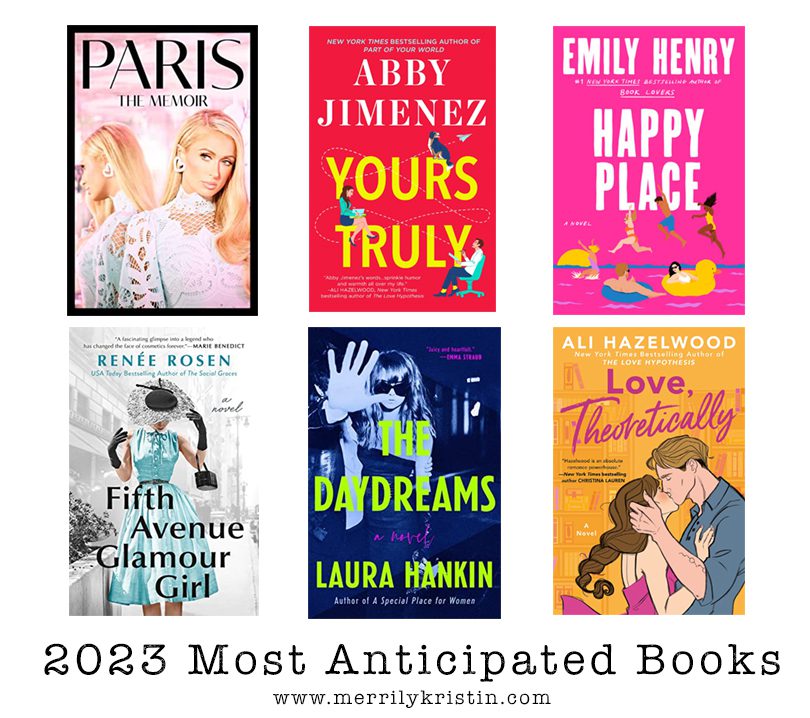 April
4/11 – Yours Truly by Abby Jimenez – Part of Your World by Abby Jimenez was one of my favorite romances of 2022 and I could not be happier that Alexis's best friend, Dr. Brianna Ortiz, is getting her own companion novel.  That's all I need to know (though fair warning- does sound like it will be a heavy read because her brother is in need of a kidney and time is running out)!
4/25 – Happy Place by Emily Henry – Emily Henry's newest romance follows a couple who broke up months ago but pretend to still be together for their annual weeklong vacation with their best friends.  I loved Book Lovers and I hope Happy Place will be a new favorite as well.
4/25 – Fifth Avenue Glamour Girl by Renee Rosen – Renee Rosen does such a phenomenal job of writing historical fiction about trailblazing women and this time she's tackling Estee Lauder.  I can't wait to pick this one up!
May
5/2 – The Daydreams by Laura Hankin – I am obsessed with the plot of Laura Hankin's newest novel! We're following the stars of a popular teen show from the 2000's who are forced back together 13 years later after their scandalous flameout for a reunion special.  Drama!
June
6/13 – Love, Theoretically by Ali Hazelwood – I'm not going to sugarcoat it, Ali Hazelwood's newest sounds just like all of her other books (novellas included), but her writing style and fun setting of women in STEM really works for me! This time around we're following rival physicists who collide in a vortex of academic feuds and faking dating shenanigans.