Some of these books will be repeated from my 2023 most anticipated list, but January has so many new releases that I'm excited to have a space to share more of the books I can't wait to read with you! This is going to be a particularly long list because of the sheer number of books being published in January and the fact that I only included three books in my December post.  I told you I'd make up for it in January!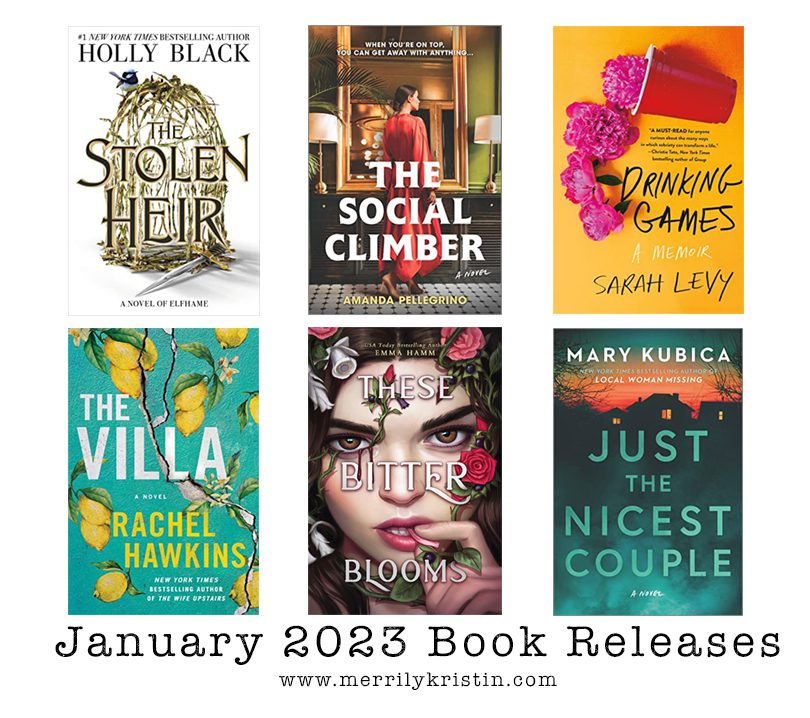 1/3 – The Stolen Heir by Holly Black – First on this list is one of those repeats! Holly Black + Folk of the Air Fae is one I have high hopes for! I'm glad we don't have to wait too long into 2023 to read it!
1/3 – The Social Climber by Amanda Pellegrino – This one follows a woman who's planned and schemed her way into an elite Manhattan lifestyle.  She gets engaged to a Yale grad but as they near the big day, secrets from her past start to come out and her motives come into question.
1/3 – Drinking Games by Sarah Levy – This new nonfiction book is part memoir and part social critique about the culture around drinking and alcohol and it documents one woman's experiences until sobriety frees her.
1/3 – The Villa by Rachel Hawkins – I love the cover of Rachel Hawkin's newest thriller! It's giving White Lotus and I've been searching for something to fill the void ever since the finale.  Historically, I haven't had much luck with Rachel Hawkins's thrillers, but this story set in an Italian villa with gothic vibes sounds very appealing.
1/9 – These Bitter Blooms by Emma Hamm – Emma Hamm's newest fantasy romance is described as dark academia meets goblincore. Say no more!
1/10 – Just the Nicest Couple by Mary Kubica – This another 2023 most anticipated repeat- I loved Mary's Local Woman Missing and I can't wait to get my hands on her newest book!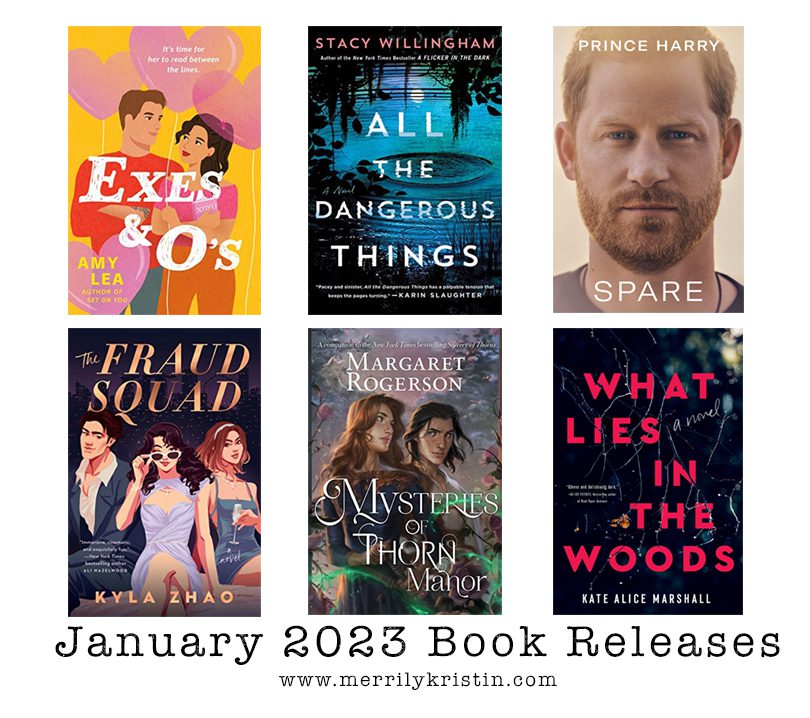 1/10 – Exes and O's by Amy Lea – So I hadn't realized this book is second in a series until very recently, but since it's a romance, it's likely a companion novel. This book follows a social media influencer who revisits all of her exes in an effort to find true love.
1/10 – All the Dangerous Things by Stacy Willingham – This is another thriller following a mother who's child was kidnapped.  Since it happened, she has barely slept and her entire life revolves around trying to find him. She agrees to be interviewed by a true crime podcaster and memories start to surface.
1/10 – Spare by Prince Harry – I'm so curious about Prince Harry's new memoir! I watched the Netflix docuseries about him and Megan and I kept wishing for more insight into Harry's side of things so I'm hoping this will do the trick.
1/17 – The Fraud Squad by Kyla Zhao – This is a 2023 most anticipated book- we're following a girl who becomes part of high society in Singapore and has to evade a pushy gossip columnist before her past comes to light.
1/17 – Mysteries of Thorn Manor by Margaret Rogers (A Sorcery of Thorns #1.5) – This is a sequel novella to Margaret Rogerson's A Sorcery of Thorns and I can't wait to revisit this wonderful fantasy world.  We're following Elisabeth, Nathaniel and Silas once again, but this time they're trapped inside Thorn Manor and they have to unravel the magical trap in time for the Midwinter Ball.
1/17 – What Lies in the Woods by Kate Alice Marshall – There are so many new thrillers in January and I am here for it.  This is Kate Alice Marshall's adult debut thriller which follows a group of friends who sent a killer to prison when they were eleven after an experience in the woods, but they were lying.  Now one of them wants to tell the truth.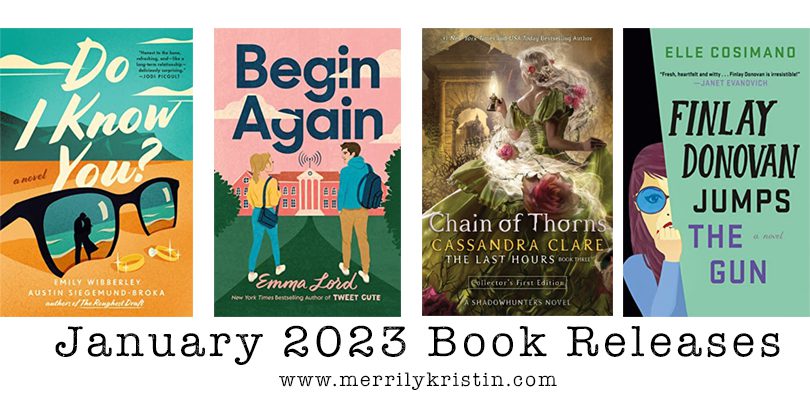 1/24 – Do I Know You? by Emily Wibberly & Austin Siegmund-Broka – This romance follows a married couple who start to feel like they're strangers to each other so when they go one vacation together, they decide to pretend they actually are strangers to reignite the spark in their relationship.
1/24 – Begin Again by Emma Lord – I haven't been much of a YA reader in recent years, but Emma Lord will always be an autobuy author for me.  Her newest follows a girl who's always had everything together and been labeled a notorious fixer but when things fall apart in her personal life, she's thrown for a loop.  Usually I love Emma's books for the NYC setting, but as this one is set out of state, we'll see how I feel about it!
1/31 – Chain of Thorns by Cassandra Clare – Another 2023 most anticipated.  I just need more Herondales, Fairchilds, Carstairs, and Blackthorns in my life ASAP.
1/31 – Finlay Donovan Jumps the Gun by Elle Cosimano (Finlay Donovan #3) – And lastly, I don't want to look up the synopsis for this one since I'll be reading book two in January, but Finlay Donovan is an author turned accidental hitwoman who gets embroiled in an outrageous plot in order to help her writer's block.  Love this series!