Wow, so after being sick for a month and just wanting to be comfy, you'll notice a definite theme of athleisure wear here.  Andrew has been calling these coordinated pairings my Long Island mom outfits which is too funny.  They're just so easy to throw on and look semi-put together in while running errands or doing chores around the house.  I also became a huge Addison Bay fan this month! I ordered one outfit to test on Black Friday and loved it so much that I ordered more pieces when Tuckernuck and Addison ran sales in December.  Then later on in my purchases, we go full out holiday with sparkles and tartan.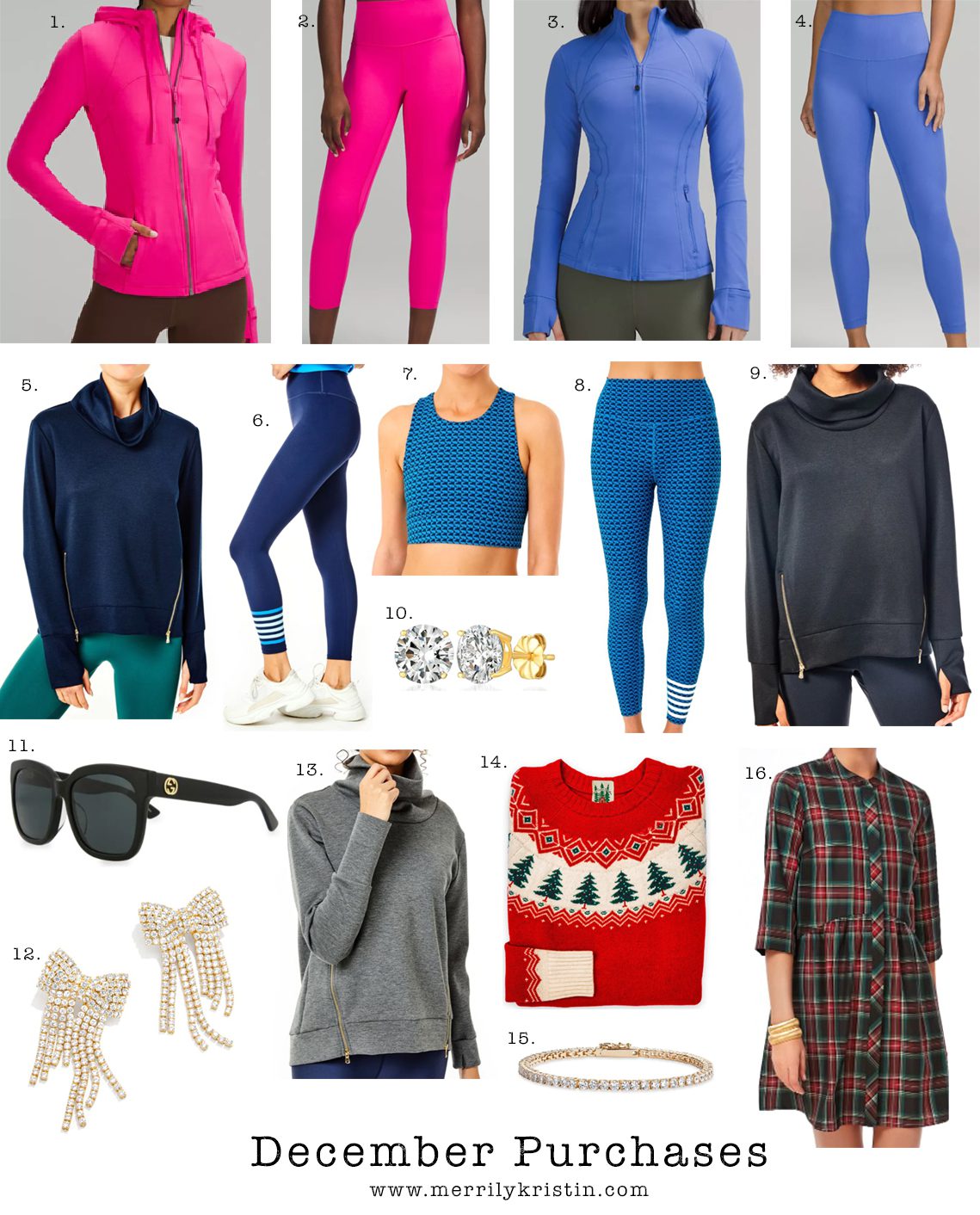 1) Lululemon Hooded Define Jacket – I was (and still am!) so drawn to this vibrant pink! It's called sonic pink and I love it so much! It actually reminds me of this neon pink sweatshirt that me and my two best friends had as kids and we would wear them all the time together! When I got this outfit in the mail, I immediately took a photo and sent it to them and they agreed! I have Lululemon's define jacket in a bunch of colors, but this is my first one with a hood.
2) Lululemon Align Leggings – These are the matching sonic pink leggings to the jacket.  I'm not on TikTok but I found out after wearing this that Barbiecore is a thing so I guess I'm unintentionally on trend.
3) Lululemon Define Jacket – After just purchasing a Lululemon outfit, I was definitely not in the market for another one… until they released a new blue colorway called wild indigo.  I'd been wanting a blue version since it's my favorite color and this is the kind of french blue color that I love.  Now I need them to stop releasing new colors I love!
4)  Lululemon Align Leggings – These are the matching leggings.  Unlike the other align leggins I own, these are ribbed which are a fun detail!
5) Addison Bay Everyday Pullover – I bought this navy scuba sweatshirt during Black Friday because it was on a good sale and I've been eyeing Addison Bay for a while now.  I'm happy to report that I love it! I wore it on a recent hike and it was surprisingly warm and comfortable.  There are so many color choices but as you can see, I went with the navy.
6) Addison Bay Everyday Leggings – These are the matching leggings.  I love the ankle stripes on these.  Such a cute detail! I was between the all blue or the navy with pink stripes but opted for blue.  I also got these on Black Friday!
7) Addison Bay Sports Bra – I picked up this fun pattern on sale at Tuckernuck. It was such a good deal that the sale combined with a promo code- it was as if I got the top for free.
8) Addison Bay Everyday Leggings – Love these matching leggings.  This pattern is so nice in person and it's such a good combination of blues.
9) Addison Bay Everyday Pullover – During December, Addison Bay ending up sending me an email for a surprise 40% discount for two days only so I sprung on the black and grey versions of the everyday pullover.
10) Nordstrom Cubic Zirconia Studs – These are a basic pair of cubic zirconia studs. I somehow lost one of my other ones in the move so I needed a replacement pair and I always go for the Nordstrom ones.
11) Gucci Sunglasses – This is definitely my most worn purchase of the month! I pretty impulsively picked these up from Saks Off Fifth during their Black Friday sale.  Laying in bed sick for weeks led to endless scrolling but these sunglasses were a definite positive to come out of that bad habit!
12) Baublebar Selena Earrings – I instantly fell for these stunning BaubleBar earrings! Sparkly bows? Say nothing else!
13) Addison Bay Everyday Pullover – This is the grey pullover that I purchased on the 40% off sale.  Now I feel like my neutrals are covered.
14) KJP – Merry & Bright Sweater – This is the only Christmas sweater I purchased this year (a vast improvement over years past!) but sadly, I never had the chance to wear it (I blame the flu). I think I might wear it on New Years so I can at least get one wear out of it before next year.
15) Nordstrom Cubic Zirconia Tennis Bracelet – I have a real diamond bracelet that belonged to my mom, but I'm too nervous to wear it into the city for work because I would never forgive myself if I lost it.  I decided to get a cubic zirconia version so I can wear it without worrying.
16) Tuckernuck Royal Shirt Dress – I have Tuckernuck's royal shirt dress in a bunch of other patterns and fabrics and soon as I saw the highland tartan I need I needed to add it to my closet! It's a different material than I was expecting but I love it. I wore it to my work holiday party and I almost wore it on Christmas day.