Next up in my Best of 2022 week, we're tackling TV shows! I obviously love reading, but I'm also a very big TV person.  There's nothing I enjoy more than unwinding after a long day of work by watching some TV with Andrew.  I much prefer TV to movies which will be evident in my very short best movies of 2022 list coming tomorrow.  In 2022, I watched a total of 79 seasons of TV shows or specials.  Of those, I've narrowed my list down to 12 favorites.  Once again, these are not all tv shows that came out in 2022, but they're all series I watched for the first time over the course of the year.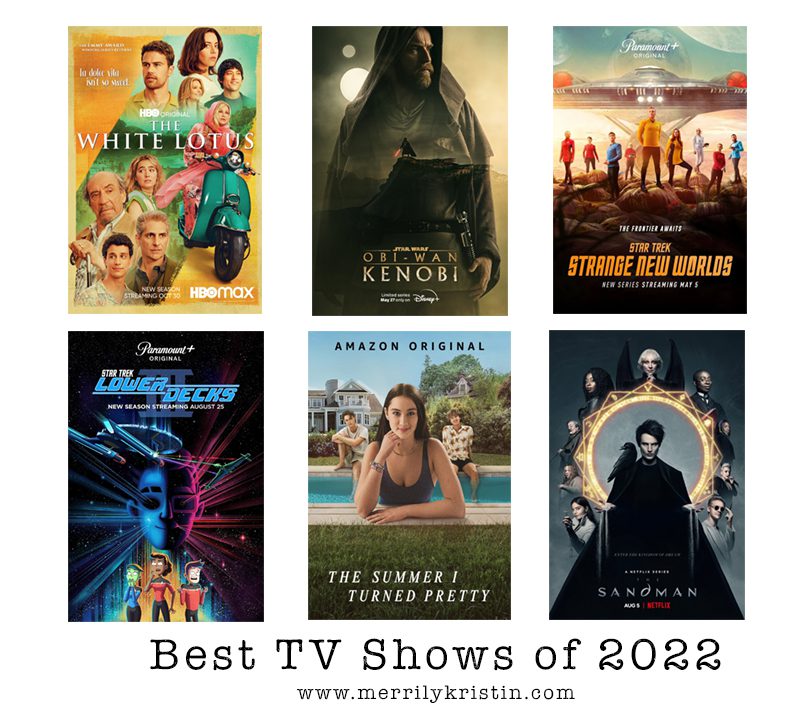 1) The White Lotus Season 1-2 – There's no question that The White Lotus is the most talked about show in 2022.  I devoured season one in a single day and while I loved it, it wasn't until season two that I truly became a White Lotus addict.  It was such a blast to dissect the relationships and the very subtle implications of some of the words or actions of the characters.  The backdrop of Italy was simply stunning and the cinematography was unmatched.  Daphne is my favorite character by far and I'm so glad Meghann Fahy has gotten more mass market exposure as a result of the show.  I can't wait for season 3!
2) Obi-Wan Kenobi Season 1 – This was for sure one of my most anticipated shows of the year and it completely delivered.  It's always fun to have a new Star Wars show to watch (I haven't finished Andor just yet but it's a priority for 2023!), but it was especially exciting to tackle this specific time in the story after the events of the Clone Wars and the prequels, and shortly before we pick up in A New Hope. I loved seeing Ewan McGregor reprise his role and his interactions with Darth Vader while he struggled to accept what Anakin has become.  I also loved getting to see the Inquisitors in live action (though I didn't love how some of them looked compared to their animated counterparts).  As much as I love The Mandalorian, I do hope we'll get more limited series in this vein- especially spotlighting original trilogy characters.
3) Star Trek: Strange New Worlds Season 1 – Strange New Worlds is hands down the best new live action Star Trek show in YEARS.  This show gets back to its roots and Pike is such an incredible captain.  Just talking about Strange New Worlds makes me want to rewatch the season already.  I love getting to see younger versions of the characters we know and love from The Original Series and the actor who plays Spock is just perfect.
4) Star Trek: Lower Decks Seasons 1-3 – Andrew and I have binge watched 30 seasons of Star Trek and 10 Star Trek films over the past 3 years and Lower Decks is absolute treat for anyone who's put in the work to see the entire back catalog of Star Trek.  The series is so so referential to the series of Star Trek past, and I love Mariner and Boimer beyond belief.  It's so much fun to follow the crew members on the lower decks of the USS Ceritos instead of the main bridge crew.  There are so many hijinx in this series and Andrew and I cannot get enough of it!
5) The Summer I Turned Pretty Season 1 – This Jenny Han book series turned Amazon adaptation is by far one of my favorite things I watched this year.  I binged the whole first season in one day and I've been thinking about it ever since.  I have to say, I actually enjoyed the adaptation much more than the source material.  The aesthetics in the series are so dreamy and I was also so invested in the mom's storylines.  I really hope we get the second season in early 2023!
6) Sandman Season 1 – Netflix's Sandman was such a loyal adaptation that it pleased long time fans like Andrew and myself, but it also managed to do some things better in our opinion.  I particularly loved the Death episode of the series, and I was so happy when Neil Gaiman announced it had been renewed for a second season.  Tom Sturridge is the perfect Dream and even though it took years to come to fruition, The Sandman series was so worth the wait.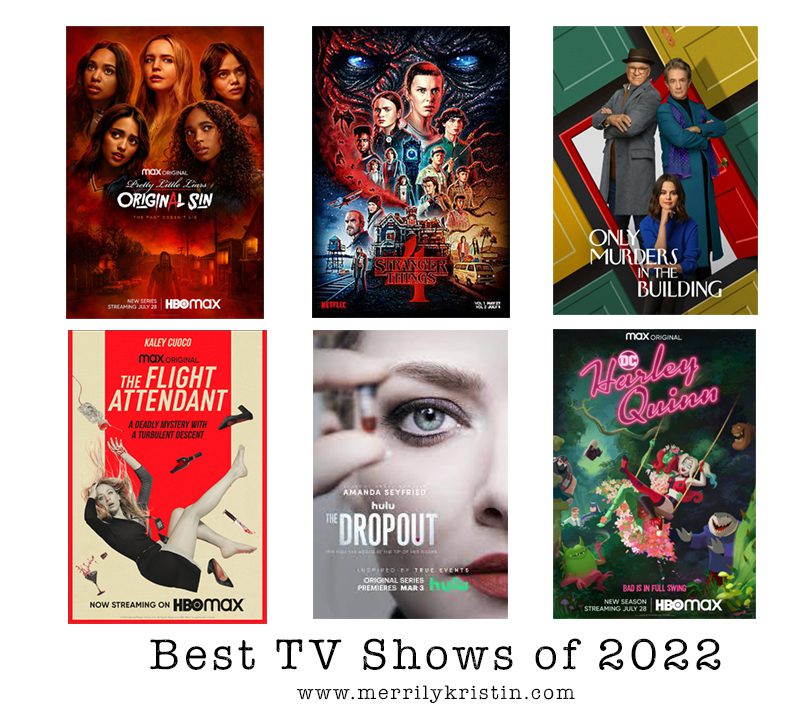 7) Pretty Little Liars: Original Sin Season 1 – I watched this one a whim (and it was the first thing I watched when we moved to our new house!) and I absolutely loved it.  It was definitely more of an old school horror story than the fashion / cool kids / teen drama of the original series.  I loved how the story in the present that the girls were dealing with was a consequence of the bullying their mean girl mothers did during their time in high school.  All of the girls in the current season were nice people and I wanted them all to have happily ever afters!
8) Stranger Things Season 4 – To be honest, I didn't love the third season of Stranger Things and I still maintain that season one is the best we've seen so far.  However, I loved so many elements of season four.  The D&D focus felt like a return to Stranger Things' roots and it was super fun to watch.  Obviously, I also love Eddie so much and as Max has always been a favorite character for me, I loved her storyline and the catchy song "Running up that Hill."  I do think there could have been some more editing and some scenes could've been cut (a 2.5 hour season finale is just too much for me and I had to watch it in so many different sittings), but overall, I really loved this season.
9) Only Murders in the Building Season 2 – I fell in love with this show in season one and season two was just as fun! The story was definitely a bit more outlandish, but watching Selena Gomez, Martin Short and Steve Martin get into the outrageous shenanigans will never not be entertainment gold.  In this season, the gang are prime suspects in the murder we saw at the end of season one and they must prove their innocence to the police and their public podcast audience while staving off Tina Fey's rival podcast. I also really loved the setup for season three and I'm so excited to see that actor (I won't spoil who!) join the cast.
10) The Flight Attendant Season 1 – Kaley Cuoco has been on my radar since the days of 8 Simple Rules and I've loved watching her career progression since then.  Big Bang Theory is one of my favorite shows of all time and it's so cool to see her play a completely different character than the sitcom roles that made her famous.  In The Flight Attendant, Kaley is an alcoholic flight attendant who gets involved in an international murder mystery after she has a one night stand and wakes up next to a dead body.  Kaley really nailed this role and I'm about halfway through season two now.  It's quick paced, action packed, and has a unique storytelling style.
11) The Dropout – I read Bad Blood years ago so I was really excited to watch Hulu's adaptation, The Dropout, following Amanda Seyfried as Elizabeth Holmes, founder and CEO of Theranos.  Holmes is a now notorious con artist who was falsifying records at her medical startup in order to attract investors.  The amount of things she was able to get away with is absolutely horrifying and it's hard to believe it's a true story.
12) Harley Quinn Season 3 – Another Kaley Cuoco favorite, the Harley Quinn animated series is an adult adaptation of DC Comics' most beloved Batman villains centering on Harley Quinn (voiced by Kaley) and Poison Ivy (voiced by Lake Bell).  This show is just perfect.  As someone who read superhero comics a ton in my younger years, this is exactly the type of adaptation I've always wanted.  It's humorous, it pokes fun at the source material while being chock full of easter eggs, and it has a ton of incredible voice actors.  My favorite episode this season was the Full House style Joker episode.