It's Best of 2022 day three on the blog and I'm enjoying this series so much that I think I'm going to make it a regular thing each year! Today we're tackling my favorite movies of the year and as I mentioned in my previous Best TV of 2022 post, I'm really not much of a movie person.  I tend not to watch many movies in a year (unless I'm watching old favorites) and I especially struggle to sit down to watch a movie if I know it's going to be over two hours.  Obviously there are always some exceptions, but that's just my personal preference!  In 2022 I watched 40 movies and of those 40, only 20 were new to me (and of those 20, 4 were just fine Christmas movies).  Most surprising is that only one of 3 new Marvel movies made my list.  Just like my other lists, I only include new to me media in my best of list, so of those 20, here are my 4 favorites!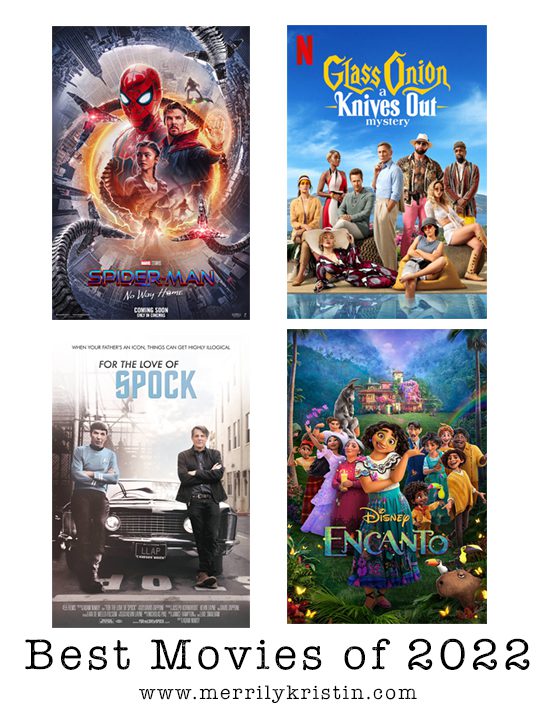 1) Spider-Man: No Way Home – Spider-Man has always been my favorite superhero so when there's a new movie, I'm seeing it in a theater (also very rare for me!).  This viewing was particularly special because Andrew and I saw it on New Years Day right after we came out of our covid quarantine.  We both loved it beyond belief.  There is no Spider-Man movie I've ever wanted so much and this film just completely blew all of the others out of the water.  I laughed, I cried (so many times), and I felt such deep love and adoration for this incredible movie.  I'm so happy this exists!
2) For the Love of Spock – This is a documentary that Andrew and I watched right at the end of the year and we both really enjoyed it! It was made by Leonard Nimoy's son, Adam Nimoy, and it explores the world's fascination with the character of Spock as well as his father's life and career.  I've loved all of the time we're spent watching Star Trek over the years, so this celebration of the series was delightful.  I really enjoyed hearing from the rest of the cast, Star Trek superfans, and even some actors from The Big Bang Theory.
3) Knives Out: The Glass Onion – Another end of the year watch, I really loved the new Knives Out film.  I may have even liked it more than the first one.  We're following another star studded cast for a murder mystery story on a remote island.  I've always loved Edward Norton and Kate Hudson, and I've recently grown to love Kathryn Hahn after seeing her performance in WandaVision and Dave Battista after his portrayal of Drax in Guardians of the Galaxy, but obviously Daniel Craig is the show stealer.  I loved how the whole plot played out and it was such a blast to spend time with these quirky people.
4) Encanto – Encanto is one of the best new animated Disney films to date. We're following Mirabel, voiced by Rosa from Brooklyn 99, as she struggles with being the only person in her family without magical powers.  Everyone else is special in their own way, but since Mirabel never manifested powers, she feels much lesser than everyone else and her abuela does not help to ease that burden.  This story is so heartwarming, the songs are so catchy, and the visuals are gorgeous! I also loved getting to see a film that features a Colombian family and exploring their culture.