I definitely buy a lot of things throughout the year (something I'm trying to work on for 2023) but I thought it would be fun to round up my favorite purchases of the year.  This is an extremely pared down list based on what I used most or has made me the happiest throughout the year.  It's a mix of fashion, books and life stuff! Kind of impressed with myself that I managed to highlight only six items on this list because it would've been really easy to go overboard!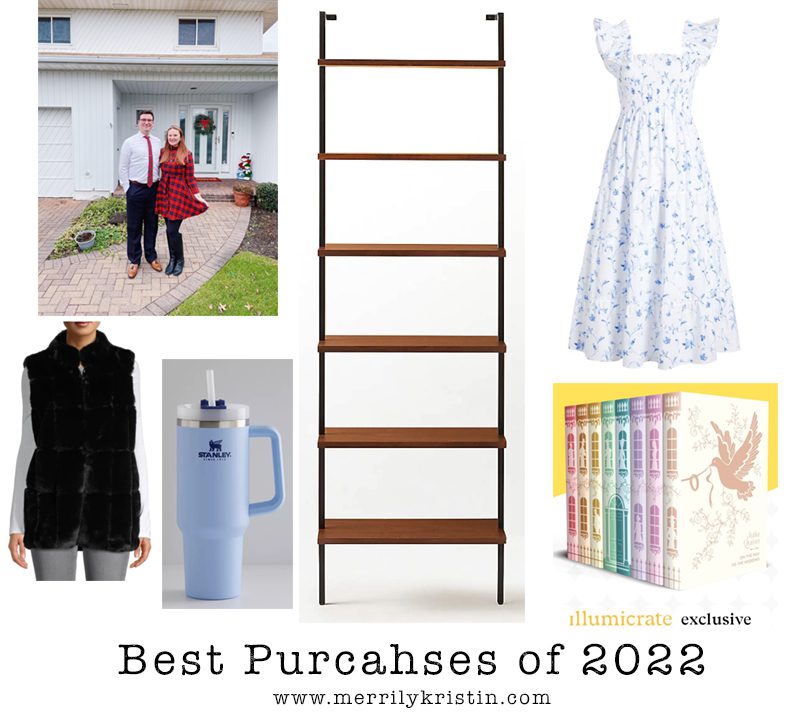 Our house! – This obviously had to make the list because not only is it the biggest expense of our lives, it also is a dream we've been working toward for years.  I can't imagine any future purchase will ever be able to top such an exciting milestone in our lives and we couldn't be happier in our new home.
CB2 96″ inch Helix Bookshelves – I struggled so hard to find bookshelves that I wanted but when I came across these CB2 shelves, I was immediately enamored.  They're exactly what I was looking for! After having white IKEA bookshelves for years, I really wanted something darker with a nice wood without being too dark.  This style really spoke to me.  I love that you can see the white wall we painted between shelves instead of having an enclosed piece of furniture.  I think it helps to keep the room looking bright despite having a more bold shelf design.
Hill House Nap Dress – I've purchased so many nap dresses throughout 2021 and 2022 and it's definitely my most worn style in the warmer seasons. While I do feel like I have too many of these, I really do get a lot of wear out of them and there just isn't anything I've found that's more comfortable.
Stanley Quencher 40oz Tumbler – This is a newer purchase but I've used it every single day and night since it arrived.  I feel like it's helping me always stay hydrated and because it's 40oz, I don't have to keep running downstairs to fill my glass of water.  I also love that the top is covered and it keeps water cold so I fill it before bed each night and keep it on my nightstand while I'm sleeping.  I'm the first to admit how skeptical I was about Stanley quenchers but for me, this was totally worth it.
Belle Fare Faux Fur Vest – This is also a newer purchase (I got it in November) but I've worn it so many times since then! It's so cozy and I'm finding that it's the perfect thing to throw on over any outfit if I get cold.  I've worn it out a ton, as well as in my own home when we've had company over.  It's so soft and cozy!
Illumicrate Bridgerton Special Edition Set – In examining all of the books I bought throughout 2022, there isn't a single special edition set that I love more than my Illumicrate Bridgerton books.  They're a pastel rainbow dream design with metallic foiling on the spines and the covers.  I love how they look all lined up together and they just make me very happy.  I'm still making my way through reading the series, but I'm planning to finish next year!