In making my February list, I forced myself to stick to spotlighting 12 new book releases but when I tell you it was a struggle, I am not kidding!  Once again, the month is brimming with new books and there are quite a few of them that I have my eye on.  I decided not to include Samantha Shannon's new novel, A Day of Fallen Night, since I haven't read the first book (not that that's stopped me in the past), but since I ordered the beautiful Broken Binding editions, it'll likely be a while after release that my copy arrives!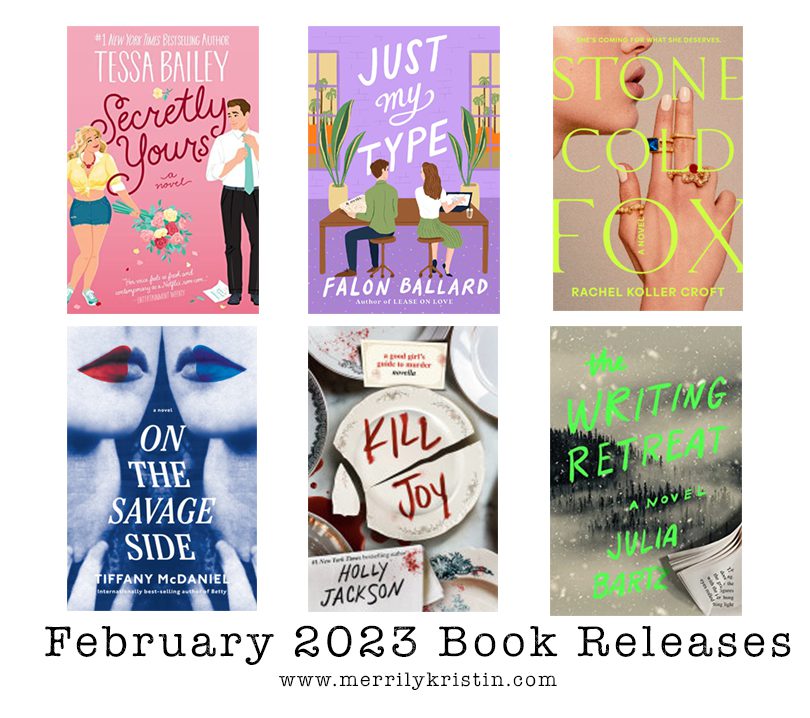 Secretly Yours by Tessa Bailey (2/7) – I am always in the market for a new Tessa Bailey book and I love the cover of this one! It's a rom-com about a starchy professor and his bubbly neighbor who clash at every turn.  And the sequel is already finished and publishing in June!
Just My Type by Fallon Ballard (2/7) – Another adorable cover- this romance follows a relationship prone journalist who needs to learn how to stay single but starts having trouble when her high school ex-boyfriend starts working at her site.
Stone Cold Fox by Rachel Koller Croft (2/14) – This debut novel follows an ambitious woman who, after a lifetime of conning alongside her mother, wants to leave her past behind and marry the heir to one of the country's richest families.  But obviously, her past threatens to haunt her!
On the Savage Side by Tiffany McDaniel (2/14) – This new book from the author of Betty, draws on the unsolved true story of six women, the Chillicothe Six, killed in Ohio.  It focuses on telling the story of two sisters, both of whom could be the next victims.  It's tagged on goodreads as a mystery/thriller, but I think it's going to be more literary with a mystery element.
Kill Joy by Holly Jackson (2/18) – This prequel to A Good Girl's Guide to Murder made my most anticipated of the year list! It follows Pip at a friend's murder mystery party.  I believe it's the event that sparked her interest in the case she follows in her podcast throughout the original series.
The Writing Retreat by Julia Bartz (2/21) – This is another debut novel and it's a psychological suspense about a young author at an exclusive writer's retreat that descends into a nightmare.  Definitely sounds like a good time!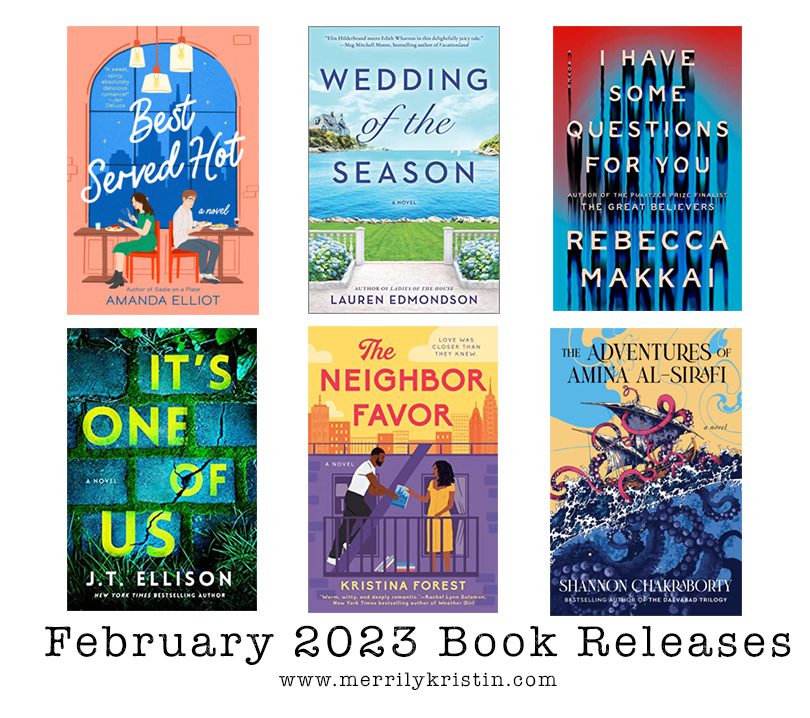 Best Served Hot by Amanda Elliot (2/21) – Romances, especially Berkley romances, always have the best covers! This one follows two restaurant critics with opposing tastes in Amanda Elliot's next foodie rom-com.  I still have to read Sadie on a Plate but both of these are really appealing to me!
Wedding of the Season by Lauren Edmondson (2/21) – Newport is just about my favorite place in the world and I cannot wait to read Lauren Edmonson's newest novel about the summer wedding between two modern day society families that has all of Newport talking.  It's blurbed as Elin Hilderbrand meets Edith Wharton.
I Have Some Questions For You by Rebecca Makkai (2/21) – This dark academia thriller follows a woman who would love to leave her past behind, including the murder of her former roommate at a New Hampshire boarding school.  But when she gets invited back to teach a course, she begins to find increasingly apparent flaws in the case and she begins questioning if someone was wrongly convicted and if the real killer is still out there.
It's One of Us by J.T. Ellison (2/28) – I'm going to give J.T. Ellison another shot because her newest novel sounds intriguing.  After years of unsuccessfully struggling to have a child, the police tell Olivia's husband that his son is the prime suspect in a murder case.  As it turns out, her husband donated sperm years ago at a clinic but had no idea about his offspring.
The Neighbor Favor by Kristina Forest (2/28) – Another adorable cover, and possibly the cutest one on the list since the couple we're following are both grasping a book! In this romance, a shy bookworm enlists the help of her charming neighbor to help her score a date, not knowing he's the obscure author she's been corresponding with.  A bit of a You've Got Mail situation happening!
The Adventures of Amina al-Sirafi by S.A. Chakraborty (2/28) – This first installment in S.A. Chakraborty's newest trilogy is described as magic and mayhem on the high seas in a tale of pirates and sorcerers, forbidden artifacts and ancient mysteries.  Say no more, I am in! (Also, love this cover by the same artist who did Samantha Shannon's Priory of the Orange Tree cover!)