As you guys know, I'm trying to reduce my physical TBR this year so I'm trying really hard to cut back on hauling books.  Obviously, I can't resist completely- let's not get crazy here.  I also feel like special edition books have gotten totally out of hand lately.  It's impossible to keep up with them all! I'm trying to be way more thoughtful about the ones I invest in and I've even sold a bunch from my shelf that weren't bringing me joy.  I feel pretty good about my purchases for the month! I only bought six books and I received a couple of special editions that I ordered last year.  The biggest additions to my TBR came from publishers, both physically and on NetGalley! I also ordered a copy of the Waterstones edition of Hell Bent by Leigh Bardugo, but apparently there's a Royal Mail issue where they're not shipping international packages at the moment so my copy has been sitting in limbo for weeks now.
Special Editions
1) FairyLoot Kingdom of the Feared by Kerri Maniscalco – I had to get the matching edition to my copy of Kingdom of the Wicked! I hadn't been subscribed to FairyLoot when they held the preorder for Kingdom of the Cursed, so that's the only one I'm missing.
2) FairyLoot Daughter of the Pirate King Duology by Trisha Levenseller – I definitely ordered this set because of how much I love the pirate ship pages.  I really loved Daughter of the Pirate King but I felt pretty medium about it's sequel.  I'm so glad to have this set for my shelf though!
3) FairyLoot The Atlas Paradox – I'm quite looking forward to the next book in the Atlas series.  I absolutely loved The Atlas Six and I can't wait to dive into this one! The library wait is long, so I'm likely going to read it physically, though I'm worried about carrying around my special edition!
Purchased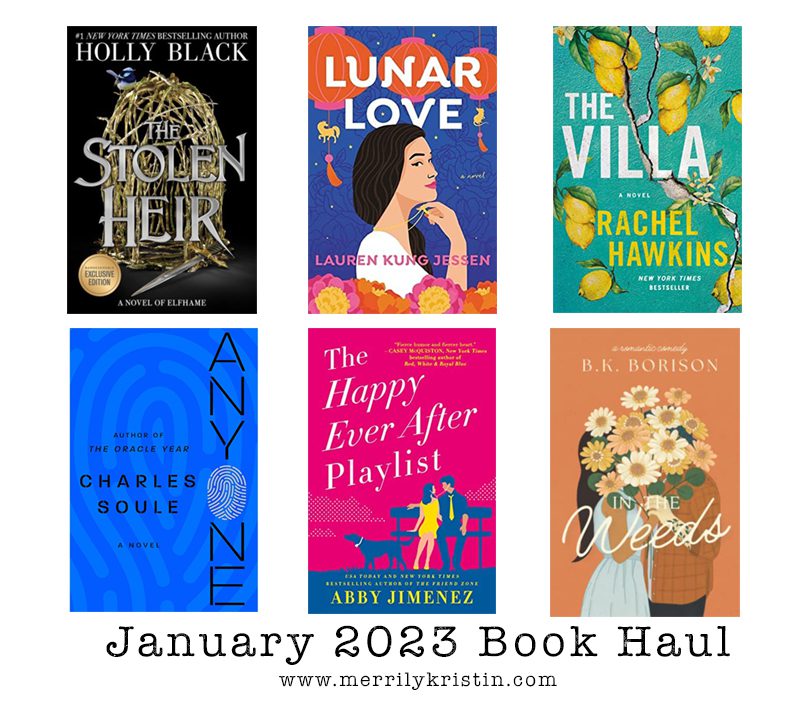 1) The Stolen Heir by Holly Black (B&N Exclusive Edition) – I read this one just in time to figure out if I want to splurge on the Illumicrate special edition that's going on sale soon.  This book didn't captivate me the same way that The Cruel Prince did, but I still enjoyed it.
2) Lunar Love by Lauren Kung Jessen – The premise of Lunar Love just sounded too cute to pass up! I picked this book up on a whim while I was visiting B&N on a lunch break and I wanted to leave with something in hand.  It's not available at either of my libraries so it seemed like a good purchase!
3) The Villa by Rachel Hawkins – This was a total cover buy. On said trip to B&N I had really wanted to pick this one up, but sadly they were sold out.  The book had just come out the day before and the salesperson admitted to me that they put their stock out a couple of weeks early and it sold out but that they'd be replenishing soon. So frustrating!
4) Anyone by Charles Soule – I actually ordered this book in December but it didn't arrive until mid-January. I'm planning on reading more thrillery science fiction this year and I've heard Charles Soule compared to Blake Crouch. I've also read a ton of his Star Wars comics and I like his storytelling!
5) The Happy Ever After Playlist by Abby Jimenez – I immediately ordered this book after finishing The Friend Zone, even though I admittedly need a little bit of time before I'm ready to pick it up (for *reasons*).  I really love Abby Jimenez's books so I have no doubt this will end up being a favorite.
6) In the Weeds by B.K. Borison – Also the next in a series- when I was reading Lovelight Farms, I was really hoping this particular couple would get their own book and when I saw it was book two, purchasing it was a no-brainer!
From Publishers – Physical Books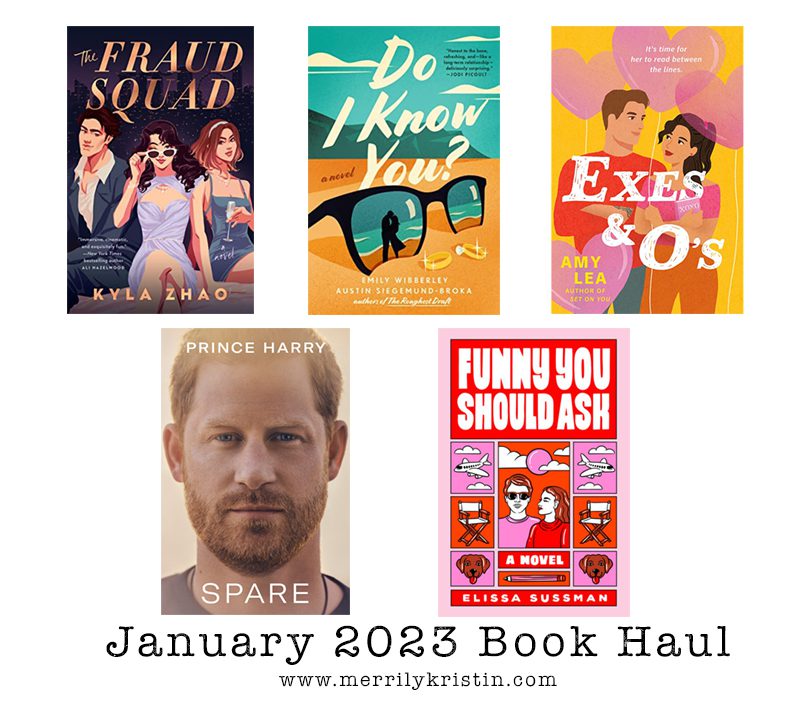 1) The Fraud Squad by Kyla Zhao – This romance sounds like Crazy Rich Asians meets Gossip Girl and I'm so excited to read it soon! It was on both my most anticipated 2023 releases and my January book releases lists!
2) Do I Know You? by Emily Wibberly & Austin Siegmund-Broka – I've always loved this pair's early YA novels so I'm really glad they made the jump to adult romance.  I can't wait to read this one about a married couple who go on vacation and pretend to be strangers to reignite their spark.
3) Exes and Oh's by Amy Lea – After I requested this one, I found out it was the second book in a series and now I'm not sure if I should read Set on You first! I know they're companion novels so it's probably not a huge deal, but the completionist in me feels very wrong about knowingly picking up book two first.
4) Spare by Prince Harry – I devoured this book- but I actually listened to the audio version! I felt that hearing Prince Harry's story conveyed in his own voice (I almost said words, but this was ghostwritten) would add to the story and I believe that was the right way to go for me.  I'm glad to have a physical copy for my collection.
5) Funny You Should Ask by Elissa Sussman – The premise of this romance sounds outlandish in the best way possible! It follows a journalist reuniting with a super famous celebrity after an interview 10 years prior sparked a ton of controversy in the tabloids.
From Publishers – NetGalley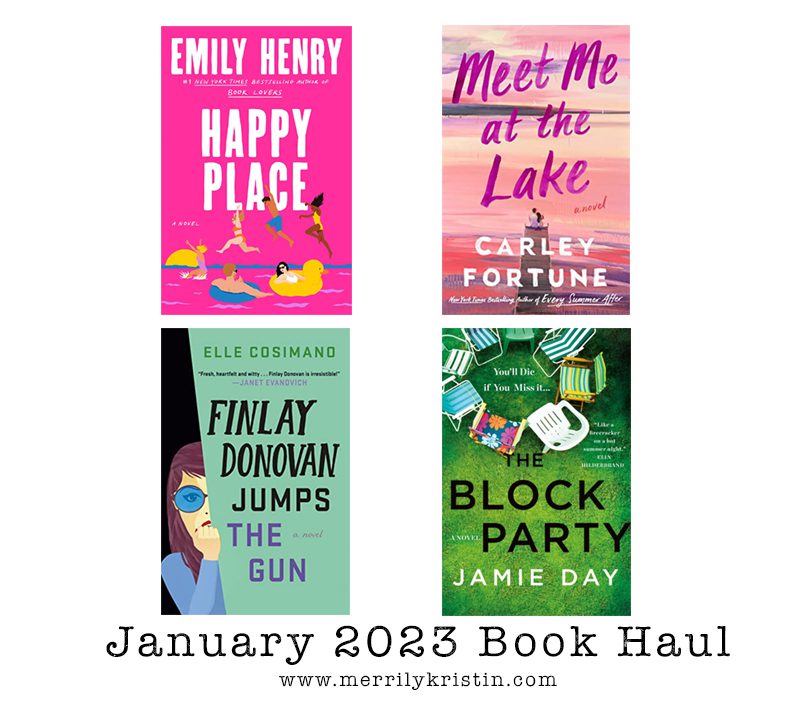 6) Happy Place by Emily Henry – Since I'm getting so much use out of my Kindle and Happy Place is one of my most anticipated releases of the entire year, I decided to dust off the old NetGalley account and download some 2023 releases! Happy Place, of course, being the first one.
7) Meet Me at the Lake by Carley Fortune – I also downloaded Meet Me at the Lake, which has the prettiest cover ever and I cannot wait to read Carley's next book. I have such fond memories of reading Every Summer After on the beach on our vacation last year.
8) Finlay Donovan Jumps the Gun by Elle Cosimano – And how could I not download the next Finlay Donovan book?! I finished book two earlier this month and was basically dying for more.  I'm not sure how I'm going to wait a year for book four!
9) The Block Party by Jamie Day – And lastly, this thriller seemed right up my alley! It takes place on a summer night when a murder occurs during the Meadowbrook's annual block party.