I don't think I've had so many YA books on my anticipated or new releases book lists in years! In this list of 11, there are 4 that are categorized as YA! I'm currently reading What Have We Done and I have Paris: The Memoir preordered on audio but my most anticipated book on this list is definitely The Foxglove King by Hannah Whitten!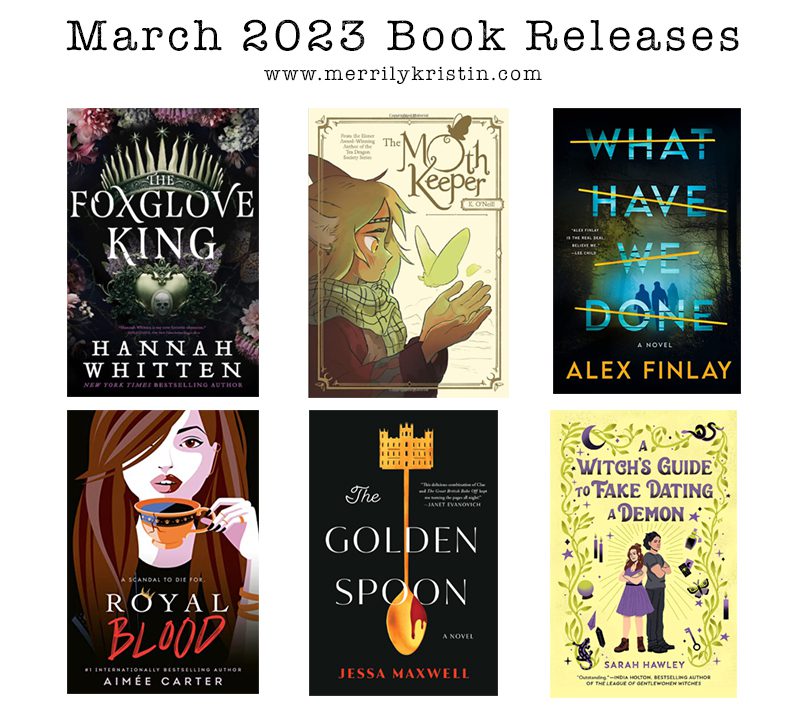 3/7 – The Foxglove King by Hannah Whitten (The Nightshade Kingdom #1) – I cannot even describe how excited I've been for this book since just the title was announced! Foxgloves are such a beautiful flower so I'm especially excited for the worldbuilding in this one.  It's a romantic fantasy that follows a young woman with the secret power to raise the dead.
3/7 – The Moth Keeper by K. O'Neill – From the author of The Tea Dragon Society graphic novels comes a new middle grade fantasy OGN about a moth keeper who decides to take a break from the moon and see the sun for the first time. It looks enchanting!
3/7 – What Have We Done by Alex Finlay – I'm currently reading this one and really hoping it lives up to my expectations after loving Alex Finlay's last two books! This one follows three adults who share a deadly secret from their past which comes back to haunt them.
3/7 – Royal Blood by Aimee Carter (Royal Blood #1) – First of all, love love love this cover! I always enjoy reading scandalous stories about royals and this one which follows a young American girl who becomes the British Monarchy's greatest nightmare when she visits her father for the summer and becomes the prime suspect in a murder investigation sounds very intriguing!
3/7 – The Golden Spoon by Jessa Maxwell – This one is a cozy mystery that's already been picked up for a limited series on Hulu. It takes place on the set of a Great British Bake Off-esque reality show where someone turns up dead and a killer is on the loose amongst baking competitors.  As someone who really enjoys baking, I think I'm going to love this one!
3/7 – A Witch's Guide to Fake Dating a Demon by Sarah Hawley – A witch. A demon. Fake dating.  Need I say more?! It follows Mariel Spark, a witch who knows not to trust a demon, but has a demon that won't leave her side… and she kind of doesn't want him to.  I also love this gorgeous cover and I've heard that it's very funny!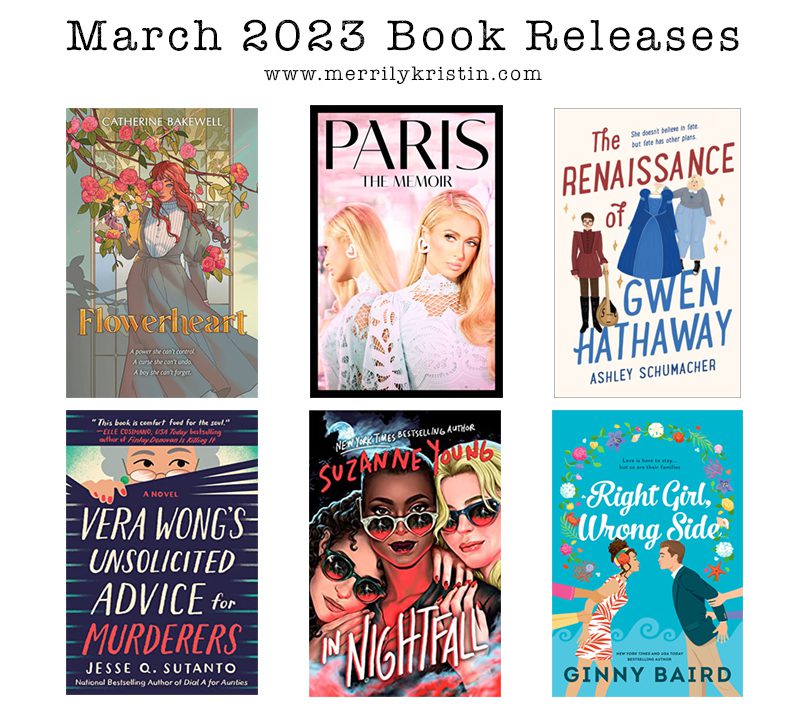 3/14 – Flowerheart by Catherine Bakewell – I heard cottagecore romantic fantasy and I really didn't need to know anything else! It follows a young girl with powerful and violent magic who must learn to control her power or risk losing everything she loves.  The cover is also delightful and I can't wait to check this one out!
3/14 – Paris: The Memoir by Paris Hilton – As mentioned, I have the audiobook version of Paris's upcoming memoir preordered and I cannot wait to read it! I loved The Simple Life, followed her clubbing days via tabloid articles, and read her other book back in my high school / college years.  I'm really looking forward to her perspective on the time period and the way she was portrayed.  Also, so happy for her and husband having just welcomed their first child!
3/14 – The Renaissance of Gwen Hathaway by Ashley Schumacher – I am not one to turn down any book set at the Renaissance Faire, but I have a feeling this one will hit especially close to home.  It follows a girl named Gwen who's lost her mother and is determined that nothing in her life will change ever again which is why she looks forward to the monotony of working the Renn Faire circuit but when she arrives at the last stop (which also happened to be her mom's favorite spot), it's under new management.  Plus there's a wise old magician who sells potion bottles and a bard as a romantic interest.
3/14 – Vera Wong's Unsolicited Advice for Murderers by Jesse Q. Sutanto – I am so here for more cozy mysteries! This one follows a lonely shopkeeper who takes it upon herself to solve a murder in the most peculiar way possible.  I'm hoping there will be just as many antics as there were in Dial A For Aunties.
3/28 – In Nightfall by Suzanne Young – This one is pitched as Lost Boys meets Buffy the Vampire Slayer which sounds incredibly appealing! It takes place in a small town where Theo and her brother Marco are sent as punishment for throwing a party at their house.  The one rule their grandmother gives them upon arrival is that they must be home before dark.
3/28 – Right Girl, Wrong Side by Ginny Baird – I can't believe this is the only contemporary adult romance to make my list! It's a multicultural story following two disputing families who share a beach house and the messiness that comes from falling in love with someone who your family is determined to despise.