I'm happy to report that having a TBR for February worked out very well for me! Of the six books I planned on reading, I managed to read five of them and as predicted, that was largely determined by my library loans.  Because there's an expiration date on loans, I've been tending to prioritize library reads over eBooks I already own.  I have two potential future TBR ideas (one that'll involve reading my already owned eBooks) but I'll first need to break from my library loan cycle.  All that to say, the one book I didn't get to was Tress of the Emerald Sea by Brandon Sanderson.  I would love to read it this month if I get a chance!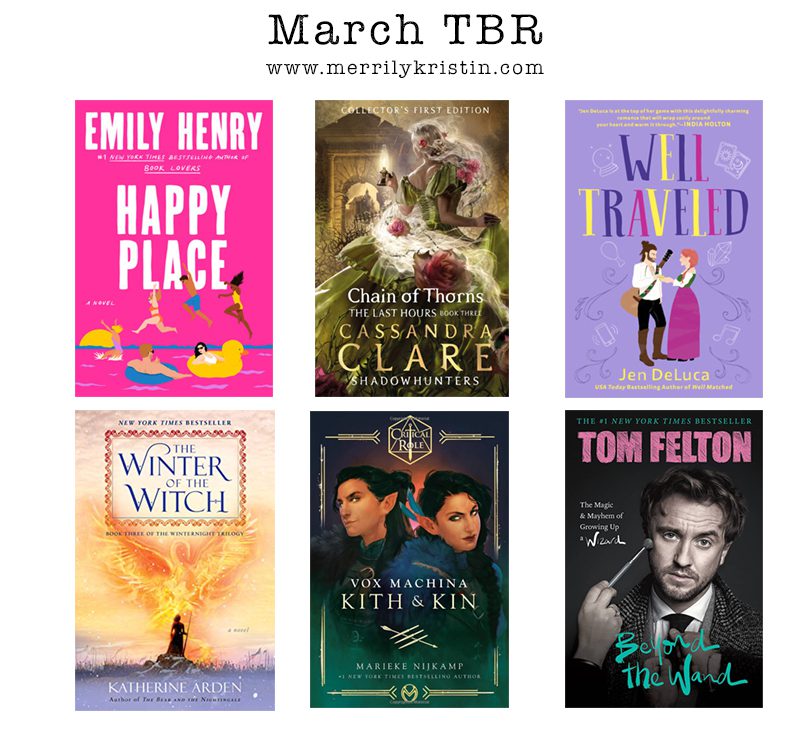 1 – Happy Place by Emily Henry – Happy Place is the one April ARC I have pending on my TBR and after Book Lovers, I am so excited to read this one! It's a second chance romance that takes place over the course of a week and it follows a couple who broke up but decide to fake date during their vacation so they don't ruin their annual plans with friends.
2 – Chain of Thorns by Cassandra Clare (The Last Hours #3) – This is by far my favorite series by Cassandra Clare but obviously this last book will determine if The Last Hours will hold its place in my ranking! My heart was ripped to shreds in Chain of Iron so Cassandra Clare better mend the pieces over the course of Chain of Thorns (or else!).
3 – Well Traveled by Jen DeLuca – I currently have this book out from the library so it'll likely be one of my first reads of the month! I'm looking forward to catching up on my favorite romance series and revisiting the Renaissance Faire.  I'm curious if there will be more books in the series- I checked out Jen DeLuca's social media but couldn't find a definitive answer.
4 – The Winter of the Witch by Katherine Arden (The Winternight Trilogy #3) – Another series I'm ready to check off of my list! This one will require purchasing the eBook since it's no longer licensed to either of my libraries, but I feel like I've been waiting long enough so it's time to bite the bullet!
5 – Critical Role: Vox Machina: Kith & Kin by Marieke Nijkamp – I just got this book on Audible and I'm especially excited to listen to it since it's voiced by all of the voice actors who play D&D on Critical Role.  I really loved this past season of Vox Machina (it's definitely going to make my top TV shows of 2023) and I've read all of the comics so this is my last option outside of listening to campaign one!
6 – Beyond the Wand: The Magic and Mayhem of Growing Up a Wizard by Tom Felton – My best friends Alexa and Macky got me this book for Christmas and I'm so excited to read it! I think I'm going to listen via audio since it's voiced by Tom Felton, and I can't wait to hear about his experiences.
Last Month's TBR