I have a mixed list of purchases this month! I decided to continue including non-fashion related purchases going forward (especially since it means getting to share my adorable new notebooks).  I got a lot of really good deals on clothing I purchased in February and I'm going to continue to spend really minimally on clothing in March.  The one shirt I've been wanting since January has been sold out but they keep restocking it in other colors so I'm hopeful it'll come back!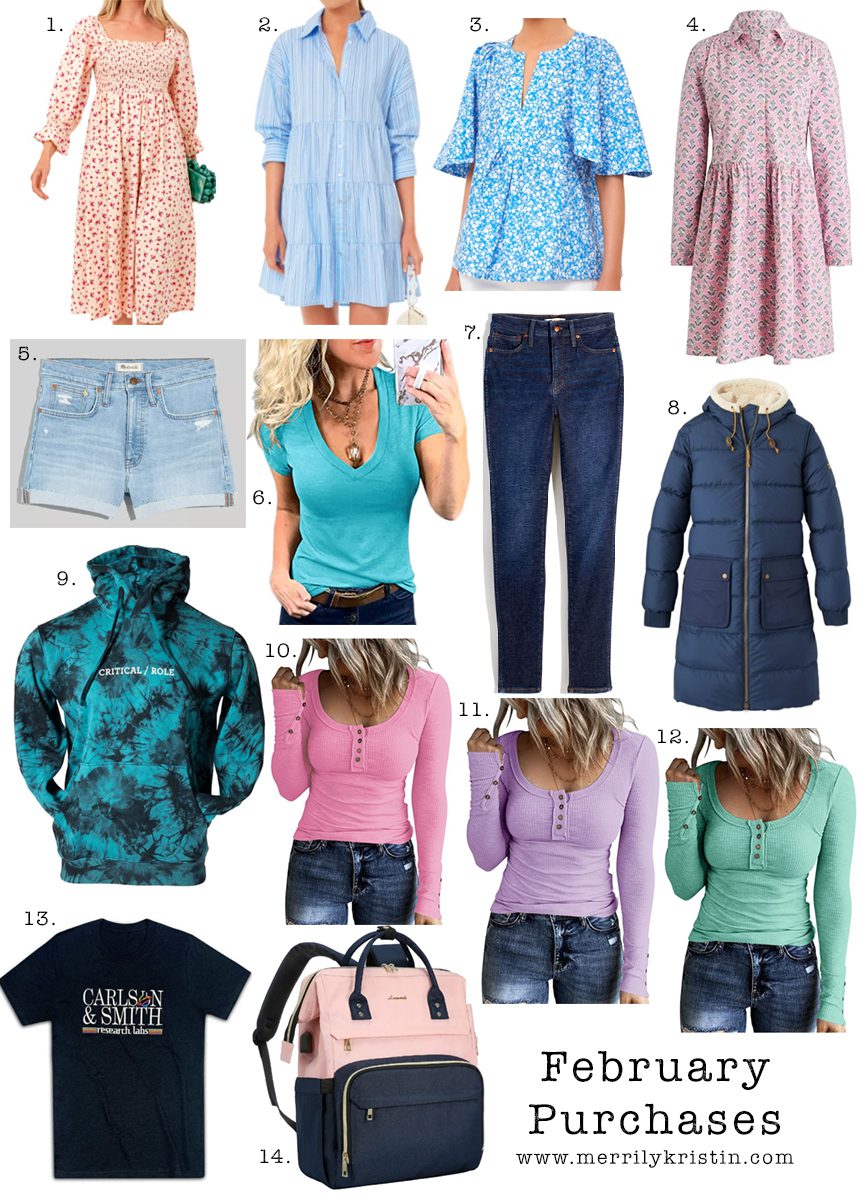 1. Tuckernuck Hyacinth House Midi Dress – Tuckernuck had their annual sale so I picked up three pieces on sale and I thankfully I love all of them! This cottagecore dress is so cute on and I can't wait to wear it this spring.  It was $148 reduced to $59!
2. Tuckernuck Cara Dress – Another Tuckernuck sale piece, this blue striped shirtdress is a staple wardrobe piece and I'll definitely be adding it into my work rotation when the weather starts to warm up! It was $128 reduced to $49!
3. Tuckernuck Finley Flutter Sleeve Top – And my last Tuckernuck sale pick, this blue floral flutter sleeve top! I took a chance here since I usually don't love items with a lot of shoulder volume but I love the print and it looks so cute with a pair of jeans! It was $128 reduced to $29!
4. JCrew Factory Printed Mini Shirt Dress – Another shirtdress- I swear shirt dresses are one of my go-to silhouettes and I love the pink floral block print on this one.  It's another Spring piece for sure!
5. Madewell Denim Shorts in Littleton Wash – Omg, this is by far my best purchase of the month! I love Madewell denim shorts and I managed to snag a pair for $10 (normally $75) in a light wash to complete a light/dark/medium wash trio! So now I'm all set on denim shorts.
6. Amazon blue v-neck t-shirt – I love the vibrant blue of this t-shirt and it's really soft and comfy!
7. Madewell 10 inch High Rise Skinny Jeans in Dalesford Wash – I also realized / remembered that Madewell jeans tend to fit me better than any other brand. I have a medium wash I wear all the time and I grabbed a dark wash so I have more options when I opt to wear something other than leggings!
8. LL Bean Mountain Classic Down Coat, Sherpa-Lined – This is the most practical purchase of the month! I really wanted to get a new down coat to replace my old Abercrombie one, so I'll be warm while commuting (and during our trip upstate).  I love this blue sherpa lined coat from LL Bean and it's been keeping me cozy since the day it arrived!
9. Critical Role Sweatshirt – I basically live in this sweatshirt now whenever I'm home.  It's the first thing I put on after work and in the morning before venturing down to blog before work. It's so comfortable, warm, and I love the teal tie-dye. Really just the best sweatshirt!
10-12. – Kinlonsair Henley in assorted colors – I decided to pick up some more colorful henleys to wear on weekends and after getting the mint one and loving it, I ordered it in purple and pink too! It's from Amazon so it's very affordable.
13. Blissfully Bookish Carlsen & Smith Research Labs Tee – I've done an excellent job of resisting graphic t-shirts over the past year and a half, but I just couldn't when it came to this Love Hypothesis themed shirt from Blissfully Bookish. So cute!
14. Lovevook Laptop Backpack – Ta da! My new commuting backpack. I'm obsessed with this color combo (the navy goes really well with my coat and I just so happen to have pink rain boots so when it rains, I look very coordinated).  I actually had seen someone on the street wearing this backpack and I loved it so much that I kinda trailed them and a took a photo of it so I could zoom in on the brand and find it online.  Thankfully it ended up being reasonably priced and exactly what I was looking for. It has so many pockets and it's literally perfect for commuting.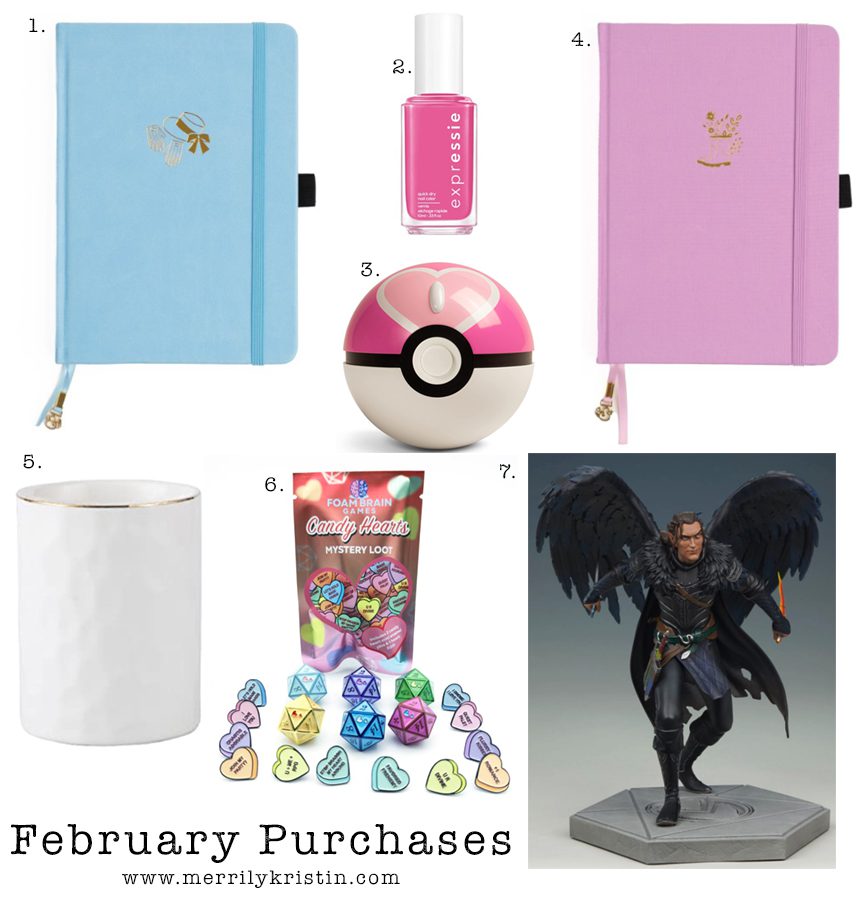 1. Archer & Olive Hat and Gloves A5 Notebook – Bullet journals are one of the things I need to slow down on buying because I have enough of them to last me for a couple of years at this point, but when Archer & Olive released their Spring collection I simply couldn't resist. The designs are all cottagecore inspired and so pretty! This hat and gloves one reminds me of Anne of Green Gables.
2. Essie QuickDry Nail Polish in Trick Clique – I've been slacking a little bit when it comes to keeping my nails done this year, but I was really excited to paint on this color when it arrived!
3. The Wand Company Love Ball – As mentioned in my list 10 Things post, I ended up finding a website that had The Wand Company's Love Ball replica in stock so I jumped on it! It's been sitting on my pink and white desk ever since and I am smitten.
4. Archer & Olive Rainboots A5 Notebook – See above! The rain boots and floral design on this one is just darling.
5. Pen Cup – I ordered a couple of pen cups from Amazon so I could keep my journaling markers out on my desk instead of having to rifle through a pouch every time I sit down to do an update. I love the convenience and they look really pretty on my desk!
6. Foam Brain Games Candy Hearts Mystery Loot – I got some of these mystery loot D20 / enamel pin combos for Andrew and I as a fun thing to open on Valentine's Day! We got pink, blue and green D20's and sadly there was one repeat, but they're fun to have for when we resume our D&D game!
7. Sideshow Vax – Andrew and I decided to get the Sideshow Collectibles Vax statue as a combined gift to each other for our dating anniversary.  We're slowly collecting all of the Vox Machina and Mighty Nein statues and I'm so excited to add Vax to the bunch!