I unexpectedly acquired a huge amount of books in February but it wasn't completely my fault! Many of them were preordered special editions, gifted by Andrew for Valentine's Day or ARCs/finished copies from publishers.  I'm honestly hoping this is my highest volume book haul of the year since I'm really trying to reduce my TBR and this month did not help that cause!
SPECIAL EDITIONS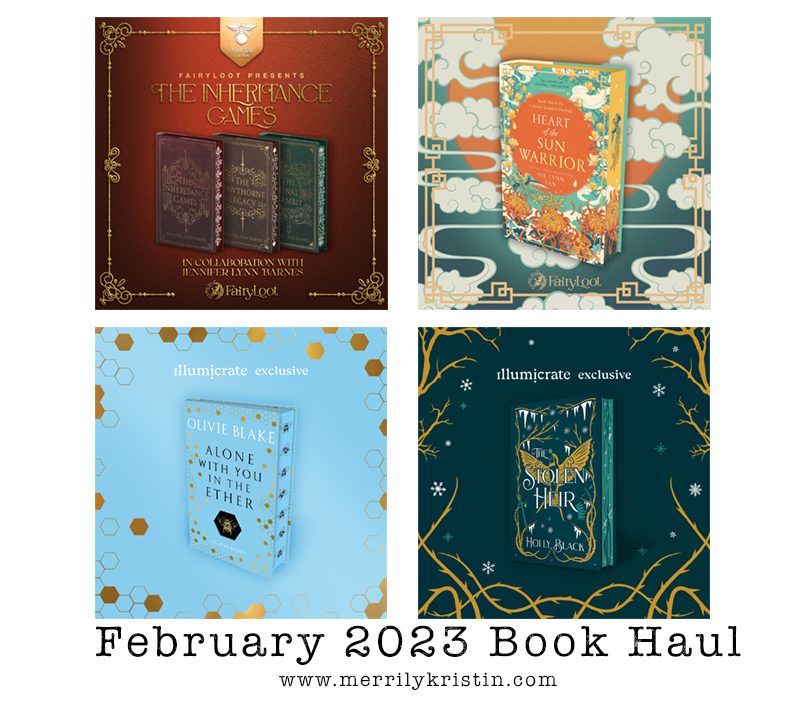 FairyLoot The Inheritance Games Trilogy by Jennifer Lynn Barnes – I love this series so much and the FairyLoot editions are absolutely stunning!
FairyLoot Heart of the Sun Warrior by Sue Lynn Tan – The sequel to Daughter of the Moon Goddess by Sue Lynn Tan. I cannot wait to read this one and I don't think I've ever been so obsessed with sprayed pages in my life! I've definitely shown it to multiple people who have come to my house haha.
Illumicrate Alone With You in the Ether by Olivie Blake – There are so many special editions of this book available but I couldn't resist the gorgeous blue of the Illumicrate edition.  I also love the bee sprayed pages!
Illumicrate The Stolen Heir by Holly Black – I ended up really enjoying The Stolen Heir and I made a point to read it before the presale started.  I'm so glad I did because I wouldn't have wanted to miss out on this one!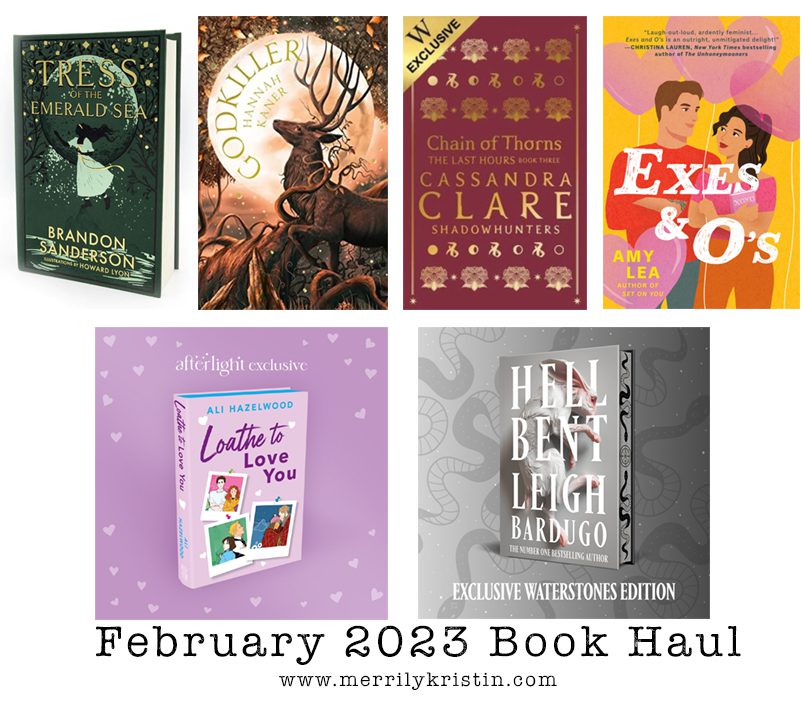 Dragonsteel Tess of the Emerald Sea by Brandon Sanderson – Never have I been so thankful to back a Kickstarter in my life! The leatherbound edition of Tress of the Emerald Sea is beyond gorgeous! I also really love the bookmark and the Vin pin that came in the first box. I can't believe we're lucky enough to be getting four surprise Brandon Sanderson novels in the span of a year.
Illumicrate Godkiller by Hannah Kaner – This was the January book of the month and I had been a little bit on the fence about reading it, but decided to give it a shot! I love the sprayed pages on this one as well.
Waterstones Chain of Thorns by Cassandra Clare – I obviously had to complete my collection with this one!
Afterlight Exes and Oh's by Amy Lea – The synopsis of this one sounded so appealing to me and I was over the moon when the Afterlight edition arrived with a spectacular mint and hot pink cover. So pretty!
Afterlight Loathe to Love by Ali Hazelwood – I have all of Ali Hazelwood's Afterlight editions so I had to get this short story bind up to add to my collection. I've already read it and really enjoyed two of the three stories.
Waterstones Exclusive Hell Bent by Leigh Bardugo – I ordered this copy to match my Waterstones edition of Ninth House! Now that I know it's going to be a trilogy, I'm putting off reading it until closer to book three.
PURCHASED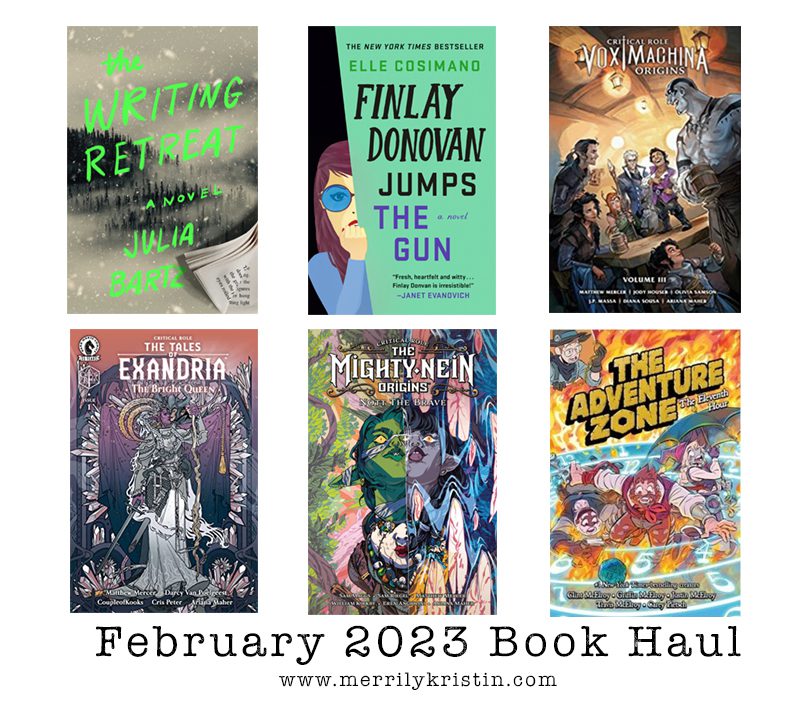 The Writing Retreat by Julia Bartz – I couldn't resist this triller that takes place on a writing retreat! I've been seeing it all over instagram and consider me influenced. Finlay Donovan Jumps the Gun by Elle Cosimano – I love this series (as evidenced by my reviews of all three books!). I was lucky enough to get an ARC copy last month but I obviously preordered a hardcover copy for my collection too.
Critical Role: Vox Machina Origins Vol III by Jody Houser & Illustrated by Olivia Samson, Diana Sousa, Ariana Maher & J.P. Massa – I'm sad to say that I'm now caught up on the Vox Machina Origins comics because now I'll have to wait until the next one comes out instead of binge reading more of them!
Critical Role: The Tales of Exandria- The Bright Queen by Darcy van Poelgeest & Illustrated by CoupleOfKooks, Cris Peter & Ariana Maher – This is another Critical Role graphic novel focusing on the Bright Queen, a dark elf from campaign two, so I have to wait to hear from Andrew if I'm able to read it or if it'll spoil anything for me.
Critical Role: Mighty Nein Origins: Nott the Brave by Sam Maggs, William Kirby, Mathew Mercer, & Sam Riegel – I read and absolutely loved this volume! The artwork is so perfect and has major cottagecore vibes.
The Adventure Zone: The Eleventh Hour by the McElroys – This is the fifth volume of The Adventure Zone graphic novels! I've only read the first one so far so I have a couple of volumes to catch up on.
GIFTED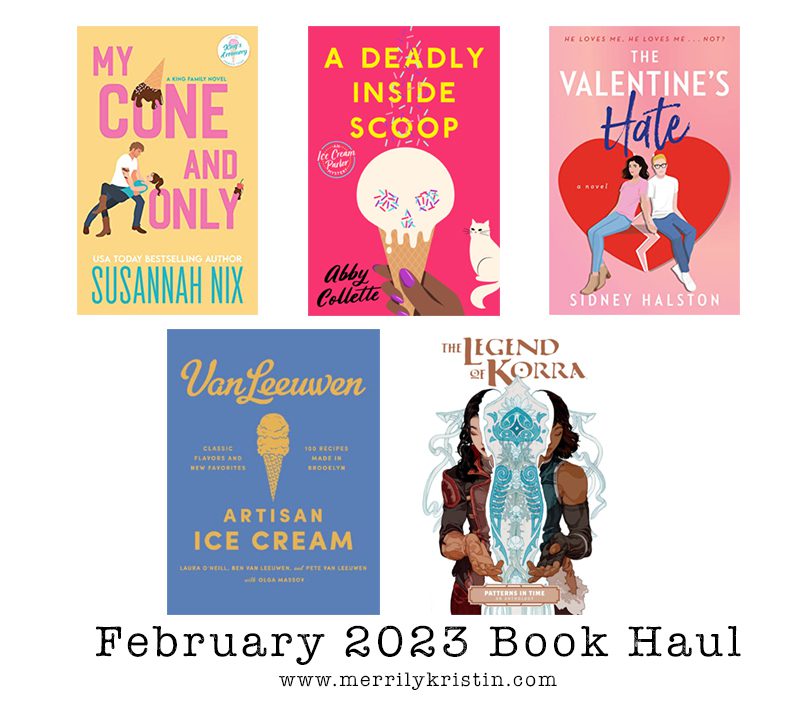 My Cone and Only by Susannah Nix – Andrew got me 5 books for Valentine's Day! He went with a romance and ice cream theme as you'll notice and he certainly chose well! This one is a romance and the male lead owns an ice cream company.
A Deadly Inside Scoop by Abby Collette – Valentine's Day gift #2: a cozy mystery that takes place at an ice cream parlour!
The Valentine's Hate by Sidney Halston – V-day gift #3: a love to hate romance with the fake dating trope.
Van Leeuwan's Ice Cream Cookbook – V-day gift #4: So excited to have this gorgeous cookbook for my collection! Andrew and I used to get ice cream from Van Leeuwan all the time when we lived in NYC.
The Legend of Korra: Patterns in Time by Michael Dante DiMartino – And V-day gift #5: This one doesn't actually fit the theme but it is the next Legend of Korra comic that I hadn't yet acquired.
FROM PUBLISHERS – PHYSICAL BOOKS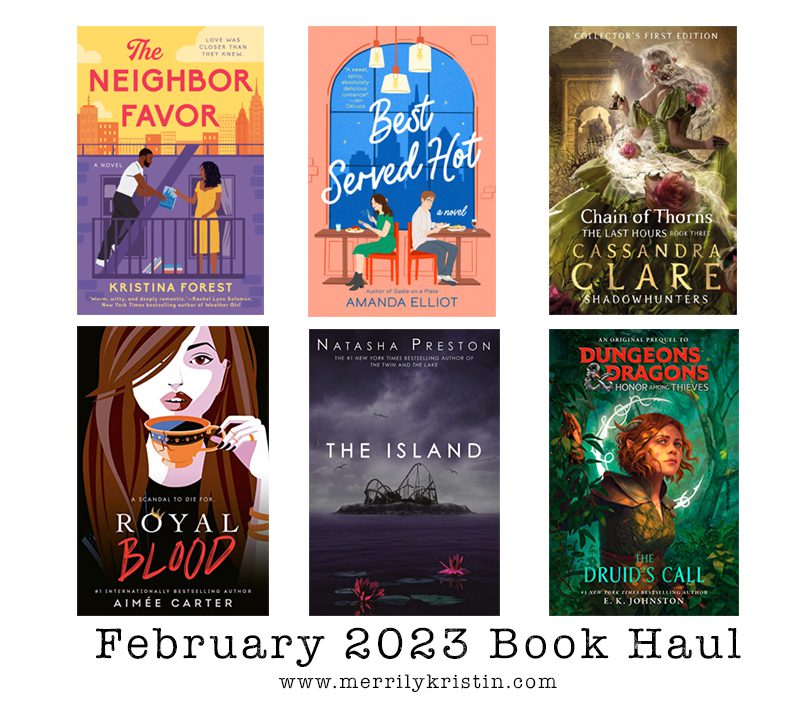 The Neighbor Favor by Kristina Forest – This romance sounds right up my alley! It's got a You've Got Mail vibe and it follows literature loving neighbors.
Best Served Hot by Amanda Elliot – So excited to read this foodie romance between two restaurant critics with opposing tastes!
Chain of Thorns by Cassandra Clare – This one needs no explanation! It's the last book in the Last Hours series and it's the first book I'm hoping to pick up in March!
The Island by Natasha Preston – This is YA thriller taking place on a private island that houses an amusement park for the very rich.
Royal Blood by Aimee Carter – This one is all about the scandal that ensues when an illegitimate American girl visits her titled father and the British monarchy becomes up in arms.
D&D: Honor Among Thieves: The Druid's Call by E.K. Johnston – I'm not usually one for movie tie-ins, but I absolutely cannot resist a book about a druid (and written by EK Johnston no less)!
FROM PUBLISHERS – NETGALLEY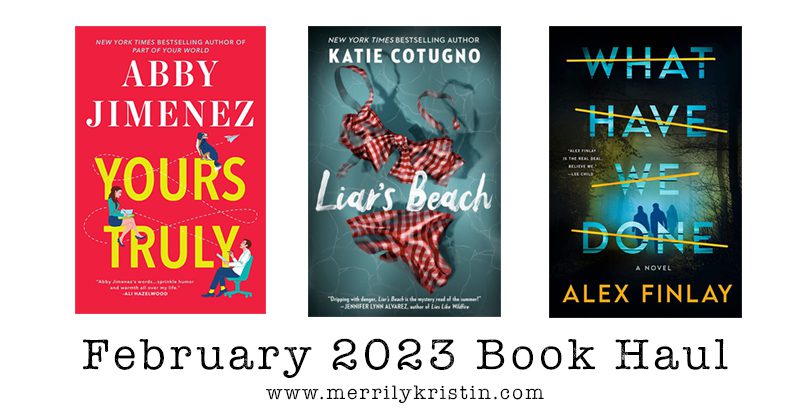 Yours Truly by Abby Jimenez – Hands down my favorite book of the year so far! This romance is everything!
Liar's Beach by Katie Cotugno – I've been a Katie Cotugno fan for years now and I'm so excited to read her first YA thriller.  Also I'm in love with the cover!
What Have We Done by Alex Finlay – I'm currently reading Alex Finlay's next adult thriller and really hoping it lives up to his previous works which are some of my favorites!