Is it too late to post about May book releases? Since I'll take any opportunity to talk about books that I'm looking forward to reading, I think not!  Better late than never.  Especially since May is one of the biggest release months of the year and it's FULL of books I immediately added to my TBR. I had to pare down this list but let me know if I missed anything that you're looking forward to!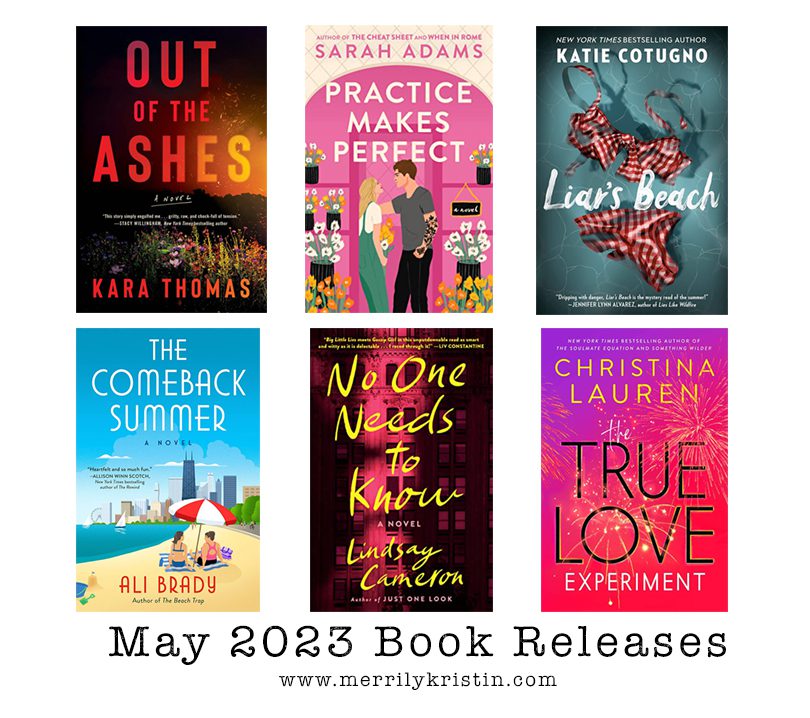 5/1 – Out of the Ashes by Kara Thomas – Kara Thomas's debut adult thriller follows a woman who goes back to the Catskills 22 years after her entire family was murdered there in order to investigate the truth of what happened. I've always enjoyed Kara's YA thrillers and I'm excited to read something adult from her!
5/2 – Practice Makes Perfect by Sarah Adams (When in Rome #2) – This is Sarah Adams's second romance set in Rome, Kentucky but this time following the owner of a flower shop and an emotionally unavailable guy. I still have to read the first one but the wait time at the library is always so long!
5/2 – Liar's Beach by Katie Cotugno – I can't wait to check out Katie Cotugno's first thriller which is a fresh take on classic Agatha Christie murder mystery The Mysterious Affair at Styles and it takes place at a New England prep school. I'm actually in the middle of the one at the moment!
5/9 – The Comeback Summer by Ali Brady – A new women's fiction novel following two sisters who have one summer to crush their comfort zones and save their grandmother's legacy. I'm also still wanting to read Ali's first book!
5/9 – No One Needs to Know by Lindsay Cameron – This thriller sounds AMAZING. When an anonymous neighborhood forum gets hacked, the darkest secrets of New York's wealthiest residents come to light- including some worth killing for.  Always here for the rich people drama.
5/16 – The True Love Experiment by Christina Lauren – The newest romance novel from Christina Lauren follows a romance novelist and a documentary filmmaker who team up to craft the perfect Hollywood love story. Can't wait for my Afterlight edition to arrive!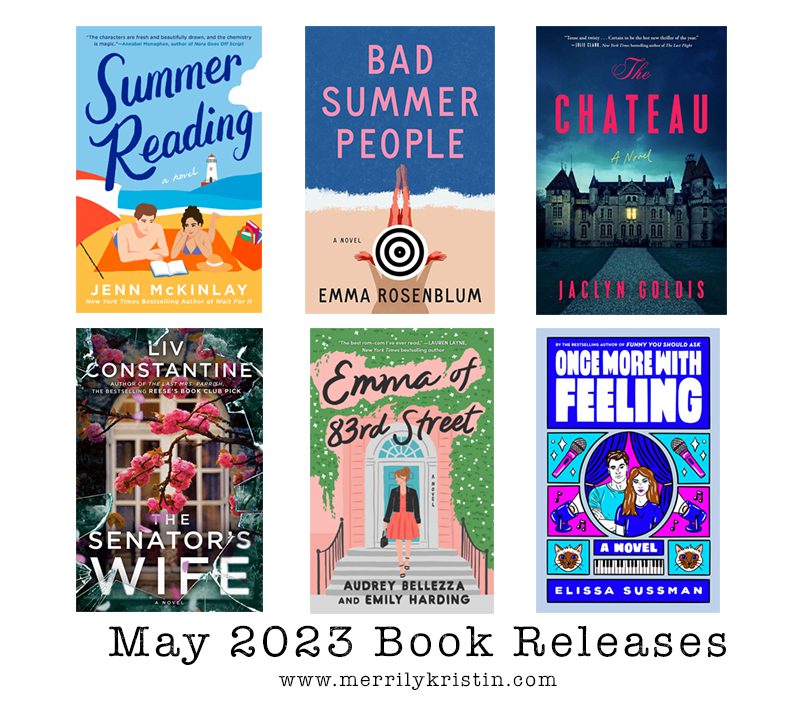 5/16 – Summer Reading by Jenn McKinlay – This romance set on Martha's Vineyard follows a girl who would rather do anything than read meets a swoonworthy bookworm and sparks fly! This one sounds like a great beach read.
5/23 – Bad Summer People by Emma Rosenblum – Aside from the beautiful cover, I was immediately drawn to this one when I found out it takes place on Fire Island. Plus there's infidelity, backstabbing and murderous intrigue.
5/23 – The Chateau by Jaclyn Goldis – Another irresistible sounding thriller- The Chateau is about a dream girls trip to a luxurious French Chateau that devolves into a deadly nightmare of secrets and murder.
5/23 – The Senator's Wife by Liv Constantine – In this thriller, a D.C. philanthropist suspects that her seemingly perfect employee is plotting to steal her husband, her reputation, and even her life. I admittedly was really drawn to the cover of this one!
5/23 – Emma of 83rd Street by Audrey Bellezza & Emily Harding – In this co-authored rom-com debut, a modernized version of Jane Austen's Emma meets the misadventures of Manhattan's modern dating scene. One of the best illustrated covers ever!
5/30 – Once More With Feeling by Elissa Sussman – This second chance romance follows a former popstar that finds herself back in the spotlight, along with an old flame from her past. This one is also pitched as friends meets lovers to enemies meets lovers. And I still have to read Elissa's first book too!