Summer is in the air! Summer is always the best season for romance and thriller releases (all the beach reads please!) so I'm excited to share my very long list with you today. We've got a nice mix of both genres, plus a nonfiction book I've been really looking forward to.  What's on your summer must read list?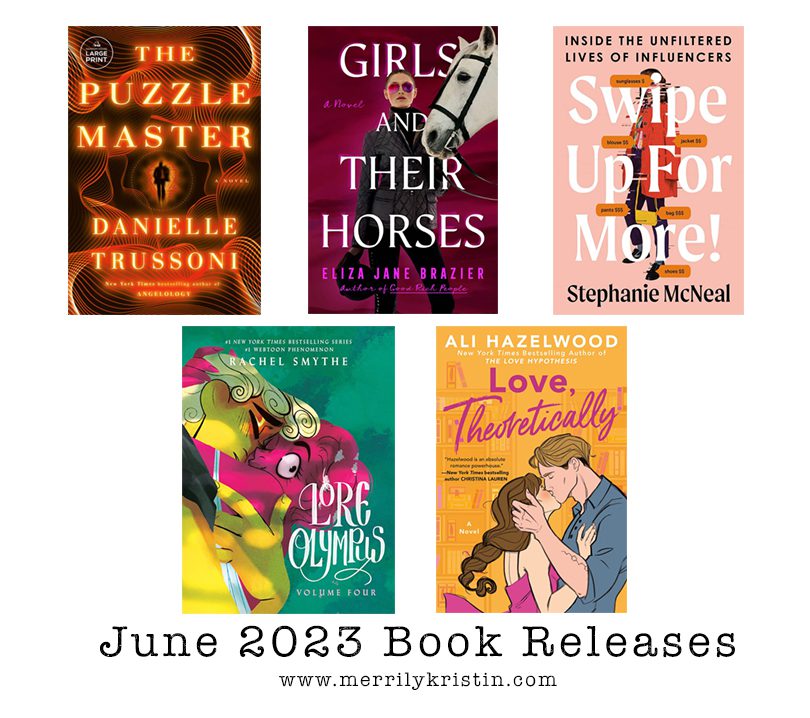 6/1 – The Puzzlemaster by Danielle Trussoni – Reality and the supernatural collide in this book when an expert puzzle maker is thrust into an ancient mystery with explosive consequences for the fate of humanity.  This one comes from the author of Angelology (a book I've never read, but definitely owned at one point).
6/6 – Girls and Their Horses by Eliza Jane Brazier – This mystery/thriller follows a nouveau riche family who move to an exclusive community in Southern California and become enmeshed in the world of horses.  Heather becomes a "barn mom," drinking wine and prepping her daughters for competitions along with the other members of Rancho Santa Fe Equestrian.  The book involves mean girl cliques, barn romances, and dark secrets. But before the summer is over, lies will turn lethal and someone ends up dead.
6/6 – Swipe Up for More! Inside the Unfiltered Lives of Influencers by Stephanie McNeal – Stephanie McNeal's new non-fiction book is a peek behind the curtain at the world of influencing.  It primarily follows three influencers (of the three, I've followed Caitlin Covington on and off for a couple of years) and it offers fly on the wall access and insight into their daily lives presented after collecting three years of research.  I'm mostly interested in hearing their insight on how the industry has changed, and I really hope it will dig deep instead of offering a surface level assessment or being overly in defense of its subjects.
6/6 – Lore Olympus Volume 4 by Rachel Smythe – I love this vibrant blue and pink webtoon following Hades and Persephone! While I do read the series week to week online, I always collect the Illumicrate editions as they're released. Highly recommend!
6/13 – Love, Theoretically by Ali Hazelwood – I love a good scientist romance and Ali Hazelwood has proven to be one of my favorites time and time again.  I didn't even need to look at a synopsis for this one, I just know I'll be reading it!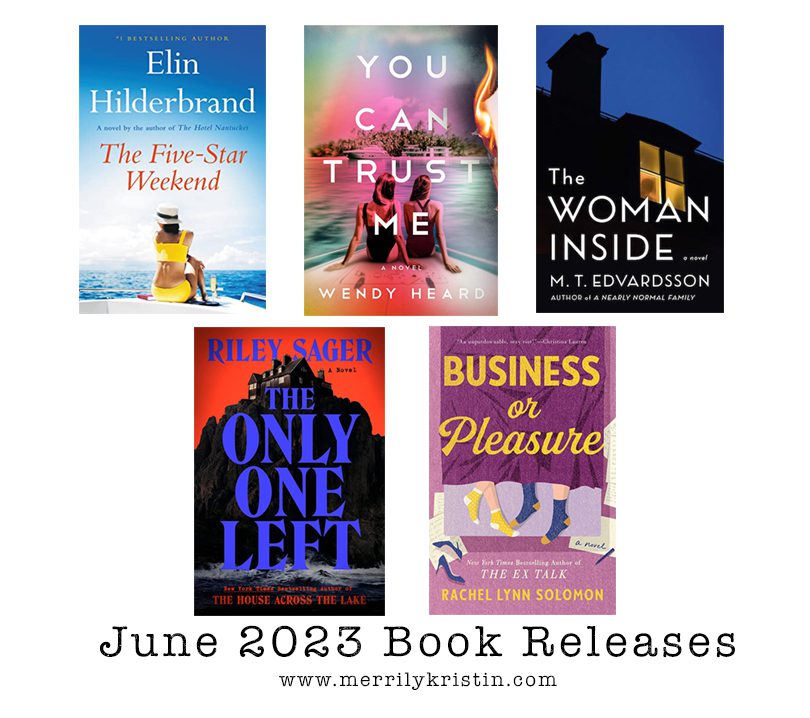 6/13 – The Five Star Weekend by Elin Hilderbrand – This Nantucket set book sounds like the perfect beach read! After tragedy strikes, Hollis gathers four friends from four different stages in her life to spend an unforgettable weekend together on the island.
6/13 – You Can Trust Me by Wendy Heard – This thriller follows two best friends who road trip to California and scam and con their way through among the wealthy and elite.
6/13 – The Woman Inside by M.T. Edvardsson – Another thriller, but in this one, a wealthy couple ends up murdered in the nicest part of town.  Love a good suburban murder!
6/20 – The Only One Left by Riley Sager – I have not enjoyed Riley's recent releases, but since I loved the early ones so much, I can't bring myself to stop giving him another shot.  The Only One Left takes place in the 80's on the coast of Maine exploring the 1929 murders of the Hope Family, for which, their seventeen year old daughter Lenora was blamed, but never proven guilty of.  Since then, Lenora has become a recluse but a new nurse who comes to Hope's End to care for her starts to learn the truth of that fateful night.
6/20 – Business or Pleasure by Rachel Lynn Solomon – I'm admittedly behind on Rachel's adult romances (I still have to read Weather Girl), however, that is not going to stop me from adding Business or Pleasure to my TBR! We're following a ghostwriter who has a one night stand with a c-list celebrity, only to find out that his book is her next project. So fun!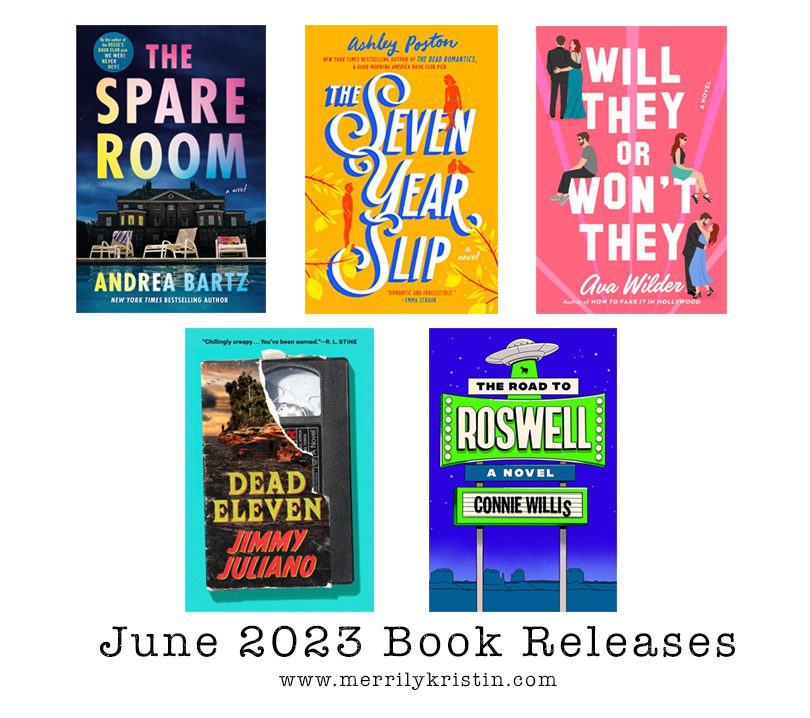 6/20 – The Spare Room by Andrea Bartz – The Spare Room is pitched as an edgy, boundary-pushing feminist thriller and the premise sounds intriguing! We're following Kelly who's just getting through a covid breakup with her ex-fiance when her old best friend (and glamourous best selling author) and her high powered husband offer her the spare room in their Virginia mansion and obviously Kelly jumps at the opportunity.  But when Kelly finds out that the last woman they invited into their marriage has gone missing, she starts to wonder if they could be dangerous.
6/27 – The Seven Year Slip by Ashley Poston – Ashley Poston's adult romance debut last year, The Dead Romantics, ended up being a new all time favorite for me so I'm really looking forward to her next book! This one also has an unusual paranormal element to it- our heroine finds her perfect man in her own kitchen, only he exists seven years in the past. After how perfectly Ashley pulled off her last romance with a ridiculously fun premise, I have no doubt I'll be loving this one too!
6/27 – Will They or Won't They by Ava Wilder – I'm totally hooked by the premise of Ava Wilder's newest romance! We're following two co-stars who are in love on-screen but hate each other in real life.  They reunite to film the last season of the paranormal drama they star in and the will they or won't they tension goes through the roof!
6/27 – Dead Eleven by Jimmy Juliano – This horror novel is set on a creepy island where everyone is obsessed with the year 1994 and when a newcomer arrives to try to learn the truth about her son's death, she gets pulled deeper and deeper into the bizarrely insular community.
6/27 – The Road to Roswell by Connie Willis – I'm pretty excited to check out this sci-fi rom-com about love, alien invasions, and the incredibly silly things people are willing to believe in. It sounds so unique!