Me looking at my May book haul pile: *OH NO I BOUGHT TOO MUCH THIS MONTH!*
Me writing my May book haul post: I take it back- lots of special editions shipped this month and I got a couple of books from publishers- I actually purchased under 10 books myself. Phew!
With our Poconos vacation coming up, I've been investing in some physical books that I'm looking forward to reading over the long week! I have to admit that while this month wasn't as bad as I had thought it would be, I did go a bit overboard in March and April (as evidenced by my book haul videos on YouTube).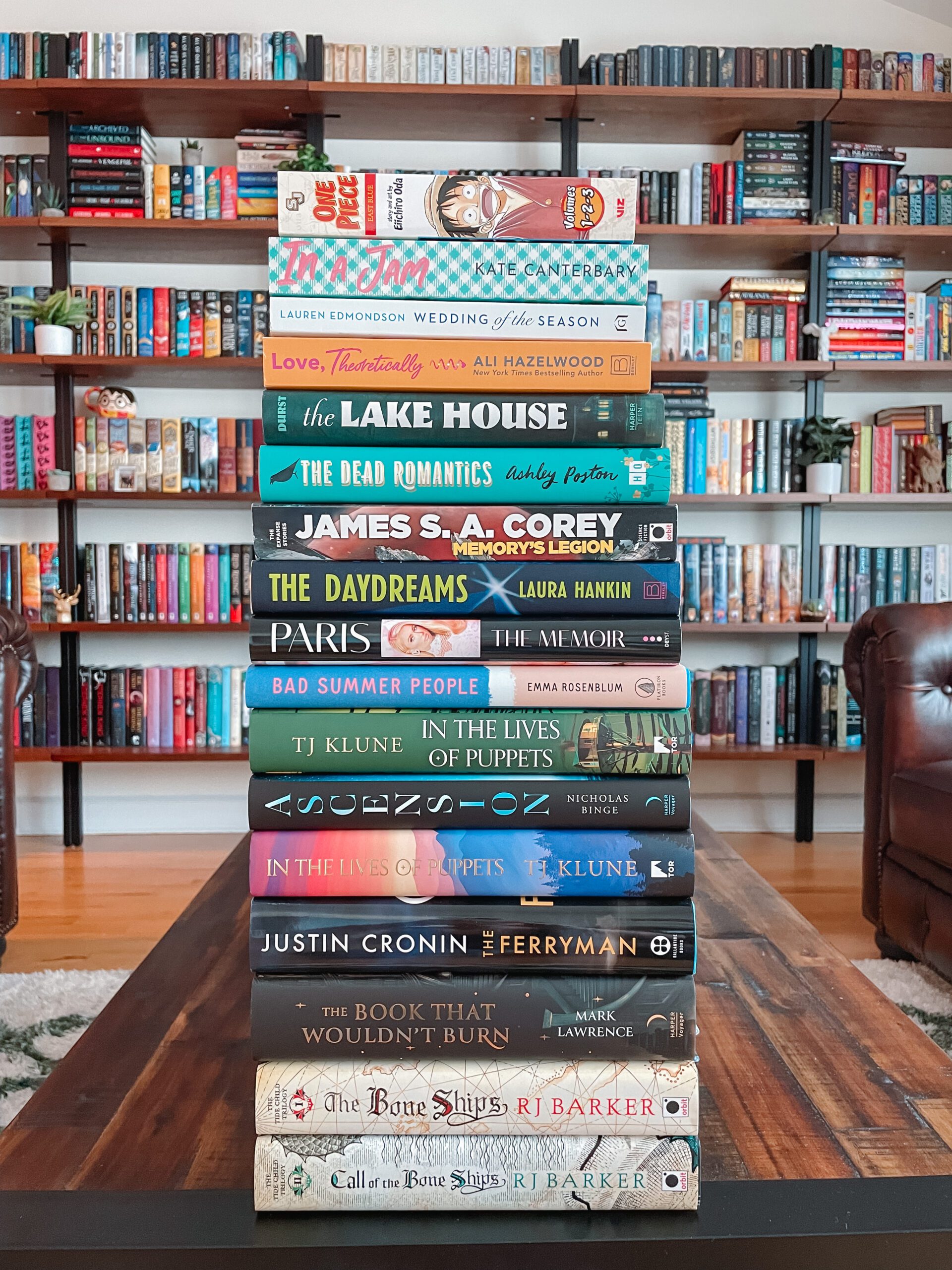 SPECIAL EDITIONS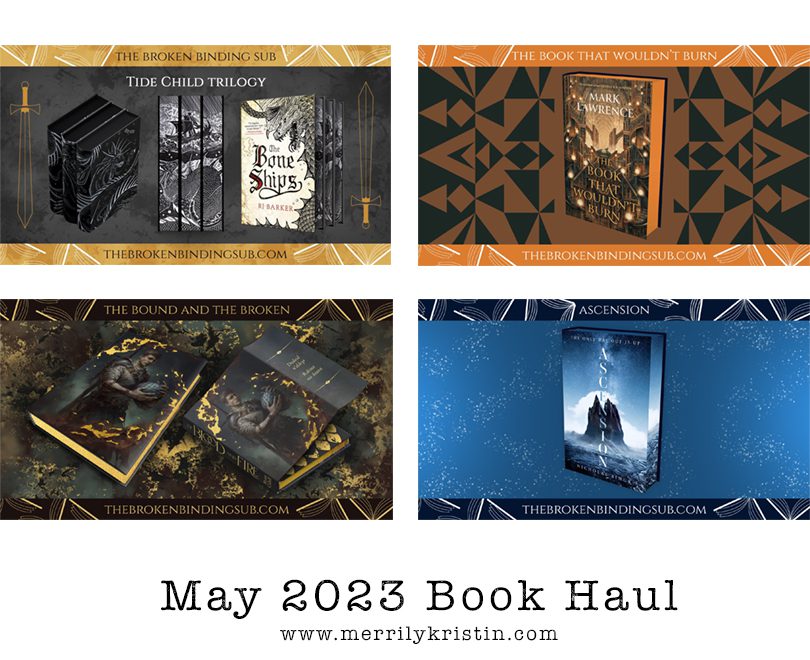 The Broken Binding The Bone Ships by R.J. Barker – I'm so excited that I finally scored an invite to subscribe to The Broken Binding's monthly subscription. I've been wanting to read the Tide Child series for a long time and I love these stunning editions!
The Broken Binding Call of the Bone Ships by R.J. Barker – Both the first and second book shipped in May which was awesome! Just waiting on the last book to complete the trilogy.
The Broken Binding The Book that Wouldn't Burn by Mark Lawrence – This is one of my most anticipated releases! I love reading books about books and this one has gotten great reviews so far.
The Broken Binding Of Blood and Fire by Ryan Cahill – This series has been taking the fantasy world by storm! Ryan writes really quickly and there are already a bunch of books and novellas out but this edition is particularly special because it's the first book published by The Broken Binding's own imprint.
The Broken Binding Ascension by Nicholas Binge – I decided to take a chance on this new science fiction release (likely because the sprayed pages are so pretty… I kid!).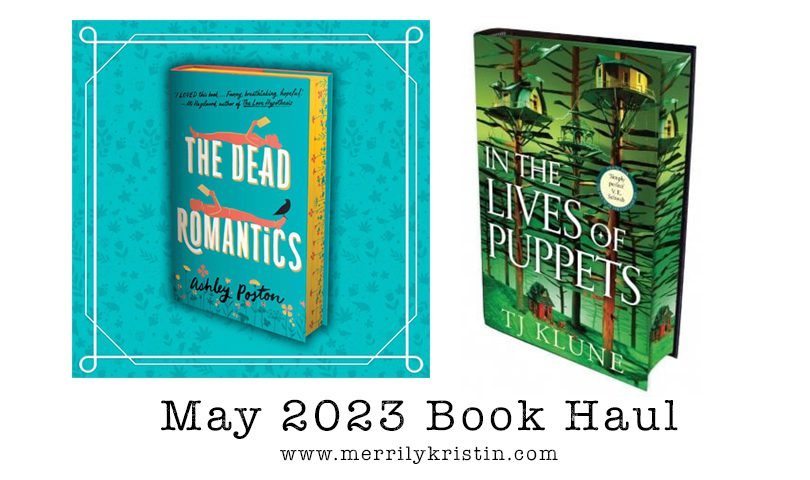 FairyLoot The Dead Romantics by Ashley Poston – I'm hardcore obsessed with Ashley Poston's first adult romance book and I'm so glad FairyLoot made a special edition of it for my bookshelves.
FairyLoot In the Lives of Puppets by TJ Klune – This was the FairyLoot adult fantasy book of the month for April! I love TJ Klune so I'm excited to read this one, though I don't super love this edition if I'm being honest.
Waterstones In the Lives of Puppets by TJ Klune – This one I love much more! It goes a lot better with my Illumicrate set of House in the Cerulean Sea and Under the Whispering Door.
PURCHASED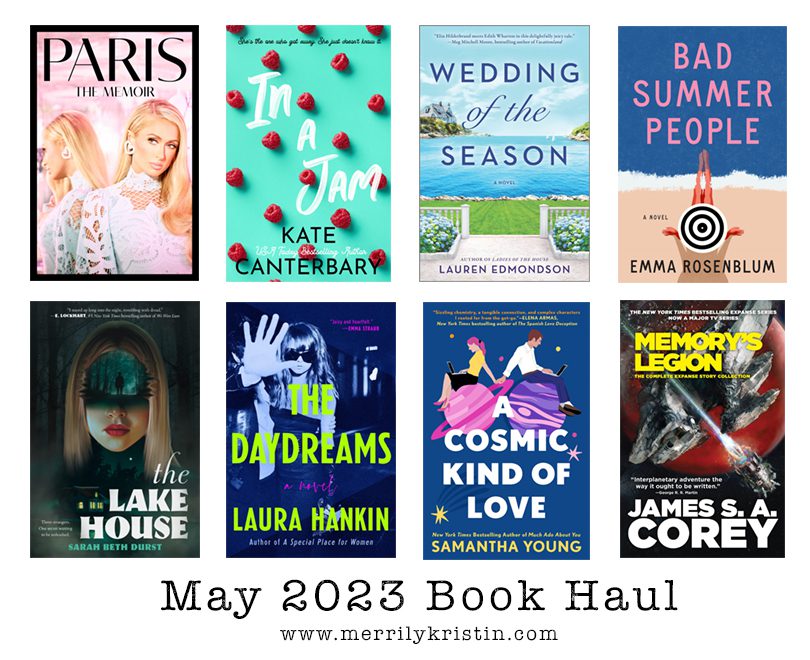 Paris the Memoir by Paris Hilton – I listened to this book on audio which I think is the best way to go! But I enjoyed it so much that I picked up a copy for my shelf.
In a Jam by Kate Canterbary – I fell for the hype on this one because of the cute cover, Rhode Island setting and the fact that the main character is left a tulip farm. I'm hoping I'll love it!
Wedding of the Season by Laura Edmondson – Another one set in Rhode Island so I couldn't resist! I also love the gorgeous cover- hydrangeas are my favorite flower.
Bad Summer People by Emma Rosenblum – This one is set on Long Island on Fire Island and it's been getting a lot of buzz since its release.  It's pretty short so I'm looking forward to binge reading it soon!
The Lake House by Sarah Beth Durst – This onewas another cover buy. It's so creepy and I love a good YA thriller.
The Daydreams by Laura Hankin – One of my most anticipated releases following a group of teen stars who come together for a drama filled reunion show years after their original show ended.
A Cosmic Kind of Love by Samantha Young – I tend to love romances involving female scientists so I figured there's a good chance I'll enjoy one with a male astronaut.
Memory's Legion by James S.A. Corey – This is the bind up of all of the short stories set in the world of The Expanse and now I officially have no excuse for not yet reading the full series.
FROM PUBLISHERS – PHYSICAL BOOKS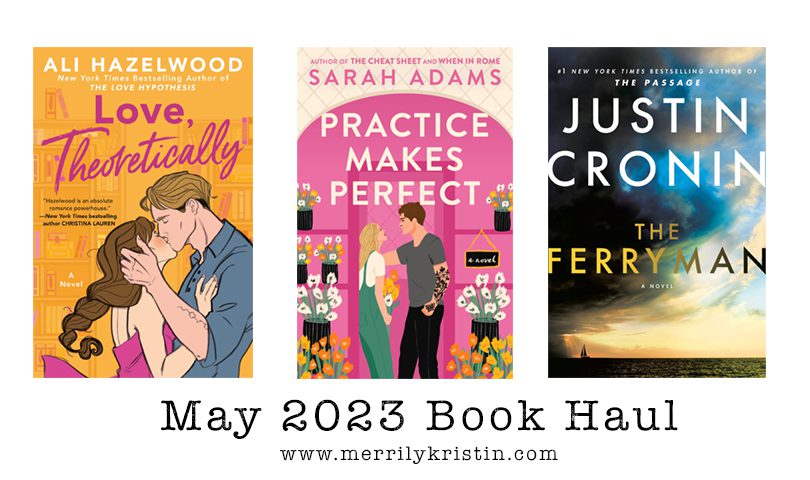 Love, Theoretically by Ali Hazelwood – Ali Hazelwood is an auto-read author for me so this one was a no brainer.  Can't wait to see what she's publishing next!
Practice Makes Perfect by Sarah Adams – This is the second book in the When in Rome series which has been much beloved. I love this cover!
The Ferryman by Justin Cronin – This sci-fi book really piqued my interest. It takes place on a remote island and there's something suspicious going on in this seeming utopia.
FROM PUBLISHERS – NETGALLEY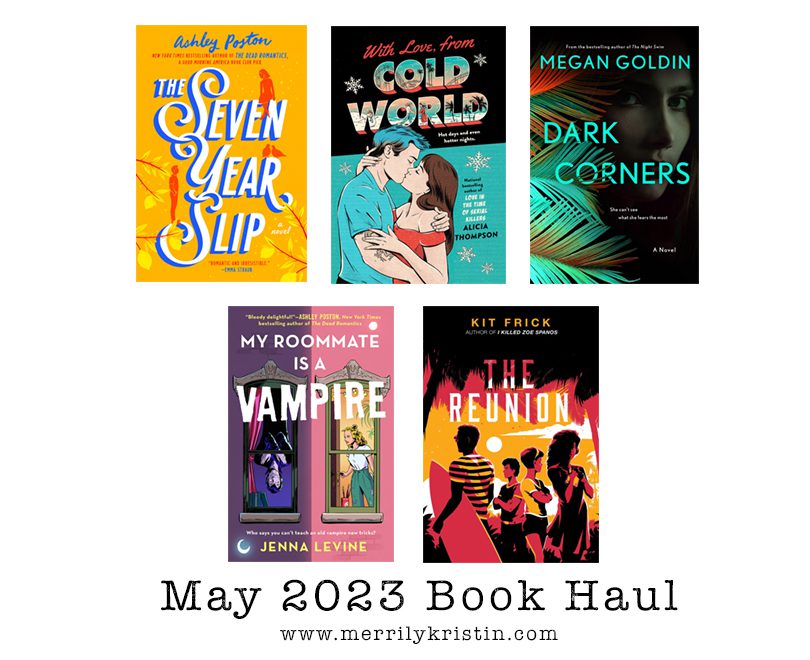 The Seven Year Slip by Ashley Poston – As mentioned above, I loved Ashley's first adult romance so I'm really looking forward to reading this one!
With Love, From Cold World by Alicia Thompson – Totally drawn to the gorgeous cover on this one!
Dark Corners by Megan Goldin – The next Rachel Krall book (the first one is The Night Swim)!! I cannot wait!
My Roommate is a Vampire by Jenna Levine – This one doesn't even need an explanation but when I tell you I NEED to read this ASAP I am not kidding.
The Reunion by Kit Frick – I couldn't resist this YA thriller that's compared to White Lotus and The Cousins by Karen M. McManus.