If you've read any of my monthly books hauls on the blog (or watched any on YouTube), you'll know that I'm a complete sucker for special editions. I am entirely powerless in the face of a pretty book. There have been so many announcements of new special editions lately that my wish list has been expanding by the day! I decided to make a list here of some of the ones I'm most excited for that I have written down on my Notion board. Let me know what your feelings are on special editions and if there's anything I missed that you're looking forward to! Surprisingly, I don't have anything from Illumicrate on my list at the moment so I hope they make some more announcements soon.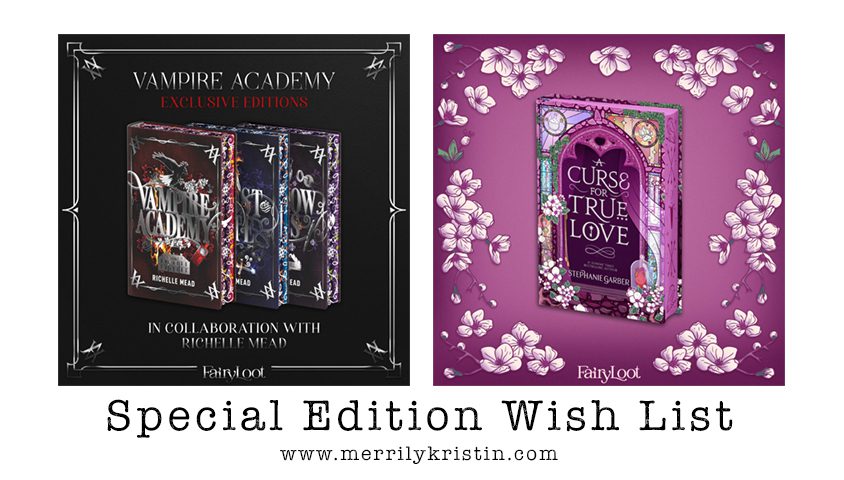 1) FairyLoot Vampire Academy – This is by far the special edition series that I'm most excited for. The love I have for Vampire Academy knows no bounds. I still often think about how sad I am that I don't have any new Vampire Academy books to read and I've been hoping this series would get the special edition treatment for years now! They're splitting up the series into two sets of three.
2) FairyLoot A Curse For True Love by Stephanie Garber (Once Upon a Broken Heart #3) – The number of copies I own of the Once Upon a Broken Heart series is truly out of control… but I just love each edition of this lovely series! The FairyLoot ones are by far my favorite and I love the purple color scheme for the final book. I'm also really hoping that the rumors are true and FairyLoot will reprint Caraval with covers in the vein of their Once Upon a Broken Heart books.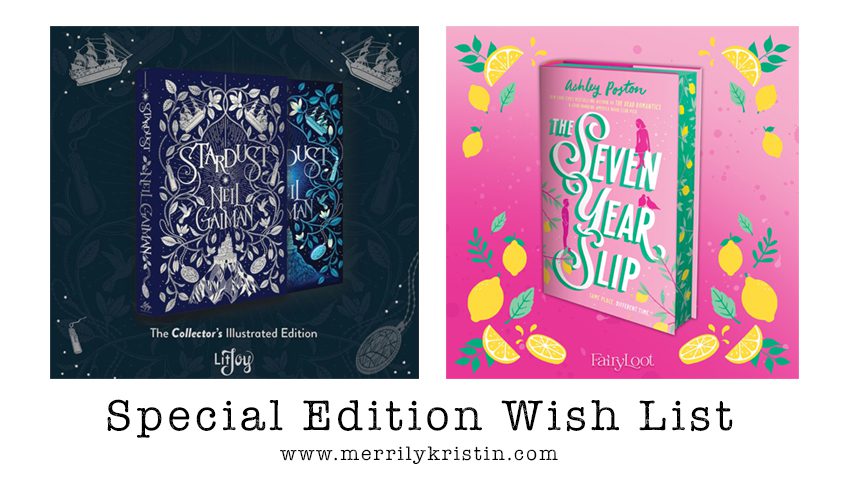 3) LitJoy Crate Stardust by Neil Gaiman – This one I've actually already ordered (I even joined the Lunacorns subscription solely so I would have a shot at the collector's slipcased edition). Stardust is one of my favorite Neil Gaiman books and I'm beyond excited to see some Gaiman editions. I really hope LitJoy will do Coraline and The Graveyard Book too!
4) The Seven Year Slip by Ashley Poston – I adored Ashley Poston's first adult romance, The Dead Romantics, so I'm quite excited to read her next one. I have an ARC of it and it's actually the next book on my TBR. This FairyLoot Mortal Edition is stunning! I love the color combination and the naked hardback is so pretty!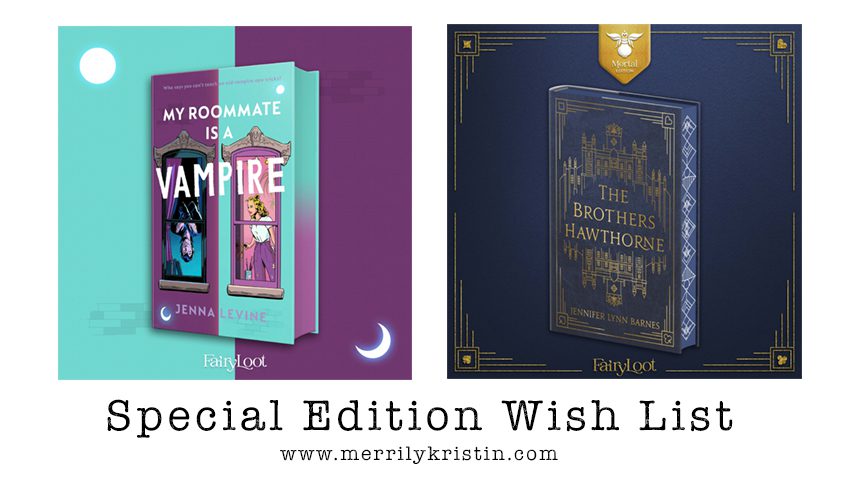 5) FairyLoot My Roommate is a Vampire by Jenna Levine – I have such high hopes for this one and I'm really hoping it'll become a new favorite for me! I have an ARC as well and I'm planning on reading it before the FairyLoot sale begins. I really love the blue and purple ombre pages and the illustrated cover reminds me of old comics.
6) FairyLoot The Brother's Hawthorne by Jennifer Lynn Barnes – I have the Inheritance Games trilogy special edition set that FairyLoot released previously and I always have a blast reading this series! I'm hoping FL will do more JLB books- I'd love to see a Mortal Edition of The Debutantes series!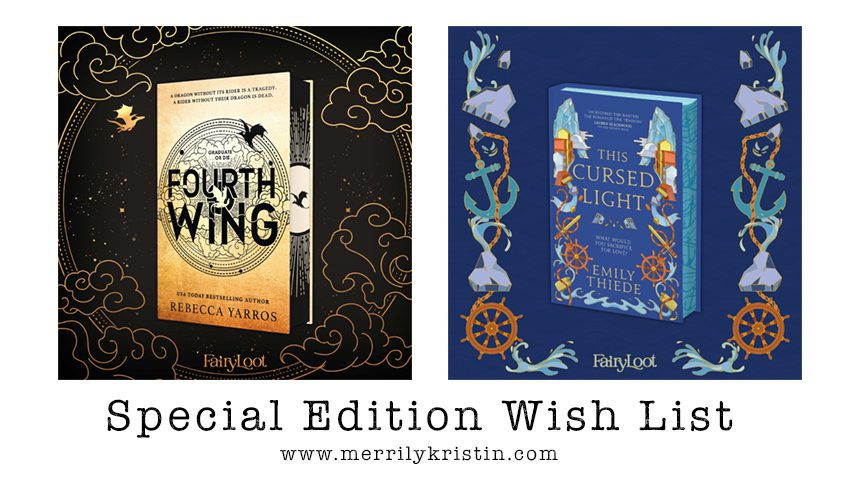 7) FairyLoot The Fourth Wing by Rebecca Yarros – This one seems to be very divisive and while I haven't read it yet, the first print run sold out so quickly that springing for the FairyLoot edition seems like the only chance of acquiring a copy in the near future. I'm not really sure what to expect, but I'm hopeful that I'll like it!
8) FairyLoot This Cursed Light by Emily Thiede – This YA series totally took me by surprise and I ended up really enjoying the first book. Alexa and I buddy read it as part of our FairyLoot reading project and both of us loved it! I can't wait to get the conclusion to the duology and I love this cover so much. The nautical touches really speak to me!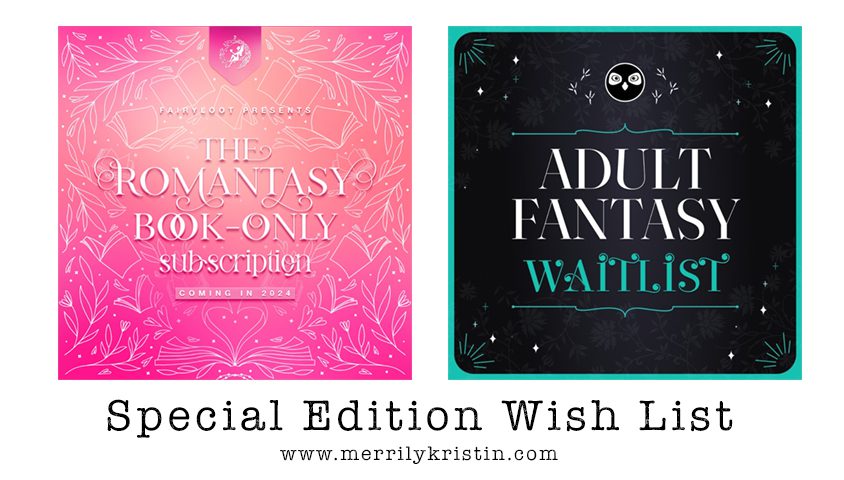 9) FairyLoot Romantasy Sub – And then a little different because it's not a specific book, but the subscription I'm most excited to sign up for is FairyLoot's Upcoming Romantasy book only subscription.
10) OwlCrate Adult Fantasy Book Only Subscription – I'm also pretty curious about OwlCrate's new subscription, especially since they've just begun offering sprayed pages!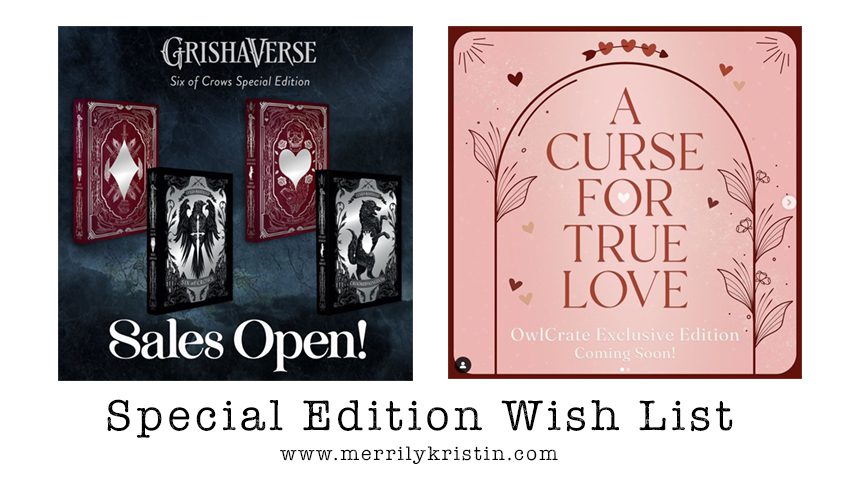 11) LitJoy Crate Six of Crows by Leigh Bardugo – I also took the plunge and ordered LitJoy Crate's upcoming Six of Crows annotated box set. I really love the designs they did for these ones and this is the series I love most from Leigh Bardugo!
12) OwlCrate A Curse For True Love by Stephanie Garber (Once Upon a Broken Heart #3) – This is another one of the many sets of Once Upon a Broken Heart that I collect. I love the pretty pastel theme of the OwlCrate editions and I'm excited to see book three!