So, I had a Kindle Unlimited subscription for a couple of months years ago but there wasn't a ton on it so I cancelled it long ago. In the past couple of years, they've added so many titles and so many indie romance fantasy books are available on KU that I've been trying to pick a month to resume my subscription. I'm finally ready! I was perusing Instagram last night when I got an ad for two free months of kindle unlimited so I very quickly hit that subscribe button. I have one library loan and two June ARCs to read, and then I'm ready to dive into my KU TBR. I've been pausing on placing library holds so I can fully focus on KU reads and of course, I've been planning my TBR. I have a huge list of titles going, but these are my top priority KU reads now that I've begun my subscription!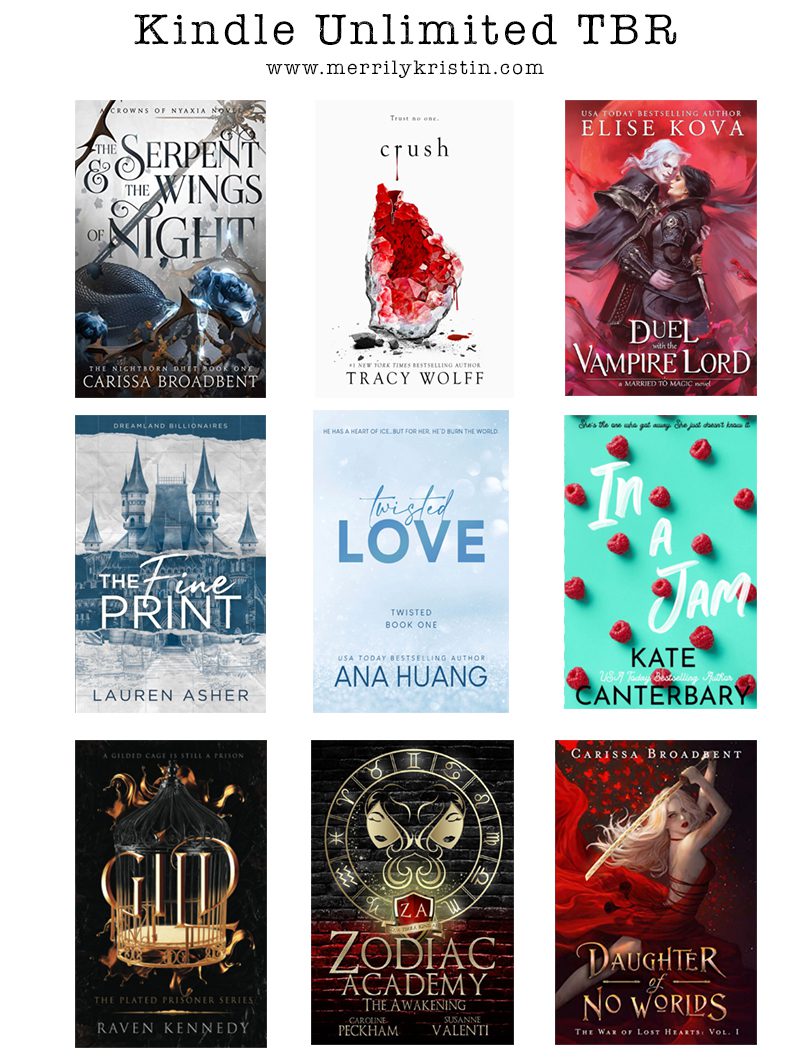 1) The Serpent and the Wings of Night by Carissa Broadbent (Crowns of Nyaxia #1)– I've been seeing this one one bookstagram a lot lately and all I needed to know is that there are vampires. We're following the adopted human daughter of the Nightborn vampire king and there's some type of competition.
2) Crush by Tracy Wolff (Crave #2) – If you can't immediately tell, this TBR is going to be very vampire heavy. I read the first Crave book last Summer and I've been meaning to continue the series ever since. Now that it's complete, and all of the books are on KU, now is the time!
3) A Duel With the Vampire Lord by Elise Kova (Married to Magic #3) – Vampire book number three, which coincidentally, is also the third book in the Married to Magic series by Elise Kova. I always really enjoy these books so I'm excited to catch up before the fourth one comes out in August.
4) The Fine Print by Lauren Asher (Dreamland Billionaires #1) – Also known as the Disney book. This romance novel follows a young billionaire who's in change of a Disney-like theme park called Dreamland. He's in the business of creating fairytales and sparks start to fly when he hires a new assistant.
5) Twisted Love by Anna Huang (Twisted #1) – This is an extremely popular TikTok romance so I'm a bit hesitant, but I love how pretty the pastel books in the series look together so that's truly why I'm giving this one a shot.
6) In a Jam by Kate Canterbary – This is another romance (with a very vut cover) following a protagonist who's grandmother passes away and leaves her a tulip farm but not without caveats. The first condition is that she has to move to Friendship, Rhode Island, and the second condition is that she must be married within one year. Kind of an issue since her fiance just called off their wedding.
7) Gild by Raven Kennedy (Plated Prisoner #1) – This is a fairy romance series and I've been told numerous times to read the second book because the first one is all set up and doesn't do the rest of the series justice.
8) Zodiac Academy: The Awakening by Caroline Peckham & Susanne Valenti (Zodiac Academy #1) – This is another fae fantasy romance and it's a very long running series with another 9 books available to read. It's set at a supernatural school which always sounds like a lot of fun!
9) Daughter of No Worlds by Carissa Broadbent (The War of Lost Hearts #1) – And yet another fantasy romance series, by the same author as The Serpent and the Wings of Night. This one is a tale of dark magic, passionate romance and a powerful heroine fighting for justice.