As I mentioned in my best movies post, I read 100 less books in 2020 than I did in 2019, so I had way more television options to choose favorites from.  My absolute standout of the year if I were only able to pick one series would be Star Trek: The Next Generation.  Andrew and I binged the entire series so quickly.  He had already seen the show, but it was my first time watching and I love so many of the characters aboard the USS Enterprise (but Data and Picard will always be my favorites).  Unlike films, I tend not to rewatch many series (or if I do, it's only 1-2 a year since it's such a big time investment), so this post is mostly going to focus on new to me shows!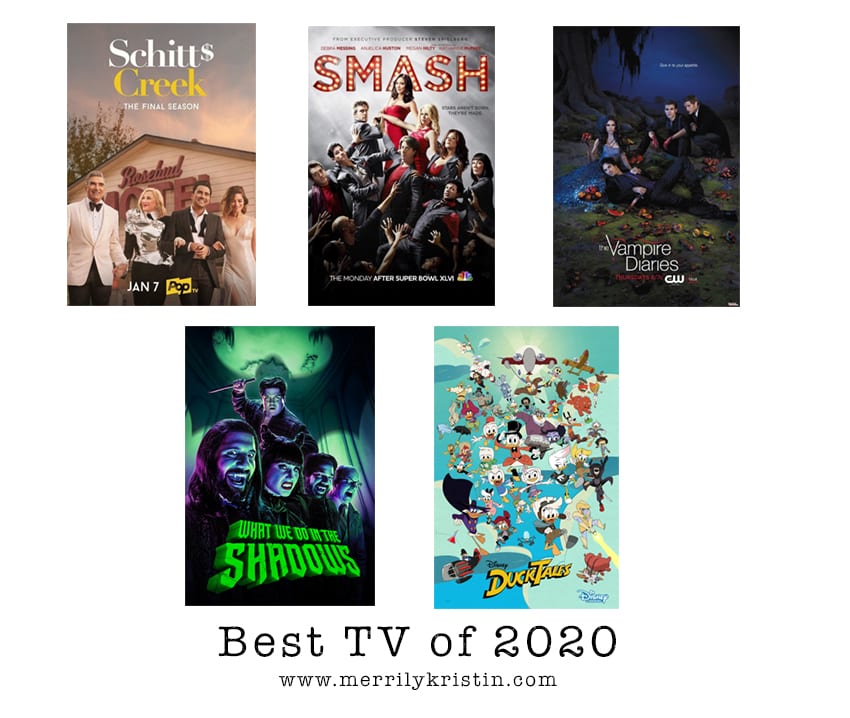 1) Schitt's Creek (season six) – I cannot believe the last season of Schitt's Creek was released in 2020- it feels like years ago at this point! Andrew and I watched seasons 1-5 right after NYCC in 2019 and we were eager for more.  I do think I preferred binge watching episodes as opposed to waiting week to week, but the Rose family will forever hold a special place in my heart.
2) Smash (seasons one and two) – Our friend Kelly lent us her DVDs of the NBC show Smash and we finally got around to watching them in the beginning of the year. I loved this show so much more than I expected to! I love Broadway shows so it was fascinating to watch a dramatization of the behind the scenes of a show from it's inception to the final product.  It might be controversial, but I found myself firmly on team Ivy and I super loved the dynamic between Christian Borle and Deborah Messing's characters.  Supposedly it's going to be adapted into a Broadway show in NYC, and I will be first in line to buy tickets.
3) The Vampire Diaries (season three through eight) – I fell so hard for this series! The first two seasons (which we watched in 2019), were definitely more focused on teen drama, but as the show progressed and it explored the legacy of the founding families and vampiric lore in Mystic Falls and beyond, I could not get enough.  There's also SO much angst and it cycles through every trope imaginable, but it's such a good time.  Andrew would beg to differ though!
4) What We Do in the Shadows (season one and two) – After Vampire Diaries concluded, I wasn't ready to let go of my favorite supernatural beings just yet (and Andrew was much more on board after having enjoyed the mockumentary last year) so we dove into What We Do in the Shadows.  This show is so funny! I love how goofy the main cast is and the humor is beyond hilarious.  My only complaint is that I wish there were more episodes! I still get this theme song stuck in my head every so often.
5) Ducktales (seasons one and two) – One of the main reasons Andrew and I had been counting down the days until Disney+ premiered is because we wanted to watch the new Ducktales show starring some of our favorite actors (David Tennant, Ben Schwartz, Danny Pudi, etc).  This show delivered on so many levels! They really captured the essence of the original series while updating the concept and giving more personality to the brothers.  It had such a good mix of heartwarming moments and humor.  We're anxiously awaiting season three!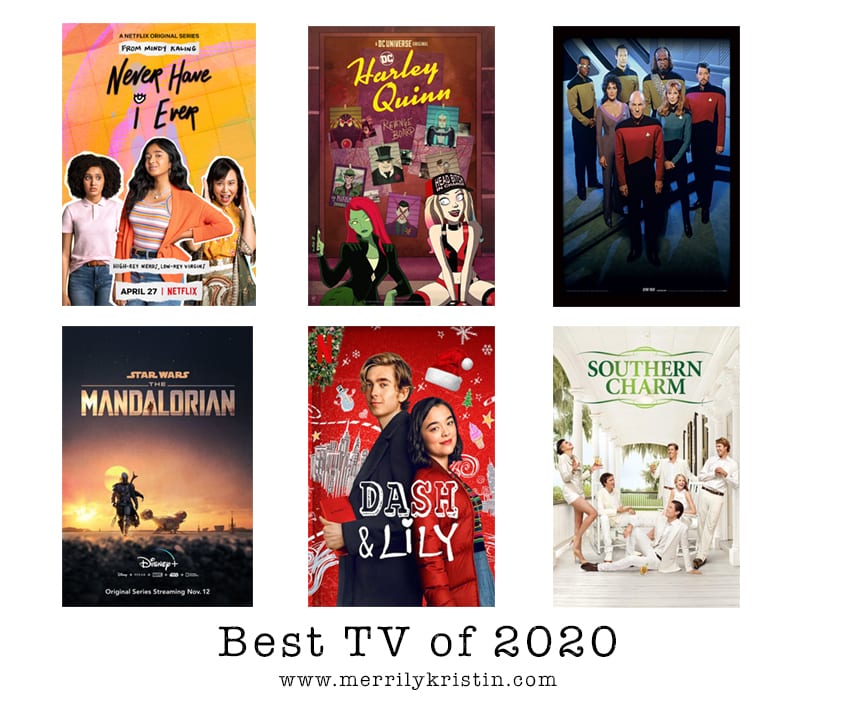 6) Never Have I Ever (season one) – This is a comedy series created by Mindy Kaling so I knew I would be giving it a try.  I remember that Andrew and I were having one of those typical 2020 days where we just needed to watch something lighthearted.  The joke was on us when the first episode seemed like it would be a heavy show, but it quickly morphed into a comedy about a group of friends trying to navigate their way through high school while grappling with their families cultural norms. I'm so glad this got picked up for another season. We watched the whole show in one night!
7) Harley Quinn (seasons one and two) – It's been a while since I've watched a DC Comics animated series but I had been hearing such great things about Harley Quinn that my interest was piqued.  Once HBO Max premiered and DC's animated content became available, we dropped our current show to dive into Harley which was the best decision.  This show is truly amazing. They captured the comic characters so flawlessly and I loved watching the evolving relationship between Harley Quinn and Poison Ivy.  It's also really fun to see all of the DC Comics cameos throughout the series. This is another show that I'm so glad got picked up for another season.
8) Star Trek: The Next Generation (seasons one through seven) – As I mentioned above, 2020 is the year of Star Trek (and Animal Crossing).  Andrew kept under-hyping the series because he wasn't sure how well it would age, but I quickly fell in love with the characters.  As soon as we finished, we started watching Star Trek: The Original Series which is far campier than I ever could've imagined.  We're slowly making our way through and I'm looking forward to the TNG movies and to Voyager and Deep Space Nine.
9) The Mandalorian (season two) – I don't even know where to start when it comes to the second season of Mando.  This show has continued to push the boundaries of the Star Wars universe as we know it and the amount of connections to the animated series, especially in season two, feels like the best kind of payoff for diehard fans (see, me). The season finale was completely epic.  I called something earlier on in the season but it was still unreal to see it play out on screen.  Mando has also left me so excited for the future of the live action shows.  And we all love Baby Yoda.
10) Dash & Lily (season one) – I had been very highly anticipating this series since it was first announced- I love book adaptations, I love Christmas media, and I love New York City.  This show allowed us to live vicariously through Dash and Lily as they gallivanted through NYC and saw all of the classic Christmas decor that we were unable to visit this year due to the pandemic.  Dash & Lily is such a feel good story about a couple of teens who start communicating through a notebook at my favorite bookstore, The Strand.
11) Southern Charm (seasons one through seven) – Southern Charm is a definite honorable mention on this list.  My sister in law gave me her password to Peacock and I binge watched all six available seasons in just over a week… and then went on to purchase season seven.  I should probably be more embarrassed about this guilty pleasure reality show, but I'm not. It was a lot of fun! I love Camaron, Patricia, Michael and Dani, but the majority of people on this show are terrible humans and I couldn't look away.