I'm so happy to report that my reading slump has finally subsided! After barely reading anything in the first three weeks of June, I managed to read 5 books in the last week and a half.  I'm also really excited to share that I picked A Court of Silver Flames back up at the end of the month and I was okay while reading it! It was basically motivated by the fact that I'm already reading 4 books and it was the only one available to read digitally from my library while I was out.  I really didn't want to start a 5th book and I'm so glad I didn't because I fell right back into the world of Prythian.  While I still have a ton of action packed weekends ahead (seriously, I'm busy until like the end of September at this point), my office is reopening and I'm foreseeing a lot of quiet reading nights at home during the week to recharge.  Here's everything at the top of my TBR for July!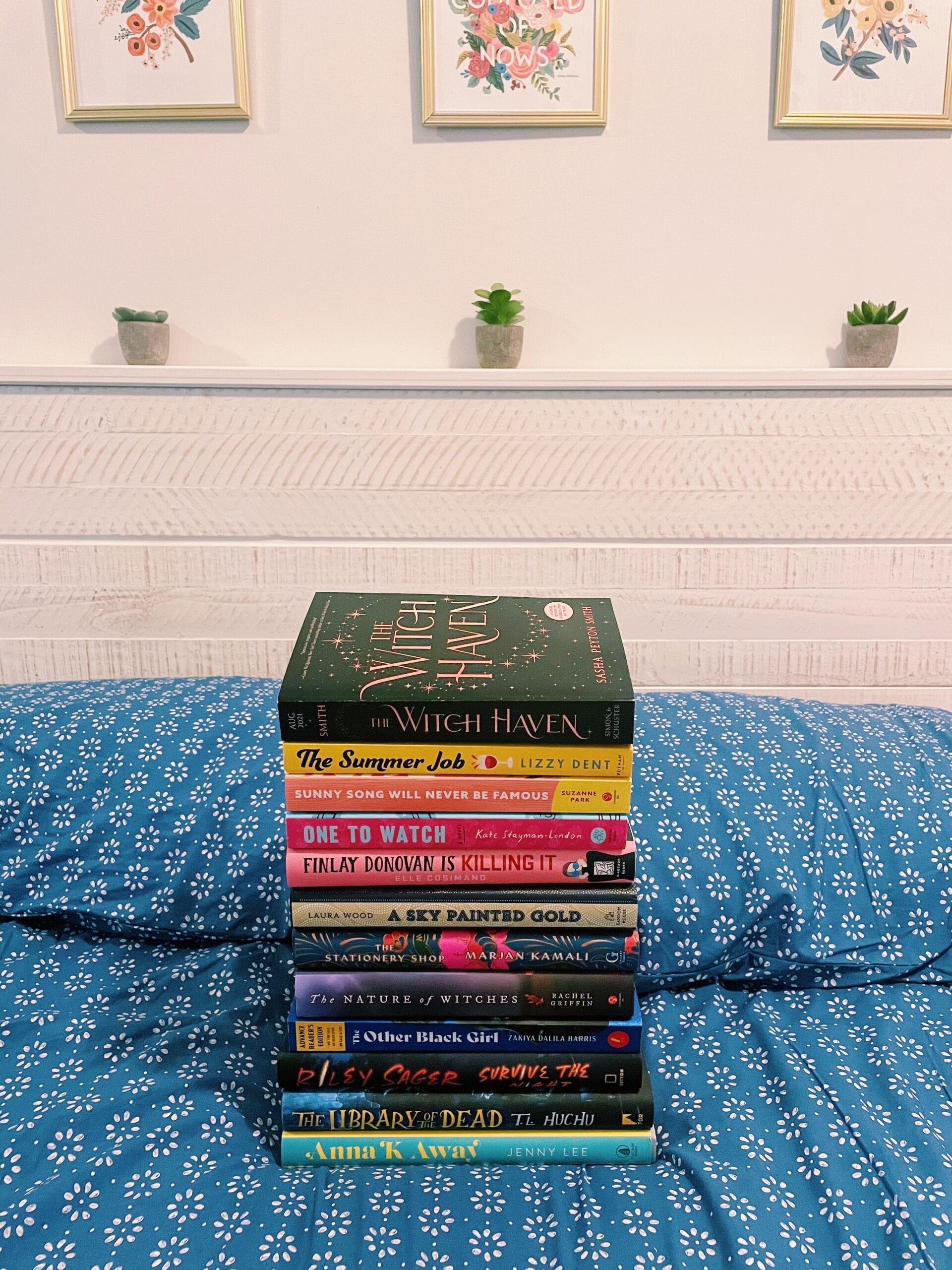 Anna K: Away by Jenny Lee – I read the first book, Anna K, last summer and I really enjoyed it! The characters are rich kids who get into ridiculous scenarios, but it felt very true to the heart of New York City and I'm curious to see how things will end for everyone after that cliffhanger in book one!
A Sky Painted Gold by Laura Wood –  Speaking of rich kids, this YA Gatsby inspired book that's described as perfect for fans of I Capture the Castle has been on my radar for so long but I finally purchased a copy in June. It sounds like the perfect Summer read!
Sunny Song Will Never Be Famous by Suzanne Park –  This came very highly recommended to me by my friend Emma from Miss Print.  Emma and I have been commiserating with each other over the past year about our complicated relationship with our smartphones / social media and since she loved this book about a social media influencer who gets shipped off to a digital detox camp for the summer, I ordered myself a copy as soon as I got her text!
The Stationery Shop by Marjan Kamali – This is another friend recommendation- it's one of Rachel's favorites!  So much so that Alexa and I even accompanied Rachel to an author event for Marjan Kamali at The Strand right before the pandemic.  This is a story about lovers in 1953 Tehran who meet at a stationery shop but are torn apart on the eve of their marriage after violence erupts at the town square.  Flash forward 60 years and Roya and Bahman run into each other again!
One to Watch by Kate Stayman-London – Here's something I never thought I would say- 2020 kicked off my year of reality tv.  I never cared for reality tv in the past (with the exception of my high school college years when I loved Laguna Beach, The Hills and Project Runway), but it had been years since I tried something new.  Southern Charm was basically my gateway into reality show binges so I couldn't resist this book that's based on The Bachelorette.
The Summer Job by Lizzy Dent – This sounds like the perfect beach read- it follows a girl named Birdy who has fled her life and landed straight into her best friend Heather's when she takes over her wine expert job at a hotel in the Scottish Highlands.  The cover reminds me of all of my favorite romance reads, but I think this one is going to be closer to women's fiction with a romance subplot.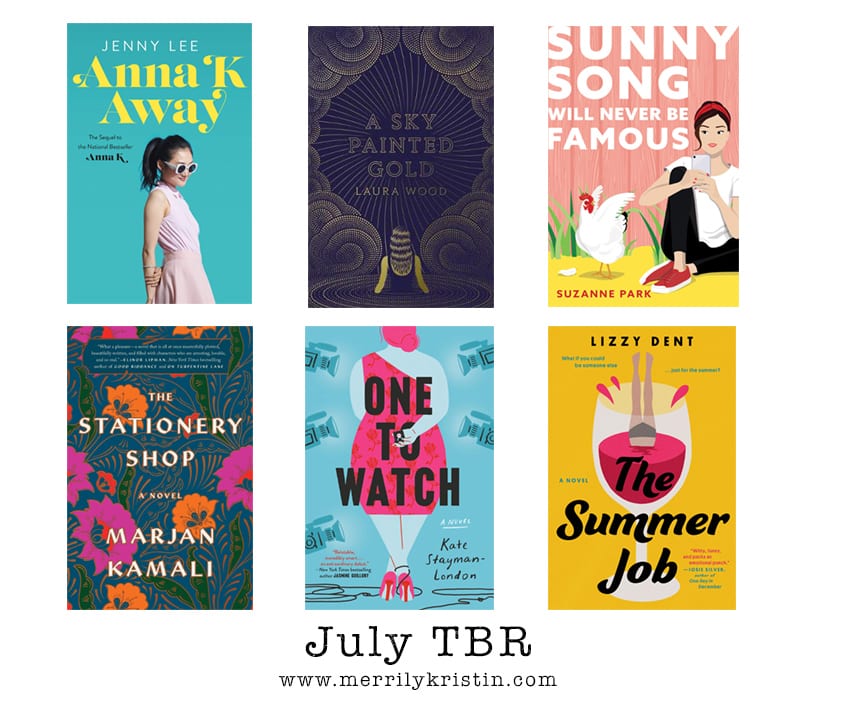 The Other Black Girl by Zakiya Dalila Harris – A psychological thriller set in the world of publishing in New York City?  Count me in! I've been so highly anticipating this book and July is definitely when I'll be reading it!
The Witch Haven by Sasha Peyton-Smith – I've been saying no to pretty much every ARC that's been pitched to me this year but The Witch Haven just sounds incredible so I couldn't pass up the opportunity to read it early!  It's an historical fantasy novel set in 1911 New York City following a seamstress named Frances who ends up being recruited to a school for witches. So many of these things speak to me!
Survive the Night by Riley Sager – Riley Sager is my go to thriller author and I'm so excited to read his newest release.  This one takes place in the 90's and follows a college student who may or may not be on a long road trip home with a serial killer.  I don't know what I'll do when I'm out of Riley books to read, but I just cannot put this one off.
The Library of the Dead by T.L. Huchu – Usually my impulse purchases come about when I see a pretty cover I can't resist, and while this cover is quite nice, the title is really what got me.  I didn't even read the synopsis before buying it, because it sounds like one of my all time favorite series, The Archived, by Victoria Schwab.  This one is set in Scotland (I think I'm sensing a theme in my TBR) and it follows a character who speaks to the dead.
The Nature of Witches by Rachel Griffin –  This on the other hand, was partially a cover buy.  I also really love the author's instagram- it's so atmospheric! I was asking Alexa, Rachel and DJ their thoughts on this book and DJ sold me when he told me it's a slow burn character driven novel. Those are always my favorites!
Finlay Donovan is Killing it by Elle Cosimano –   I really have no excuse for not reading this one yet, but I'm so excited to finally do so.  Finlay is a thriller author with writer's block but when she's describing her novel to her agent over lunch, a bystander overhears and mistakes her for a contract killer… and she accepts because she needs the inspiration.