With one successful month of completing my 2022 goal of reducing my physical TBR, I found that I was having trouble keeping track of which new releases I most want to read.  In the past, I would pre-order anything that sounded interesting to me but since I'm not letting that be an option for me this year, I wanted to start compiling a list at the start of each month so I could narrow down what I truly want to read.  February is a huge release month this year (more so than January which is unusual for me) so it was tough to curate this list.  Here are my picks for February!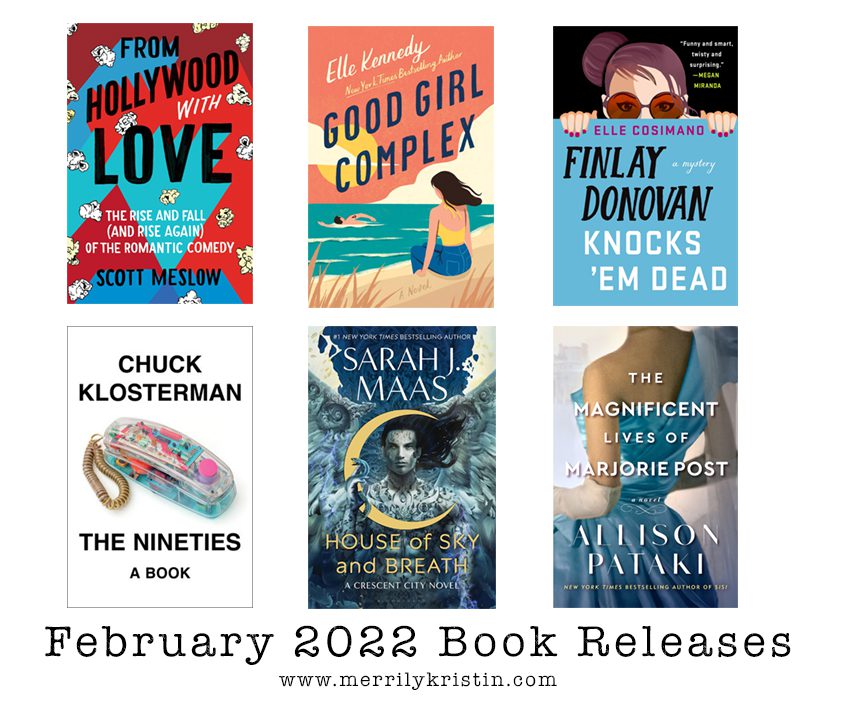 2/1 – From Hollywood with Love: The Rise and Fall (and Rise Again) of the Romantic Comedy by Scott Meslow – This nonfiction book is a celebration of rom-coms and their role in our culture from their golden years in the 80's-90's to their decline in the 2000's and their rise again in the age of streaming.  It includes interviews with directors, writers and actors pivotal to the rom-com.
2/1 – Good Girl Complex by Elle Kennedy – I've only read one other Elle Kennedy book and I loved it despite not caring for sports.  When I saw that Elle would be publishing a small town romance set in a coastal town, I didn't need to know anything else.  Goodreads calls this "An Avalon Bay Novel," so I'm assuming this is going to end up being a companion series.
2/1 – Finlay Donovan Knocks 'Em Dead by Elle Cosimano – In all honesty, I am including this one on my list because I'm still really looking forward to reading the first book and if I added one more new release to my list, I could create symmetrical graphics for this post.  I have a feeling I'm going to love the first installment and I have no doubt I will be looking forward to book two upon reading it, but until then, I'm steering clear of the synopsis.
2/8 – The Nineties by Chuck Klosterman – I loved Chuck's earlier books when I was in college but I haven't picked anything up from him in years.  I was always entertained by his perspective on pop culture and I cannot resist reading his take on the 90's.  Since this is when I grew up, I feel like this book of essays will be full of nostalgia for me.
2/15 – House of Sky and Breath by Sarah J Maas (Crescent City #2) – I am so looking forward to the second installment in Sarah's Crescent City series.  I really wanted to re-read House of Earth and Blood before book two's release but it seems unlikely at this point.  I can't wait for more Bryce!
2/15 – The Magnificent Lives of Marjorie Post by Allison Pataki – This is an historical novel following Marjorie Merriweather Post, the daughter of C.W. Post and heiress to the cereal company's fortune.  She became the wealthiest woman in the US before the age of 30 and had quite the tumultuous love life, having married four times.  This one is a little outside of my usual comfort zone, but in truth I was drawn to it because my mom devoured and loved two of Allison Pataki's previous books last year before she passed away.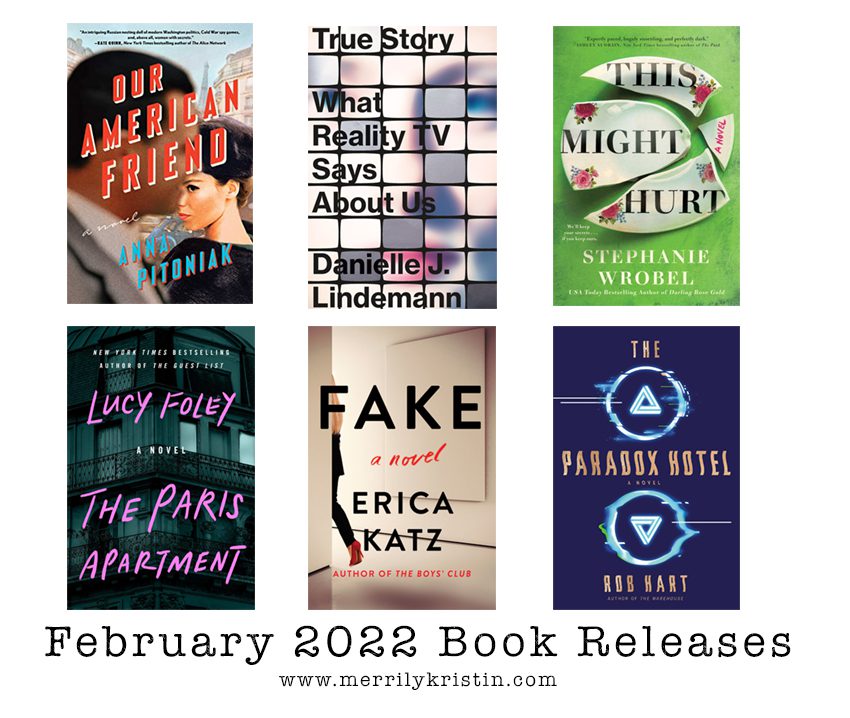 2/15 – Our American Friend by Anna Pitoniak – This political thriller had me hooked from the synopsis! It follows a former White House correspondent who quits her job after tiring of covering the outrageous antics of the President.  She then receives a phone call from the office of the mysterious First Lady asking her to write her biography and the pair strike up a friendship.  Our American Friend is pitched as a Cold-War era spy thriller.
2/15 – True Story: What Reality TV Says About Us by Danielle J. Lindemann – I never really got sucked into reality tv (outside of Laguna Beach, The Hills and The City) until 2020 when we were stuck inside without much else to do.  Since dipping my toes in and falling down a deep dark Bravo spiral, I can no longer resist.  Admittedly, a lot of the shows I do watch are not good but I can't look away! This nonfiction book explores the rise of reality tv and its sociological implications.
2/22 – This Might Hurt by Stephanie Wrobel – I've been so drawn to thrillers lately and this one about sisters sounds right up my alley.  One sister is involved with a cult on a private island off the coast of Maine, and the other sister receives a menacing email from said cult threatening to expose the secret she's been keeping from her sister.  Sounds twisty!
2/22 – The Paris Apartment by Lucy Foley – I loved Lucy Foley's last novel, The Guest List, and I can't wait to pick up her next thriller.  This one follows Jess who's just left her job and asks her half-brother Ben if she can crash with him in his Paris apartment.  But when Jess shows up, Ben isn't there and she has a ton of questions about how he affords this extravagant apartment.  She gets involved in trying to find out where he disappeared to but the neighbors are not very helpful.
2/22 – Fake by Erica Katz – This is yet another thriller taking place in the high stakes art world in NYC and expanding globally into Hong Kong.  Our main character Emma is a professional art forger who accepts a high paying job and is forced to confront what's below the glitz and glamour.
2/22 – The Paradox Hotel by Rob Hart – So I very rarely read science fiction but when I do, I tend to enjoy those books with a thriller twist.  This book is a locked room murder mystery set at a hotel for time travelers and if that doesn't sound like a good time, I don't know what does!
Disclosure: This post contains affiliate links