Happy Friday! This was a really short week for us because both Andrew and I were off on Monday for MLK day and then we also took off today for Andrew's birthday!  It's been really cold so we've been staying in and watching lots of Star Trek: Voyager on Paramount Plus (though I'm still agitated that we had to spring for yet another streaming service when the series left Hulu).  We also watched the first two episodes of How I Met Your Father which I'm really enjoying so far.  There are some Easter eggs to How I Met Your Mother, but not enough that a new viewer would feel lost.  I've loved Hillary Duff since I was in high school and I'll watch anything she does!
Other happenings include seeing my dad, Andrew's parents and his sister last weekend after not being able to go anywhere over Christmas. I also had a hair appointment and a dentist appointment so I'm feeling refreshed! And I've continued cleaning and organizing our space.  I'm currently working on styling a wall area in our living room.  This week's photo shows my work in progress thus far.  Overall, this was an excellent week of keeping up with my resolutions and keeping our apartment neat and tidy.  It makes such a difference in my mental state and I'm really hoping I'll keep this up when we return to working from the office.  I tend to get lazy when I have less time at home.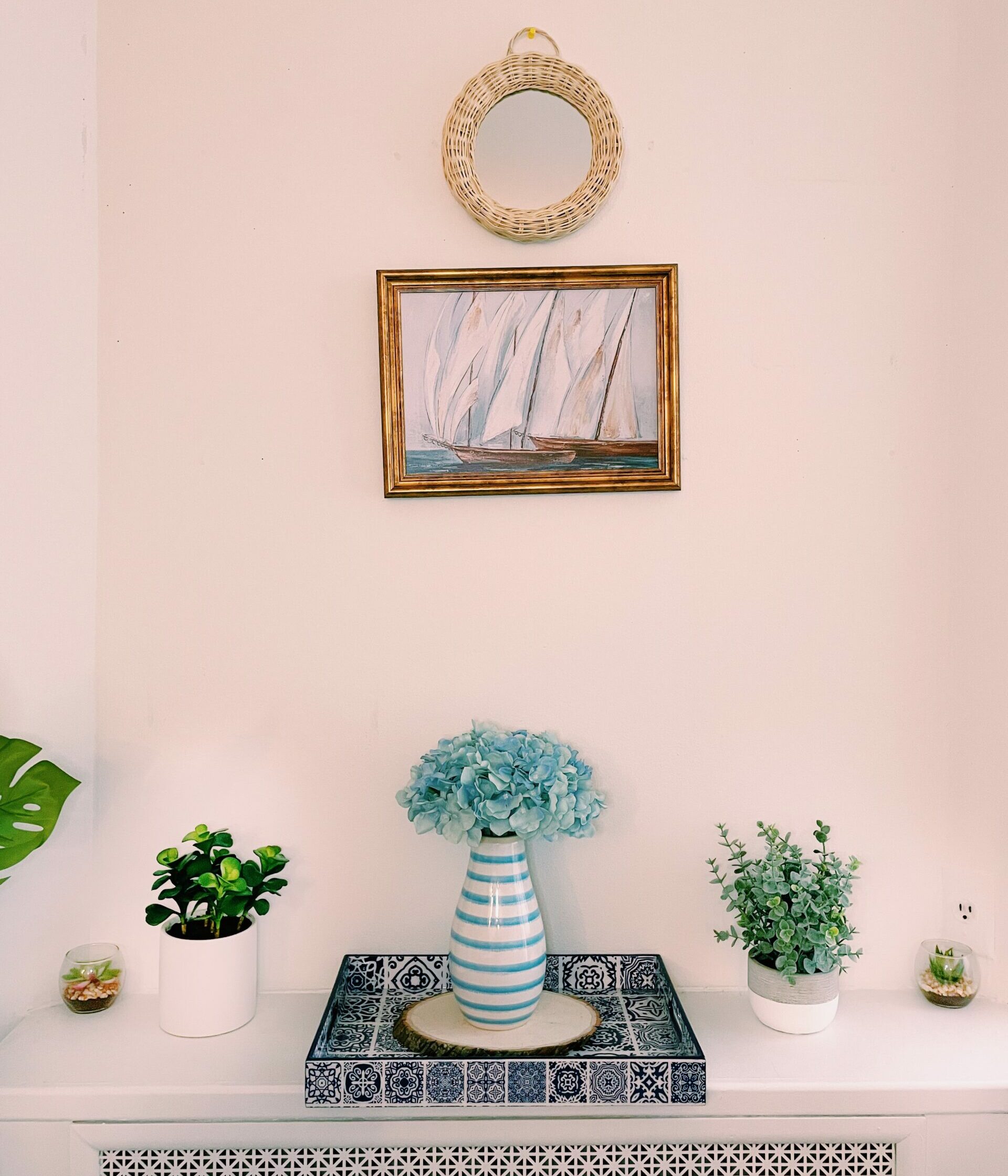 LINK ROUND UP
This piece about the deeply personal art of organizing your book collection really spoke to me.  When I think back to the days before the bookternet, I used to be an alphabetically organized person and it wasn't until Instagram and YouTube that I started trying out different methods.  Now I mostly keep series and books with similar heights together. How do you organize your books?
Speaking of How I Met Your Father, here are the Easter eggs I mentioned.
Hank Green broke down the unfair monetization system of TikTok in his latest long form video.  As someone who doesn't use TikTok, this makes me think they'll need to make a change or they'll end up losing creators.
Fashion industry powerhouse Andre Leon Talley has passed away.  I had just finished reading his memoir 5 days before the news broke so I'm feeling extra sensitive about it.
My friend Rachel shared her master list of her staple items including clothes, handbags, shoes, jewelry and beauty items.  I also swear by some of her favorites and I've already ordered two new to me things from her list!
Only Murders in the Building was one of my favorite shows of last year.  It was such a delight to have a light-hearted murdery show to look forward to each week.  The casting is perfect and I love the NYC setting so I'm really looking forward to it returning.  Here's everything we know about season two!
The upcoming Lord of the Rings show on Amazon finally has a title!!!!
New Yorkers will soon be able to buy beer and wine at movie theaters. I have mixed feelings about this- on the one hand, it would be nice to enjoy a glass of wine during a movie (though in NYC I'm sure it'll be ridiculously overpriced anyway), but on the other hand, I'm worried about the people who will abuse it and be disruptive.  Andrew and I both hate when people talk at all during films which is why we usually opt to watch them at home!
And finally we got the beautiful cover reveal for my most anticipated romance book of the year, Ali Hazelwood's Love on the Brain.
THIS WEEK'S WISH LIST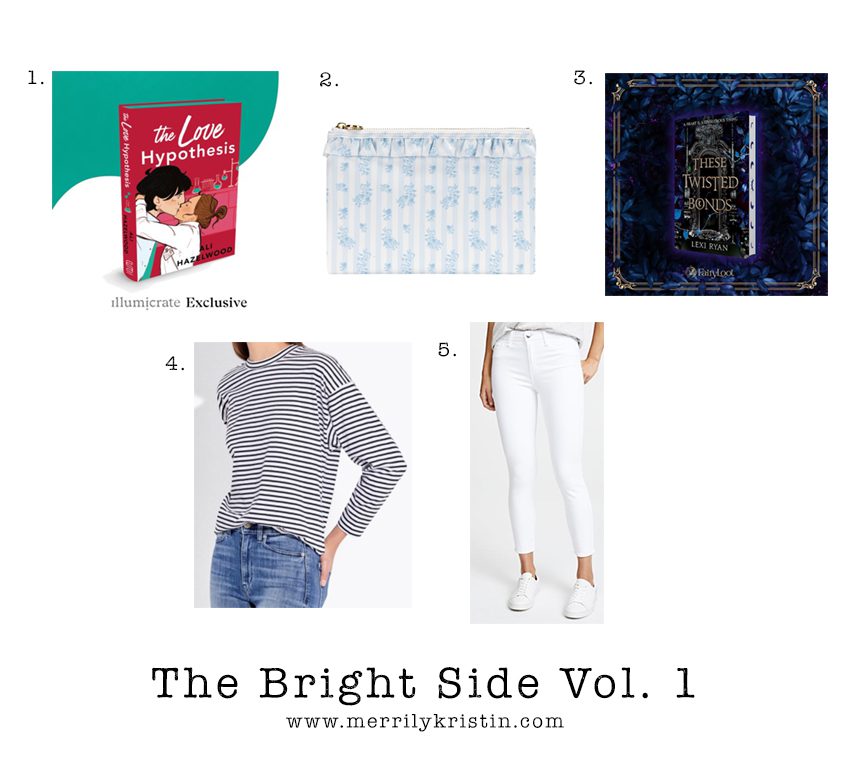 1) Illumicrate The Love Hypothesis by Ali Hazelwood – Wow, this is Ali Hazelwood's second mention in my first Bright Side post.  Can you tell how much I loved her debut novel? I'm 100% buying this Illumicrate special edition.
2) Stoney Clover Lane High Tea Ruffle Flat Pouch in China – This grandmillenial inspired collection by Stoney Clover Lane is like a dream come true.  While some of the pieces are a bit much for me, I really love this flat pouch and I'm also certain I could fit a book in it.
3) FairyLoot These Twisted Bonds by Lexi Ryan – These Hollow Vows was one of my favorite books of last year (I swear my best of list is coming soon…) and I've been scouring eBay for the FairyLoot special edition which sadly is going for $100+ at the moment.  Either way, I will for sure be grabbing a copy of book two!
4) AYR The French Fry Shirt in Piano Stripe – I caved in and bought this shirt yesterday.  I love a good classic striped t-shirt and I feel like everyone has been singing AYR's praises lately.
5) L'agence Margot High Rise Jeans in Blanc – I'm already wishing for warmer weather and what's more Spring/Summer than a pair of white denim? I love that these are listed as super stretchy because I'm all about comfort.