March is a huge month for book releases! I had a really tough time narrowing my list down to only 12 releases but in my opinion, these are the most exciting ones to look out for.  There's a good mix of favorite / repeat authors for me as well as a bunch of debut novels- and there are a surprising number of books with competition storylines.  We're starting the month strong on day one with new releases by Victoria Schwab, Elise Kova and the newly edited Olivie Blake.  I'm so excited!  In addition to the new releases, there are a bunch of FairyLoot special editions happening so my book budget is already gone for the month! Let me know what you're most looking forward to picking up in March.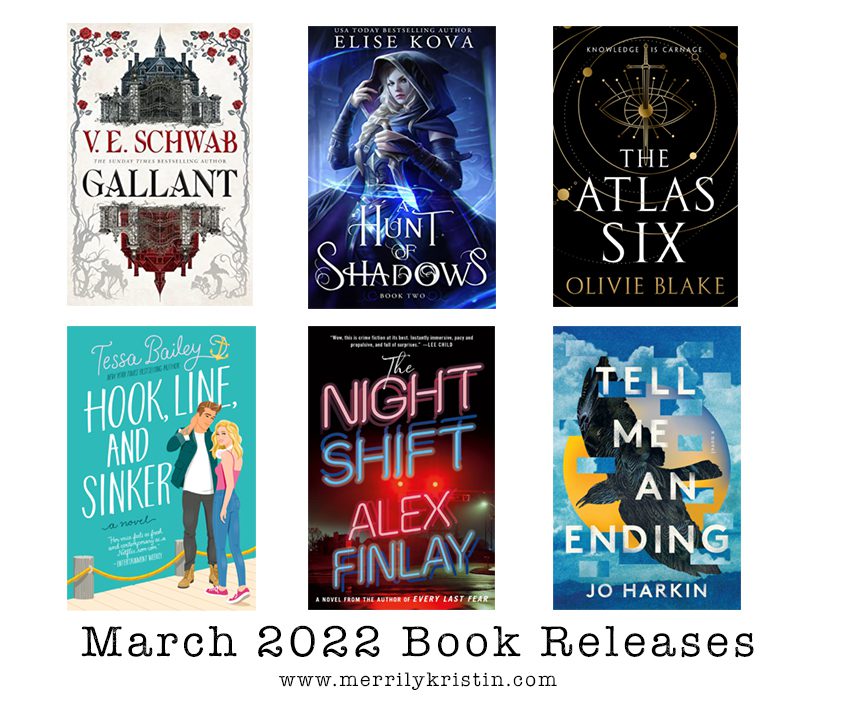 3/1 – Gallant by VE Schwab – Victoria is an auto-buy author for me and I'm so excited to dive into her newest YA release which is described as The Secret Garden meets Crimson Peak.  I've already ordered two copies!
3/1 – A Hunt of Shadows by Elise Kova – Alexa gave me the first book in the series (A Trial of Sorcerers) for Christmas and I'm so excited to be able to read these books back to back.  The first book follows Eira, the most unwanted apprentice in the kingdom who decides to compete for a spot in the Tournament of Five Kingdoms.  Magic and a tournament? I'm so in!
3/1 – The Atlas Six by Olivie Blake – I happened to purchase a paperback indie published copy of The Atlas Six last year when it was really gaining a cult following online.  Not even three days later, Tor announced that they would be traditionally publishing The Atlas Six in the new year with a newly edited edition of book one.  I'm really hoping to love this one since I sprung for the Illumicrate edition!
3/1 – Hook, Line and Sinker by Tessa Bailey – This is the second book in the Bellinger Sisters duology and I cannot wait to read about Piper's sister and her love interest.  I loved the first book so much and I have a feeling I'll like this one even more.  Seeds of romance were already planted so I'm looking forward to seeing it play out on the pages!
3/1 – The Night Shift by Alex Finlay – This book immediately appealed to me. It's a new thriller and I've been so looking forward to it ever since I first heard about it.  It takes place over several timelines and follows two groups of teens working at local shops in New Jersey who experience a murder on New Years Eve.  The original killer was never caught and the sole survivor is helping the police in the current timeline when the case reopens.  It sounds wild!
3/1 – Tell Me an Ending by Jo Harkin – This new sci-fi work of speculative fiction sounds incredibly fascinating.  It's a dystopian debut (which normally wouldn't interest me), except that it revolves around a tech company that deletes unwanted memories. Sold!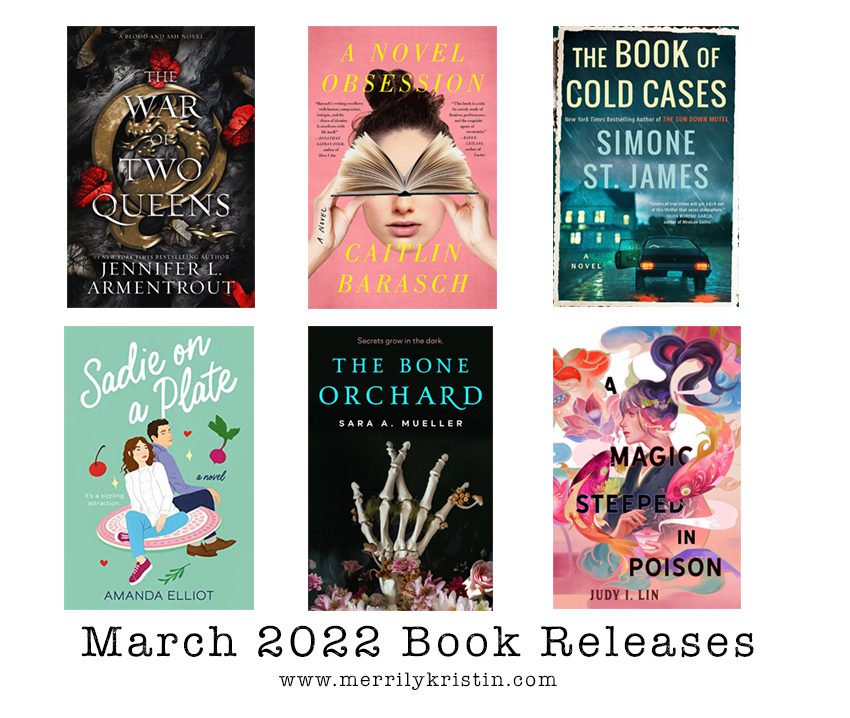 3/15 – The War of Two Queens by Jennifer L. Armentrout – I cannot read a synopsis for this fourth book in the From Blood and Ash series since I'm woefully behind (I still haven't read book two), but I am looking forward to catching up soon.  It's a fantasy novel following Poppy, the Maiden, who begins to question everything she's been told about her kingdom and the handsome guard Hunt who's tasked with protecting her.
3/15 – A Novel Obsession by Caitlin Barasch – This is another debut and it follows an aspiring novelist who finds herself stalking and writing about her boyfriend's ex-girlfriend. Naomi ends up having to decide what, and who, she's willing to sacrifice in order to write her perfect ending.
3/15 – The Book of Cold Cases by Simone St. James – Simone St. James is such an excellent writer and I'm so excited to get another thrillery horror novel from her.  This one follows a true crime blogger who gets more than she bargained for while interviewing the woman acquitted of two cold case slayings.
3/15 – Sadie on a Plate by Amanda Elliot – This debut romance novel about a chef sounds delightful! Sadie is a rising star on the Seattle restaurant scene as she creates unique and modern takes on Jewish recipes but after a public breakup with her boss (who's also a famous chef), she's convinced that her career is over.  That is, until she lands a coveted spot competing on the next season of Chef Supreme, her favorite reality TV show.
3/22 – The Bone Orchard by Sara A. Mueller – I'm so glad that the release for The Bone Orchard is finally almost upon us! I feel like I've been waiting for this new fantasy novel forever! It follows a witch named Charm who is tasked by the Emperor to find out which of his sons is responsible for his murder and which will take over ruling the empire.  In exchange, Charm will earn her freedom.
3/29 – A Magic Steeped in Poison by Judy I. Lin (The Book of Tea #1) – I was first drawn to this book because of the beautiful cover but when the synopsis surpassed my expectations, I knew I had to add this one to my TBR.  It follows Ning who travels to compete for the title of shennong-shi, master of the ancient and magical art of tea-making.  The winner will receive a favor from the princess and Ning plans to use it to save her sister's life. This series is a duology and the second book is already completed and schedule for release in August!
*this post contains affiliate links