I didn't really buy many books this month, but I did get some special editions that I'm thrilled to be adding to my collection!  While the special editions are no longer available, I'm still going to link to a page where you can buy the regular edition in case you're interested in the book.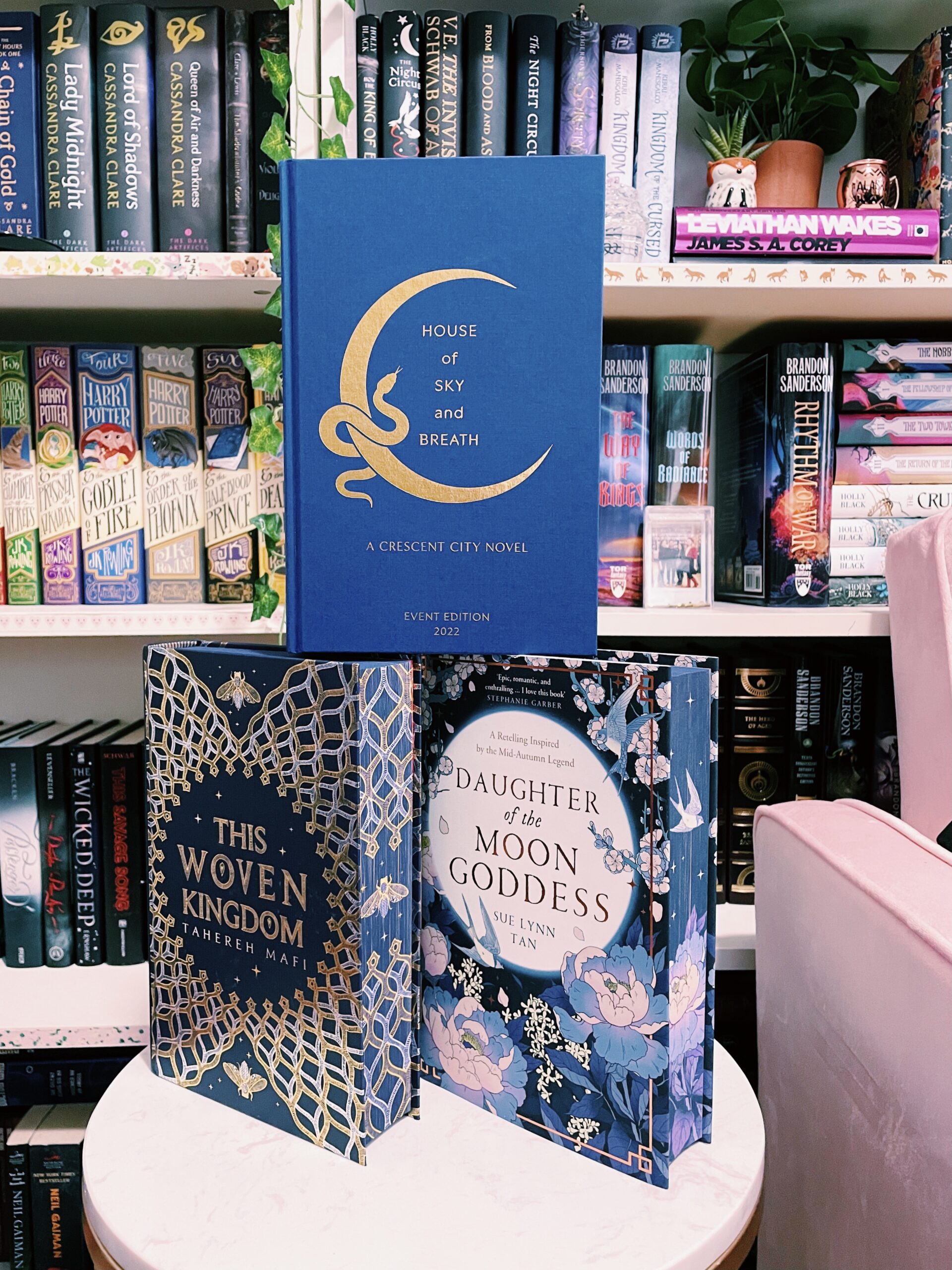 House of Sky and Breath by Sarah J. Maas (Crescent City #2) Exclusive Tour Edition – I have the exclusive tour edition of House of Earth and Blood which were sold online through Waterstones when Sarah's tour was cancelled in 2020 (I'm sure you can guess why!).  I was really excited when the tour edition for book two was announced and I'm so glad I was able to get one before they sold out.  It's such a lovely shade of blue.
Daughter of the Moon Goddess by Sue Lynn Tan (Celestial Kingdoms #1) FairyLoot Exclusive Edition – All I can say about the FairyLoot edition of this book is WOW.  They went with such a stunning color scheme- I love all of the navy and the light pink! The sprayed pages are a sight to behold and I am so so happy I didn't skip this month (despite feeling middle of the road about the book which I read early in ARC form).
This Woven Kingdom by Tahereh Mafi (This Woven Kingdom #1) Illumicrate Exclusive Edition – This was the January book for Illumicrate, but again, it didn't arrive until February.  I was actually getting a little nervous since mine arrived so much later than everyone else's.  I'm really looking forward to reading Taherei's next book which is a Persian inspired fantasy series starter.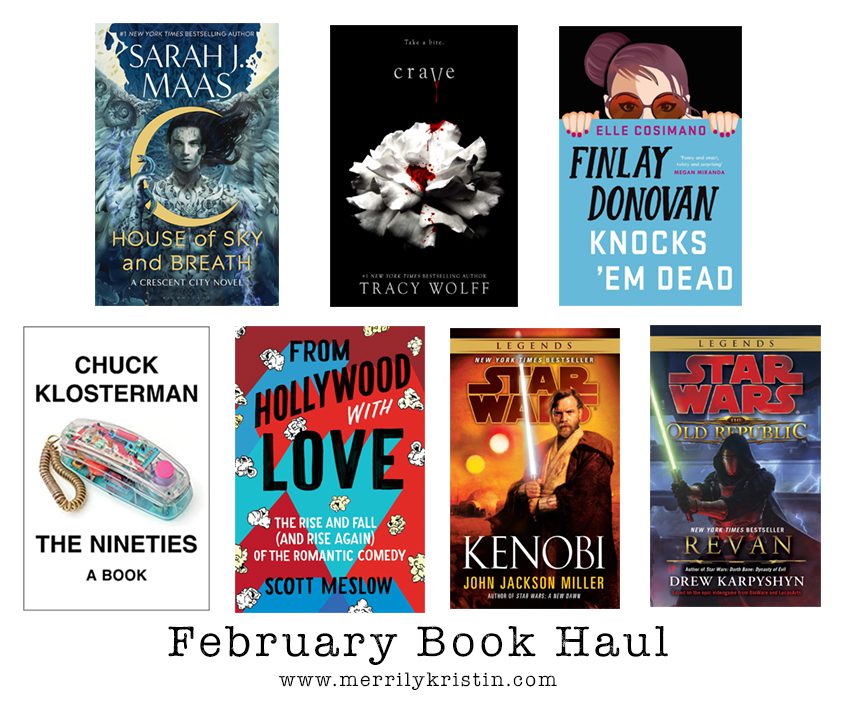 House of Sky and Breath by Sarah J. Maas (Crescent City #2) B&N Exclusive Edition – When all of the special editions were announced for House of Sky and Breath, Alexa and I coordinated ordering different copies so we could share the exclusive short stories with each other.  I haven't started reading it just yet (I want to sneak in a House of Earth and Blood re-read first) but I'm really looking forward to getting back to this world.
Crave by Tracy Wolff – Oh vampires.  This purchase is totally influenced by the fact that I watched all five Twilight films this month.  I know next to nothing about this series except that people seem to have a lot of fun reading it.  I've been craving another fun vampire series after finishing the Vampire Academy series last year and I'm hoping this one will deliver.
Finlay Donovan Knocks 'Em Dead by Elle Cosimano – The first book in this cozy mystery series is such an addictive read and while the ending is satisfying, the final sentence definitely leaves you dying for the next book.  So obviously, I had to preorder it!
The Nineties by Chuck Klosterman – I grew up during the 90's and I have such nostalgia for that time period.  I've read several of Chuck Kloserman's other non-fiction books and I've always found his essays on pop culture to be insightful so I had especially been anticipating his newest release.
From Hollywood with Love: The Rise and Fall (and Rise Again) of the Romantic Comedy by Scott Meslow – This is another non-fiction book about a topic near and dear to my heart.  I love rom-com's! I think they're so much fun and they provide a welcome escape during especially stressful times.  I can't wait to read more about the history of the rom-com and the resurgence due to streaming services.
Star Wars: Kenobi by John Jackson Miller – I picked this book up on a whim while I was on my Star Wars high and I'm already about halfway through it.  It's the first Legends book I've ever read and I thought it would be a fun one to pick up before the Kenobi shows debuts on Disney+ in May.
Star Wars: Knights of the Old Republic: Revan by Drew Karpyshyn – This is another Star Wars book I picked up this month and it's one I'm quite excited about.  I've never read anything about the Knights of the Old Republic (nor have I played the game, though I did preorder a copy for Switch through Limited Run games a few months ago).  It's an area of Star Wars that's completely unfamiliar to me and I'm looking forward to learning about it.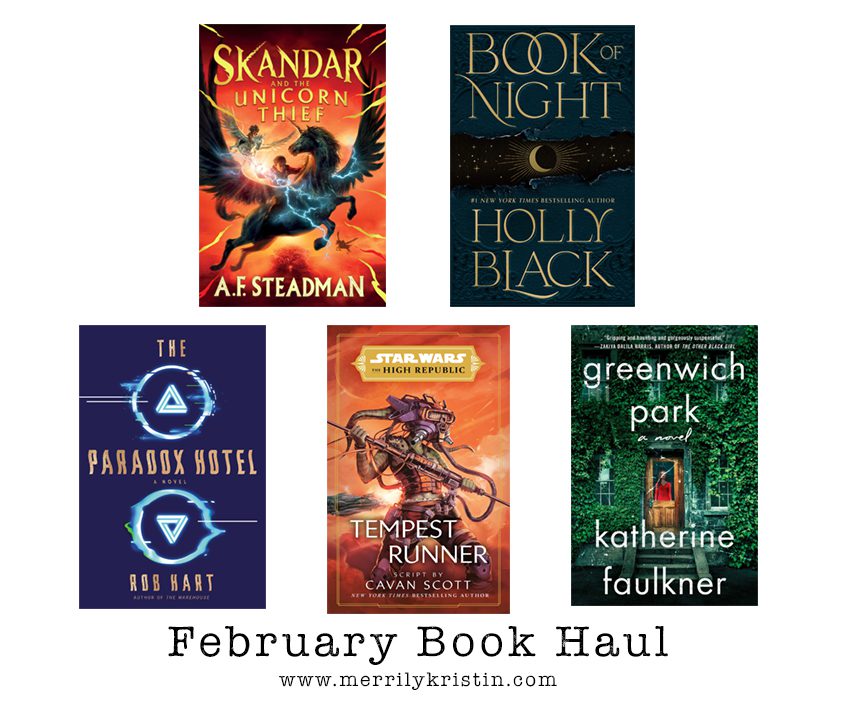 Skandar and the Unicorn Thief by A.F. Steadman – I'm not a big middle grade reader outside of a few beloved series but since those have already ended or are coming to an end, I decided to add this unsolicited book to my TBR.  It follows Skandar who is training to be a unicorn rider but on the day of his test things go terribly wrong and he's later pulled into a world of epic sky battles against a shadowy villain amassing a unicorn army.  It sounds like a lot of fun!
*Thank you Simon & Schuster for sending me a copy!
Book of Night by Holly Black – This is Holly Black's debut adult fantasy novel and as many of you may know, I am deeply obsessed with Holly's books so I requested this one immediately! It follows a character named Charlie who is a thief of secrets.  She's an expert at stealing the books in which shadow magicians hide their discoveries from one another but she decides she wants out of the game.
*Thank you Tor for sending me a copy!
The Paradox Hotel by Rob Hart – This is another book that was on my most anticipated list and it's a locked room murder mystery that takes place in a hotel for time travelers.  I don't think I've ever heard a more compelling synopsis!
*Thank you Random House for sending me a copy!
The Tempest Runner by Cavan Scott – I am so grateful that Random House always sends me their newest Star Wars books! I haven't yet started reading anything set in the era of the High Republic, but man am I going to binge them so hard when I do! This book was actually an audio only book and the script has just been released in hardcover (similar to Dooku: Jedi Lost and Doctor Aphra, both of which I loved!).
*Thank you Random House for sending me a copy!
Greenwich Park by Katherine Faulkner – This twisty thriller with an unreliable narrator was on my most anticipated list so when the publisher asked if I was interested in a copy, I definitely said yes!
*Thank you Gallery Boooks for sending me a copy!
*This post contains affiliate links