My April TBR has a lot of carryover books from my March TBR and it's largely because of my complete and utter lack of reading time last month!  I'm really hoping April will be a better reading month for me, but there's a good chance it'll be even more chaotic than March.  It truly could go either way at this point *laughs nervously*.  Andrew and I have some pretty big life decisions to make in the next couple of days and that'll determine what our April will look like.  If all goes according to plan, here's what I'm hoping to read!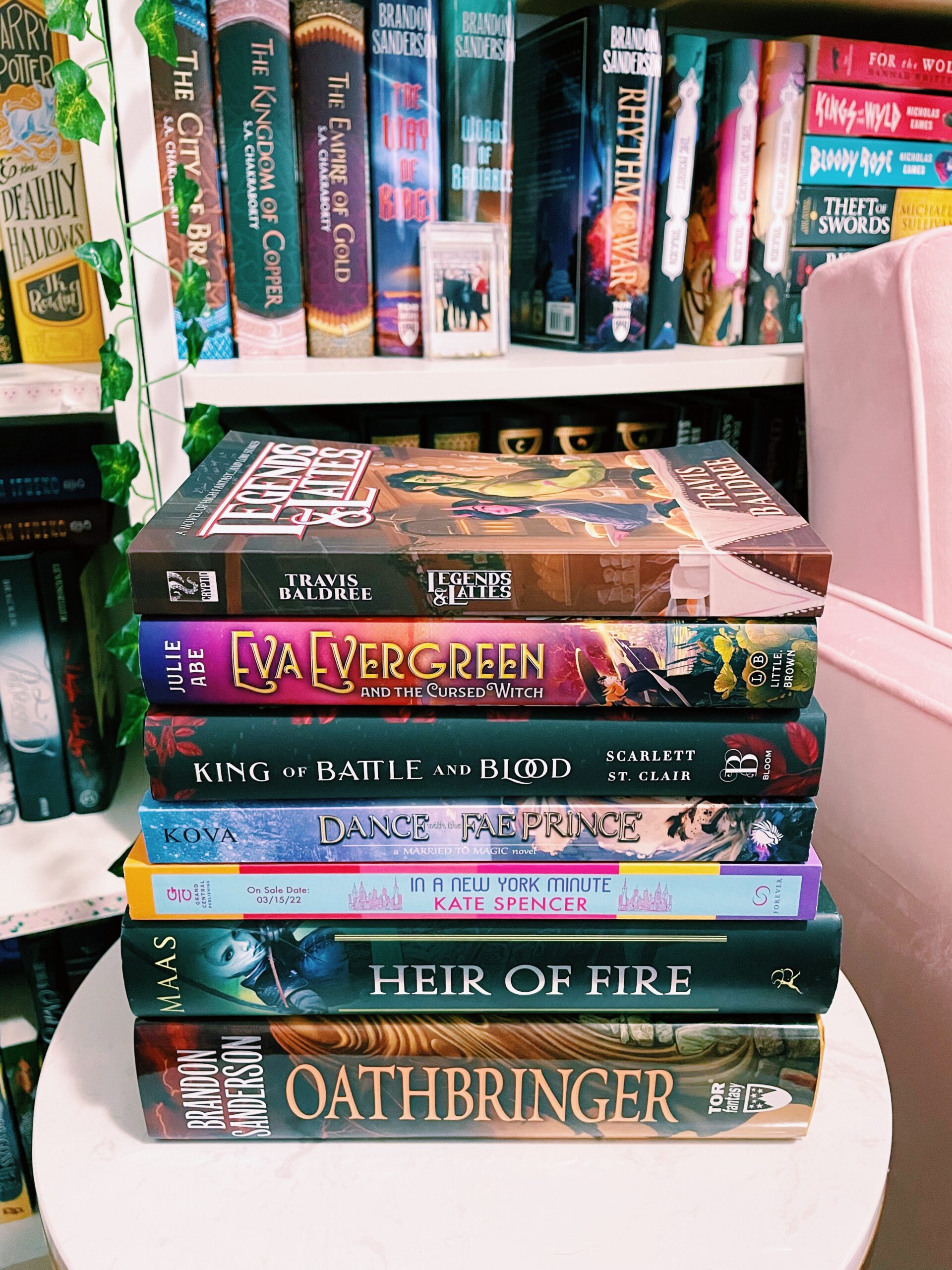 1) Finish Oathbringer by Brandon Sanderson – I cannot believe how slowly I'm reading this book considering that I read Words of Radiance in one week.  If I'm being honest, I'm not really enjoying it as much as previous installments and my friend Gillian pointed out that it's likely Dalinar's fault which I agree with.  Give me more Kaladin please!  I'm about 500 pages in so I still have a long way to go.
2) Heir of Fire by Sarah J. Maas – I am living for the Throne of Glass re-read I've been doing with Alexa and Rachel and this month we're up to Heir of Fire where my favorite character of the series comes into play. Manon forever!
3) Legends and Lattes by Travis Baldree – I talked about this one in my March book haul and I cannot wait to give this wholesome fantasy a read!
4) In a New York Minute by Kate Spencer – My friends have been raving about this book since they read it and I am always a sucker for a story set in NYC.  I'm really hoping this could be a new favorite romance for me!
5) King of Battle and Blood by Scarlett St. Clair – Rachel gave me this book for Christmas and I can't wait to read it! The second book is coming out in December so I definitely want to have it read before then.
6) A Dance with the Fae Prince by Elisa Kova – I loved the first book in this series and I'm looking forward to exploring a new area of the world with a new couple! Book three comes out in the summer and involves vampires!
7) Eva-Evergreen and the Cursed Witch by Julie Abe – This is the second (and I think last?) Eva Evergreen book though there is another novel in the same world coming out in the summer but it follows a different main character. I loved book one and I could use something quick paced, light, and easy to read!
Carryovers from March I'm hoping to read in April: 1) Gallant by V.E. Schwab, 2) Archangel's Consort by Nalini Singh
*this post contains affiliate links