There are so many books coming out in April (and almost all of the ones on this list are coming out on April 5th)! I feel like I said that in March but it was once again pretty tough to narrow down my list.  There's a good mix of age ranges and while it's mostly and SFF list, there are a couple of romances, non-fiction, and collector's guides that made the cut.  What are you most looking forward to reading in April?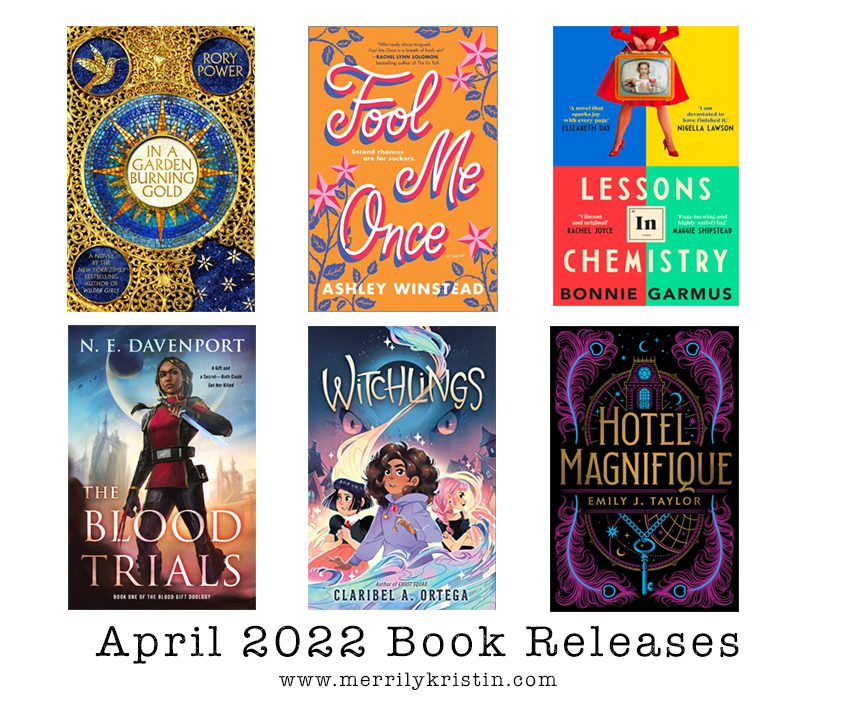 4/5 – In a Garden Burning Gold by Rory Power – This Greek inspired epic fantasy is Rory Powers's first adult novel and I'm quite intrigued by the premise.  It follows twins who have always protected their younger siblings from their father but amid a revolution, they'll also need to protect the world.
4/5 – Fool Me Once by Ashley Winstead – Ashley Winstead is my favorite new author from last year and she's publishing not one, but two books this year! This April release is her first romance novel (last year's release was a thriller- and you'll be seeing her August thriller on my list for sure) but I'm just as excited to check it out!
4/5 – Lessons in Chemistry by Bonnie Garmus – This is an historical fiction book which usually isn't my taste but it takes place in 1960's California and follows a female scientist who becomes the star of a beloved cooking show.  Waterstones also has a special edition of this book and it's one of the prettiest I've ever seen.
4/5 – The Blood Trials by N.E. Davenport – This is a recent recommendation by booktuber Beautifully Bookish Bethany and she completely sold me when she mentioned that it's a sci-fi / fantasy blend following a Black woman who enters the Praetorian Trials, which are both racist and misogynistic, to prove herself and become an elite warrior.
4/5 – Witchlings by Claribel A. Ortega – This middle story with the cutest cover is compared to Nevermoor (one of my favorite series) and Amari and the Night Brothers (a series on my TBR).  It follows three witchlings who must work together to do the impossible if they have any hope of earning their full powers.
4/5 – Hotel Magnifique by Emily J. Taylor – There's always an enchanting quality about books set in hotels and Hotel Magnifique seems like no exception.  It's compared to both Caraval and The Night Circus which are favorites of mine!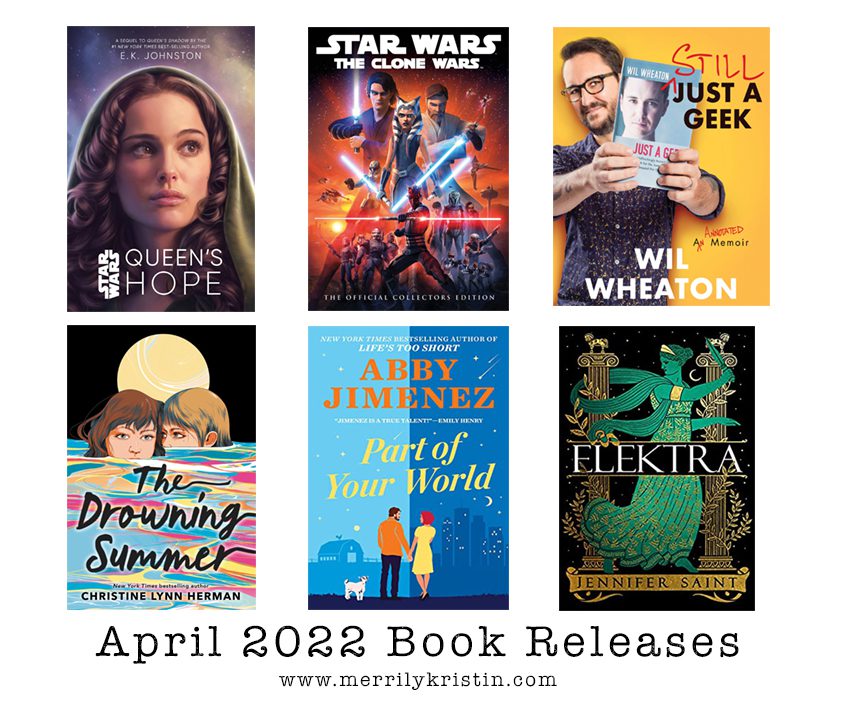 4/5 – Queen's Hope by E.K. Johnston – This is the third and final book in the Padme trilogy by author E.K. Johnston and while I'm so sad that these are coming to an end, I could not be more excited to get Padme and Anakin's wedding in full detail!
4/5 – Star Wars: The Clone Wars Official Collector's Edition Book – This book coming out from Titan Comics is an in-depth guide to all seven seasons of The Clone Wars including behind the scenes interviews, character profiles, detailed episode guides and synopses and includes lavish illustrations.
4/12 – Still Just a Geek: An Annotated Memoir by Wil Wheaton – After finally binge watching all of Star Trek: The Next Generation over Covid, and re-watching all of Big Bang Theory recently, I've definitely become a Wil Wheaton fan.  This memoir contains an annotated collection of Wil's blog posts with a mix of new material.  I'm really hoping my library will get the audiobook version.
4/19 – The Drowning Summer by Christine Lynn Herman – I loved Christine Lynn Herman's Devouring Gray duology and I've been looking forward to reading whatever she puts out next.  I was even more excited about her next release when I learned that The Drowning Summer is a murder mystery that takes place on Long Island.
4/19 – Part of Your World by Abby Jiminez – An Abby Jiminez romance that has my favorite Little Mermaid song as the title? Yes, please!
4/28 – Elektra by Jennifer Saint – Greek retellings have been all the rage lately and I'm especially excited for Elektra's story.  As a bonus, it also follows Clytemnestra and Cassandra!
*this post contains affiliate links