I thought I was doing so well this month with purchases, but I definitely ended up buying more than I thought I would.  I totally place the blame on JCrew / JCrew Factory.  They've had such great Spring/Summer arrivals and I am so over Winter weather.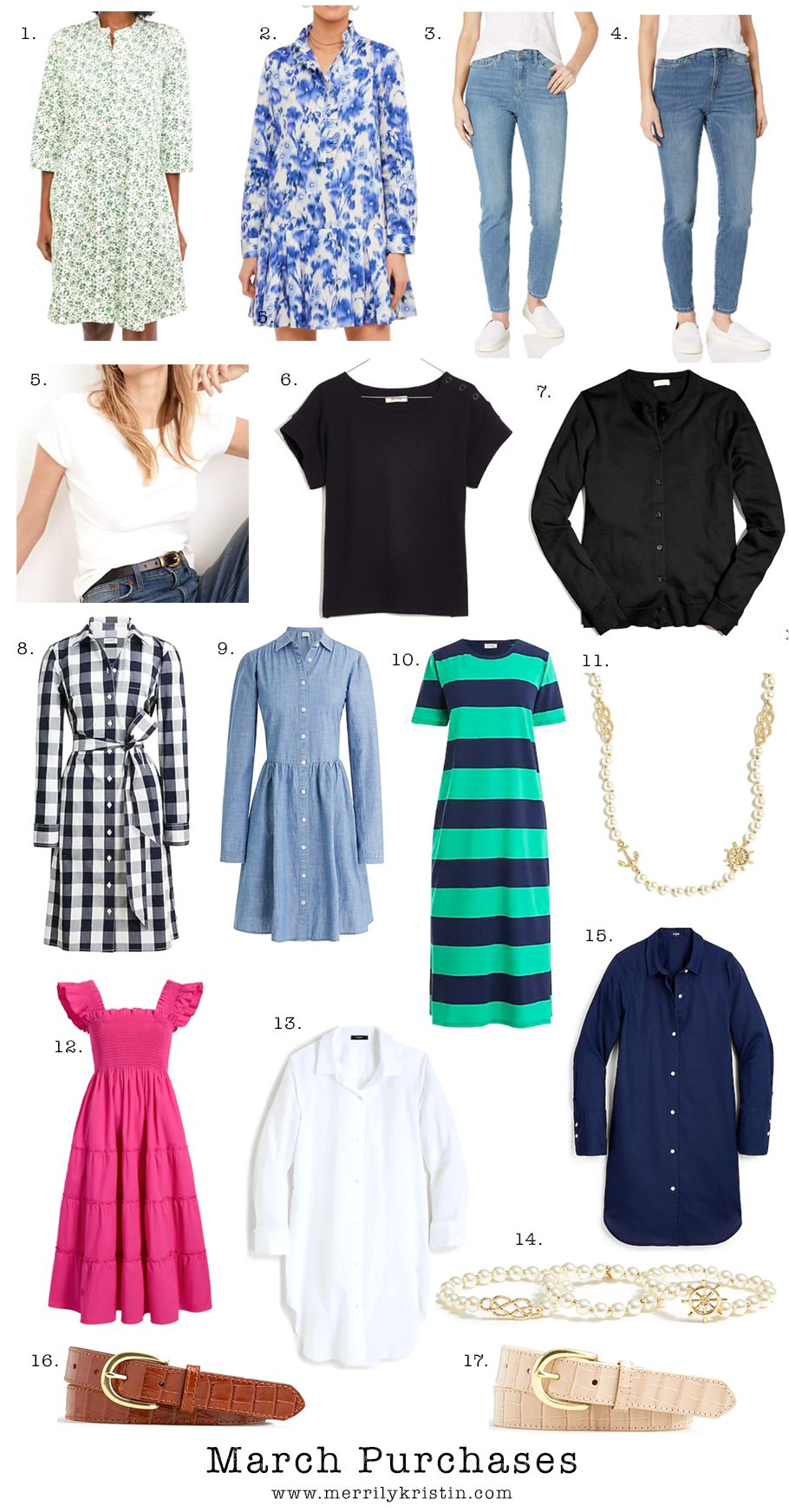 1 – Tuckernuck Royal Shirt Dress is Meadow Floral – Tuckernuck's Royal Shirt Dress is one of my favorite silhouettes that they offer and I completely fell in love with this lovely green and white floral pattern.  I even mentioned it an earlier Bright Side post!
2 – Tuckernuck Tate Dress in Blue Iris Breeze – Blue and white is my favorite color combination and I could not resist this incredibly beautiful spring dress! I love that it can be dressed up or worn more casually and I have no doubt it'll be in heavy rotation for me as we slide into spring.
3 – Amazon Jeans in Light Wash – I was in desperate need of new jeans since I gained so much weight over Covid.  I've been exercising and eating healthier over the past month so I have high hopes that I'll fit into my other jeans in the near future, but these Amazon pairs were such a great inexpensive option.  They're really comfortable and I would totally buy them in a smaller size if they become too big for me.
4 – Amazon Jeans in Medium Wash – See above!
5 – Madewell Brightside Tee in Lighthouse – I got an email that I had a $10 reward to Madewell that was about to expire, so obviously it would have been irresponsible not to use :-)  This t-shirt is called the brightside tee and my weekly blog post is called the bright side so this felt like kismet. Plus I love that it's made with elastane- it's something I can get away with wearing to work while still being comfortable.
6 – Madewell Seersucker Button Shoulder Top – This was a total impulse buy- I was already in the middle of checking out when I switched tabs because I was waiting for the page to load and lo and behold, I found this lovely top! I tend to wear a lot of black and I thought this would pair nicely with jeans or denim shorts if I'm meeting a friend for dinner.
7 – JCrew Factory Classic Cotton Cardigan – I used to live in cardigans (usually 3/4 sleeve ModCloth cardigans!) but my style had kind of shifted and then I totally lost sight of what real clothes were practical for me over Covid.  I'm so glad to be adding a basic black back into my wardrobe for those days when my office AC is blasting.
8 – JCrew Factory Gingham Belted Shirtdress – I really love shirtdresses and I really love gingham so this JCrew Factory purchase was a total no-brainer.
9 – JCrew Factory Cotton Mini Shirtdress – I love this dress so much! I already wore it recently when we went to the Jersey Shore to visit Andrew's parents and it's so comfortable and cute! I love a good chambray.
10 – JCrew Factory Tee Midi Dress – This was kind of an impulse purchase.  I was thinking it could be a good beach or errand running dress and I love the bold navy / green stripe.
11 – JCrew Factory Nautical Pendant Pearl Necklace – Nautical pearls? Need I say more? I didn't think so!
12 – Hill House Nap Dress – I came so close to skipping this month's nap dress drop but then I couldn't stop thinking about how cute the pink nap dress would look with a long pearl strand necklace and my black pointed Rothys.  It's a really good outfit option for a dressier summer dinner!
13 – JCrew Cotton-Linen Beach Shirt in White – I don't actually have any beach coverups which feels like a huge gap in my summer wardrobe.  Andrew and I hadn't really been beach people since we're NYC locals, but most of our family lives in coastal towns.  Last year we went on our first couple of beach day outings together and they were so much fun! I definitely want to spend more time at the beach this summer.
14 – JCrew Factory Nautical Pearl Bracelets – These are the matching bracelets to the necklace above and I've worn one each day since they arrived!
15 – JCrew Cotton-Linen Beach Shirt in Navy – See? Multiple colors continuing here!
16 – JCrew Croc-Embossed Leather Belt in Caramel Cafe – I love the way that dresses look when they're belted and cinched at the waist so when this JCrew croc-embossed belt went on sale, I had to get it!
17 – JCrew Croc-Embossed Leather Belt in Almond Biscotti – You've probably noticed, but when I like something, I tend to get it in multiple colors.  See above!