This was a BIG month for book purchasing for me.  Mostly because I sprung for an eBay listing for the FairyLoot special editions of Chain of Gold and Chain of Iron by Cassandra Clare.  They were the only books I felt were truly missing from my Shadowhunter shelves and now that I have a FairyLoot subscription, I know I'll be ordering book three whenever that goes up for preorder.  In addition to that, I also backed Brandon Sanderson's Kickstarter at the hardcover level (shipping in 2023), ordered Waterstones and Illumicrate editions of Gallant by V.E. Schwab and FairyLoot editions of The Atlas Six (March Adult Fantasy book), the Arc of a Scythe trilogy (shipping in June), The Girl Who Fell Beneath the Sea (March YA book), These Broken Vows (shipping in September) and The Dragon's Promise (shipping in August).  I also bought a bunch of audiobooks when Audible had their big sale earlier this month! So while I don't have a ton of new books in hand, I do have a lot of bookish goodness coming my way in the future! (I also totally did not make my goal this month of reading two books before buying a new TBR book. I had way too much going on and didn't get in much reading at all sadly. UNLESS we're only counting standard editions, in which case, I came pretty close.)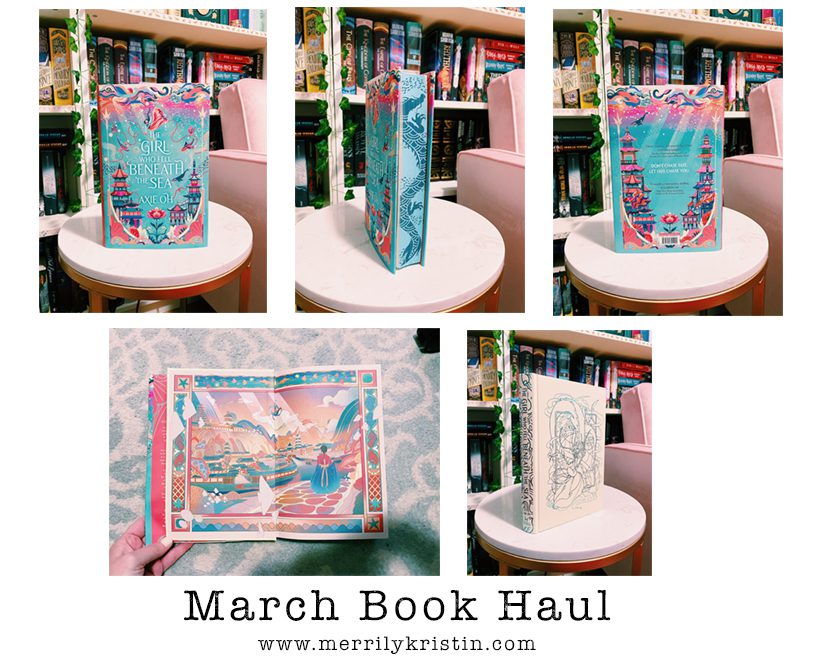 SPECIAL EDITIONS
1) Gallant by V.E. Schwab (Waterstones) – I tend to preorder many different editions of Victoria Schwab's books but I was most excited for this lovely Waterstones edition! The red pages with the white thorns are such a pretty detail.
2) Chain of Gold by Cassandra Clare (FairyLoot / eBay) – I cannot believe I have this copy in my collection! I've wanted it for years and I finally found a semi-reasonably-priced-for-the-eBay-market listing (coupled with Chain of Iron) and Alexa convinced me to order them.  I'm so glad she did!
3) Chain of Iron by Cassandra Clare (FairyLoot / eBay) – See above :-)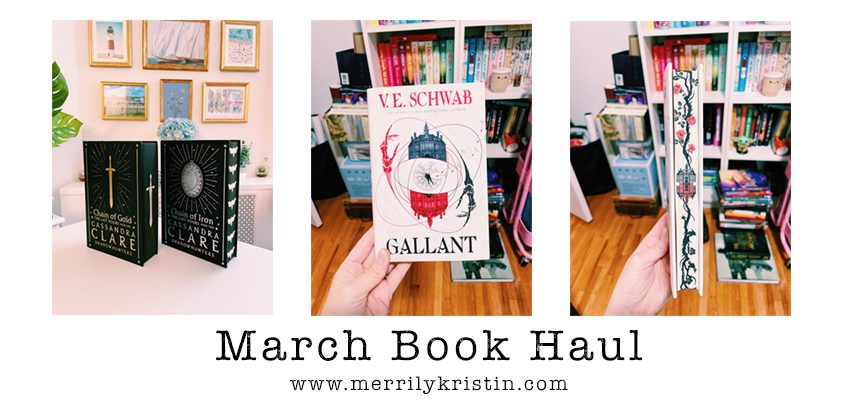 4) The Diviners series by Libba Bray (FairyLoot) – I've been waiting and waiting for this beautiful series to ship and I love it even more in person than I did in the mock up photos! Now I can finally get rid of the rest of my mismatched collection (minus the original Diviners hardcover which is signed by Libba).
5) The Iron Sword by Julie Kagawa (FairyLoot) – I really have to continue reading these Julie Kagawa books… I've only read the first one and now with The Iron Sword, I have 5 unread books in this series / spinoff.
6) The Girl Who Fell Beneath the Sea by Axie Oh (FairyLoot) – WOWZA. I posted about this on instagram but The Girl Who Fell Beneath the Sea is my absolute favorite edition FairyLoot has ever done.  The whole color scheme and style reminds me of Spirited Away and I've never seen such beautiful sprayed pages!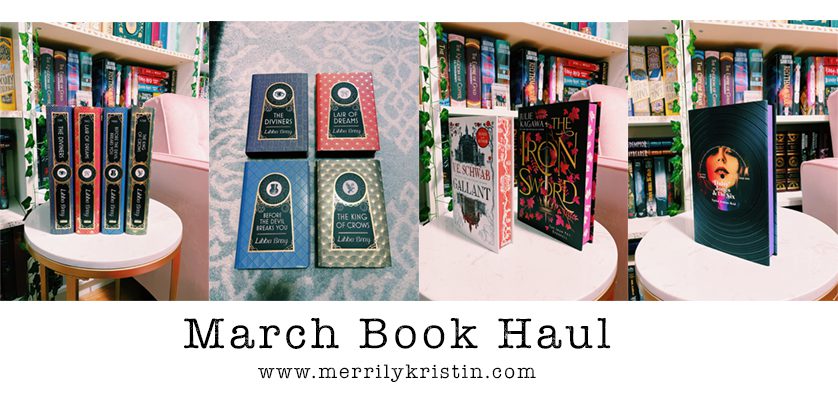 7) Daisy Jones and the Six by Taylor Jenkins Reid (Waterstones) – I'm so excited to have this book to add to my collection! Alexa gifted me her copy when she was recently culling her bookshelves since she knows this is a favorite for me.  I think I need to give it a re-read soon!
8) Gallant by V.E. Schwab (Illumicrate) – This one looked pretty similar to the Waterstones edition of Gallant, though I do like the sprayed pages better.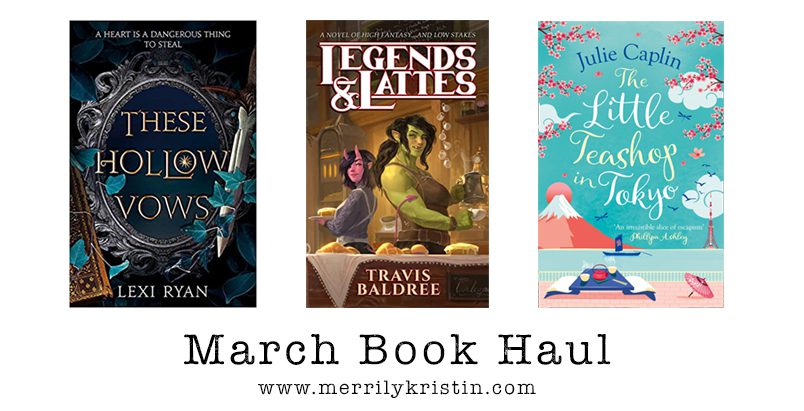 STANDARD EDITIONS
1) These Hollow Vows by Lexi Ryan (UK Edition) – I really loved this book. It was a surprise favorite for me last year and I sprung for the FairyLoot edition of the second book so I decided to grab the UK version of book one so I have a semi-matching set!
2) Legends and Lattes by Travis Baldree – I am SO excited to read this book! It's getting a lot of buzz online and it's about an ogre barbarian who decides to quit adventuring so she can open the first coffee shop in Thune, but her past keeps coming back to get her.  It's supposedly a very wholesome fantasy and I am here for it.
3) The Little Tea Shop in Tokyo by Julie Caplin – This was the biggest impulse purchase largely driven by the cute cover and the promise of a romance set in Japan.  I was at Kinokuniya with Alexa and Rachel and had decided not to get anything but this book caught my eye right by the register and I went for it.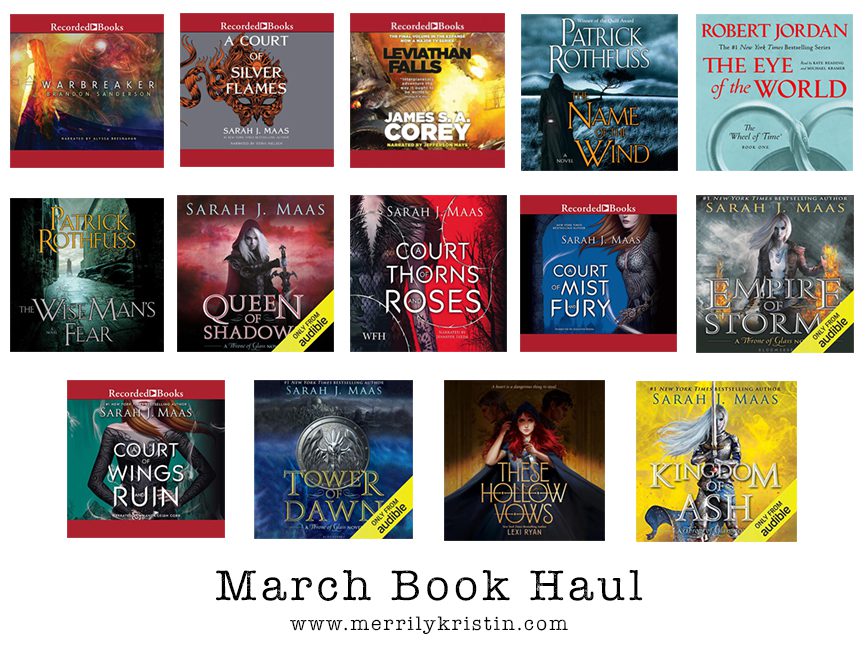 AUDIOBOOKS
All of my audiobook purchases this month came from the huge Audible sale! I decided to start investing in audio versions of my favorite books and authors so I have something comforting to listen to if the mood strikes.  The only kind of new to me item is the Act II of Neil Gaiman's Sandman.  I read all of the graphic novels years ago, but I haven't listened to any of the audiobook adaptation just yet.  It's a pretty star studded cast so I'm excited to give it a go!
1) Warbreaker by Brandon Sanderson
2) A Court of Silver Flames by Sara J. Maas
3) Leviathan Falls by James S. A. Corey
4) The Name of the Wind by Patrick Rothfuss
5) The Eye of the World by Robert Jordan
6) The Wise Man's Fear by Patrick Rothfuss
7) Queen of Shadows by Sarah J. Maas
8) A Court of Thorns and Roses by Sarah J. Maas
9) A Court of Mist and Fury by Sarah J. Maas
10) Empire of Storms by Sarah J. Maas
11) A Court of Wings and Ruin by Sarah J. Maas
12) Tower of Dawn by Sarah J. Maas
13) These Hollow Vows by Lexi Ryan
14) Kingdom of Ash by Sarah J. Maas
15) The Sandman: Act II by Neil Gaiman & Dirk Maggs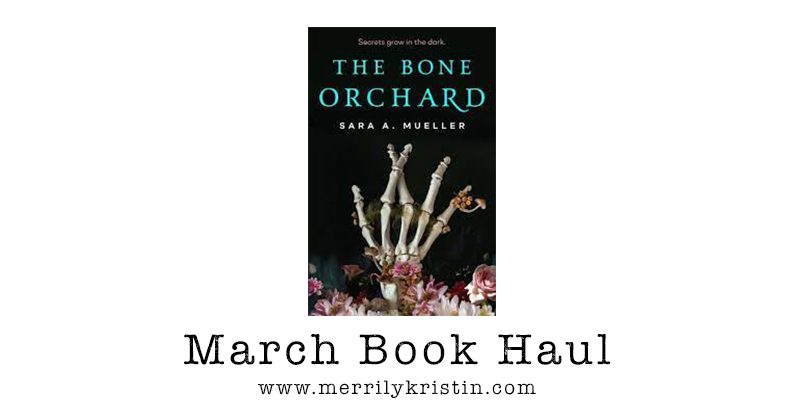 FROM PUBLISHERS
1) The Bone Orchard by Sara A. Mueller – I've been so looking forward to reading this book and I was so happy when Tor sent me a finished copy! I talked more in depth about the premise and why I'm excited for it in my March Book Releases post.
*this post contains affiliate links